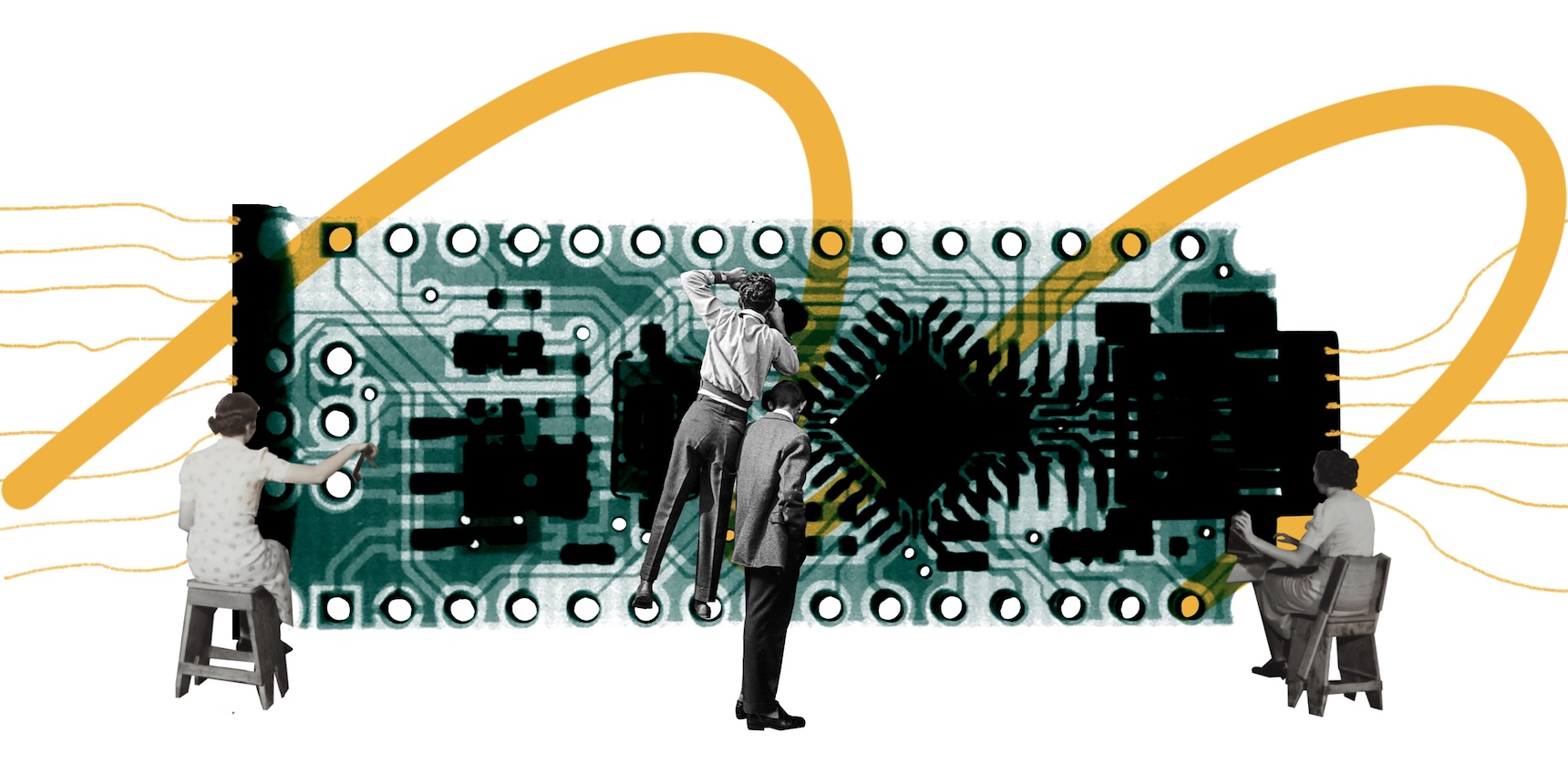 The Mergelyan Institute, a classic Soviet-style building located near Yerevan's Barekamutyun metro station, currently houses a number of Armenian tech companies. In the past, it was the center of Armenia's tech and scientific ecosystems. The country was a tech hub for the Soviet industry and was even referred to as the Silicon Valley of the Union. 
Today, the Mergelyan Institute continues to be a recognizable landmark in Yerevan.
Officially known as the Yerevan Scientific Research Institute of Mathematical Machines, the Mergelyan Institute employed over 10,000 individuals as of late 1980. During the Soviet era, approximately 100,000 people were involved in the tech industry in Armenia, ten times more than the number employed by YerSRIMM.
Three decades after the collapse of the Soviet Union, Armenia is working on regaining its former status. This involves fast growth, numerous changes, and challenges to overcome. 
Indisputable Heritage 
The birth of Armenia's tech industry was in 1956 with the launch of the Yerevan Scientific Research Institute of Mathematical Machines (YerSRIMM). In a short period of time, it became a leading scientific center for the Soviet Union. But Armenia had been opening technology-focused universities and faculties since the late 1910s.
In 1959, YerSRIMM designed its first-generation computer called Aragats, which ran on vacuum tubes. Two years later, the institute designed the second-generation Razdan computers while focusing on small and medium-scale computers. Later, the institute started designing mainframes, automated control systems, as well as operating systems, networking, and application software. 
YerSRIMM also designed a telecommunication system project for the Soviet moon mission. 
During the Second World War, Armenia made significant contributions to the Union by producing advanced military equipment. The majority of industries in Armenia were mobilized to support the Soviet army. Factory 447, a renowned company, played a crucial role in producing parts for Soviet airplanes and repairing damaged ones. After the war, the company shifted its focus to producing power transformers, generators, and defense systems. 
Armenia's tech industry entered a new era after the liberalization of the Soviet economy, and a number of new companies began operating in the country. These companies primarily focused on meeting the demands of local customers and did little business in foreign markets. 
Armenian Software became Armenia's first private IT company in 1987. 
By 1990, there were approximately 40 large technology-oriented R&D institutes and production companies in Armenia. During this time, Armenia was considered a leading center of electronics and information technologies of the Soviet Union. 
Post-Soviet and Post-Conflict Brain Drain
The opportunities for private Armenian firms decreased significantly as the Soviet Union began collapsing. The Karabakh Movement began in 1988 and was followed by a large-scale war that lasted until May 1994. This was followed by an energy crisis and in conditions of a blockade, Armenia's economy suffered immensely. This time period, widely referred to as the "dark and cold" years were tragic and traumatizing for both the population and the economy. According to various estimates, approximately one out of four Armenians — 600,000 people — migrated during this time.
The most challenging period for Armenia lasted until 1997, when the war-torn country began to recover from humanitarian and economic difficulties. 
However, one thing was inevitable. Qualified specialists, including those in the tech sector of previously game-changing Soviet Armenia, migrated. 
As of 1998, around 35-40 software firms and ISPs were operating in Armenia, employing nearly 1,000 specialists, according to Enterprise Armenia's 2017 report. The workforce was notably smaller in 1998 compared to that in 1987, when YerSRIMM alone employed up to 10,000 people. 
Early and Mid-2000s
Despite its small size and relative isolation, Armenia remained a leading country in the CIS region in terms of technology and science. According to a USAID report published in 2009, the tech industry accounted for 1.1% of Armenia's GDP, a figure comparable to that of India's (1.4%) and Germany's (1.3%). 
In recent years, the sector has attracted a significant influx of foreign investors who have set up operations in Armenia to take advantage of the young and skilled workforce. Approximately 55% of the industry's output is exported to over 20 countries –– primarily the United States, Europe, and the CIS. 
The major areas of specialization in Armenia include embedded software and electronic design automation (EDA), custom software development and outsourcing, financial applications, multimedia design, Internet applications, web development, MIS, and system integration. Notably, Armenia has made remarkable achievements in EDA and IP solutions. Foreign companies specializing in chip design establish their R&D facilities in Armenia to take advantage of the talented and creative workforce and competitive wages.
Milestones
Armenia's tech industry began to grow in the early and mid-2000s, taking slow but confident steps. This growth was often supported by sensational events that changed the course of Armenia's IT ecosystem.
In 2004, Synopsys, a world leading tech company, established its presence in Armenia by acquiring Monterey Arset and Leda Design. Later, in 2005 and 2010, Synopsys acquired HPLA and Virage Logic. Synopsys Armenia specializes in research and development, product support for electronic design automation (EDA), design for manufacturing (DFM), and semiconductor intellectual property (IP) solutions. It is currently one of the largest IT companies in Armenia, employing over 1,000 people. 
In the mid-2010s and beyond, the start-up scene in Armenia developed actively. Many young people in particular tried their hand in start-ups and entrepreneurship. 
According to Synopsys Armenia's estimates, there are approximately 3,000 companies in the tech sector in Armenia, with over 2,000 of them being start-ups. The start-up culture in Armenia has recently boomed due to several programs initiated by the Armenian government and private companies, which encourage young people to develop innovative ideas and aim to capture the international market. 
Numbers and Prospects
Although not as strong as its Soviet-era past, Armenia still boasts promising numbers in the tech industry and exports when compared to other countries in the region.
Armenia's tech sector is one of the fastest-growing areas of the economy. Even during the COVID-19 pandemic and 2020 Artsakh War, the sector has continued to grow while other sectors have declined. 
The sector experiences an annual growth rate of about 20%, and is expected to increase. The IT sector's volume of Armenia's GDP continues to grow, maintaining around a 5% share of the country's total GDP.
As of 2021, Armenia's high-tech exports accounted for around 6% of total manufactured exports, according to the World Bank. This places Armenia as a medium-level exporter of high-tech goods, surpassing Belarus, Ukraine, Georgia, Azerbaijan and Uzbekistan. The Baltic countries, Russia and Kyrgyzstan, are exporting more high-tech goods than Armenia, with Estonia being the largest exporter among the post-Soviet countries.
According to a 2020 Doing Business report, Armenia ranked 10th "for ease of starting a business" and 47th for ease of doing business. 
Relaxed regulations for registering legal entities in Armenia, along with special tax breaks for new and small IT companies, provide ample opportunity for innovative ideas to become a reality. However, when companies with the greatest potential choose to register outside of Armenia –– usually in the U.S. –– becoming companies that create international value and collaborate with the titans of the global tech industry, they are no longer considered Armenia-based and stop investing in the Armenian market, unless they open offices because of more beneficial conditions including reduced income taxes.
In 2022, SoftConstruct was included in the top 10 biggest taxpayers in Armenia. SoftConstruct has developed a number of famous brands, including BetConstruct –– a popular gambling and sports betting brand. 
A State Priority
The ICT sector was declared a priority for Armenia as early as 2000. The decision was followed by a number of other decisions and state support provided to companies in the IT sector. This included tax breaks and refunds for both big and small companies, as well as their employees. 
After Russia invaded Ukraine on February 24, 2021, the Armenian government expressed its willingness to assist Russian, Belarusian, and Ukrainian companies that had already started relocating to Armenia. 
Unknown numbers of Russian specialists from different spheres have moved to Armenia, increasing the cash turnover between Armenia and both Russia and the West, where many of them are employed. This influx has also caused   rent prices in Armenia to skyrocket. 
The Armenian government has been providing tax breaks to IT companies for quite some time. Since 2015, new start-up IT companies with fewer than 30 employees have been granted a full tax exemption for their first five years. Additionally, employees working in the tech industry pay a lower 10% income tax rate compared to the 21% flat tax that applies to everyone else.
During the ministry reorganization in 2019, the Armenian government established a new Ministry of High-Tech Industry. This new ministry replaced the Ministry of Transport, Communication, and Information Technologies, with the goal of pursuing and implementing the government's strategy to support high-tech production. Additionally, the ministry took over the military industry, wth the aim of boosting the production of UAVs and enhancing the army's technological capacities.
The ICT industry has been experiencing an average annual growth rate of 20% annually, with steady growth even in 2020 despite COVID-19 lockdowns and the crises caused by the 2020 Artsakh War. Meanwhile, other sectors faced notable declines.
Armenia's tech sector relies mainly on start-ups, as larger companies are not as influential. As a result, 80%  have up to 25 employees, 13% have 25-100 employees, and only 4% have more than 100. The number of companies owned by foreigners or the Armenian branches of foreign companies is also high, despite programs aimed at boosting local companies.
"The Most Active" in the Labor Market
Armenia's ICT sector faced tremendous hardships after the war and economic crisis in the 1990s and 2008. According to official data, the sector had only slightly over 10,000 employees in 2010.  However, in around 11 years, the number tripled to 32,000 in 2021. 
As the number of employed specialists increased, so did the average salary. In fact, in just a few years, the average salary rose from  216,000 to 550,000 AMD.
In November 2022, the nominal wage of IT specialists was approximately 1 million AMD. This is four to five times higher than the nominal wage for the same period in the country. 
According to official data, there are around 650,000 employed people in Armenia, with the IT sector currently employing up to 30,000. As of late 2022, the ICT sector employs around 44,000 people. 
The 2022 Staff.am report shows that the IT sector is the "most active" in Armenia's labor market in terms of job openings and interest in the sector. 
This is evidenced by the significant competition for IT-related programs at Armenian universities. 
Education Is the Key
Armenia's "strong" human capital in tech has been noted in the U.S. State Department's Investment Climate reports. However, the demand for qualified specialists in the ICT sector has remained a challenge for Armenia's goal of regaining the fame of the "Silicon Valley" of the Post-Soviet era. 
According to the State Department's 2022 report, "Many international companies have established branches or subsidiaries in Armenia to take advantage of the country's pool of qualified specialists and positions within the Eurasian Economic Union (EAEU)". 
However, despite this influx of companies, there is a shortage of over 4,000 specialists to fill in the vacant positions in Armenia's tech sector. Unfortunately, this gap is considered to be "impossible to fill" in the current situation. 
As a result, many companies founded in Armenia are relocating to countries with better prospects and opportunities. Meanwhile, high-quality specialists are leaving the country to find better opportunities in foreign companies. 
As the IT sector becomes a high-priority and much-demanded field, many young people in Armenia show extensive interest in applying to relevant programs and departments at local universities.
Recently, several universities have introduced new departments solely focused on the high-tech industry and data science. Among them, the Polytechnic University of Armenia (formerly called Engineering University) is focused on IT studies but lacks in-demand programs such as machine learning or data science. Polytechnic also has a long-term cooperation with Microsoft Armenia, which runs educational programs on tech. Additionally, Armenia's leading Yerevan State University is cooperating with Innovative Solutions and Technologies Center (ISTC) foundation. 
To encourage Armenian youth to pursue IT as a profession, public and private organizations have initiated a number of programs and projects. Among them, the Armath engineering laboratories provide IT education for school-age children in Armenia, while the FAST foundation, in cooperation with the Ministry of Defense, organizes courses for students to help later create high-tech military strategies for the MoD. 
Last year, the Ministry of Education, Science, Culture, and Sport decided to award students in the field of information technology to encourage interest and engagement in it. Five awards will be given annually to university and school students for their performance. 
The Russo-Ukrainian War and Armenia's IT
While Armenia has been looking to revive its Soviet-era reputation in the tech industry, the war in Ukraine has unexpectedly turned it into another sort of tech hub. Russia's invasion of Ukraine led to millions of Russians and Ukrainians fleeing their countries, with some settling in Armenia either temporarily or for the long-term. This has boosted Armenia's economy, increasing cash turnover between Armenia and Russia and the West, where some of the newcomers are employed. However, it has also led to skyrocketing rent prices, and evictions for many locals.
Despite this, the influx of Russians into Armenia has led to tremendous growth in the country's IT labor market, resulting in a nearly 50% surge in the number of registered IT workers  in the first four months of 2022 compared to the same period last year. Many Russian specialists came to work in Armenia for their Russian or foreign companies but also to find jobs in Armenia. 
According to Armenia's Minister of Economy, Vahan Kerobyan, around 50,000 Russian IT specialists arrived in Armenia in September 2022, partly due to the Armenian government's willingness to assist those trying to relocate their business from Russia, Belarus, and Ukraine. For Russia and Belarus, Armenia became a safe haven for money transactions to the West and Russia, which is difficult or impossible in many countries, including neighboring Georgia.
Following the war, famous companies, including TeamWork, a subsidiary of Perm Miro, and NVIDIA, a leading American graphics card developer, have relocated to Armenia or opened an office there, paying a large volume of taxes. The Armenian government has promised the country would not become a "tax haven" for newcomers. Miro, an online whiteboard tool valued at $17.5 billion, and Yandex, a prominent Russian tech company, have also opened an office in Yerevan. While most of the companies have also relocated their core staff, the new offices created jobs for Armenian specialists as well. 
Along with the skyrocketing rent prices and inflation, the influx of Russians also brought highly-educated specialists, who have helped to partially address the shortage of skilled IT specialists in the country. And while some of the newcomers continue working with Western or Russian companies, many also get involved in the Armenian tech industry, either as employees or owners of local IT businesses.
According to official numbers, around 850 companies with Russian capital and 350 individual entrepreneurs have registered in Armenia. In total, 40,000 legal entities and individuals opened around 100,000 accounts in Armenian banks. Minister Kerobyan also said that the gap in quality specialists in Armenia was partly filled due to the influx of well-educated migrants.
Looking Toward the Future
While the tech industry in Armenia is growing despite economic hardships and is expected to continue growing in the coming years, the realization of Armenia's tech ambitions should not rely solely on start-ups and small, disorganized projects, or on individuals interested in the field. The Armenian tech industry lacks serious investment in education, science, research, and technological development and software engineering.  The Armenian government has promised to address this issue after the 2018 revolution, but progress has been slow. Increased funding for science has been a goal of Armenia's tech and science community for years.