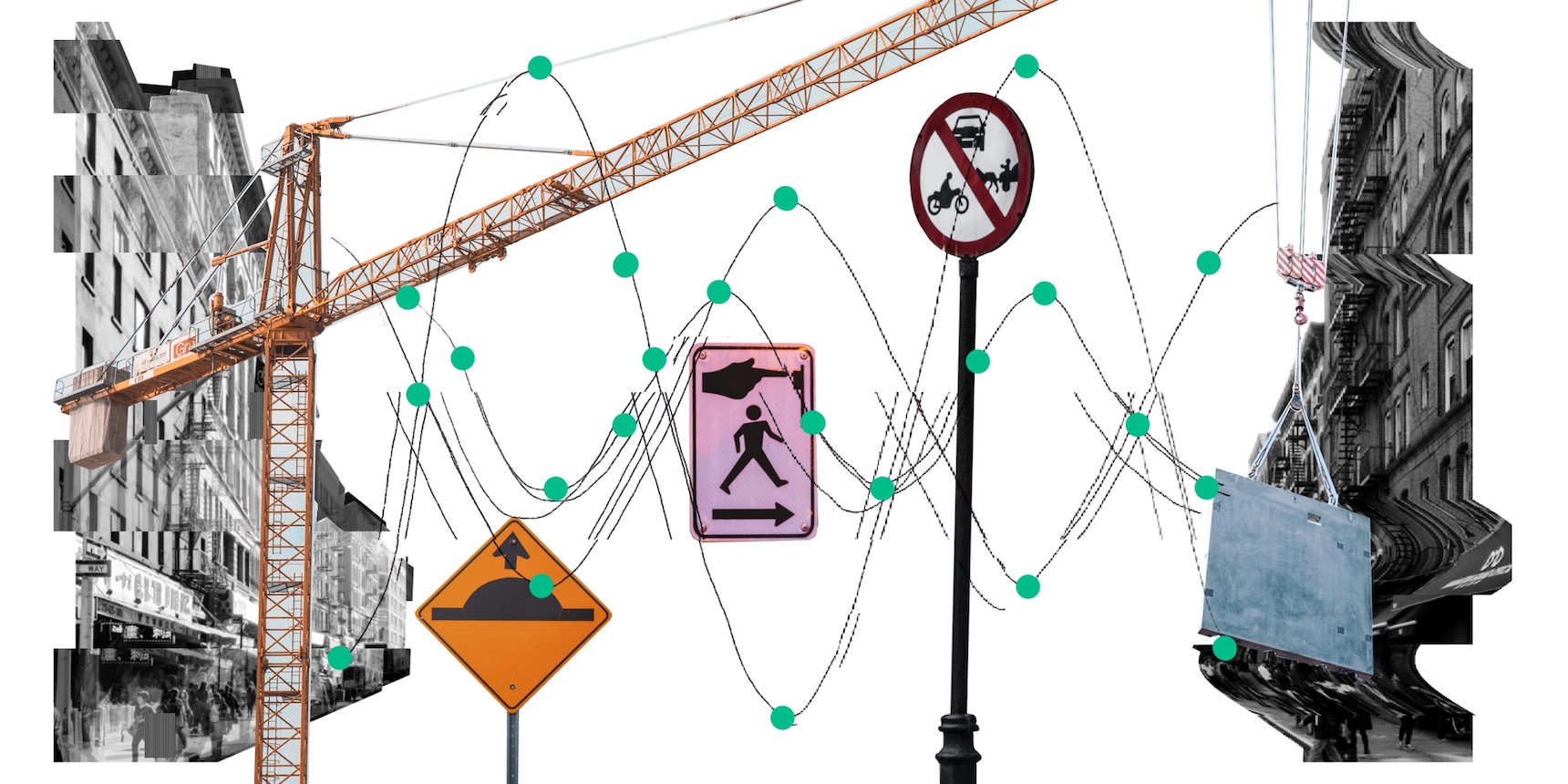 Emma Sargsyan, who has lived on the second floor of an apartment building on Mashtots Avenue in downtown Yerevan for more than 40 years, says the city is getting noisier with each passing year. "You open the window and you hear noise from the street –– sounds of cars, pedestrians and musicians. You close the window and you hear noise from neighbors –– home repairs, a washing machine, an air conditioner. There is noise everywhere," she says.
Sargsyan says that when she goes to their cottage, the silence seems strange. She is so used to the noise in the city that she often thinks she has a hearing problem. "Years ago, this was not the case," she recalls. "I don't know how it is in other parts of Yerevan, but in downtown there is noise day and night, especially if there is an entertainment venue near the house. Even if they try to control the noise, patrons go out and stand outside for hours laughing."
Despite the inconvenience, Sargsyan has never filed a complaint or called the police. "People walk on the streets in the middle of the night making noise or drive by with loud music playing in their cars. Who do you call and say, 'Come and see who's making that noise?'" she asks. "Fireworks can be heard at different times of the day. How do you know when the next one will go off?"
However, there are residents who have not given up and are trying to solve the issues that concern them by filing complaints.
Containing the Noise
The Government directive "Noise in Workplaces, Residential and Public Buildings and Areas of Residential Development", approved in Armenia in 2002, stipulates that noise heard in apartments from 7 a.m. – 11 p.m. should not exceed 40 decibels (dB), and from 11 p.m. – 7 a.m. at 30 dB.
Between September 7, 2021 and December 31, 2022, the Health and Labor Inspection Body received 127 complaints in Yerevan regarding noise (music, construction and ventilation) coming from different businesses operations, says Gagik Grigoryan, head of Yerevan's Regional Center of the Inspectorate. Between September 1, 2019 and September 7, 2021, 188 noise complaints were received.
The Inspectorate carried out inspections for 124 complaints. As a result, 26 businesses were issued orders to eliminate the violation within a specified time period. Additionally, 26 administrative penalties were issued to those businesses in the form of fines.
Out of the 124 administrative proceedings initiated, 98 were terminated. Of these, 27 were because applicants withdrew their complaints, and 71 were due to lack of evidence and three were thrown out for administrative errors on behalf of the complainant.
Nona Hayrapetyan, Chief Inspector at the Labor Inspection Body's Yerevan Regional Center, explains that the Inspectorate is an oversight institution that carries out its duties through inspections and administrative proceedings as mandated by current legislation. 
According to Hayrapetyan, when an administrative proceeding is initiated, an appropriate examination is scheduled. If the application clearly identifies the business entity that is the subject of the complaint, then the inspection is carried out both at the applicant's home and at the business in question.
"In some cases, a resident may complain about disruptive noise and a violation of their constitutional rights without specifying the business entity responsible," says Hayrapetyan. "In such cases, we map both the apartment and adjacent areas for potential sources of noise to determine the source." She explains that once an entity is suspected of being the source of the noise, a notification is sent to them to carry out an inspection. Then, the Inspection Body submits an application to the National Body of Standardization and Metrology, which is part of the Ministry of Economy, to conduct instrumental measurements.
After completing the measurements, an inspection report is drafted that indicates sources and details. The report is signed by the specialists, the complainant, and a representative from the business entity. An expert opinion is then presented, and hearings are held. If no violations are found as a result of the inspection, the case is dismissed.
If violations are found, the business entity is issued an order with clear timelines to reduce the noise level in accordance with legally established levels. An administrative penalty is also imposed. Once the deadline has passed, another inspection and instrumental measurement is carried out. If a new violation is found, a penalty is imposed based on Article 42.1 of the Law "On Administrative Offenses." The penalty is 15 to 30 times the minimum wage for citizens and 80 to 150 times for business entities.
According to Hayrapetyan, people sometimes complain that business owners are informed beforehand of when they will be inspected. However, this requirement is enshrined in the law. In addition, there are places where inspectors cannot enter without the presence of a business owner or where measurements must be taken in the absence of noise, meaning that equipment must be switched off for inspections to be carried out.
According to Hayrapetyan, there are various forms of noise. They primarily receive complaints about music, construction, and ventilation noises.
"Currently, there are many complaints about noise coming from construction sites," she says. "During the summer season, when the open-air cafes start operating, the number of complaints about music increases."
According to Hayrapetyan, they are doing everything they can to address complaints fully and ensure that the complainant is satisfied. 
Noise pollution is indeed a serious issue, as stated in the World Hearing Index 2021 report. It is considered one of the most significant contributors to environmental pollution and is no less dangerous than air and water pollution.
According to psychologist Mariam Melkumyan, noise is a source of stress that negatively affects physical and mental health. Exposure to noise can cause fatigue and if noise exposure is regular and constant, it can lead to constant exhaustion and affects one's ability to work. Many people may not be aware of the impact of noise, even if they experience moodiness and irritability.
"There are types of noise to which we begin to adapt, and over time we stop noticing it," Melkumyan says. "However, in the background, this noise continues to affect mental health."
Measuring Noise
A noise map of Yerevan was compiled in 1976, and since then, noise levels have only increased. Increased traffic, engineering and technical devices, air conditioning, and entertainment centers such as cafes, restaurants, clubs and pubs, which often use powerful speakers, have all contributed to the increase.
In February 2019, then Minister of Health, Arsen Torosyan, announced on his Facebook page that the National Center for Disease Control and Prevention had compiled a new noise map of Yerevan's downtown area. The map shows areas with particularly high noise levels and their main sources.
According to Torosyan's map, measurements in the downtown area recorded noise levels of 60-78 dB in the mornings, 60-74 dB in the afternoons, and 60-75 dB in the evenings.
"We often face accusations such as, 'Why are you dealing with this instead of doing important work?'" wrote Torosyan. "These accusations are mainly directed at initiatives that focus on preventive measures that concern thousands of citizens. Noise itself is a serious public health concern, and we will address it along with other issues." Torosyan emphasized that this work will continue.
Karo Palayan, an expert in acoustics, engineering, and information technologies at the National Center for Disease Control and Prevention of the Ministry of Health, confirms that noise is indeed a significant public concern. Depending on the level of noise, it can cause health problems for people.
However, the mapping process that began in 2019 is still incomplete. Months after it started, the coronavirus pandemic began, and due to restrictions on people's movement, noise measurement would have been useless.
"There was just silence –– no cars driving around, and restaurants were closed," Palayan explains. "You can say it was a very good situation, but of course it did not reflect reality. Even if we had taken measurements at the time, it would not have shown the real picture." He notes that they are continuing their work, which can be long and time-consuming. There are also instances when they must stop measuring due to other noises in the city to obtain accurate results.
Palayan states that currently they have completed the preliminary mapping of the administrative district of Yerevan's city center, however, they are also carrying out work in other districts for evaluation and comparison.
"There are areas in downtown Yerevan where legally accepted noise norms are not exceeded. However, on streets like Mashtots, Koryun, and Heratsi during the day, the noise often reaches 75 dB or more," he explains. "Typically, an average building wall and window can maintain an average of 10-15 decibels. Therefore, the noise entering an apartment definitely exceeds the accepted norm."
According to Palayan, although it might be expected that the downtown noise would decrease on weekends, this is not always the case.
He says that on non-working days, there is an influx of people going downtown, along with noise from restaurants. During the work week, the noise is loudest from 7 a.m. – 9 a.m., increases during the afternoon hours, and peaks from 6 p.m. – 9 p.m. in the evenings. On weekends, the noise starts in the afternoon and continues until late at night.
He explains that Yerevan is built on plateaus of varying heights, which allows noise to travel even greater distances.
"When there is construction, the noise often exceeds the legal limits," he says. "However, if construction norms and respect for each other are adhered to, it is possible to avoid major disputes and problems."
As Palayan notes, vibration is an important issue that is closely related to noise. Noise can cause vibration, and vibration can cause noise.
According to Palayan, vibration is also an important problem, which is an integral component of noise; noise can become vibration, vibration can become noise.
"Air conditioning units are difficult to mount on walls," he explains. "They come with rubber pieces on which the units must be fastened. However, for some reason, our technicians find these pieces useless. Over time, as the motor wears out, the noise increases and is transmitted through the entire wall. If the unit is fastened from the side of the building, it can cause even more noise. In other words, it may sound like noise, but it's actually the vibration of the motor's noise."
There are still many unresolved issues in Armenia. For example, people can hang their air conditioning units anywhere, which can disturb neighbors.
In addition, Palayan says that when background noise decreases, for example at night, a person can hear sounds that they have not heard before.
"If the background noise is loud, a person may not be able to hear the air conditioning unit of the building in front of them," he explains. "However, in the absence of background noise, even an air conditioning unit can be heard. Noise sources can cancel each other out, so sometimes people may hear more noise when something that was producing noise stops, like when a neighboring restaurant closes."
Unsolvable?
Palayan explains that according to current research, the main source of urban noise are vehicles, which vary greatly depending on the weather, terrain, road surface, as well as the types of cars and tires. This is true the world over.
Palayan states that several European countries are attempting to eliminate loud engines from their city centers, even including airplane engines. In contrast, Yerevan has only implemented regulations related to trucks.
"In reality, it is not possible to reduce noise only through the Ministry of Health," Palayan explains. "That is why we are trying to conduct our research throughout the entire city of Yerevan, analyze all the results, and draw conclusions. Then, we plan to invite all relevant institutions to a meeting and present the situation so that they can help us solve this issue. The police and the municipality can play a big role in this. We need a comprehensive solution to reduce noise." He notes that proper zoning must be designed so that pubs or clubs that play loud music, for example, are not allowed to operate near businesses or residential buildings.
According to Palayan, the most important thing is for residents to respect each other. For example, people should not play loud music in the courtyards of buildings or rev their car engines late at night.
"There are measures that are not contingent upon the state solely," Palayan says. "If people just respect each other, then there will be a huge change."
"If we can't avoid city noise, then we should organize quiet time for ourselves, spend time in nature, be in silence, and visit places where we can be alone, calm, and quiet, so that we have the opportunity to restore ourselves," Melkumyan says.