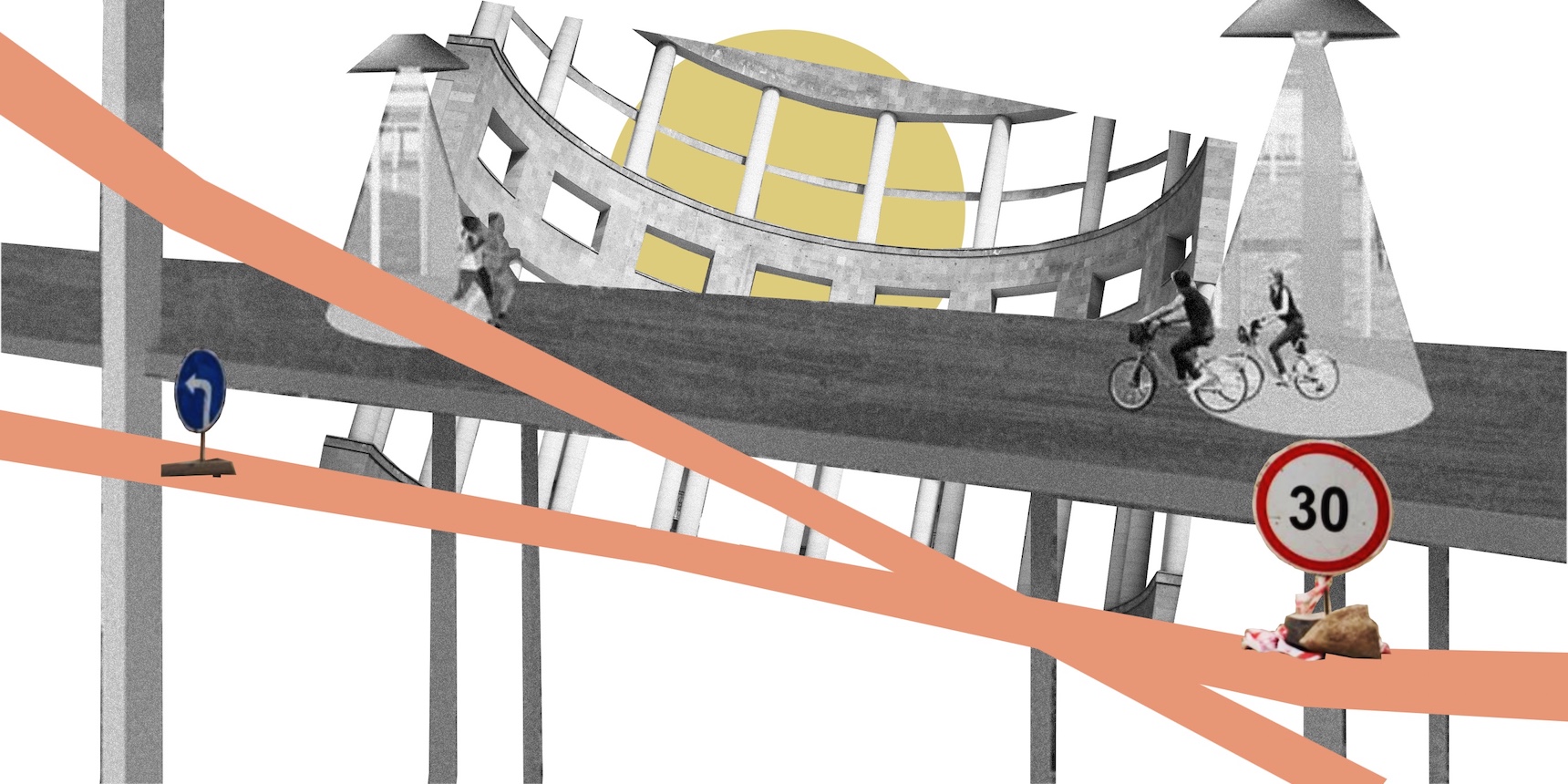 On May 20 this year, the Tsitsernakaberd Highway, a busy artery in Yerevan leading to the Genocide Memorial and one of the city's most popular malls, collapsed. The collapsed section of the road was closed for over two weeks creating an additional burden on the already heavy traffic in the capital. The collapse of the highway brought issues of Yerevan's planning, development and infrastructure problems to the center of the public's attention. Concerns were raised, news outlets covered the incident, and for a few days the topic was discussed in households and likely in officials circles as well. As with every other topic in Armenia, however, within a week everything was forgotten about, at least in the public's mind. 
The collapse of the highway is directly connected to the urban development and planning challenges that Yerevan is facing today. The road is adjacent to the area known as Dalma Gardens, where construction on a residential district is underway. According to Yerevan's Municipality speaker Levon Sardaryan, the road collapsed because the construction company, Sahakyanshin, building a residential district in the Dalma Gardens did not follow due procedures of securing nearby areas. The construction company claims that it was known that there was an issue with the road and that it collapsed because of wet weather conditions. 
The former head architect of Yerevan Center district Vardges Shahbazyan notes that instead of installing a permanent retaining wall that could have supported the highway and handle the weight of the construction's heavy machinery, Sahakyan Shin installed a temporary retaining wall which caused the road to collapse. While both sides blame one another, it is evident that there is an issue of lack of oversight. Shahbazyan notes that the municipality grants construction permits after proposed projects undergo an expert examination and that it is unlikely that the construction project's proposed plan did not include a permanent retaining wall. Somewhere in the succession of procedures something went wrong. 
The construction of the residential area in Dalma Gardens is a controversial issue on its own, as its designation was changed from a green to a residential zone to allow construction. There is a 19th century winepress in the area, which activists claim is in danger of being destroyed by ongoing construction. The collapse of the road and the adjacent construction in the Dalma Gardens is emblematic of urban planning issues in Yerevan: lack of oversight, constant construction on green areas, corruption risk, overpopulation and most importantly, the absence of an overall vision for developing the city. 
Yerevan's population is estimated at over 1 million people, meaning that almost half of the country's population lives in the city. There is constant urban migration towards the capital, as the most prominent universities, government structures and best job opportunities are in the capital. In addition, every year, over 1.8 million tourists visit Armenia, most of them making Yerevan their base. To accommodate all the demands that come with the constant influx and bustle of people, the need to add more infrastructure arises. This is why Yerevan always resembles a large construction site, where new buildings start appearing on hills, formerly green areas, and even in already existing courtyards and residential areas. This of course has its impact on the infrastructure of a city which was designed only a hundred years ago for a population of 200,000.
The first modern day Yerevan city plan was designed in the 1920s, although every other Armenian will tell you that Yerevan is older than Rome. The first settlement in the area of modern day Yerevan was built in 782 B.C. by the Urartian King Argishti I. As a city, Yerevan began to develop around 300 years ago after it became a part of the Persian Empire. In the 18th century the Persians built a fort in Yerevan and the city started to grow around the fortress. When the Russian Tsar Nikolas I conquered Yerevan and came to visit, he described the city as a broken clay pot.   
After Eastern Armenia and its capital Yerevan became part of the Soviet Union, architect Alexander Tamanian was tasked to design the city to manage the influx of Armenians to the then only 11,000 people strong capital. According to Tamanian's plans, Yerevan was meant to comprise only the city center of modern day Yerevan. Its boundaries were meant to form a circular park around the city. Until the 1970s, Yerevan largely developed according to Tamanian's vision, however, at that time the central authorities in Yerevan decided to grow the city's population to 1 million to get more funding from Moscow and justify the construction of a metro station. During the Soviet era, Yerevan was a booming industrial city and was planned according to its different zones. The city had an industrial sector, and the rest of the city, including residential districts, so-called commuter towns, recreational areas and shopping districts were planned. The majority of the residential districts had schools, kindergartens, parks, and stores. 
During the Soviet era, general norms and standards of urban planning were adhered to. After Armenia became independent, however, Yerevan started to grow in an arbitrary and aggressive way, without a coherent strategy, especially in the early 2000s. 
According to Shahbazyan, in the 1990s the boundaries of Yerevan were well-defined and the land falling outside of the city was given to nearby communities. As a result, Yerevan does not have a buffer zone surrounding it, nor does it have additional space to expand –– hence it develops upwards upon itself. 
Modern Approaches to Urban Planning 
Modern urban planning and development place sustainable development and the quality of life at their heart. In many countries, like the U.S., modern approaches to urban planning began developing in the beginning of the 20th century. As urban planning experts in Armenia note, there is no need to reinvent the wheel; there are already a number of standardized approaches which can be implemented in Yerevan and in Armenia. It is also important that urban development or city planning are developed holistically, taking into account road construction, housing, schools, kindergartens, parks and other infrastructure, with a harmonious approach. Most importantly, the social component –– the well being of the population and its harmony with the surrounding environment must be at the core of the strategy. 
In the U.S., where urban development and city planning models were developed as early as the 1920s, there is much literature and research on public planning and urban development. Towards the mid-20th century, intensive population growth in urban areas and the impact of commercial and industrial growth on existing residential areas necessitated coordinated, long-term planning both for land use and circulation requirements [1]. It was also understood that survey, analysis and planning were the most crucial aspects for planning adequate urban development models, which urged urban planners to improve existing planning tools and come up with new approaches. 
Spatial planning is one of the main instruments in the modern urban development toolkit. One of the main components of spatial planning is zoning, and documents based on zoning comprise the legal ground for managing and regulating construction projects. These spatial planning strategy documents establish the legal status of land plots in terms of development priorities, public preferences, permissible and prohibited land use, including rules of construction for real estate and considerations for improvement. In practice, these documents are publicly available and are known in advance by construction and project design firms, allowing the design firms in particular to plan their projects and respond appropriately to the expected changes in the environment. Although spatial planning comes with its own set of issues, which include a certain degree of unpredictability around resources, time for data gathering, and include the possibility of creating an environment for corruption, it is still a useful tool if there is transparency and inclusion of all stakeholders in the process. 
Construction regulations are another important part of city planning strategy. In some countries, like the U.S., construction norms are developed and accepted by self-regulating bodies and design companies adopt these norms and guidelines as industry standards. 
The planning framework for urban development is quite standardized and has been in use in most of the world for over a century. It entails survey and analysis, which heavily relies on data mapping, as well as cartographic representation and goal formulation or vision, which includes producing regional master plans, plan-making and implementation. 
Urban Planning and Development Issues in Yerevan 
Architects familiar with Yerevan's urban planning issues note that the Armenian language has no term for urban development. The term currently used is kaghakashinutyun, which merely means "city building", reducing the concept of urban planning and development to construction only. This, combined with the lack of a holistic vision for Yerevan's development is the core of the problem. 
An example of construction carried out for the sake of construction is Northern Avenue, which links Republic Square to Liberty Square, adjacent to the Opera. According to Vardges Shabazyan, in modern approaches, it is not common to build entire commuter or residential areas like Northern Avenue in a city's downtown. This is true especially as downtown areas should be designed with administrative buildings, offices, hotels and other spaces for commerce. Shahbazyan notes that Northern Avenue's initial project proposal presented for approval by the city council and head architect entailed that the first lane of buildings would have six stories and then second and third lanes of buildings could have up to eight stories. This was not, however, how Northern Avenue was built –– its first lane already has buildings exceeding eight stories. Northern Avenue is currently not fully occupied and likely never will be. It consists mainly of stores and cafes. If it were fully populated, however, it would put a heavy strain on the infrastructure of the city center, including sewage systems, traffic and parking space. 
To avoid similar scenarios in the future, amendments to suspend issuing licenses for construction in the city center have already been initiated by the Yerevan authorities. 
Another example are the many Soviet era courtyards in downtown Yerevan crammed with modern multi-storey buildings. Shabazyan says that although these constructions violate the city plan, they serve a practical purpose. Standardized urban planning approaches entail that residential districts also include other infrastructure, like schools and parks. If a building is built within an existing district, no such additional infrastructure needs to be built nearby to "sell the building". 
Although construction rules and norms are regulated by several documents and decisions, they are mainly copies of Soviet era regulations adopted for a planned economy and unadapted for modern issues and demands. Some of these documents were developed for Russia, the majority of which are not even available in Armenian. In general, independent Armenia was not able to modernize Soviet practices and tailor them for the demands of modern Yerevan. As architect and the former head of Armenia's Cadastre Committee Sarhat Petrosyan noted, Armenia did not reevaluate urban planning and development into the new model of economy after its independence. 
According to Petrosyan, Armenia also does not have enough instruments for spatial planning to reduce subjective and individual decision making regarding urban planning. Because there is no strategic and holistic approach to urban planning in Armenia, subjective and individual decision making are very common. 
Local architect Misak Khostikyan notes that planning also has a political aspect and much depends on how authorities and decision makers choose to proceed. Most of the time, in countries like Armenia with no established institutions and legislative frameworks, construction projects tend to find short-term solutions for problems. Architect Sevada Petrosyan frames it as an "economy at the expense of human development", when the authorities find temporary solutions for problems instead of addressing urban planning issues. According to Khostikyan, another pertinent issue is that construction projects are developed by private companies and as such, are aimed at making a profit. With the lack of enforced regulations, they do not consider the impact of their project on the city as a whole. 
Northern Avenue was built with that same incentive, because people moving to Yerevan were willing to pay more to live in the city center, preferring it over the suburbs. 
What Is the Way Forward?
It may seem that the urban landscape of Yerevan has been damaged beyond repair (not to mention the destruction of historic buildings after independence). This may seem especially true given the fact that there are construction projects currently underway that were approved years ago and canceling already permitted projects can be costly for the city because of legal procedures. 
One solution, according to Sarhat Petrosyan, is to focus on collecting spatial data and giving local communities the capacity and tools to establish proper urban planning practices in their respective districts. They should also make the process transparent and open by centralizing all the information. Sevada Petrossian thinks that it is important to understand the entire scope of the issue and to demonstrate the will to address it. Another solution may be to redirect the influx of people from Yerevan to other parts of the country, by developing the regions.  
In December 2018, the Yerevan Development Program of 2019-2023 was adopted, prioritizing sustainable development in Yerevan, relieving the city center, creating recreational and green spaces, and adding infrastructure in newly built residential areas. It is not within the scope of this article to evaluate the implementation of the program, however, it is evident that many issues remain unresolved almost four years after it was adopted. Next year, in September 2023, municipal elections will be held in Yerevan. It is yet to be seen what changes the election of a new mayor will bring to Yerevan. 
Within the scope of urban development, Yerevan also faces issues regarding transportation, overpopulation, maintenance of expired infrastructure and seismic risks. These issues will also have to be addressed by the new mayor and the new city council. 
When looking at another half-finished urban project in Yerevan, the Cascade Complex, the statue of Alexander Tamanian can be seen prominently leaning over the plans for the soon-to-be constructed city. One wonders what the former head architect would think if he saw the changes that the city he once designed has undergone. 
References: 
Adams, F. J. (1956). Changing Concepts of Planning. The American Journal of Economics and Sociology, 15(3), 245–252.

 

Born in Elizavetpol (today Ganja, Azerbaijan), Nersik Stepanyan was an Armenian Bolshevik activist and Party theoretician. A participant in the Russian Revolution in the Caucasus, Stepanyan later became known for his sensitive approach toward national cultures and traditions. A fearless public intellectual, he was also the most vocal critic of Soviet Georgian leader Lavrentiy Beria within the Soviet Armenian political elite. Tragically, Stepanyan's arrest by Beria's men in the summer of 1936 set the stage for the Stalinist Purges in the republic. The series is hosted by historian Pietro A. Shakarian and produced by Sona Nersesyan.
Read more

An accomplished businesswoman and philanthropist, Edele Hovnanian, president of the H.Hovnanian Family Foundation speaks to EVN Report about the projects she has supported, incubated and launched in Armenia, including Birthright; her father, Hrair Hovnanian's legacy and the importance of having a vision and being a fearless dreamer.
Read more