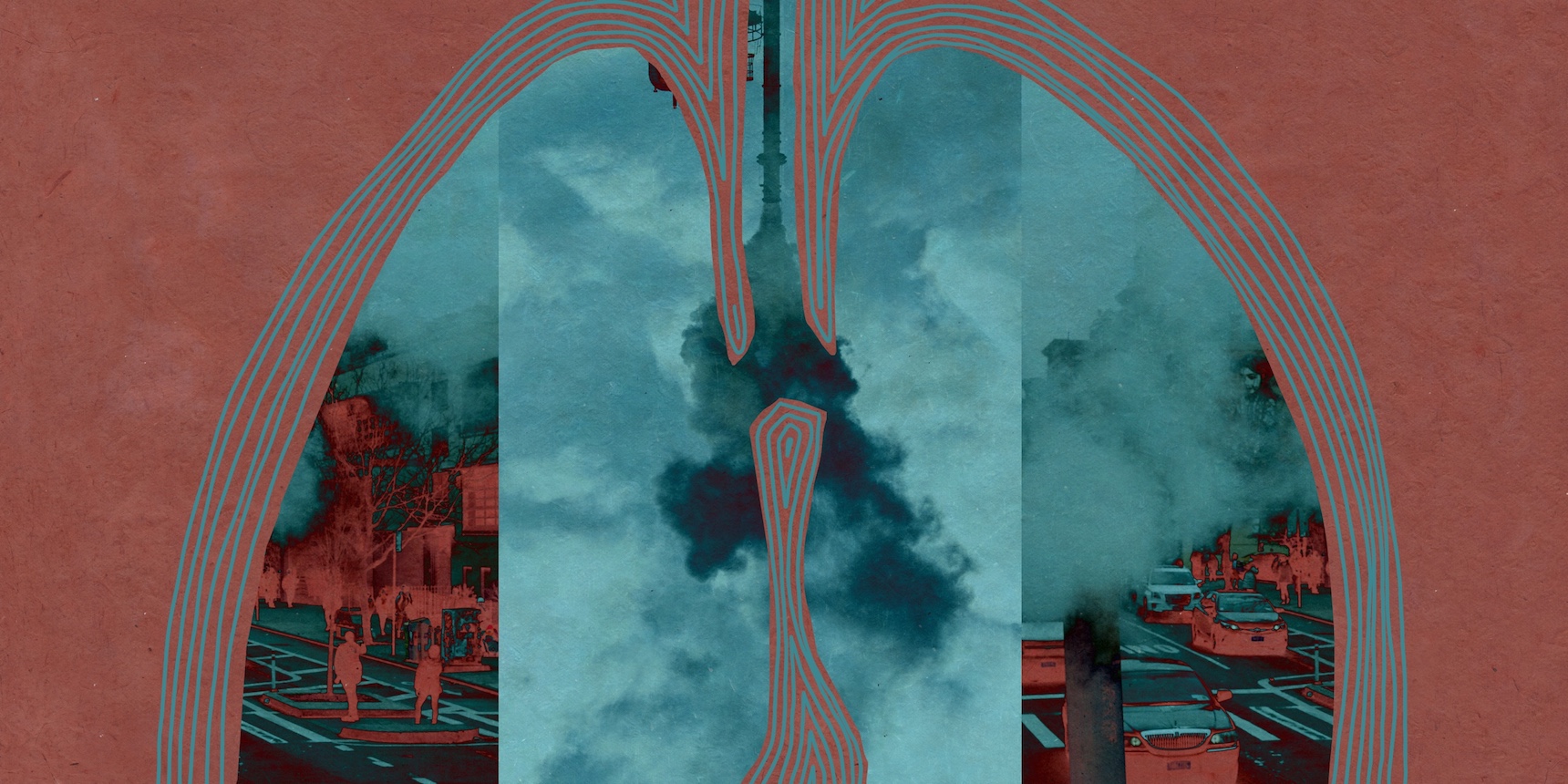 According to the World Health Organization, 16% of deaths in Armenia each year from stroke and ischemic heart disease are caused by air pollution. It is expected that this percentage would be much higher if cancer patients and those with chronic respiratory diseases were also included in the study. The vast majority of air pollution in Armenian cities is from transport emissions, and both the concentration and quantity of automobiles in Yerevan prevent residents from living in an environment with clean air. The lack of public transportation is contributing to this air pollution crisis, and it is adversely affecting the lives of hundreds of thousands of Armenians. If Armenia strengthened and advanced its public transportation, we would see a decrease in air pollution and an increase in quality of health. 
The primary culprit in air pollution is fine particulate matter (PM2.5). The WHO describes airborne particulate matter as a complex mixture of black smoke, combustion particles, metal vapors, coarse earth crust particles, and dust. What makes these substances harmful to humans is that over a period of time, these exogenous chemical substances are deposited in the lungs and accumulate over time. A respiratory system functioning subpar can further complicate one's health status further by having a detrimental effect on the cardiovascular system, which could then damage the brain, kidneys, and liver due to a lack of blood flow and oxygen. The Harvard Six Cities study (1993) concluded that mortality is strongly associated with fine particulate matter (PM2.5), and that the effects on mortality are greatest for deaths from respiratory or cardiovascular causes. The WHO's 2021 air quality guideline value for PM2.5 is 5 μg/m3, whereas Armenia's annual mean was estimated to be 46 μg/m3. The WHO does not have statistics about individual Armenian cities, but it is clear that Yerevan's annual mean is even higher than Armenia's national annual mean. This presumption is based on the fact that Yerevan is not only the most populous city (about ⅓ of Armenia's total population), but also the most dense (4,896 residents per km2), and with the highest concentration of automobiles. Automobiles play a larger role in polluting the air than factories, power plants, industrial emissions, wildfires, and the burning of fossil fuels for heating and electricity combined. The CDIA's project preparation study in 2021 learned that 90% of Armenia's air pollution is from transport emissions.
A good public transportation system and a reduction of passenger cars in Yerevan are needed now more than ever. Yerevan's current city plan dates to 1924, when architect Alexander Tamanian was tasked with designing the city. When Tamanian designed Yerevan's layout, the city was meant to accommodate a population of 150,000 residents. Almost 100 years later, Yerevan's population is at just over 1 million, and city planners in recent decades have made little to no effort to alleviate the problems of living in the crowded capital. Yerevan's roads were also not designed to support the number of passenger cars in the capital today. 
The city was planned to be supported by public transportation. Yerevan's tram network was inaugurated in the beginning of the 20th century, and the trolleybus system was established in the late 1940s. Private automobiles in the USSR were uncommon until the mid 1970s, but even then only about 1-2 percent of Armenia's population owned cars –– the public relied on a convenient public transportation system. Today, private car ownership is the norm and the majority of driving-age Armenians rely on automobiles as their primary mode of transportation. 
While most of Yerevan's current metro system serves the city center, a single converging line at Barekamutyun station linking Ajapnyak, Arabkir, Davtashen, and Kanaker-Zeytun in the north would serve 341,000 residents combined –– almost a third of Yerevan's total population. There are potential solutions for the remaining districts of Yerevan as well. For example, the road from the center of Nork-Marash to Yerevan's Republic Square station is about 4 kilometers, and this route currently takes about an hour to walk. The existing route itself is disadvantageous because it requires one to drive or walk northeast, away from Yerevan, and then to make a loop and continue southwest. A straight line underground between the two points (Nork-Marash – Republic Square) is only 2.5 km however, and would take approximately one minute per trip. While Nork-Marash's population is approximately 11,600, the districts to the east (Nor Nork) and northeast (Avan) have a combined population of almost 190,000, and this line could potentially serve as a transit point for the tens of thousands of residents who commute daily to the city center from these districts. 
Of the remaining districts, Shengavit is quite developed as a district and is also served by Charbakh Station, Garegin Njdeh Square Station, Gortsaranayin Station, and Shengavit Station. The Erebuni district comprises over 120,000 residents, served by the David of Sasun Station. Nubarashen's population comprises about one percent of Yerevan's total population, and most who need to go to the city center are already served by marshrutkas (mini-buses) and buses. While Malatia-Sebastia is not served by the metro, buses and marshrutkas operate on a daily basis. A groundbreaking change in Malatia-Sebastia would be the establishment of a light railway line from Zvartnots International Airport to the city center, because this would reduce the amount of passenger cars and taxis en route to or from the airport. In 2019, over 3 million passengers were served at Zvartnots International Airport. With a direct link from the airport to the city center, we can expect less traffic congestion on the M5 highway and a sharp reduction in exhaust emissions.
A valid criticism of the metro expansion proposals outlined above is that with Yerevan's current city budget, a large project such as this might take a decade or two to design and construct before becoming operational. This is especially true and relevant today, because the recent increase in defense funding means less money for Armenia's municipal governments. 
In 2021, almost 17 percent of Armenia's total federal budget went towards military spending. In 2023, Armenia's government will spend 47 percent more on defense. While many Armenians feel that military expenditure should be prioritized, this doesn't mean that progress in health care, social services, and other public goods should fall by the wayside; spending should rather need to be allocated more skillfully. In any case, if a metro expansion is deemed impractical for now, there could instead be a focus on cheaper options such as light rail transit or tramways. Based on census data and research, data-based decisions could help determine the most sensible approach.
Many conscientious Armenians lead eco-friendly lives and make daily decisions to minimize their carbon footprint – but this is not enough to address an issue requiring mass societal change. Yerevan's air particulate matter concentration should not be as high as it is today. Compared to other national capitals, Yerevan's population is not very large. It's a poor reflection of the Armenian government that city planners fail to devise practical designs, and that legislators do not seem to view air pollution as a significant matter. Tokyo's metro area, for example, has over 37,000,000 residents, yet particulate matter concentration is 4-4.5x lower than Yerevan on a given day. 
The Armenian government could help address pollution by adopting stringent emissions standards and enforcing strict automobile regulations. Even something as simple as an annual or biennial smog check to monitor the level of emissions produced by a registered vehicle could contribute to the reduction of air pollutants. The lack of such regulations permits residents to drive with faulty exhausts or without catalytic converters. Making catalytic converters on cars a legal requirement would be a crucial step to reduce emissions. Catalytic converters convert over 90 percent of carbon monoxide, nitrogen oxides, and hydrocarbons to water vapor, nitrogen gas, and carbon dioxide. 
Dump trucks, concrete-mixers, and heavy-duty trucks are a common sight in Armenia, and these industrial vehicles are the largest source of nitrogen oxide emissions. Trucks in Armenia are often decades old and sometimes up to half a century old. Yerevan's municipal government could pass legislation to ban the use of outdated trucks –– a positive decision ecologically –– but it would bring industry and construction to a halt. While this is unfortunately not a practical decision, there are other ways to combat air pollution without harming Armenia's economy. 
Traffic congestion is a major problem in Yerevan and its effect on quality of life and road safety will only increase until city planners and legislators intervene. Sections of Abovyan Street, Pushkin Street, Yeznik Koghbatsi Street, Teryan Street and Sayat-Nova Avenue could also be modified to accommodate and encourage bicycle use. The government can also decrease air pollution by optimizing bus routes, increasing service frequency, investing in zero-emission buses, and providing incentives to encourage public transport use. If Armenia invests in public transportation, while reducing or banning automobiles in certain areas of the city center, a drastic decrease in particulate matter concentrations can be expected.
Billowing clouds of black exhaust and gray smog aren't just annoying for residents –– the evidence is clear that air pollution contributes to fatal diseases. A healthy population means a stronger economy and from a social standpoint, reducing air pollution would increase quality of life. The development of adverse symptoms, repeated ailments, frequent doctor visits, obligatory medication adherence, surgical operations, and the pathogeneses of acute diseases to more serious conditions like emphysema, chronic bronchitis, COPD, lung cancer, and ischemic heart disease, often over the course of decades, could have a serious effect on one's mental health, financial situation, career prosperity, housing condition, personal security, and leisure. Diseases stemming from poor air quality are often slow to develop and as such can be neglected until it is too late. If we are to leave a better world for future generations, immediate action must be taken to solve this crisis.