Ever since the opening of the first commercial photography studios in 1840, women became their most ardent clients, as well as, most important subjects. For all those who could afford to have their portrait taken, photography offered a powerful means to have some control over their image by creating intimate self-representations and personal visual narratives. The photograph opened a door toward new identities and fantasies – possibilities that were denied to most women in the pre-photographic, pre-industrial age. At the same time, photo studios played a key role in dictating the tenets of feminine beauty through their commercial output, which supplied the burgeoning advertising, tourism, pornographic and fashion industries since mid-19th century. 
The appearance of the first Armenian-owned photo studios in Constantinople and Tbilisi at the very end of the 1850s, also sent a shock wave through the tradition-bound social customs of Armenian communities. Quick to realize the medium's commercial, as well as cultural potential, Armenian entrepreneurs and intellectuals adapted the medium with such rapidity and enthusiasm, that it turned photography into something of an "Armenian" craft throughout the Near East. But, for the early Armenian makers and consumers of the photograph, the technology was much more than a handy device to immortalize one's life – it was also, importantly, an effective shortcut to modernity and a powerful symbol of cultural emancipation. 
As it usually happened throughout human history, these transformations in cultural and political conditions were negotiated and articulated through the social framing of women's bodies. It is an axiomatic fact that modernity's evolution was, in many ways, predicated upon the profound reconsideration of women's position in the societal order and their struggle for liberation. This evolution coincided with the Armenian efforts towards national liberation in the mid-19th century, and their ensuing drive to distance the Armenian cultural identity from the dominantly Muslim, "Oriental" fabric of the Middle East.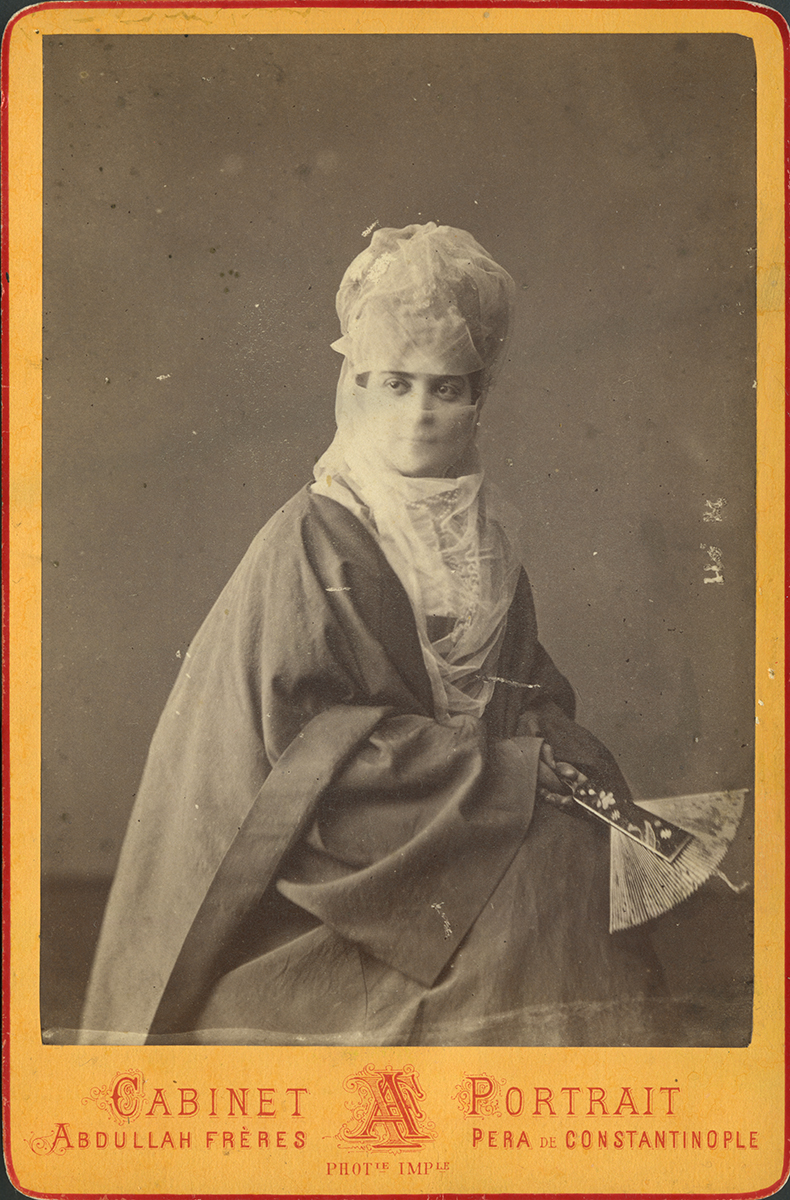 Abdullah Freres. Veiled Turkish woman with a fan, 1860s, Istanbul.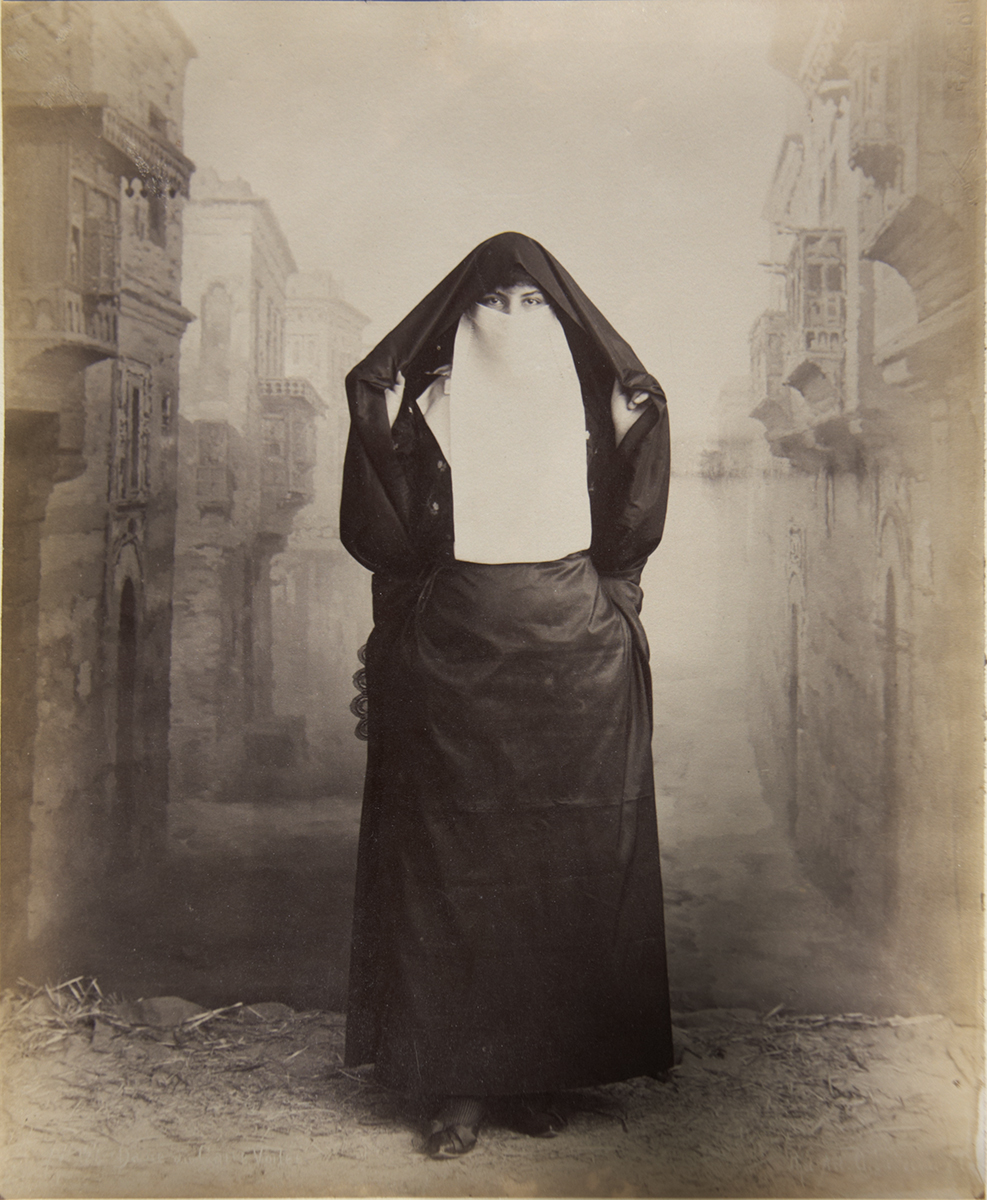 Gabriel Lekegian, Cairo, 1890s.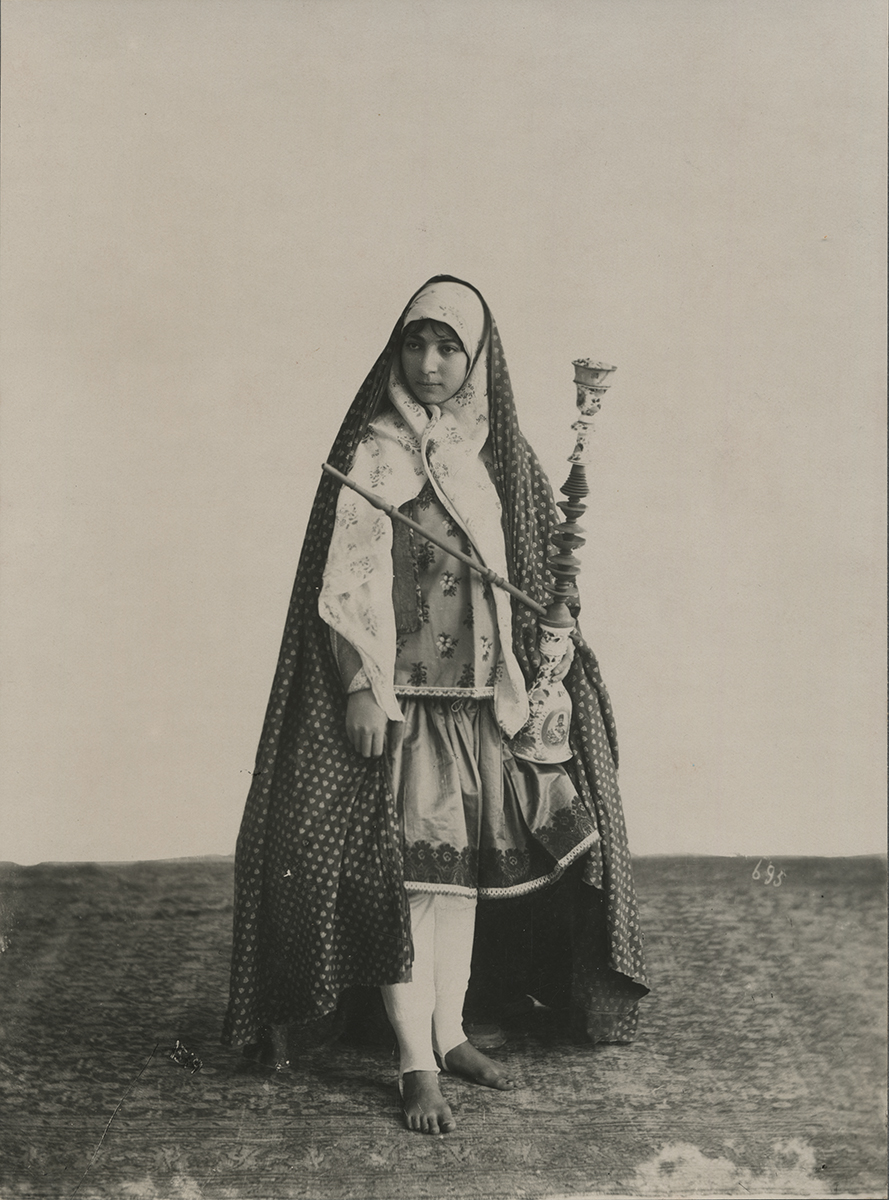 Antoine Sevruguin. Woman with a hookah, 1890s, Tehran.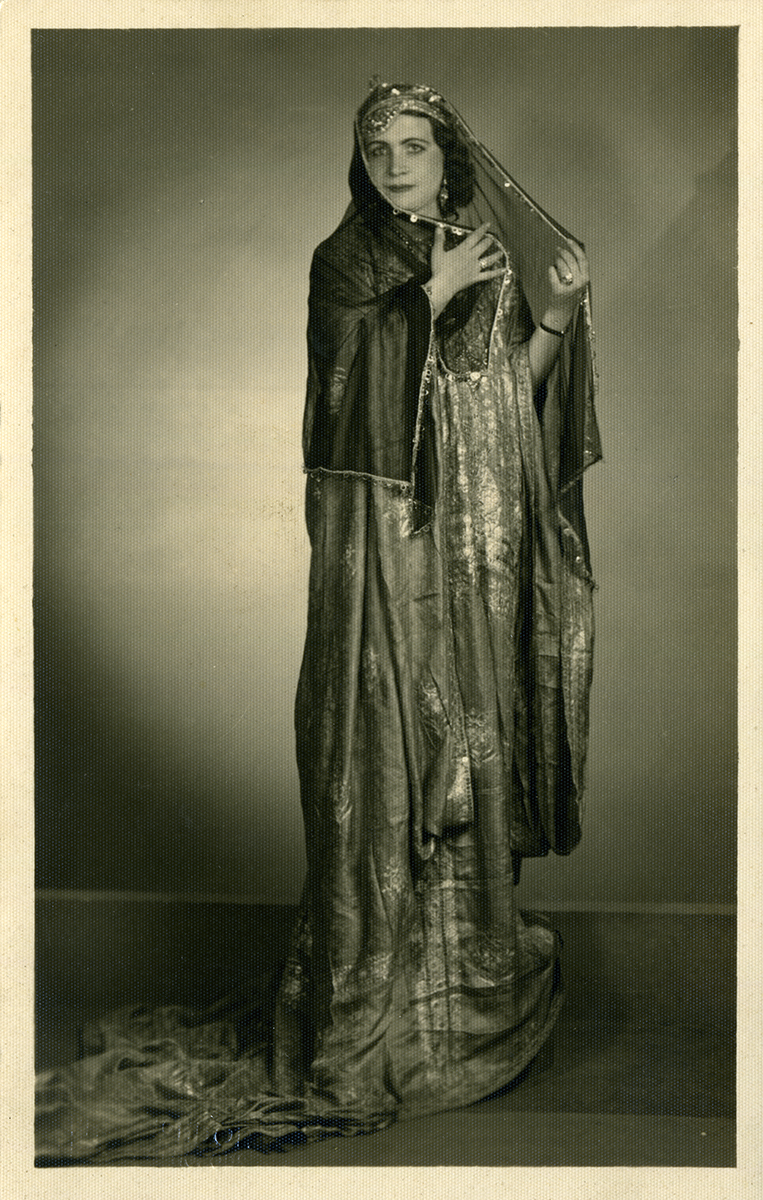 Studio London (Yessai Stephanian). Woman with a veil, Heliopolis, Egypt. 1920s.
Thus, within Armenian urban centers, photography of women had an added semantic functionality, in the sense that the printed photograph—transformed into an object for both private and public consumption—became a currency of socio-political demarcation. More specifically, the photographic presence of Armenian women served as a marker of difference that aligned the entire nation with the "emancipatory" trajectory of European civilization and detached them from dehumanizing associations of "Oriental" invisibility – a condition promulgated by Western imperialism as a justification for the colonization of much of Africa and Asia. In the same manner, Armenian photographers assumed the role of gatekeepers towards this "emancipatory" realm of Western modernity. Their studios became laboratories in which new representational codes and formats could be trialed-out, played with and, oftentimes, be enforced by their ethnically diverse clientele.

Almost from the very beginning, in the 1860s, these photo studios—especially the more prominent ones like the Abdullah Frères in Istanbul, Grigor Ter-Ghevondyan in Tbilisi, the Tariverdyants Studio in Yerevan, Georgiy Shamharov in Baku, Gabriel Lekegian in Cairo and Antoine Sevruguine in Tehran—functioned not only as service-providers, but also as salons and junctures of cultural exchange. We have, for example, evidence that the Abdullah Frères used their shopfront as an exhibition space, while the Ter-Ghevondyan studio was an important gathering place for Tbilis' Armenian intelligentsia. Local photographers displayed their best works on the walls of the studio – along with images of famous European personalities that one could order reproductions of. Many of the studios also provided a wardrobe of local and modern costumes, which the customer could dress-up in for an orientally-themed photoshoot or to emulate a Westernized identity. We might even say that these photographers were some of the first "influencers" in popular culture and played a tremendous role in defining the changing standards of feminine beauty and desirability in the Near East.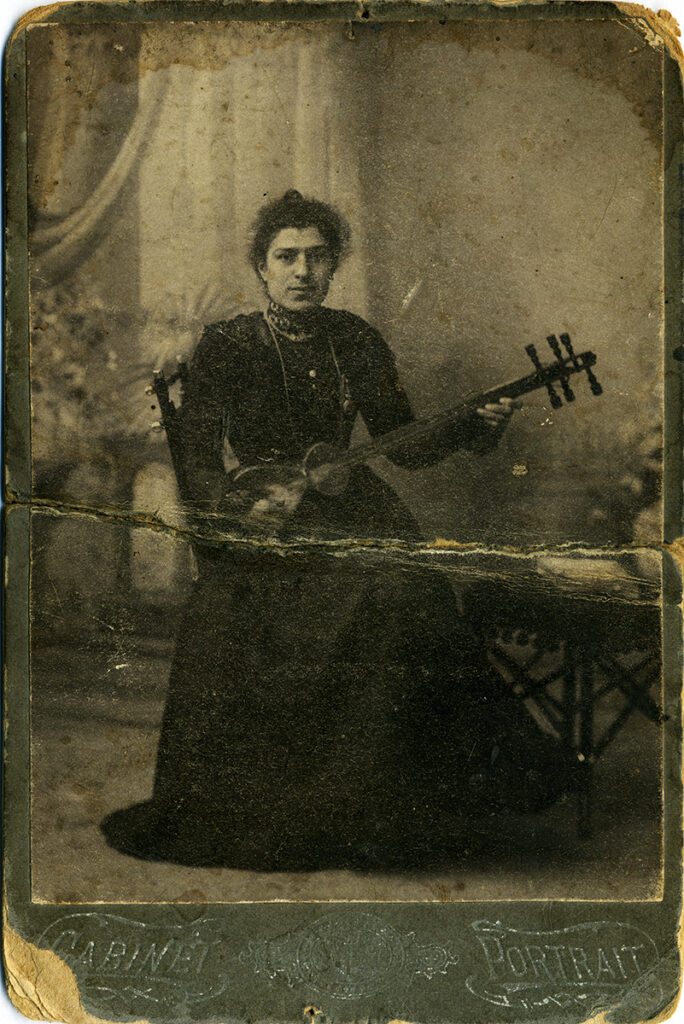 S. A. Borakchiev. Portrait of a female kyamancha player, Akhaltsikh. circa 1900.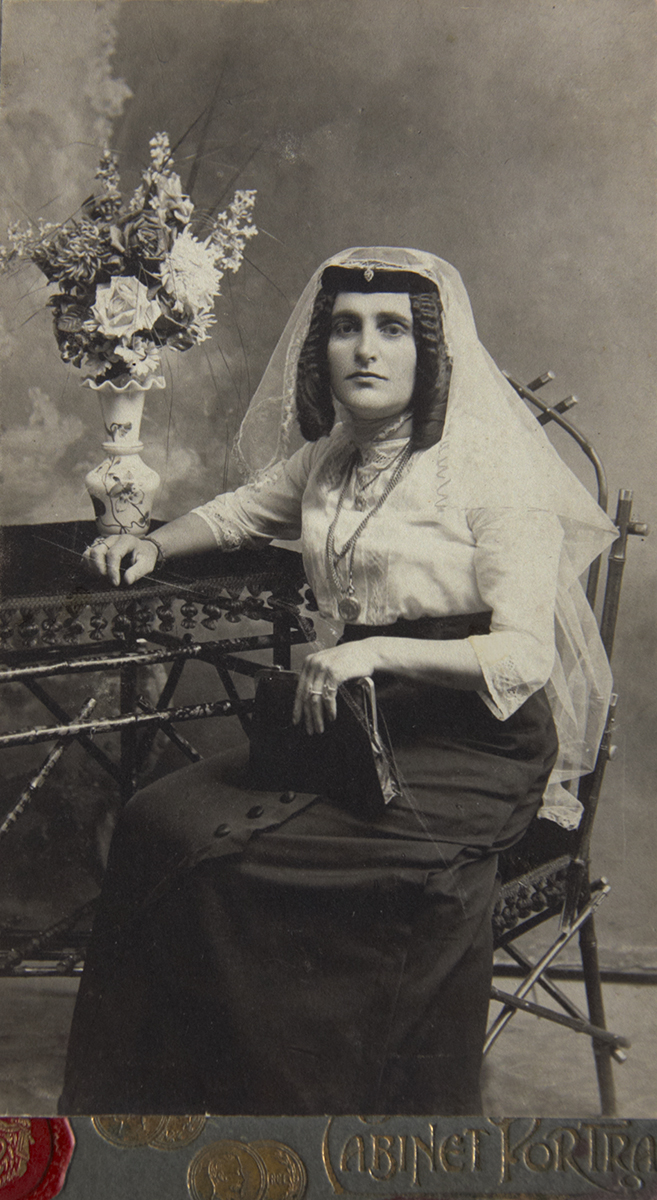 A. A. Toumanof, Tbilisi,

 

1900.
The large collection of portraits from Armenian photo-ateliers held by the ManBan Visual Culture Archive—a small part of which is presented with this article—provides a revealing insight into the various ways through which modern ideas on individuality, universalism, sexuality and gender, came to impact perceptions of women's bodies and their public presence in Near Eastern societies and beyond. Made between the 1860s-1870s, the earliest photographs of women from the studios in Tbilisi and Istanbul are still very much coded by traditional customs of decorum, familial hierarchies and national costume. Instead of emphasizing attractive features, what appears most important in these portraits is how dignified the sitter is. The stern, rigid poses of the women, even lighting and mid- to full-figure framing stress their respectability as wives, mothers and daughters. It is only through strategic uses of props that the photographers instill some sense of feminine charm.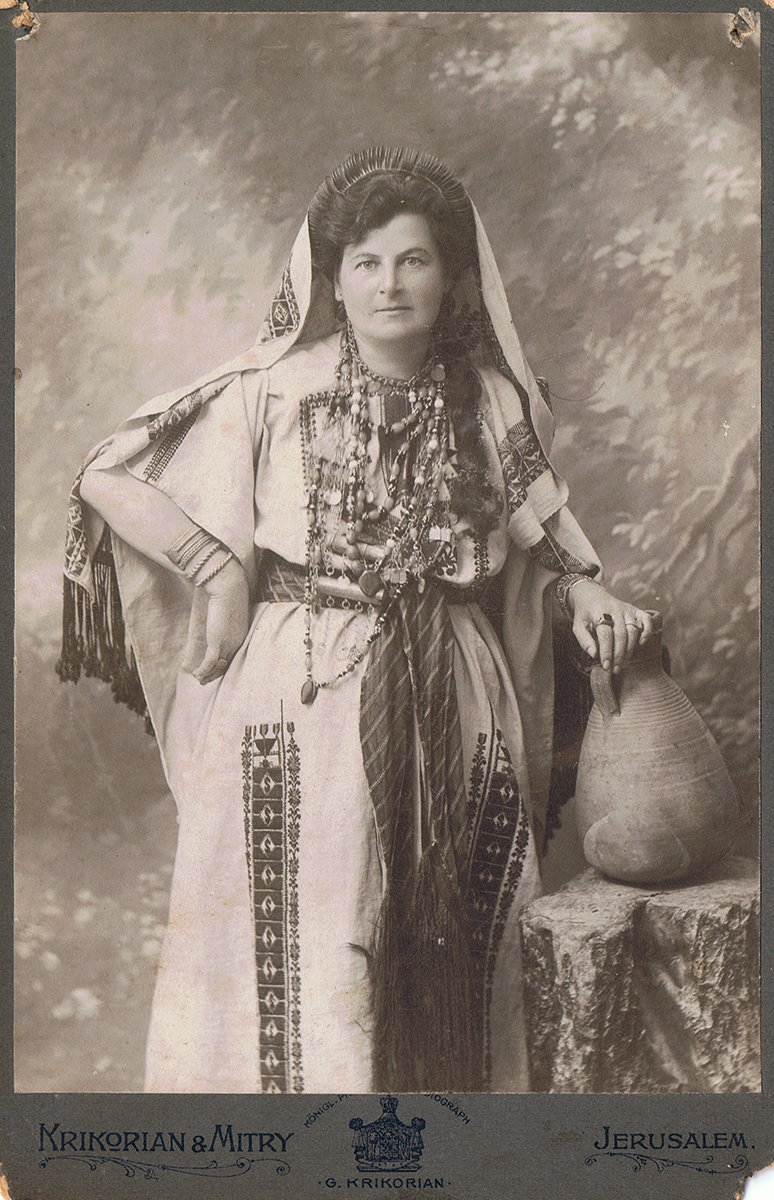 Garabed Krikorian. A European woman in a traditional Palestinian costume, Jerusalem. 1910s.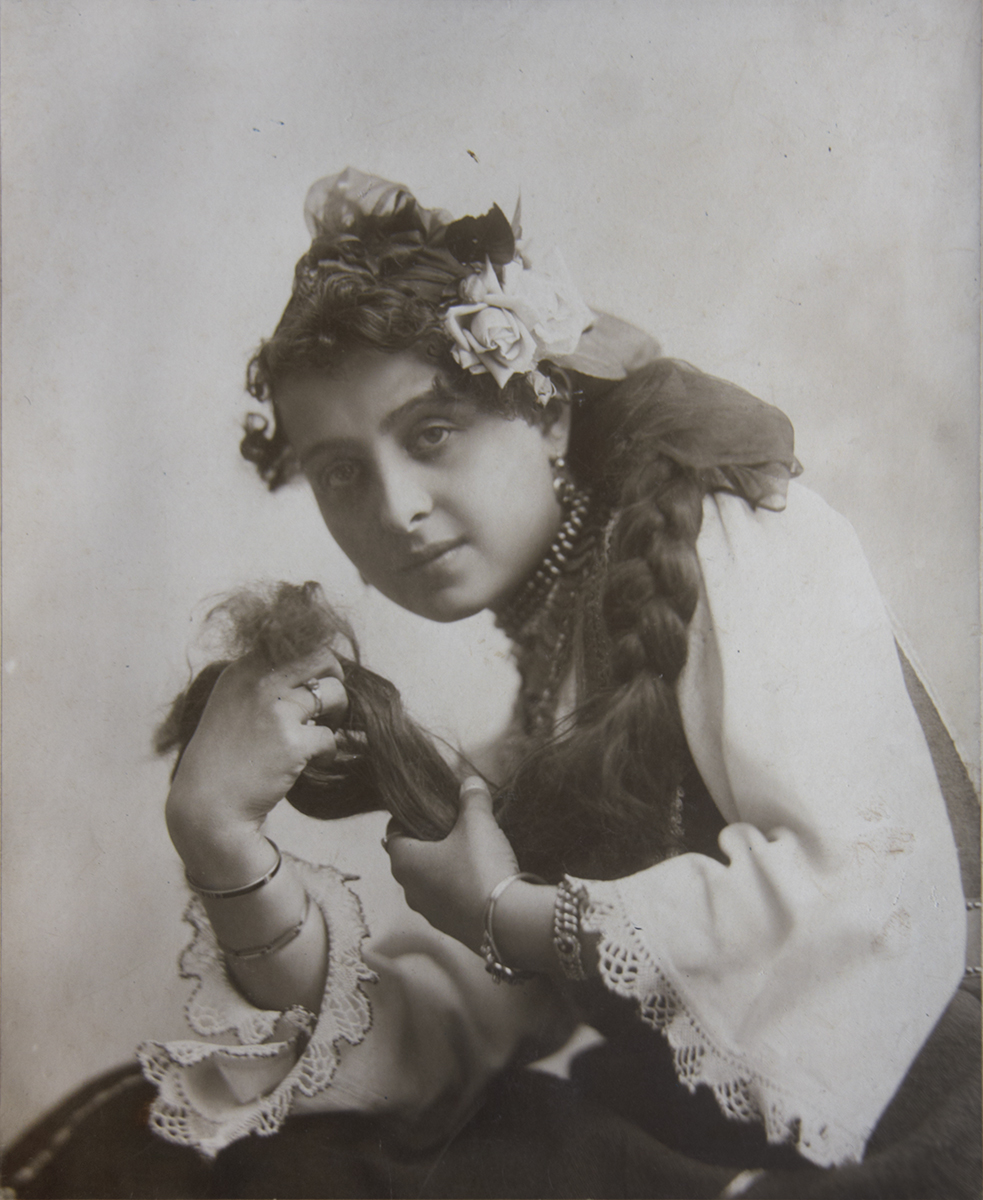 Boyadjian Freres. Portrait of Yordanka D. Petrova, Shumen, Bulgaria. 1917.
When the photographers intended to place accents on erotic appeal—usually in "genre" or "type" photographs made for the tourist market—they did this by "veiling" their models as much as possible, leaving only parts of the face or the body exposed, in order to generate an air of mystery and inaccessibility. Abdullah Frères and Antoine Sevruguin excelled in this type of ethnographic portraiture. Working as official photographers to the Ottoman and Iranian courts, they were also savvy businessmen whose output paid heed to Western fantasies of the Orient, while keeping close to local sensibilities about physical allure. In many ways, the hybrid, transcultural aesthetic of these photographers would help to set the course of Armenian studio portraiture in later decades.

By the end of the 19th century, Western norms of physical beauty had firmly ingrained themselves into the everyday life of Middle Eastern cities. Even when adhering to traditional dress-codes, local women began to incorporate elements of European fashions into their look—new silhouettes, hairdos, accessories and, especially make-up—in an effort to emulate "classical" beauty standards. Fitted, streamlined figures, white skin, even features and extravagant hairstyles came to the fore as signifiers of refinement or pedigree.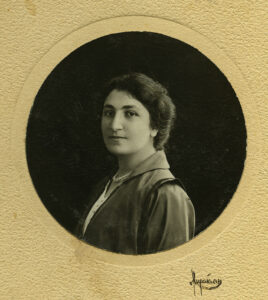 H. Mirakian. Portrait of an Armenian woman from Shushi, Tbilisi. 1915.
The spread and accessibility of photography at the dawn of the 20th century turned these standards into formulaic criteria of physical beauty. What also contributed to this was the entrenchment of Western aesthetics—through new media like illustrated magazines, postcards and cinema—as the "universal" measure for judging the human form. This new, globalized screen of mass culture no longer reflected the enormous diversity of aesthetic perceptions that had defined the concepts of the beautiful before the onset of modernity. The appearance of non-Western subjects in front of the still or moving camera would increasingly be conditioned by this colonial and racist lens (especially with the rise of fascism in the 1930s), rendering the "dark" or "non-white" body as a figure of otherness, exoticism and even abjectness.
The output of Armenian-run photo studios indicates the extent to which the socio-cultural boundaries between East and West had been erased at the onset of the 1920s. The craze for Hollywood-style glamor and sex appeal had become a lingua franca for attractiveness from Paris to Cairo, New-York to Istanbul and Tbilisi. During each decade, the Euro-American centers of fashion set new tendencies that would be quickly copied and adapted in even the most religiously-conservative urban centers like Bagdad or Aleppo. During the interwar period, Armenian photo ateliers became particularly renowned in these "Eastern" capitals for their exceptional craft in manufacturing highly "finessed" images of their female-customers. The photographic portraits from studios like Alban, Venus, Armand, Van Leo in Cairo, for example, show traces of heavy retouching in the negative as well as painstaking hand-coloring of the prints, which aimed to achieve maximally-pleasing representations of the sitters by "correcting" and minimizing any age- or ethnically-related "blemishes". 
And yet, these photographs also testify to the fact that the waning ethno-religious differences in women's representations were replaced by divergent approaches dictated by conditions of class, education and cultural upbringing. For women who had direct and unmediated access to photography—regardless of the continent, country or city—the medium also served as a means of affirming a sense of individual self or experimenting with the possibilities thereof. Instead of merely conforming to stereotypes of desirability and current trends, many women frequently used the photographic studio as a stage for reconfiguring and editing the performative script of their gender roles. 
The emergence of photo ateliers run by female, homosexual or "bohemian" proprietors in the Near East during the 1940s-1950s is, in part, explained by this demand for more tolerant and safe environments where women could indulge in such activities. What the portraits produced by Armenian photographers like Van Leo in Cairo or Maryam Shahinian in Istanbul manifest, is the surprising extent to which gender archetypes came to be fragmented, hybridized and localized by the mid-20th century. But the rise of nationalism, religious extremism and feminism in the 1970s put a spinner in this trajectory, radically polarizing culturally-specific models of the feminine ideal in the last decades of the 20th century. 
In its blazing march against the patriarchy, 1970s feminist politics exposed and critiqued the nefarious mechanisms of oppression behind traditional epitomes of beauty, which transformed women into objects of male desire and fantasy. Associated with the dusty "dream-machine" of old-age glamor, the photo studio would lose its social relevance under the pressure of these changes, gradually fading into cultural anachronism by the end of the century. The mechanisms of gender commodification, however, have proven to be frighteningly resilient as nodes of the capitalist system. Even after its destabilization in the #MeToo era, which pushed plus-sized, ethnically-diverse and gender-fluid women onto cinema and TV screens, catwalks, magazine pages and politics, the multi-trillion dollar beauty industry shows an astounding capacity to adapt, transform and continue to enforce its infinitely multiplied, but highly calculated models of desirability upon all layers of society. 
Today, smartphones and social networks have replaced the place once occupied by photo studios and we appear to have happily self-imprisoned ourselves in this hellish prison of endless image-making. Looking back from this position at the immense archive of visual artifacts created by the trans-national network of Armenian photo ateliers, what we encounter is an era when the borders between fantasy and reality were clearly demarcated. These studios provided an intimate environment where women could indulge in the drama of beauty ideals without letting those moments dictate their existence in daily life. 
Contemplating these portraits in the context of gender politics and post-colonial discourses of "otherness" we also stumble on the important role of Armenian photo studios as interlocutors of modernity, who successfully translated the dramatic transformations in gender tropes and aesthetic perceptions between divergent cultures and national groups. In this mediating capacity, Armenian photographers enabled an avenue through which local and indigenous sensibilities could be interpolated into the fabric of global modernity, and the excitement of changing fashions could be celebrated without losing sight of individual differences and diversity.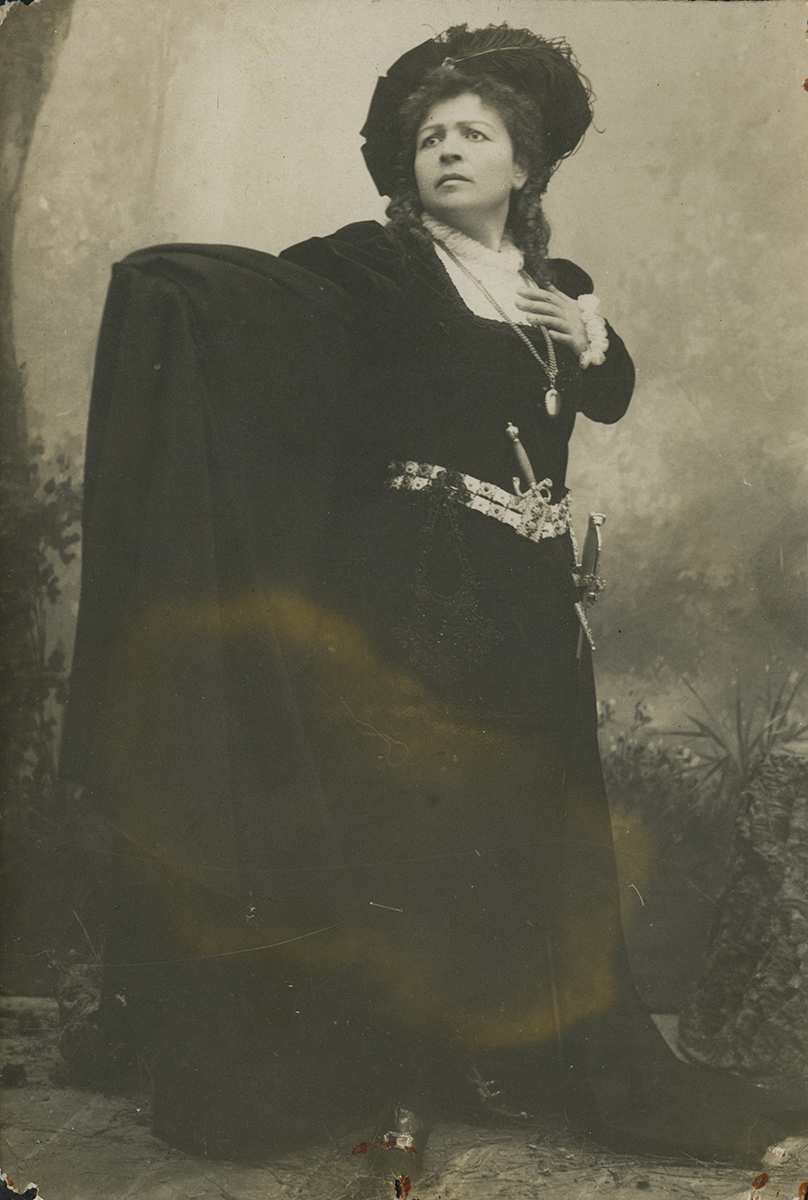 Unknown Armenian Photographer. Actress Siranuysh in the role of Hamlet, 1910s.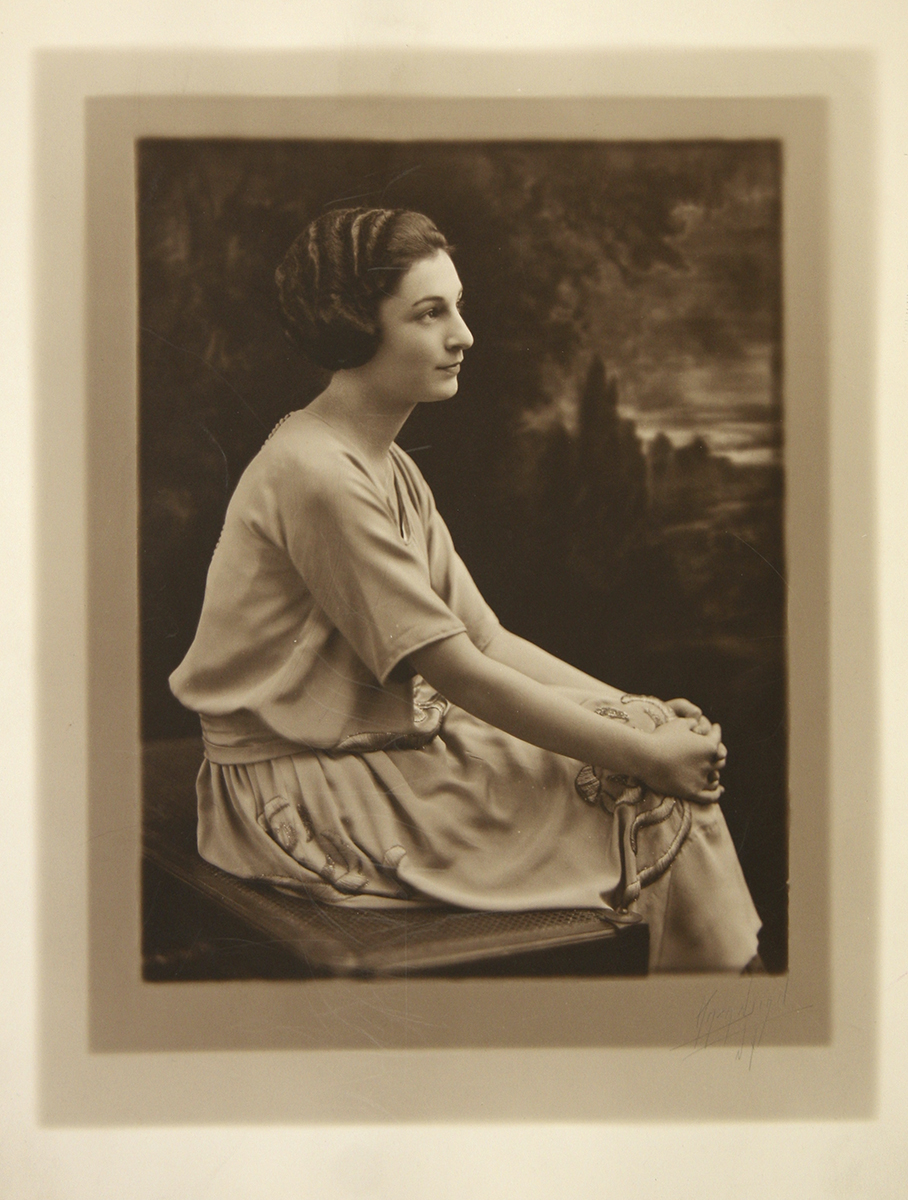 Aram Kazanjian, New York, 1920s.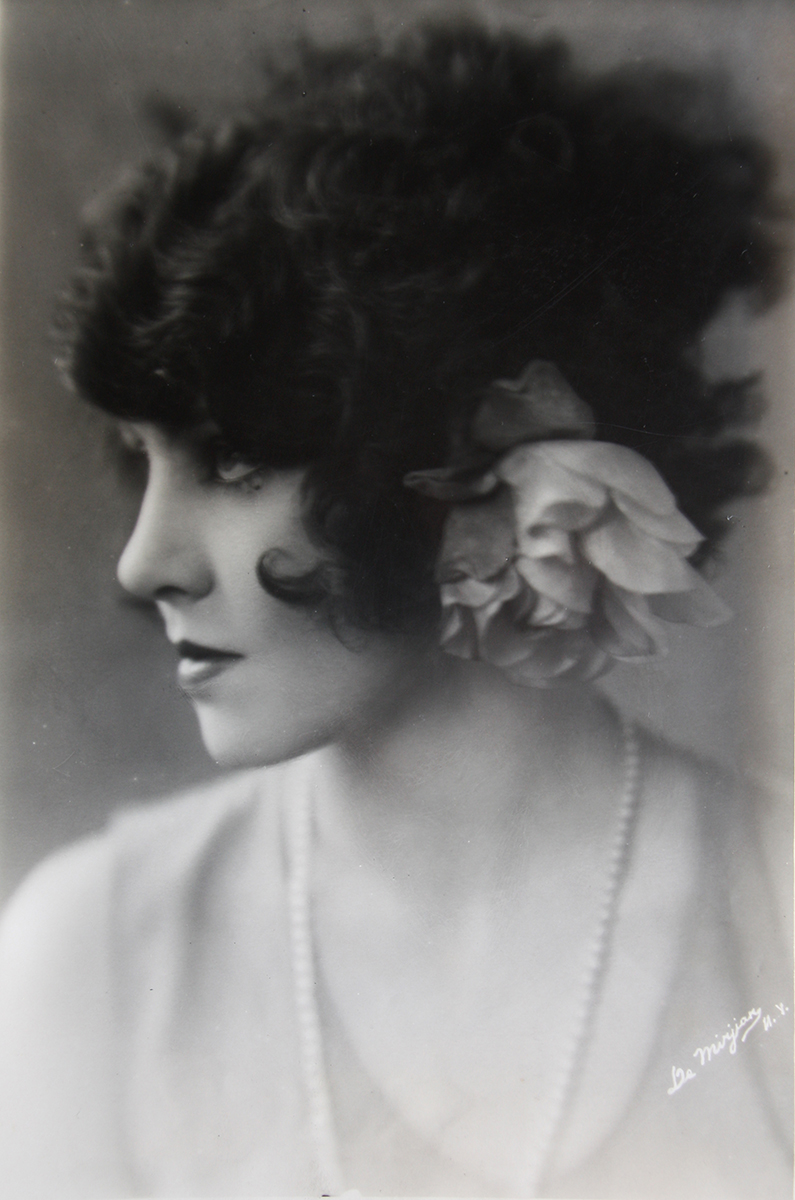 John De Mirjian. Mury Mulhern from Ziegfield Follies, NewYork, 1925.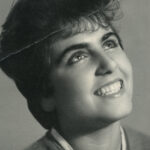 V. Adamyan, Leninakan, 1960s.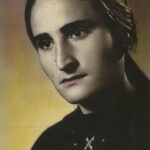 V. Buniatyan, Lida, Arzni village, 1950s.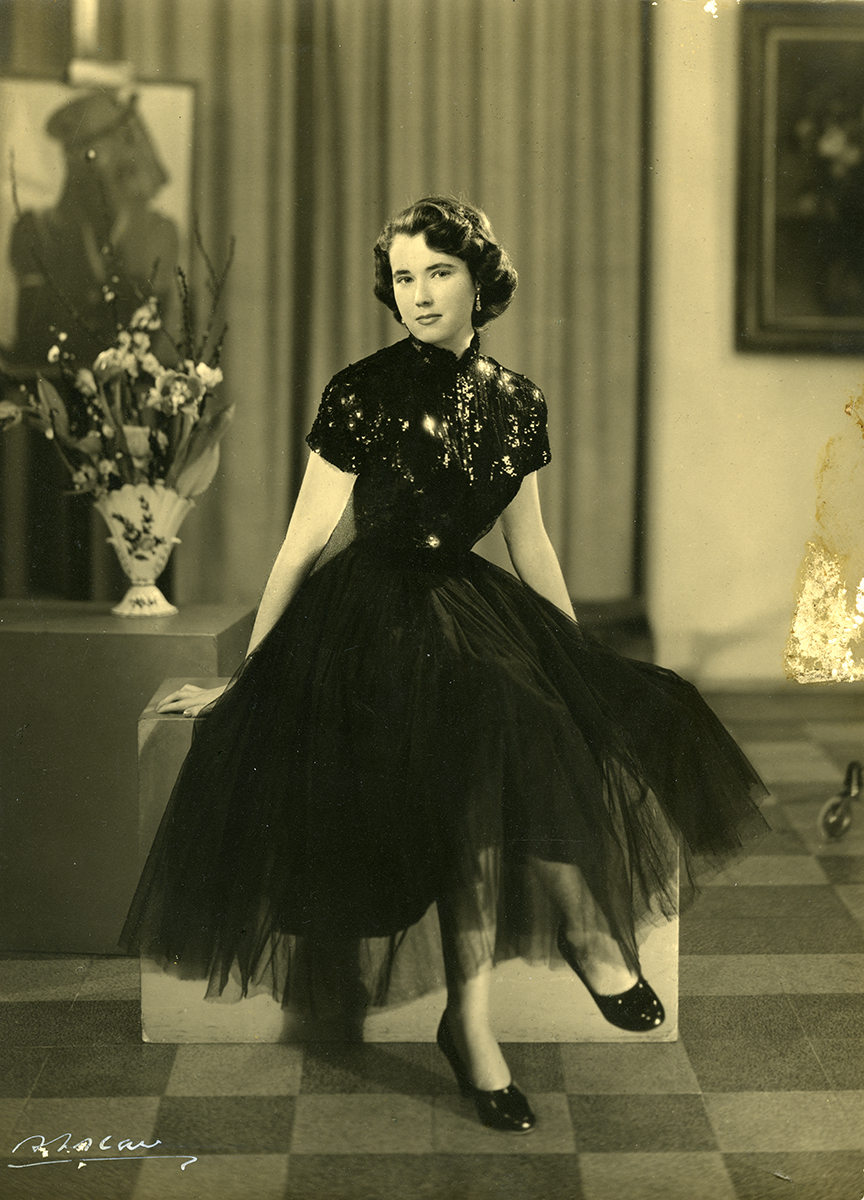 Apkar Retian, Alexandria, 1950s.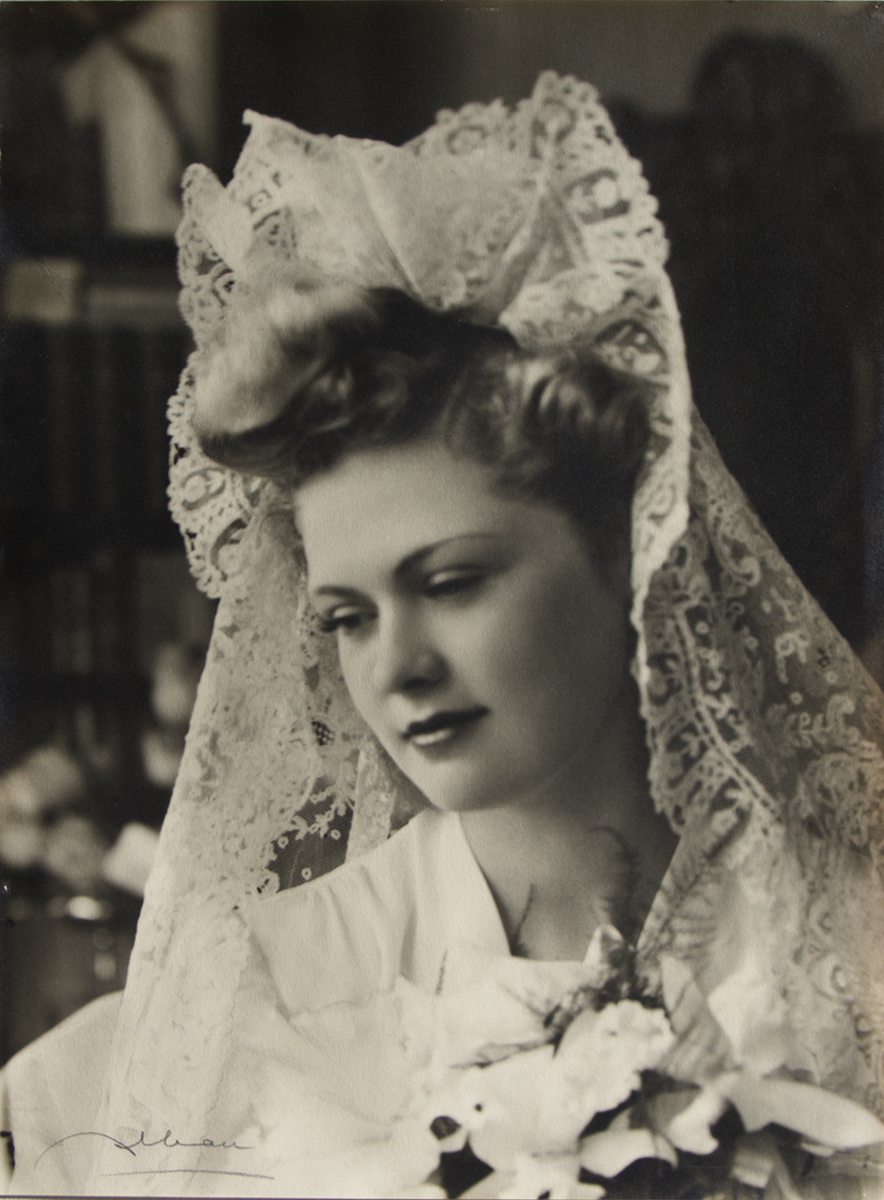 Aram Alban, Brussels, circa 1940.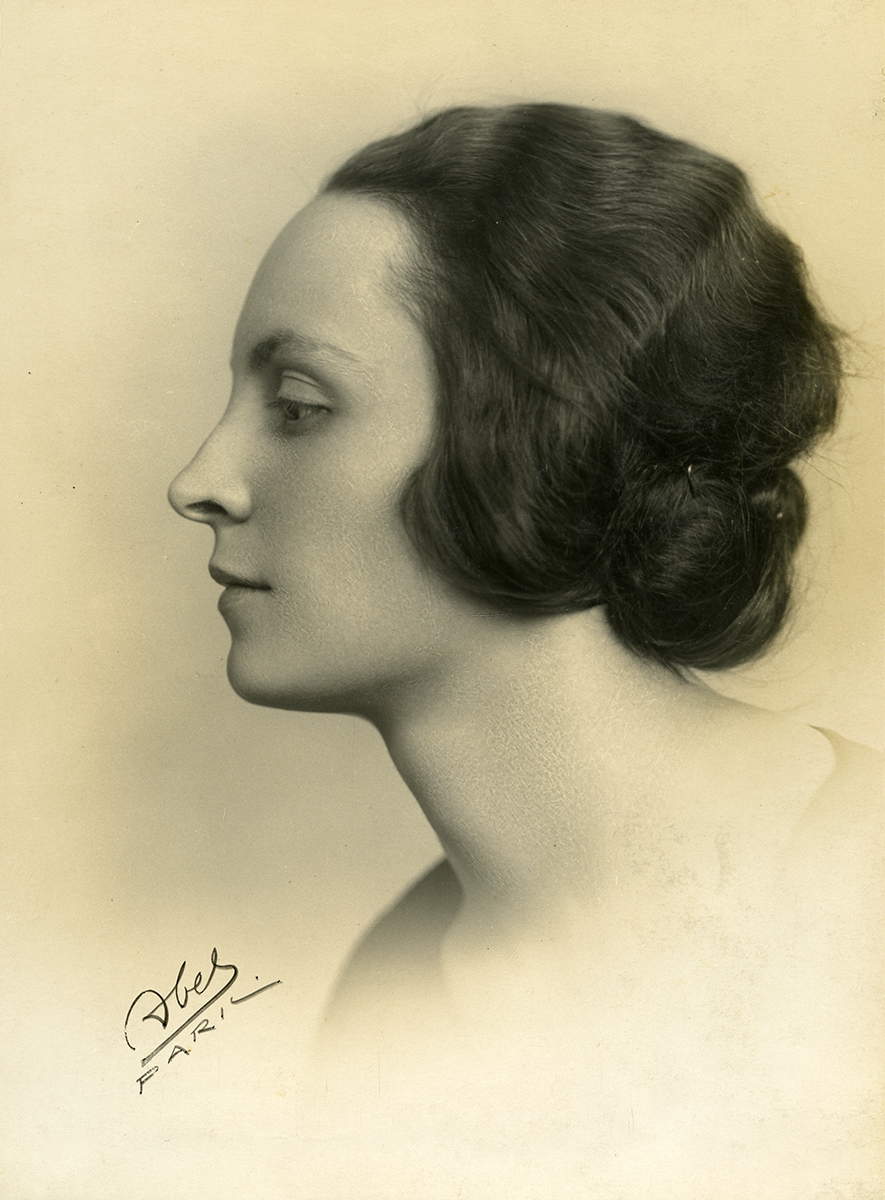 Abel Minassian, Paris, 1920s.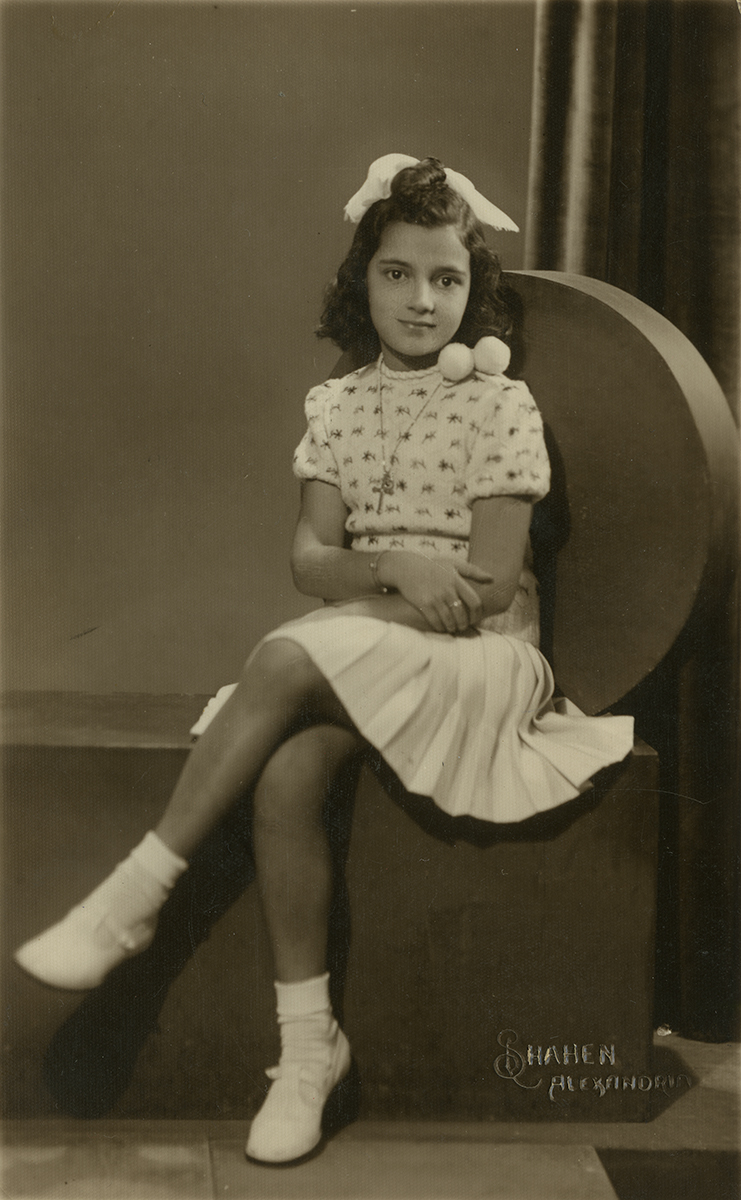 Studio Shahen, Alexandria, 1930s.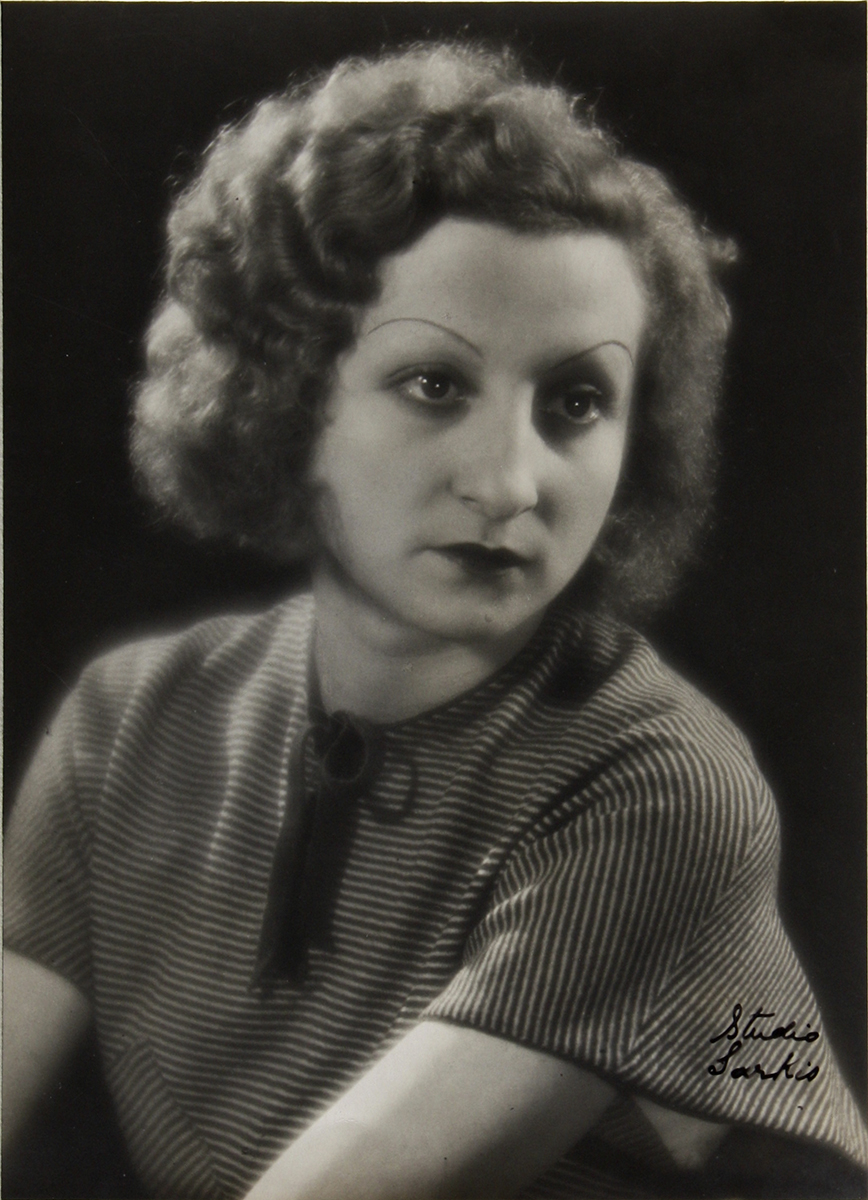 Sarkis Paraghamian, Paris, 1930s.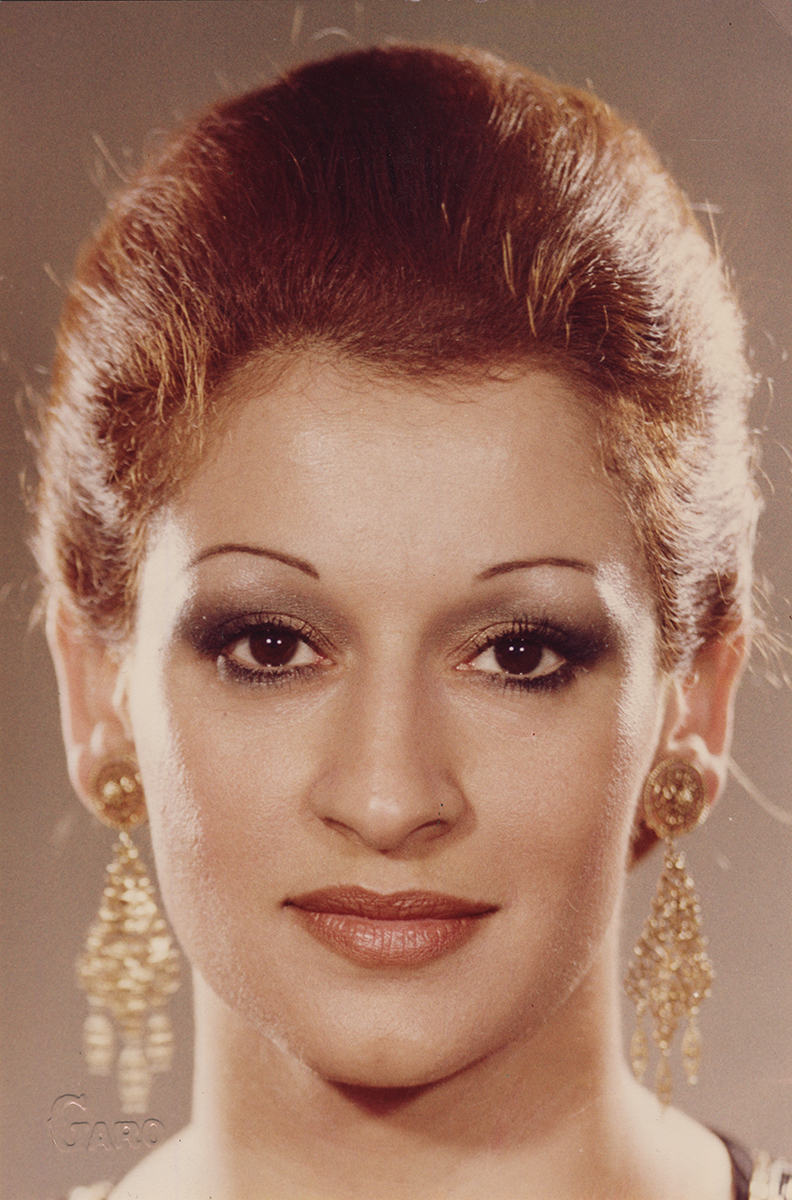 Garo Varjabedian, portrait of singer Warda, Cairo, 1960s.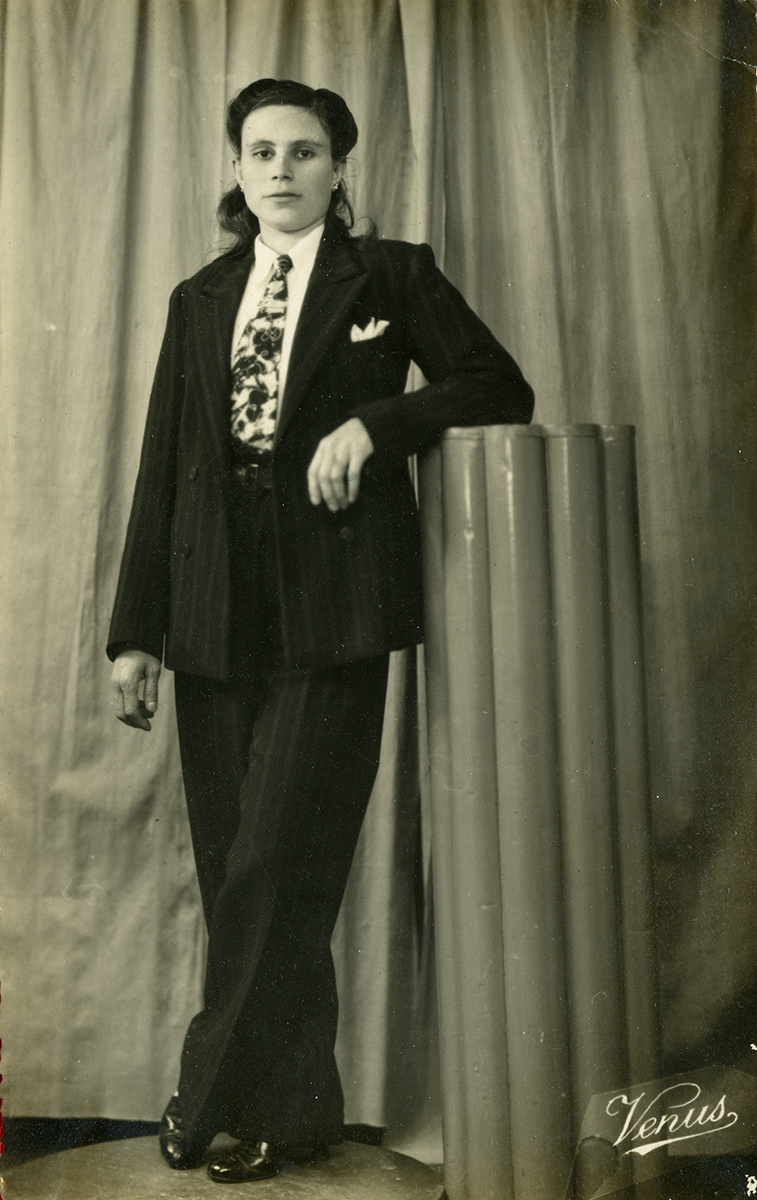 Studio Venus, Cairo, 1930s-1940s.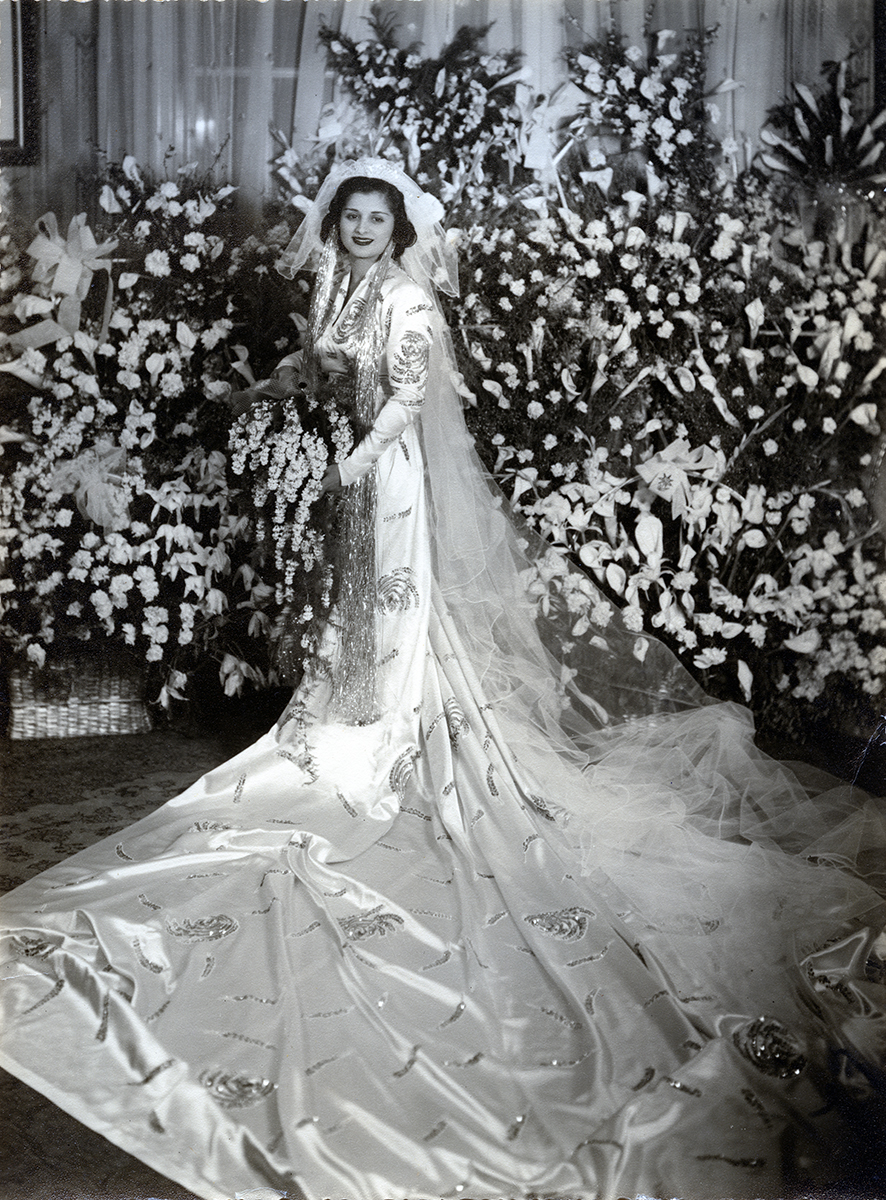 Studio Armand, Cairo, 1940s.