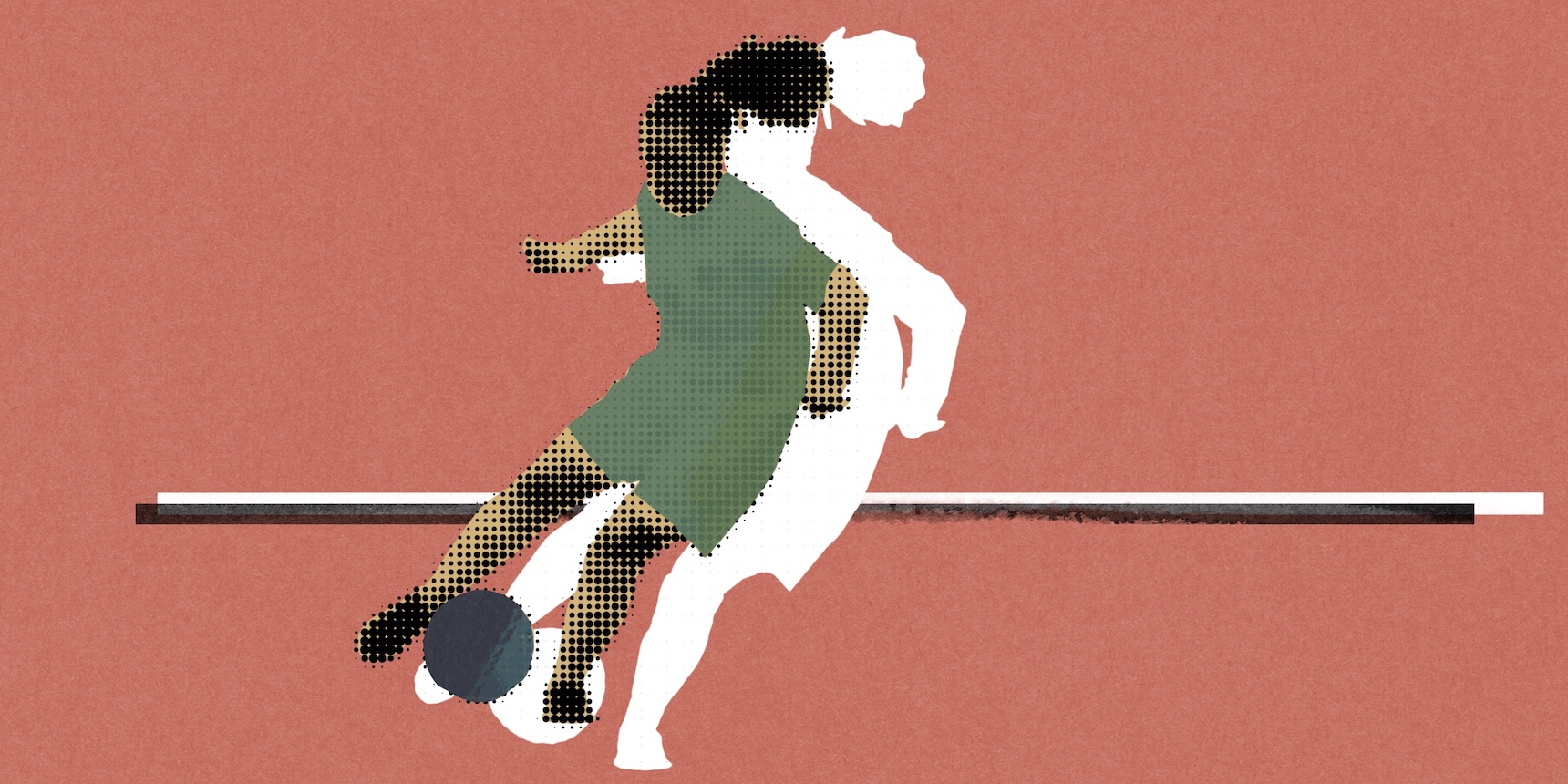 It is generally accepted that Armenians fare better in individual rather than group sports, which is supposedly reflective of our mentality as a people. The outstanding success Armenian chess players, wrestlers, and weightlifters achieve regularly on the global stage may support this conventional wisdom, but Armenia is very much fond of football, the world's number one group sport.
In 2021, the most recent year data is available, Armenia had a total of 6,248 football players and 226 football coaches at professional, semi-professional, and youth levels. It is only second to wrestling in terms of practitioners. In its 2025 strategy, the Football Federation of Armenia, the governing body of the sport, insists that football is the country's number one sport, while FIFA in 2020 claimed that wrestling is. 
Regardless, the sport is popular, with the World Cup, the European Championship, and the UEFA Champions League being widely-followed events, and major European clubs like Real Madrid having tens of thousands of Armenian fans.
From Ararat to Mkhitaryan
Football was first introduced to Ottoman Armenians in Constantinople (Istanbul) and Smyrna (Izmir) in the early 1900s, but the sport was institutionalized in the following decades in Soviet Armenia. The Armenian championship was established in 1939, but only in the post-WWII period, in 1949, did an Armenian club partake in the Soviet league. From 1966, Ararat Yerevan secured a place in the union's top league that lasted until the USSR's dissolution in 1991. The club came to be seen as sort of a "national team" of non-independent Armenia (and Armenians), much like Dinamo Tbilisi for Georgia.
It is generally maintained that Armenian football peaked in 1973, when Ararat won the Soviet championship and the Soviet Cup. It went on to win the cup again two years later in 1975. Overall, between 1971 and 1976, for five consecutive seasons, Ararat was consistently at the top five of the Soviet Top League, including 2nd place in 1971 and the spring of 1976. The club also achieved significant success in Europe, especially in the 1974–75 season of the European Cup (now the Champions League), when it reached the quarter finals, facing Bayern Munich of legends Franz Beckenbauer, Gerd Müller, and Karl-Heinz Rummenigge.
In the home match at Yerevan's Hrazdan Stadium, Ararat beat Bayern 1-0, but lost 2-0 in the away game. Bayern had won the previous season of the European Cup, went on to win that season, and the next one as well. Ararat's Eduard Markarov shared the top scorer's position with Gerd Müller with five goals each.
Like Tigran Petrosian's crowning as World Chess Champion in 1963, Ararat's 1973 victory in the Soviet league and cup popularized the game and permanently made it an Armenian obsession and inspired a generation of Armenians. To this day, many – especially older – fans shout Ararat, hup tur ("Ararat, attack!") at the matches of the national team.
In the FIFA ranking, Armenia is currently the 90th among the 211 national teams. It has never qualified for the FIFA World Cup or the UEFA Euros, the two major tournaments it is eligible to play in. Thus far, Armenia has lost 58% of the 143 games it has played for the qualifying rounds of these tournaments in total and won only 21%. Overall, in the 15 qualifying rounds, Armenia has scored 133 goals and conceded nearly twice as many (257), which translates to scoring 0.9 and conceding 1.8 goals in an average game.
Since independence, the national team achieved its most significant success in the early 2010s. Henrikh Mkhitaryan, easily the best Armenian player in recent decades, was a big contributor. Vardan Minasyan, the head coach, led the team to almost qualifying for a major tournament, but eventually Armenia placed third in its group for the UEFA Euro 2012 qualifiers. It would have advanced to the play-offs had it beat Ireland in the last game, which turned into a blockbuster. Armenia's long-time goalkeeper Roman Berezovsky was erroneously sent off and Armenia lost 1:2. 
In that group, Armenia scored 22 goals and conceded 12, an unprecedented achievement. Mkhitaryan was the group's top scorer with six goals. He went on to play for major European clubs in Germany (Borussia Dortmund), England (Manchester United, Arsenal), and Italy (Roma, Inter Milan).
Armenia's FIFA ranking peaked in February 2014, when it placed 30th, ahead of some well-established teams, after it beat Denmark and the Czech Republic and drew with Italy in the qualification for 2014 FIFA World Cup. These successful outcomes prompted Armenia to climb in the FIFA ranking in 2013 more than any other nation besides Ukraine.
Prospects and Continued Problems
Although the national team has often included diasporan Armenians and foreigners, like Turkish-Armenian Aras Özbiliz and Brazilian-born Marcos Pizzelli, who were part of the early 2010s team, the current squad stands out with its large share of foreign-born players recruited to play for Armenia. 
They include three promising young Russian-born Armenians, including Eduard Spertsyan, Nair Tiknizyan, and Georgy Arutyunyan, who are 23, 24, and 18, respectively. There are several foreign-born players of (partial) Armenian descent, including German-born Grant-Leon Ranos (20), Swedish-born André Calisir (33), Argentine-born Lucas Zelarayán (31) and Norberto Briasco Balekian (27), and non-Armenians who play in the Armenian league and have acquired Armenian citizenship, most notably the Nigerian-born Ugochukwu Iwu.
It is no wonder why FFA identified the Armenian diaspora as an opportunity in its strategy.
In its recent games for the Euro 2024 qualifier, Armenia has beaten Wales and Latvia and lost to Turkey in a game many praised the team for. There are now higher expectations for the squad, but the two upcoming games are with Turkey and Croatia, who are the favorites of the group with the latter being one of the world's strongest. But even if Armenia yet again fails to qualify for a major tournament, the team has already shown good potential. Now under the helm of Oleksandr Petrakov, who led Ukraine's under-20 team to victory in the FIFA U-20 World Cup in 2019, Armenia, with the lead of the likes of Spertsyan (now valued at $12 million) and Ranos, might repeat and, conceivably, exceed the success of the early 2010s.
Arman Abelyan, a sports journalist, told EVN Report that it is "logical" to look for players in the diaspora, but it is too early to tell if the move to include so many was justified. The large number of foreign-born players who did not come out of Armenia's youth system may be a symptom of a larger problem. In 2019, FFA hired Ginés Meléndez, a Spanish coach who successfully headed youth teams, as its technical director. He was asked to devise a development strategy for youth football and a training program for the national team, but Abelyan notes that not even FFA's Yerevan academy uses it any more despite the large amount of money spent on bringing Meléndez to Armenia.
Abelyan argues that FFA has focused too much on the national team and not enough on education. "[FFA] does everything for the national team, but we have not seen much change in youth education," he said. Armenia also has a serious lack of good coaches, he insists.
Back in 2020, Armenia's Prime Minister Nikol Pashinyan went as far as to inscribe winning a medal in the World Cup and/or the European Championship its 2050 strategy. 
Education and Infrastructure
In its 2025 strategy, FFA identified poor infrastructure and inadequate education as threats to the advancement of football in Armenia. In recent years, there has been significant advancement in these areas, though more work is needed.
According to Armenia's Football Federation, the country has 19 stadiums, with eight in Yerevan and 11 in regional towns: Gyumri, Vanadzor, Ejmiatsin, Abovyan, Kapan, Armavir, Ashtarak, Artashat, Charentsavan, Sisian and Vayk. Not all are functional, however. Many fell into disuse in the 1990s or later, including Armenia's largest stadium, Hrazdan in Yerevan. The most recent football matches there, Armenia vs. Italy and Armenia vs. Denmark, were held more than a decade ago, in 2012 and 2013, respectively. Yerevan's second largest stadium, the significantly smaller Republican Stadium, has hosted the vast majority of the national team's matches since it was renovated in 2000. The stadium in Armavir was renovated in 2021, the one in Abovyan last year, while the Artashat stadium's renovation is now nearing completion.
In recent years, Armenian officials have publicly pondered building a new national stadium, with FIFA expressing readiness to support the project. PM Pashinyan recently proposed building it in the new "college town" (akademiakan kaghak) on vacant land in the outskirts of the capital. The FFA strategy says it should have no less than 32,000 seats. In an interview a few months ago, FFA President Armen Melikbekyan said they have been discussing the project with investors and specialists.
On the grassroots level, too, there has been much progress in recent years. Last month, FIFA awarded Armenia first place in FIFA Forward projects for building 89 mini football pitches in eight regions between 2019 and 2021. FIFA provided $2.75 million and FFA chipped in $965,000 to build the 40m x 20m mini-pitches. By 2025, the FFA aims to build 300 mini pitches and increase participation in grassroots football for 80,000 children and adults.

In terms of football education, the country now has four football academies, located in the country's largest cities: Yerevan, Gyumri, Vanadzor and Ejmiatsin (Vagharshapat), which were completed in 2010, 2014, 2016, and 2017, respectively. They were all built, with UEFA and FIFA support, by a company owned by Ruben Hayrapetyan, the long-time head of Armenia's Football Federation, raising serious questions of corruption. The academy in Yerevan's Avan district alone has 11 pitches with natural and artificial turf. Two Yerevan-based clubs, Urartu and Pyunik, run their own schools in the Malatia-Sebastia district and near Hrazdan Stadium, respectively.
Earlier this month another football school, built by FFA with government support, was inaugurated near Yerevan's Republican Stadium. It was named after Khoren Hovhannisyan, who played for Ararat in the 1970s. As many as 300 children will have the opportunity to train there on a daily basis. FFA has secured government backing to build four more academies/schools in Yerevan, Ararat, Gegharkunik, and Tavush regions. Its aim is to have 10,000 kids between the ages of 6 and 18 playing in the youth system.
FFA youth championships are in nine age groups from under 8 to under 18. Dovegh FC, a club based in Armenia's northeastern Noyemberyan area that borders Azerbaijan and Georgia, partakes in these youth championships. It was founded in 2018 by Tatul Hakobyan, a well-known journalist, and trains more than 60 kids from seven villages and towns. Hakobyan, himself a native of the area, has stressed that besides the popularization of football in Armenia's remote areas, it also aims to "spread peace and solidarity through sports." Besides football, the children are also taught English and Armenian history lessons right on the pitch.
Football has also been embedded into Armenia's public school program since 2009. Every third class of physical education at Armenia's secondary schools is reserved for the sport. FFA has provided equipment, education programs, and organized grassroots events and has also trained more than 600 PE teachers and organized school championships in three age categories: under 10, under 12, and under 14. Last year's school championship attracted 3,100 children from 190 schools.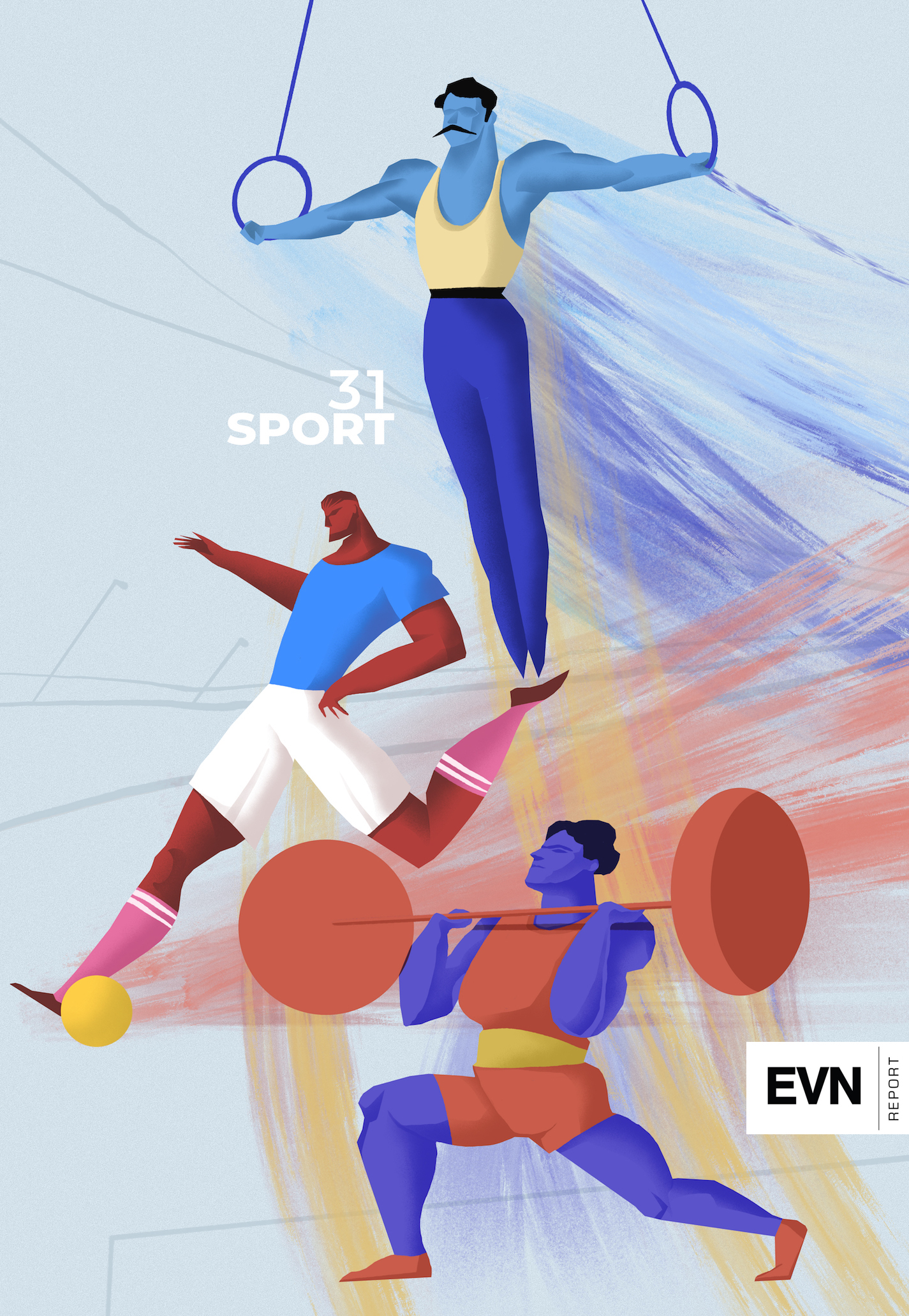 Sports have always played a crucial role in societies, contributing to the physical, mental, and social well-being of individuals, communities and nations. Their significance extends beyond mere entertainment, fostering unity, discipline, resilience and personal growth.
While headlines in Armenia, Artsakh and the region are dominated by conflicts and despair, sports and sporting events provide respite and give people, young and old, an opportunity to improve their health, and a platform for people to come together and support their athletes and national teams. Sports also can lift people up in times of crises and become a source of healing. They provide young people with role models, encouraging them to lead more active and healthier lives.
In this month's magazine issue entitled "Sports" we present articles covering the spectrum of different sports – from special schools preparing future athletes, to water polo and gymnastics, to the more traditional Armenian sports, such as football, weightlifting and wrestling.