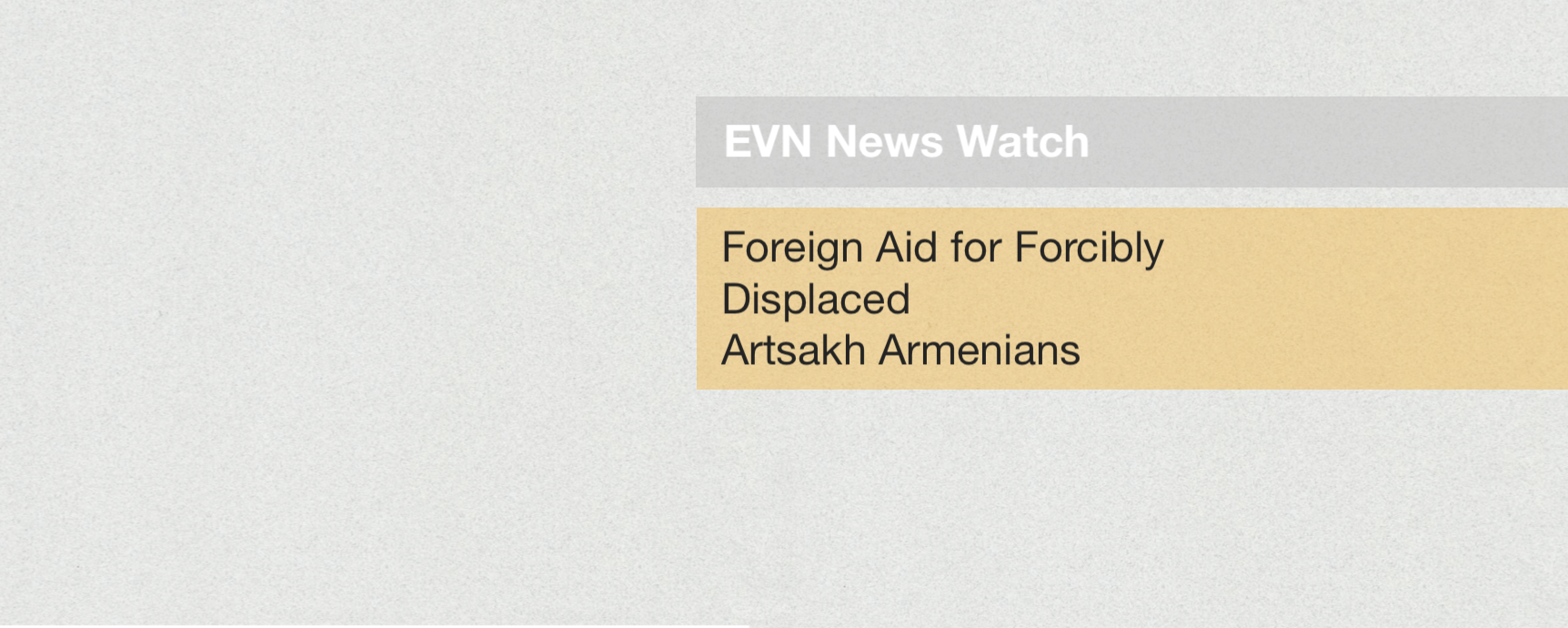 With the Azerbaijani blitzkrieg of September 19-20 and the subsequent fall of Artsakh (Nagorno-Karabakh), the region that has been inhabited by Armenians for millenia was effectively ethnically cleansed. With 100,617 forcibly displaced people from Artsakh in Armenia, there may be as few as 50 Armenians remaining in Artsakh according to the problematic UN mission that visited the region on October 1.
The arrival of over 100,000 forcibly displaced Armenians has created many short-  and long-term challenges. Several UN agencies have provided support and a number of countries have already offered aid.
The United Nations
On September 30, the UN World Food Programme (WFP) stated that it is ramping up its efforts to assist "people who have recently arrived at the Armenian border" from Artsakh, noting that those arriving are "often in a state of exhaustion and need immediate emergency aid, including hot meals and other food assistance." WFP constructed facilities in Goris to serve hot meals to thousands of people. It also provided food parcels containing protein-rich food items, grains and cooking oil for 30,000 people. 
On October 2, the UN reported that several of its agencies are responding to the needs of "new arrivals at reception centers in Armenia."
Trucks with supplies from the UN Refugee Agency (UNHCR) have arrived in Armenia, which contains warm blankets, mattresses, folding beds, hygiene items and other assistance for the refugees that have been taken in by host communities. An additional 15 trucks from UNHCR is expected in the coming days, bringing more items like blankets, beds and kitchen sets for about 7,000 refugees in total.
The UN Children's Fund (UNICEF) has delivered the first batch of life-saving medical supplies to Armenia's National Centre for the Provision of Medicines and Medical Supplies. This includes crucial items like bandages, syringes and various medications, including antibiotics and anti-inflammatory medication.
The UN Population Fund (UNFPA) is delivering essential hygiene items to refugee women and girls in a number of regions in Armenia.
On October 2, at the request of the World Health Organization (WHO), Israel sent two doctors to Yerevan to provide emergency medical assistance to the victims of the September 25 fuel depot explosion in Stepanakert.
On October 5, Audrey Azoulay, Director-General of UNESCO, announced that UNESCO is sending an emergency mission to Yerevan to support the "education of the refugee population from Karabakh." UNESCO said in a statement that it was requested by Armenia on October 2.
"Over 100,000 people have left the Karabakh region in recent days and are now refugees in Armenia, around a third are children and teenagers," the statement said, noting that the organization's mission of experts will "develop a plan of action with the national authorities designed to ensure educational continuity for the displaced pupils."
On October 7, the UN Refugee Agency (UNHCR), with UN agencies and NGO partners, appealed for $97 million to "provide urgent humanitarian aid and protection to refugees and those generously hosting them in Armenia, in support of the government-led response."
The Armenia Emergency Refugee Response Plan (RRP) was launched on the same day to bring together 60 partners, including 43 national NGOs. It covers relief efforts for a six-month period, until the end of March 2024. It aims to support some 231,000 people including 136,000 refugees and 95,000 members of local host communities.
UNHCR noted that many of the 100,000 refugees from Artsakh, who represent 3.4% of Armenia's population, "fled with just the few possessions they were able to grab, and arrived distressed, exhausted and apprehensive about the future" and "require critical support."
On October 10, UNICEF appealed for $12.6 million to provide "critical services including education, health, child protection, nutrition and water, sanitation and hygiene in the first six months."
Several humanitarian organizations have also been involved in the relief efforts, most notably the International Committee of the Red Cross (ICRC) on September 23 supplied nearly 70 tons of humanitarian supplies, including 66 tons of wheat flour, via the Lachin Corridor. It noted that despite the ceasefire, the humanitarian consequences of the military escalation are "strongly being felt across the region" as "families are searching for relatives they have lost contact with, including unaccompanied children." On September 26, it delivered medical supplies to burn victims of the explosion at a fuel depot near Stepanakert.
On September 21, Médecins Sans Frontières (MSF) sent a team to Goris to provide aid to people fleeing Nagorno-Karabakh. 
Countries
On September 21, the EU announced that it is providing additional €500,000 humanitarian aid to support the populations affected by the escalation of hostilities in Nagorno Karabakh. On September 26, the EU announced €5 million in humanitarian aid "in response to the increasing needs resulting from the Nagorno-Karabakh crisis." It includes €4.5 million in new funding in addition to the €500,00. The European Commission said it will assist "people displaced from Nagorno-Karabakh to Armenia" and "vulnerable people inside Nagorno-Karabakh." 
The EU said the aid to those in Armenia "will be delivered by various EU humanitarian partners operating in Armenia to reach around 25,000 people. The priority is to provide cash assistance, shelter, food security and livelihoods assistance," while the assistance to "people inside Nagorno-Karabakh" (there are almost none left by now) "will be channeled through the International Committee of Red Cross and aims to support around 60,000 people with food, healthcare, shelter and logistics."
The EU also said it is deploying a "humanitarian expert" to the region to work with humanitarian partners on the ground to ensure a rapid response to the crisis. In a statement on September 29, the European External Action Service said the EU and its member states "stand ready to provide additional humanitarian assistance."
On October 5, European Commission President Ursula von der Leyen announced that the EU will double humanitarian aid and other immediate support to Armenia to reach €10.45 million. She also announced that the European Commission is mobilizing funding to allocate €15 million for Armenia to be used as "budget support", which will allow the Armenian government to "address urgent socio-economic needs and support purchasing food and fuel."
On October 6, Janez Lenarčič, European Commissioner for Crisis Management arrived in Armenia to "express steadfast EU solidarity with all the people who have had to leave their lives behind as well as with Armenias and its host communities, welcoming the people in need."
On the same day, the European Commission reported that Austria, Germany, Lithuania, Norway, Poland, Romania, and Sweden have already offered urgently needed shelter, food, and medical supplies, while in addition, Belgium, Bulgaria, France, Italy, Luxembourg, Spain, and Sweden have offered medical support via the EU Civil Protection Mechanism to assist the mass burn victims of the fuel depot explosion.
On October 7, a humanitarian aid flight organized by the EU landed in Armenia with 50 tons of humanitarian supplies.
On September 25, as the forced exodus of Artsakh Armenians to Armenia was underway, top U.S. officials visited Armenia. U.S. Agency for International Development (USAID) administrator Samantha Power, accompanied by Acting Assistant Secretary of State Yuri Kim came to "reaffirm the U.S. government's partnership with the people of Armenia; underscore the United States' commitment to Armenia's sovereignty, independence, territorial integrity, and democracy; and to hear from those impacted by the humanitarian crisis in Nagorno-Karabakh."
Power visited Kornidzor, the epicenter of the exodus, and announced $11.5 million in humanitarian assistance ($1 million through USAID and $10.5 million through the State Department). The USAID said the "life-saving assistance will address health care and other emergency needs, helping local communities provide and coordinate aid deliveries, create safe spaces for displaced persons, provide cash and voucher assistance, and allow positioning of essential supplies – such as hygiene kits, blankets, and clothing – to address displacement from Nagorno-Karabakh or elsewhere in the region."
On September 28, USAID announced the deployment of a Disaster Assistance Response Team (DART) in the region to coordinate the U.S. humanitarian response. Its job is to "assess the situation, identify priority needs to scale up assistance, and work with partners to provide urgently needed aid."
On October 10, the U.S. Embassy in Armenia reported that "two seriously injured young people from Nagorno-Karabakh were evacuated to the United States to receive specialist medical care."
On September 27, France's Foreign Minister Catherine Colonna announced that her country will provide an additional €7 million in financial assistance for NGOs, UN agencies and the Armenian Red Cross Society to welcome refugees from Nagorno-Karabakh and cover their social welfare, medical and financial expenses. "This financial assistance, in addition to the €5.5 million that France had already allocated since the beginning of 2023 brings the support provided to refugees and displaced persons in Armenia and Nagorno-Karabakh to €12.5 million since the beginning of the year," the French MFA said in a statement.
The French MFA announced that its Crisis and Support Center will send a consignment of medical equipment and emergency supplies to care for 250 seriously injured people and 40 trunks of general and emergency medicines for adults and children, as well as 1,500 suture kits and 9,000 sterile compresses donated by the Tulipe association and its affiliated healthcare firms. France's five tons of humanitarian aid was delivered on September 30. The French MFA also noted that a team from the Crisis and Support Center will travel to the region to assess needs and to establish France's humanitarian response for those who are most vulnerable.
On September 27, Germany's Foreign Minister Annalena Baerbock announced that Germany will increase its humanitarian aid through the ICRC Armenia by €3 million (from €2 to €5 million). "It is important that relief goods reach people reliably and consistently, not only in a piecemeal way. I have decided to substantially increase our humanitarian assistance once again," Baerbock said.
On September 27, Spain's Foreign Minister José Manuel Albares said that Spain will provide aid through the Spanish Agency for International Development Cooperation (AECID). The next day, he expressed "support and solidarity with the Armenian population of Nagorno Karabakh" and announced an "initial contribution" of €1 million through the AECID.
On September 28, Canada's Minister of International Development Ahmed Hussen and Foreign Minister Mélanie Joly announced that Canada has provided 2.5 million Canadian dollars ($1.8 million US) in humanitarian assistance funding to the International Committee of the Red Cross to address urgent needs stemming from the crisis in Nagorno-Karabakh. "This funding will help provide emergency health services, food and nutrition assistance, protection services and other life-saving assistance," the government said in a statement.
On September 28, the Swedish government announced that the Swedish International Development Cooperation Agency (Sida) is providing 15 million Swedish kronor ($1.4 million) in support to the International Committee of the Red Cross (ICRC) to "meet people's urgent needs, including medical transport, food and cash grants to be able to purchase the most essential items." After a call with his Armenian counterpart the next day, Sweden's Foreign Minister Tobias Billström said Sweden "will continue to support Armenia." On October 12, Sweden's Foreign Ministry announced that it is distributing an additional 15 million kronor ($1.4 million) to the UN refugee agency (UNHCR) to "support the reception of refugees in Armenia." The Swedish government had further provided 2.5 million kronor ($230,000) to Action Against Hunger's activities in Armenia.
On September 29, UK Minister for Europe, Leo Docherty announced that the UK will give £1 million to the International Committee of the Red Cross (ICRC) to "support the humanitarian response to the situation in Nagorno-Karabakh." The UK government said the ICRC "provides life-saving medication, healthcare and other essential support to vulnerable people in Nagorno-Karabakh and the wider region." The statement said a "significant portion of the ethnic Armenian population has left Karabakh for the neighboring Republic of Armenia and face acute humanitarian challenges." On October 3, UK Ambassador to Armenia John Gallagher visited Goris to "learn more about the situation on the ground related to the vulnerable population displaced" from Artsakh. He met with displaced people currently in Goris to learn first-hand about their needs and with representatives of international organizations such as UNICEF, the ICRC, to learn about the support provided to affected people.
On September 29, Denmark's Foreign Ministry allocated 1 million Danish kroner ($140,000) in humanitarian aid to Armenia through the Danish Red Cross. "The aid will be disbursed through the Danish Red Cross supporting the Armenian Red Cross Society and Red Cross Movement Partners in providing aid to the Armenian population displaced from their homes in the conflict-affected regions of Nagorno-Karabakh. The immediate response will focus on providing shelter; 2) food security; 3) health and care," the Danish MFA said.
On September 29, Hungary's State Secretary for the Aid of Persecuted Christians, Tristan Azbej, stated that following consultations with the Armenian Apostolic Church and the Armenian government, Hungary is donating €102,000 (40 million forints) "fast relief to the Armenian Red Cross to assist the Armenians leaving Karabakh because of the armed conflict and those injured in the fuel explosions in Stepanakert."
On October 3, UK Ambassador to Armenia John Gallagher visited Goris to "learn more about the situation on the ground related to the vulnerable population displaced" from Artsakh. He met with displaced people currently in Goris to learn first-hand about their needs and with representatives of international organizations such as UNICEF, the ICRC, to learn about the support provided to affected people.
On September 30, Norway's Foreign Minister Anniken Huitfeldt stated that Norway will provide 20 million Norwegian kroner ($1.8 million) in "humanitarian assistance to the civilian population in Nagorno-Karabakh" and that the support "will be used to assist both those who have fled and those who remain in the region."
On September 30, after a request by Armenia to the European Commission, the Italian government said it has "immediately activated its civil protection system, initiating an inventory of the materials available at the national service's various branches to help the population and meet the needs expressed by the country." On October 2, Italy's Foreign Ministry announced the allocation of €4 million to the ICRC to "support the tens of thousands of people from [Nagorno-Karabakh] who have left their homes to reach Armenia."
On October 2, European Commissioner for Crisis Management Janez Lenarčič stated that the EU is sending assistance to Armenia through EU Civil Protection Mechanism from Sweden, Germany, and Poland "in the form of urgently needed food and shelter."
On October 3, the Czech ambassador to Armenia, Petr Piruncik announced that his country will provide Armenia with an "extraordinary humanitarian contribution" of 5 million Czech koruna (over $210,000). "The money will go straight to organizations that directly 'on the ground' help forcibly displaced Armenian citizens," he said.
On October 3, Switzerland's Foreign Ministry announced that it is providing 1.5 million Swiss francs ($1.6 million) to support humanitarian efforts on the ground for the more than 100,000 people from Nagorno-Karabakh who have fled to Armenia. It said 500,000 francs will be allocated to the ICRC, with the remainder going to the main UN actors on the ground in the next few days.
On October 4, Lithuania's Foreign Minister Gabrielius Landsbergis announced that Lithuania is sending €350,000 humanitarian aid to Armenia to help address the immediate needs of those who fled from Nagorno Karabakh.
On October 5, Poland sent humanitarian aid to Armenia for the forcibly displaced persons consisting of 10 tons of food and 200 packages of blankets. Undersecretary of State Wojciech Gerwel, who personally arrived to hand over the aid, said they wanted to "show Poland's support to Armenia at this difficult time." He added that Poland is donating €200,000 in response to the call by the UNHCR Yerevan office.
In an October 4 meeting with the governor of Armenia's Ararat region, Masaki Ikegami, Deputy Assistant Minister of the European Affairs Bureau at Japan's Foreign Ministry, stated that Japan will provide assistance to the forcibly displaced Armenians. On October 6, Japan's Foreign Ministry announced that it is extending an "emergency grant aid" in the amount of $2 million for the "displaced persons of Nagorno-Karabakh in Armenia and Azerbaijan." The aid will be provided through the ICRC and the UNHCR, in areas such as "non-food Items, health, protection and water." 
In a meeting with his Armenian counterpart Nikol Pashinyan on October 5, Greek Prime Minister Kyriakos Mitsotakis "expressed willingness to provide humanitarian assistance to the Armenians of Nagorno-Karabakh."
Overall, the EU and 15 countries have announced a total of $66.3 million in aid. The majority comes from the EU and its nine members (France, Italy, Germany, Sweden, Spain, Poland, Czechia, Denmark, Hungary) at $46.4 million.
Non-financial Aid
On September 27, Iranian parliamentarian Robert Beglaryan told News.am that Iran's ambassador to Armenia, Mehdi Sobhani, has urged Iran's Foreign Ministry to "take immediate action and send humanitarian aid" to Armenia. In a October 2 press briefing, Iran's Foreign Ministry spokesperson Nasser Kanaani said the details of Iran's plan for taking humanitarian measures towards Armenians who have forcibly moved from the Nagorno-Karabakh region will be released by the Iranian Red Crescent Society. On October 3, Iran's embassy to Armenia announced that the first shipment of humanitarian aid from Iran for the "displaced people of Karabakh" has arrived in Syunik and contains more than 50 tons of essential supplies for the refugees, including tents, blankets, food, heaters, hygiene kits, and other urgent necessities for the refugees.
On October 3, Belgium's Foreign Minister Hadja Lahbib stated that Belgium, through B-FAST, a government structure that is activated when providing emergency aid abroad, has decided to respond positively to the Armenian request to help burn patients of the fuel depot explosion. 
"A medical team specializing in severe burns is traveling to Yerevan today. Made up of volunteers from the FPS Public Health and Defence, this team will be in contact with several hospitals in the Armenian capital in order to exchange know-how and best practices. It will be responsible for preparing the medical evacuation of seriously burned patients to Belgium. After arrival in Belgium, they will receive treatment at the burns center of the Queen Astrid Military Hospital in Neder-over-Heembeek (Brussels)," the Belgian Foreign Ministry said.
On October 4, Russia's Federal Agency for the CIS Affairs, Compatriots Living Abroad and International Humanitarian Cooperation's office in Armenia sent one ton of humanitarian aid to the displaced people from Artsakh. It contains blankets, bedding, food, detergents, toys and hygiene products for adults and children and were delivered to border villages.
On October 7, Romania sent two planes of humanitarian aid to Armenia.
Editor's Note: This article will be periodically updated to reflect new pledges of aid and assistance to the forcibly displaced Armenians of Artsakh.

EVN Report's Editor-in-Chief Maria Titizian speaks with Dr. Nerses Kopalyan, author of the monthly series "EVN Security Report" about how the status quo established by the Russo-Azerbaijani tandem in Nagorno-Karabakh completely broke down after Baku, coordinating operations with Russian forces, launched a massive invasion, culminating in the collapse of the Artsakh Republic.
Read more

The status quo established by the Russo-Azerbaijani tandem in Nagorno-Karabakh completely broke down after Baku launched a massive invasion of Artsakh while coordinating operations with Russian forces. This culminated in the collapse of the Artsakh Republic. Nerses Kopalyan presents an in-depth analysis of developments.
Read more