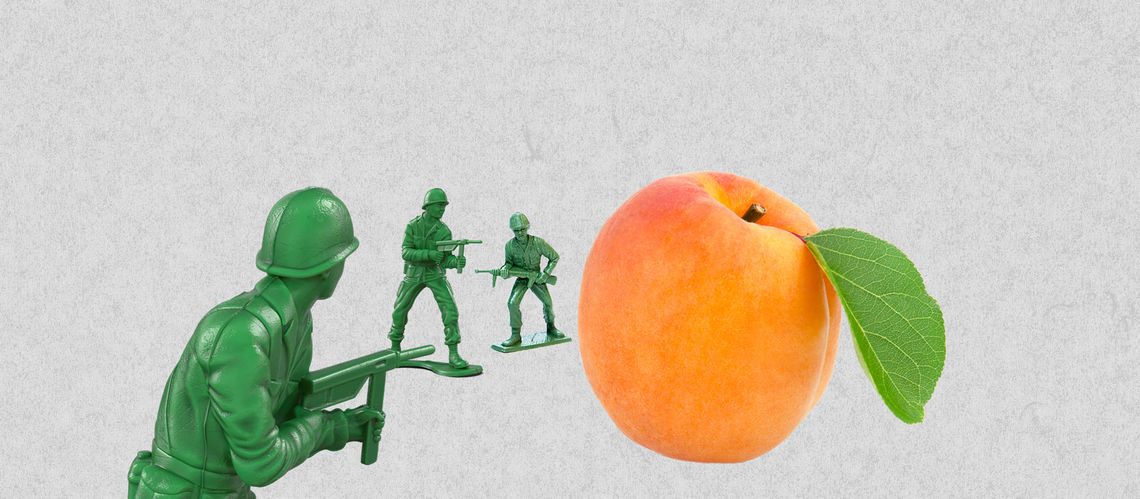 Violent clashes at the Armenia-Azerbaijan state border in mid-July shook up the Armenian diaspora and its numerous communities in different corners of the world. Since then, diasporan Armenians have organized a number of peaceful protests and marches against the Azerbaijani aggression, with rallies held in the United States, Australia, United Kingdom, France, Canada, Belgium, Greece and other countries. As tensions were gradually decreasing at the border, there was an ever-growing wave of ethnic clashes between members of the Armenian and Azerbaijani diasporas around the world. These clashes turned especially violent and ugly in Russia, particularly Moscow and St. Petersburg.
The trigger for the unrest is now being called the "Apricot War." It broke out after Moscow's biggest wholesale and retail market Food City, owned by Azerbaijanis Year Nisanov and Zarah Iliev, prevented Armenian vendors from operating there. As a result, tons and tons of Armenian produce, mainly apricots, were up for grabs at a reduced price. Thanks to the immediate reaction of the Moscow Armenian community, the first batch of "banned" apricots was sold out within hours. Later, the community also organized an apricot handout at the Armenian Apostolic Church in Moscow. The move to ban Armenian products was later supported by another Azerbaijani-owned food market, Tvoi Dom (Your House, in Russian). The provocations, however, did not end there. Tensions escalated as gangs of Azerbaijani men started attacking Armenians in cars as well as in the streets of Moscow and St. Petersburg, sharing the footage of harassment on social media. This was followed by incidents of hooliganism and vandalism, with Armenian businesses damaged and looted. The Armenian restaurant Armyanskiy Dom (Armenian House, in Russian) in the south of Moscow was crashed by a gang of about 20 Azerbaijanis. Several staff members were heavily injured; some were taken to hospital. Similarly, an Azerbaijani restaurant in Moscow was crashed by a group of Armenians. The conflict came to a close with a mass brawl, which led to a series of detentions. Three Azerbaijani men were charged with hooliganism, and may face up to seven years in jail.
The outright aggression and provocations instigated by the Azerbaijani community led to a huge backlash from Armenians and mobilization of the Armenian community. Armenian-Russian accounts on social media exploded with hundreds of posts about "Operation Apricot," sharing which venues were selling the produce. Armenian social media communities were also actively sharing updates on the clashes, appealing to reason and calling on Armenians to exercise extreme caution and not give in to the numerous Azerbaijani provocations. What particularly struck me is that this sort of activism by Armenian-Russians only came into play when the Armenian diaspora of Moscow was directly and unequivocally under attack. Sadly enough, whatever was happening at the Armenia-Azerbaijan border from July 12 until the start of Moscow's Apricot War never attracted as much attention and effort as were later channeled into the two diasporas' confrontation.
Being an Armenian-Russian myself, I have an extensive network of Armenian friends and acquaintances living in Russia. During the days of the military escalation at the Armenian state border, I was checking personal social media accounts of my Armenian-Russian network to see if I missed some piece of information as to what was going on in our homeland. To my surprise, only a handful of people were sharing information on this topic and voicing their concerns and fears over the dangerous events that were unfolding in Armenia. To the best of my knowledge, there were no rallies or protests held in Russia. I believe this raises several questions about the state of Armenian communities in Russia:
Does it take direct Azerbaijani provocations to mobilize our diaspora in Russia? What is the reason for the restraint on voicing support for Armenia at difficult times? Is sharing opinions and support online considered unimportant altogether? Do Armenian-Russians regard military actions at the Armenian border sad but inevitable, an "old thing" that does not require our attention and stating where we stand — since everyone knows anyway?
Inasmuch as there is no doubt that Armenians residing in Russia closely follow the events in Armenia and share the common concerns of diasporan Armenians around the world, there is a visible fragmentation, disparity and disconnection in their efforts to communicate with the outer world – firstly, Armenia and Armenian communities in other countries – that the Armenians of Russia stand together with their homeland. What we need in the Armenian communities of Russia is dialogue with the "greater diaspora," including Armenians in Europe, the United States, the Middle East, etc. As an Armenian-Russian, I think there is a lack of inclusion and engagement with the wider Armenian world that has so much to offer and that could undoubtedly enrich the current discourse of the Armenian diaspora in Russia. Hopefully, such involvement and cooperation of the different "branches" of Armenians will result in empowering the numerous Armenian communities in Russia and building up the strong institutional representation of Armenians living in the country that is home to the most populous Armenian diaspora in the world.[1]
These thoughts are a reflection of my personal experiences and perceptions of the recent events involving Armenia and Armenians. My Armenian-Russian background is no different from what an average Armenian-Russian young adult experienced growing up in Russia in the late 1990s and early 2000s. What I call my network includes young and middle-aged Armenians from the Russian capital as well as other cities like Chelyabinsk, Yekaterinburg, Saratov, Samara, Tyumen, etc. It is possible that some readers will not agree with me on the lack of engagement and solidarity among Armenian-Russians. Our experiences might differ drastically, and this is exactly why I think we need to cherish and promote dialogue, open discussion and debate in order to figure out a clear way to build a strong Armenian diaspora.
—————————-
1. Harutyunyan, Yuri (2010). "Об этносоциологических исследованиях армян России [On Ethnosociological Studies of Armenians in Russia]". Patma-Banasirakan Handes (in Russian) (1): 129–136.

The flare-up of violence on the Armenia-Azerbaijan state border triggered a chain of reactions in Azerbaijan and Turkey. Historian Vahram Ter-Matevosyan examines the domestic situation in Azerbaijan and the implications of Turkish involvement.
Read more

Border settlements are unequivocally and strategically vital for the security of Armenia and Artsakh. Protecting them militarily, economically and socially needs to be a national priority.
Read more