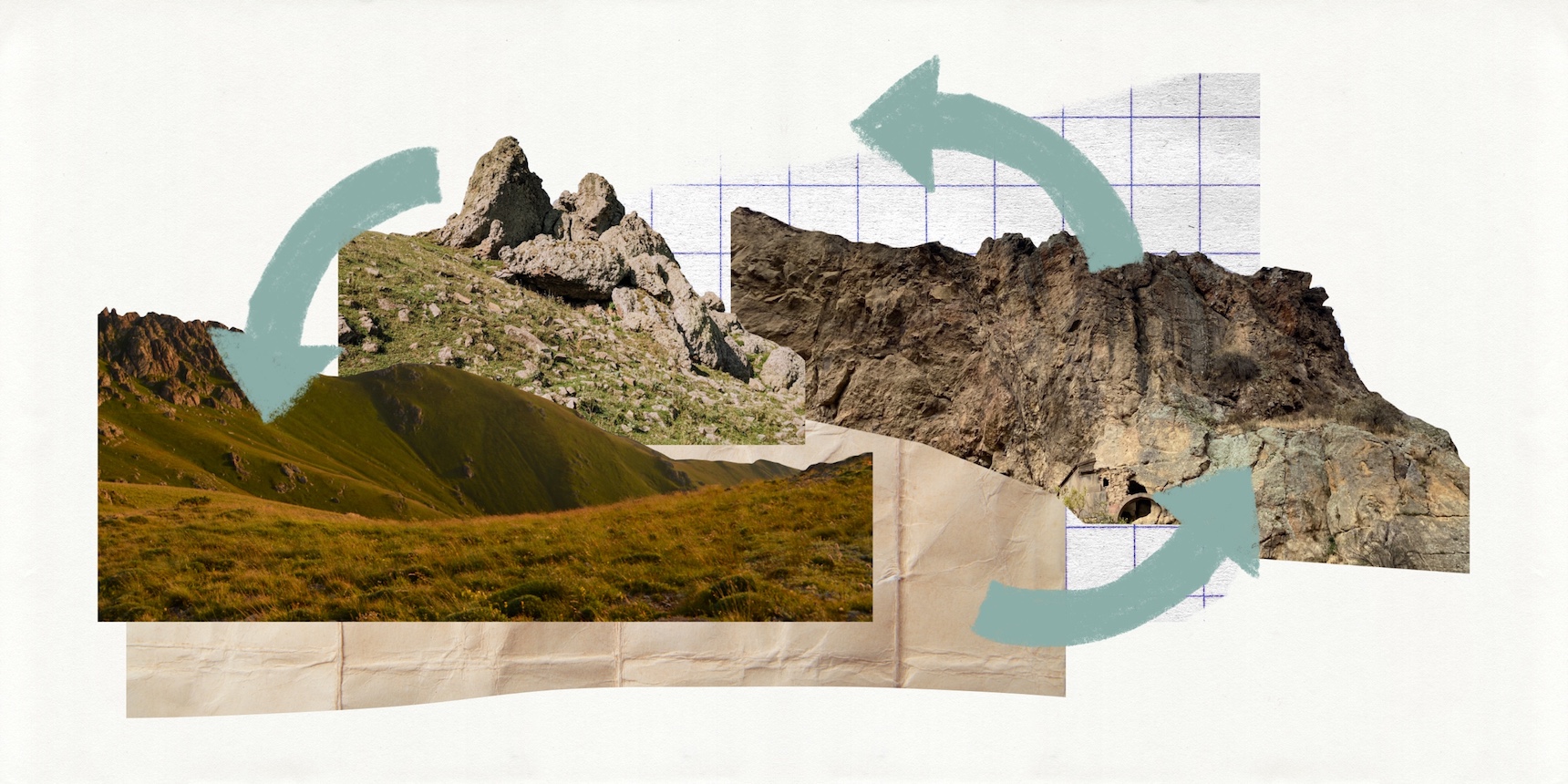 In December 2020, residents of Kapan, the capital of Armenia's southern region of Syunik, could look out from their kitchen windows to see the Azerbaijani flag flying in the distance. As a condition of the November 9 trilateral ceasefire agreement that ended the 2020 Artsakh War, Armenia vacated all seven regions surrounding the Soviet-era borders of Artsakh. These included the regions of Kalbajar, Lachin, Kubadli and Zangilan––which Artsakh had hitherto administered as Shahumyan and Kashatagh regions––bordering Armenia's Syunik, and Vayots Dzor regions.
In demarcating Armenia's eastern border from Goris south to the Iranian frontier, Yerevan, with the help of Russian mediators, quickly moved to uphold the 1970s-era border––the last one ratified by both then-Soviet republics. While this move may have worked as intended to prevent further Azerbaijani claims on Armenian territory, it also created a number of immediate economic and security concerns. In particular, it left a full 3 kilometers of Armenia's only North-South highway––a key trade link to Iran––entirely inside of Azerbaijani territory, while long stretches of the road became exposed to potential Azerbaijani strikes. Decisions of Soviet-era cartographers did not take into consideration that these lines might someday turn into international borders in the unimaginable event of a collapse of the USSR; and engineers built roads around topographical obstacles, not political ones. 
Whatever the case, the fact that these lines were never delimited on the ground even after the collapse of the USSR, since the adjacent territories quickly came under the control of the Republic of Artsakh, enabled the area on both sides of the line to be de facto absorbed into Syunik's' economic bubble. As a result, land considered part of Azerbaijan's territory by the international community was cultivated by Armenian farmers, used as grazing grounds by shepherds, and even vacation homes for urbanites. 
Successive Armenian governments, wary of the daunting engineering challenge and enormous cost of building a modern transnational highway through Syunik's mountainous terrain, simply kept the old Soviet road as a main artery for international trucking. This small, windy two-lane highway was often paralyzed during winter snow storms and gained a reputation as one of the country's deadliest roads.
Regardless, the road did connect two of Syunik region's largest cities, Goris and Kapan, while also serving numerous smaller towns and villages which, due to topography, are largely clustered along the relatively flatter, and less remote hinterland on the eastern side of the region.
With the December 2020 border changes, however, almost 70 percent of Syunik's population, as well as strategic infrastructure like the Vorotan Hydroelectric dam, suddenly found itself within artillery range of Azerbaijani forces, now stationed directly across the border, and in some cases literally on these strategically important roads. For nearly 30 years, the closest Azerbaijani settlement to Kapan was Horadiz, nearly 80 km away. Now, Azerbaijanis and Armenians are so close that Azerbaijani border guards need to "borrow" Armenian roads under the protection of Russian peacekeepers in order to reach their own outposts. Residents of Kapan have cited cases of Azerbaijani soldiers stopping Armenian cars to ask for cigarettes or water. 
By contrast, the scarcely populated border between Armenia and the now-empty Kalbajar region is noticeably different. These areas have been the target of blatant salami slicing land grab attempts by Azerbaijani forces in 2021, and most recently, in September 2022, resulting in over 200 deaths on the Armenian side. This came on the heels of the visit of U.S. House Speaker Nancy Pelosi to Armenia, who in a show of force, clearly called out Azerbaijan for its illegal invasion of Armenia proper, demanding the withdrawal of Azerbaijani troops from Armenian territory. Notably, these Azerbaijani offensives took place within 10 km of Armenia's only North-South highway.
These new security threats have prompted Armenian policy makers to speed up planned upgrades to the country's transport infrastructure. Work on an older road totally avoiding the Azerbaijani border through Tatev in Syunik region had already commenced before Azerbaijan's 2020 invasion, and was completed in a record ten months following the end of the war. Iranian trucks were seen driving through its sharp switchbacks before the tarmac was dry or security barriers installed in some areas. At least three brand new longitudinal roads are literally being cut through the mountains to connect the isolated villages of Bardzravan, Vorotan and Shurnukh to the Tatev road and to Goris. 
The greatest engineering undertaking has yet to begin, however. Armenia has announced tenders to build a four lane highway that would cut vertically from Sisian to the mining town of Kajaran directly to the south, and then on to Iran, avoiding the longer detour through Goris and Kapan altogether. This new road would span some 60 km, and, according to Minister for Territorial Administration and Infrastructures Gnel Sanosyan, will feature 12 km of bridges and tunnels across heavily mountainous terrain costing $2 billion. This new section, estimated to take some two years to complete, is expected to improve Armenia's road connections to ports in Iran, and will connect with the northern city of Gyumri, to Georgia's Black Sea coast, giving it a strategic quality for international trading partners looking for safer North-South trade alternatives to Azerbaijan. 
This new infrastructure development will also have the effect of shifting the economic center of Armenia's wealthiest region higher into its alpine interior, echoing Armenians' traditional reliance on its mountains for protection. Aside from providing a more efficient, quicker, and safer transport link for truckers bringing goods to and from Iran, the new highway, combined with the revamped Tatev bypass road, is already attracting renewed investment, and speculation, to the hitherto overlooked Syunik highland. At the same time, it opens up previously inaccessible parts of the region to economic development, as well as tourism and other outdoor activities. 
While some have expressed concern that bypassing the regional capital of Kapan would hurt the local economy and expose it to threats from Azerbaijan, the city's principal economic engine remains the massive gold mine operated by Chaarat Gold Holdings Limited, while the Zangezur Copper and Molybdenum Combine remains one of the city's largest employers. Still, while Armenia is well known for its natural resources, weak transport links have made exporting a major logistical challenge for these companies. The news of a new road was welcomed by these companies and is predicted to spur a burst in productivity in the region. Souren Sarkissov, Director of AGAPE Inc., an oil and gas exploration company, is looking forward to its completion. The company sits on a lot in southern Syunik which, according to him, has been confirmed to contain substantial oil reserves first discovered by the Soviets, but deemed cost-inefficient to warrant extraction at the time. AGAPE believes that modern extraction technology and global demand for oil has made such an operation not only cost-efficient, but more ecologically friendly than before, and could turn into a geopolitical asset for Armenia. However, export remains a key challenge. "Without a developed railway network in the region trucks would be a primary way of transporting oil," Sarkissov tells EVN Report, "and, in the second stage of the project, introducing subproducts of oil to the end customers and logistic hubs, like oil terminals in Poti and Batumi in Georgia."
At the same time, heavy industry, trucking and cottage tourism are only part of Syunik's larger economic restructuring. A key component of this focus is information technology. While Goris and Kapan have been home to subsidiaries of Yerevan-based tech companies for some time, there has been a renewed push to establish tech clusters in those two cities since the war. American software engineering firm Epam has already established a training center in Kapan, while DataArt, another NewYork-based tech firm with a massive presence in Armenia is also opening an office there. This burgeoning ecosystem is bolstered by the opening of a TUMO Center in Kapan's historic train station and a new Impact Hub in neighboring Goris.
With renewed interest by Iran in the form of a new consulate in the region, and recent diplomatic reengagement by the United States provide encouraging signs of stability in the face of constant threat of Azerbaijani aggression. Syunik's strategic value for Armenia is being reinvigorated not only as a vital transit node between the Black and Arabian seas, but as an economically dynamic and engaging hub in its own right.

The November 10 ceasefire agreement ended the 2020 Artsakh War, but the issue of demarcating the new state borders between Armenia and Azerbaijan has been a major concern since then.
Read more