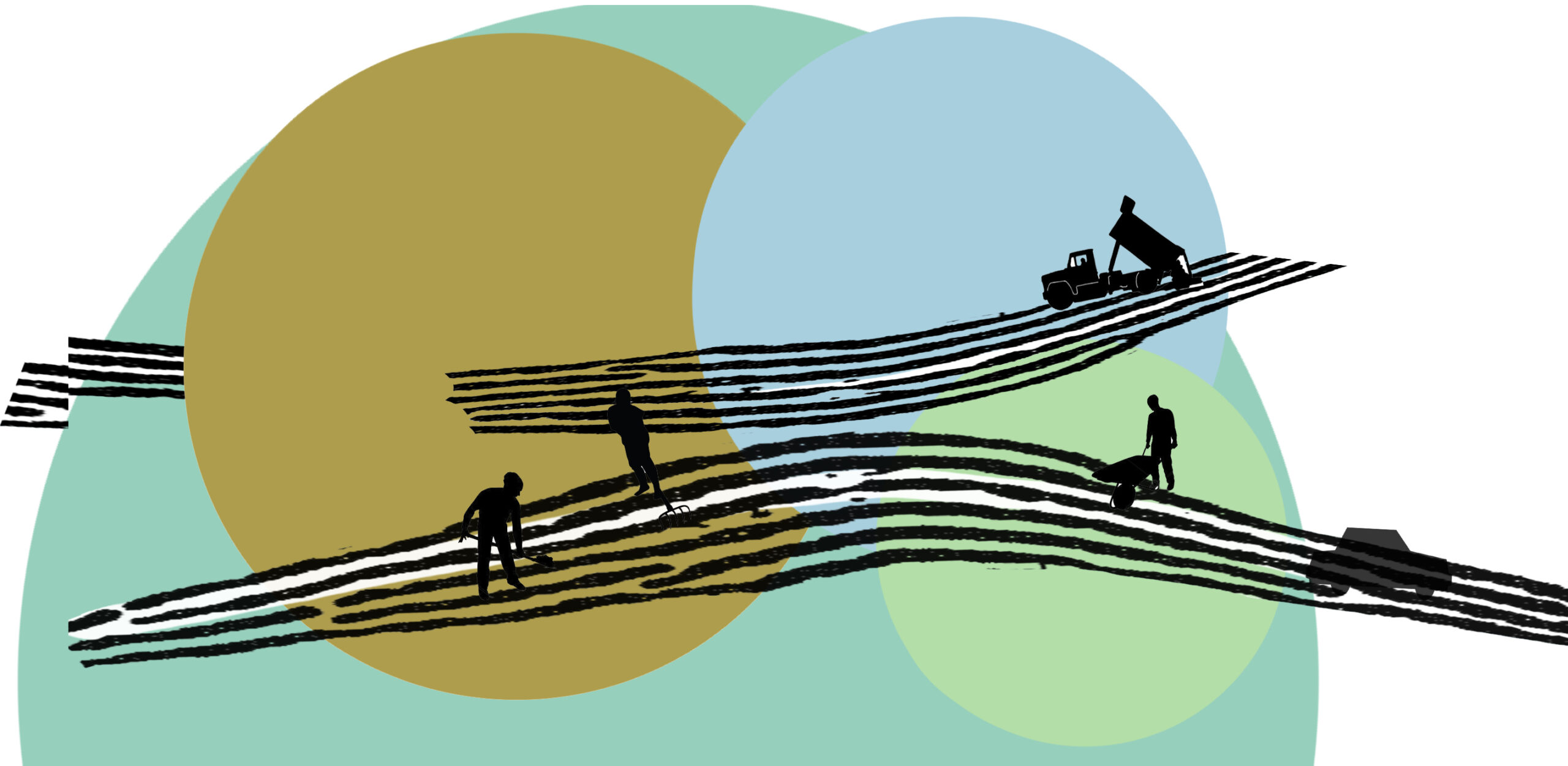 Graphic by Roubina Margossian.
A process of administrative territorial reforms was launched in Armenia around ten years ago that would pool resources of communities, settlements, villages and towns in an effort to promote universal well-being for the population. The idea was to merge the majority of these settlements into bigger administrative units, making budgeting and local self-government more efficient. The final round of enlargement took place on September 25, 2022 in conjunction with elections for local self-government bodies, and concluded the process that began in 2016 and resulted in the consolidation of 72 of the 79 existing communities (consolidation of 908 settlements). After this last stage, Armenia will have 71 communities, 64 of which were created from enlargement; the remaining 14 which are populated by ethnic minorities were not included in the process.
The initial phase of administrative territorial reforms took place in 2015, when 22 communities were consolidated into three larger communities. The second phase occurred in 2016 (118 communities consolidated into 15 communities), the third phase in 2017 (325 communities consolidated into 34), the fourth phase in 2020 (21 communities consolidated into two) and the fifth phase in 2021 (441 communities consolidated into 38). 
Vache Terteryan, Deputy Minister of Territorial Administration and Infrastructure (MTAI), said that at all stages, enlargement was carried out based on both cluster models (formed according to conducted studies and expediency) as well as regional models (formed in accordance with the regions that existed during Soviet Armenia) with the unique local characteristics of the given regions taken into consideration.
For some of these new enlarged communities, there are buildings in adequate condition for municipal governments to operate in, however, there are a number of communities that are facing challenges in this regard. Terteryan says that measures are being taken from constructing new facilities to repairing and renovating existing ones. However, the process may be stalled as vital projects, such as the construction of drinking water lines and irrigation systems are being implemented in border villages. 
Transportation
Terteryan says that one of the major challenges in almost all enlarged administrative units is public transportation.
"Currently they are trying to solve this problem in Kotayk region. Public transportation is problematic in two of the five communities of Vayots Dzor. In the Vayk community [Vayots Dzor], the issue affects four of the 16 settlements, and in the Areni community eight of nine settlements. Efforts are being made to remedy the issue," the deputy minister explains.
Nare Ghazaryan, a resident of Areni, says that she hasn't noticed any positive changes following community enlargement, despite her hopes that at least the transportation issue would be resolved.
"Communities were enlarged, yet the problems have not decreased," Ghazaryan says. "There is no public transport to go to the other eight settlements of our community. There is even no public transport to go to Yeghegnadzor, the administrative center of the region. I pay 4000 drams for a taxi from Areni to Yeghegnadzor. Part of our settlement still has issues with drinking water that have not been resolved."
Community leader of Areni, Husik Sahakyan, says that before the COVID-19 pandemic, a public transportation tender was announced, the winner of which began to provide passenger transportation; however, due to a shortage of passengers and an increase in fuel prices, the company announced that it was operating at a loss and could no longer continue providing services.
According to Sahakyan, the municipality began allocating 20-30 thousand AMD every month to buy fuel; however, with the onset of the pandemic public transportation was halted.
"Our community has a single Ford. For some time, that car was used to provide free passenger transportation between all communities and the region's administrative center," says the head of the community. However, when a kindergarten was opened in the Rind and Arpi settlements, now part of the enlarged community of Areni, they had to use the vehicle so that the children could be "transported to and from kindergarten."
There is no public transportation that connects the consolidated communities of Shirak region either, with the exception of Gyumri, the administrative center.
According to MTAI, several communities in the Syunik, Armavir, Ararat, Aragatsotn, and Lori regions also have public transportation problems. Tendering procedures are in progress for the introduction of a unified operator in the regions of Armavir, Ararat and Kotayk. These steps will make it possible to address the intra- and inter- community transportation issues.
Water
Another problem that needs an urgent solution is the issue of irrigation and drinking water. 
"There is a water problem in all settlements, and we have discussed potential solutions, and have presented our ideas to the relevant bodies," Sahakyan says, adding that they are in the planning stage of building large reservoirs in the villages of Yelpin and Khachik. He believes that the reservoirs will be ready next year. "We hope that at the very least, rainwater will be collected and that the problem of irrigation will be addressed. Restarting the pumps on the Arpa River in Areni is another solution to the problem. In that case, it will be possible to supply neighboring villages with irrigation water."
Sahakyan says that small reservoirs can even be built in individual settlements allowing for the irrigation of around 10 hectares of land.
"Due to the lack of irrigation water, thousands of hectares of fertile arable land are currently uncultivated," he says, emphasizing that the relevant bodies are currently discussing the proposals he made.
Saving Money?
Does the state save financial resources by enlarging communities? It appears difficult to give a definitive response to the question. Although the consolidation of communities has been progressing since 2016, the ministry said that no independent analyses of financial savings have been carried out.
"In terms of financial savings, it is important to highlight that while money is saved as a result of the reduced number of employees, new positions are also created.  The issue of redistribution is more pertinent because the consolidation entails a review of costs, work directions, and numerous other processes of a similar nature," says the deputy minister, adding that the process also depends on the effective management of the consolidated community and providing knowledge-driven solutions to community problems.
According to MTAI, around 1,531 positions have been reduced from the start of the community enlargement process in 2016 to the first quarter of 2022; on the other hand, about 2,266 people have been employed in community structures as a result of the consolidation process. 
What Residents Think
When changing administrative boundaries of communities, the obligation to consult with community members directly affected is stipulated in Article 4, Section 6 of the European Charter of Local Self-Government: "Local authorities shall be consulted, insofar as possible, in due time and in an appropriate way in the planning and decision-making processes for all matters which concern them directly." In addition, according to Article 5 of the Charter: "Changes in local authority boundaries shall not be made without prior consultation of the local communities concerned, possibly by means of a referendum, where this is permitted by statute."
A study by the Center for Human Rights Research noted that prior to the 2015 constitutional amendments, the main law identifies a local referendum as the means for communities to be heard regarding the change of the administrative boundaries.
Article 110 of the 2005 Constitution provides for legislation initiatives to follow local referenda. Additionally, article 190 of the Constitution states: "In view of public interests, communities may be merged or divided by law. When adopting a relevant law, the National Assembly shall be obliged to hear the opinion of these communities."
Later, on December 19, 2019, in accordance with the provisions stipulated in Article 190 of the Armenia's Constitution, the National Assembly adopted a law on referenda according to which, in the case of a legislative initiative by the government on the consolidation or division of communities, residents can initiate a local referendum on the issue. According to the research, even though this legislative change was intended to fully realize the right of the population of the communities to be heard, it actually did not achieve that goal because the implemented legislative change does not correspond to the Republic of Armenia's obligations under international law and international standards.
According to the amendments of the Law on Administrative Territorial Division adopted in September 2021, 10 villages were joined with Sevan, including Tsovagyugh and Semyonovka, although none of the residents of either had participated in the local government elections held on December 5, 2021. The Tsovagyugh community had 2927 eligible voters, with only 195 in Semyonovka. The residents of these two communities opposed consolidation and enlargement. As a sign of protest, they regularly blocked roads and participated in other forms of protest.
Srbuhi Gulanyan, a resident of Tsovagyuh, says that their opinion was never taken into account: "Sevan is quite far from Tsovagyuh. Of course, there will be situations where traveling to Sevan will be required. There are other circumstances too: in the past, significant construction projects were carried out in our village, the roads are in good condition, lighting issues were solved, the kindergarten in our village is probably in a much better condition than the kindergartens in Sevan and overall, I think our village was in a better condition than Sevan." 
Gulanyan points out that Tsovagyugh had numerous beaches, restaurants and other businesses that paid taxes, and that their village had a sizable budget.
"We were aware that these funds would no longer go into the budget of our village administration, but will go to Sevan instead, where they would subsequently be redistributed," she explains. "The village would suffer, and indeed it has. There is a bridge in our village that collapsed and is not being repaired. Additionally, we believed that there would be ineffective management if we joined the Sevan. Go into the streets in Sevan to assess the situation: when it rains, there are so many puddles that getting around requires a boat. If the head of that community was unable to resolve existing problems in Sevan, how could he address the issues in our village?"
International Experience    
In 2011, when planning the process of community enlargement, international experience was taken into account, including that of Macedonia, Georgia, Lithuania, Denmark and Germany.
According to the "Concept on Enlarging Communities and Formation of Inter-Communal Associations," Armenia's local self-government system belongs to the continental group and is most comparable to Germany's system.
President of the Community Development and Civil Society NGO Armen Hovhannisyan, who participated in discussions on the enlargement of communities as head of staff of Vardenik village in Gegharkunik region from 2008 to 2018, says that although the enlargement process carried out in Armenia has certain similarities with Germany, it is a completely separate, localized model.
Armenian Reality
Hovhannisyan says that although discussions on the enlargement process initially were moving in a different direction, he is satisfied with the outcome. The only problem he sees concerns the border communities who, in his opinion, should receive special attention.
He also cites false perceptions and a lack of public awareness about enlargement. Hovhannisyan explains that most smaller settlements didn't have a lot of opportunities or enough funds before enlargement; but now, after being consolidated, they get subsidies and implement projects.
Referring to the changes in the positions in the communities and the work being done concurrently, Hovhannisyan says: "When I was the head of staff in Vardenik, the entire staff of the municipality of our village of 12,000 inhabitants was 15 people; while, for example, the staff of the municipality of a village with 3,000 inhabitants might consist of 30 people. That was the law. The community could approve the staff list and salary rates, through the council of elders. To put it bluntly, they were free to recruit as many employees as they wished." He goes on to say that today, following enlargement, there are certain limitations. Settlements now often have three to four positions, and are likely saving money.
Director of the Center for Community Mobilization and Support NGO Oleg Dulgaryan emphasizes that in 2016, when the process of consolidating communities was launched and pilot programs were implemented there were some noticeable improvements. In particular, these pilot projects showed that issues like fixing intra-community roads, constructing kindergartens in settlements, installing street lighting, and garbage collection can be resolved with an increased community budget.
"It was practically impossible to carry out such work in some smaller communities before. That pilot program served as the foundation for a favorable attitude towards the enlargement," says Dulgaryan, noting that the purpose of pilot programs is to study the shortcomings and problems of the program, which did not happen in this case. "The shortcomings were not studied, they weren't resolved, and yet the enlargement process continued."
According to Dulgaryan, parallel to the enlargement of communities, no measures were taken to guarantee the balanced growth of the settlements. For example, when intra-community roads of one settlement are being repaired, residents of the other settlements end up having to wait for years for their settlement's turn to come. According to him, there are also issues with how effectively communities manage their funds.
"Currently, enlargement is being implemented on a regional model–based on the former Soviet Union's experience which I do not consider as justifiable," he says. "These communities have already undergone enlargement once. Life in a community changes over 30 years; however, before this adaptation period is overcome, they intend to enlarge the same communities once again, this time using the regional model."
"Regions of the former Soviet Union were units that consisted of various elected bodies: a political council, the council of elders and the chairman of the village council," explains Dulgaryan, noting that now there is an administrative head of the settlement appointed by the head of the given community.
Dulgaryan argues that it is important to consider that local self-governments are currently far more politicized than they were in the past. At the same time, people frequently lack a thorough understanding of the enlargement process.
"The main processes take place in their own communities. Citizens only need to travel to the central community when it is necessary to participate in the council of elders meeting, which has attracted very little attendance both in the past and now; In other words, this institution is not developed in our country," says Dulgaryan, concluding that local self-governments will now find it considerably harder to ensure balanced growth in all of those settlements, because more than 30 settlements have been consolidated, each with different issues. At the same time, residents of these communities should not be left out of the enlargement process and should be more proactive in responding to the issues that concern them.