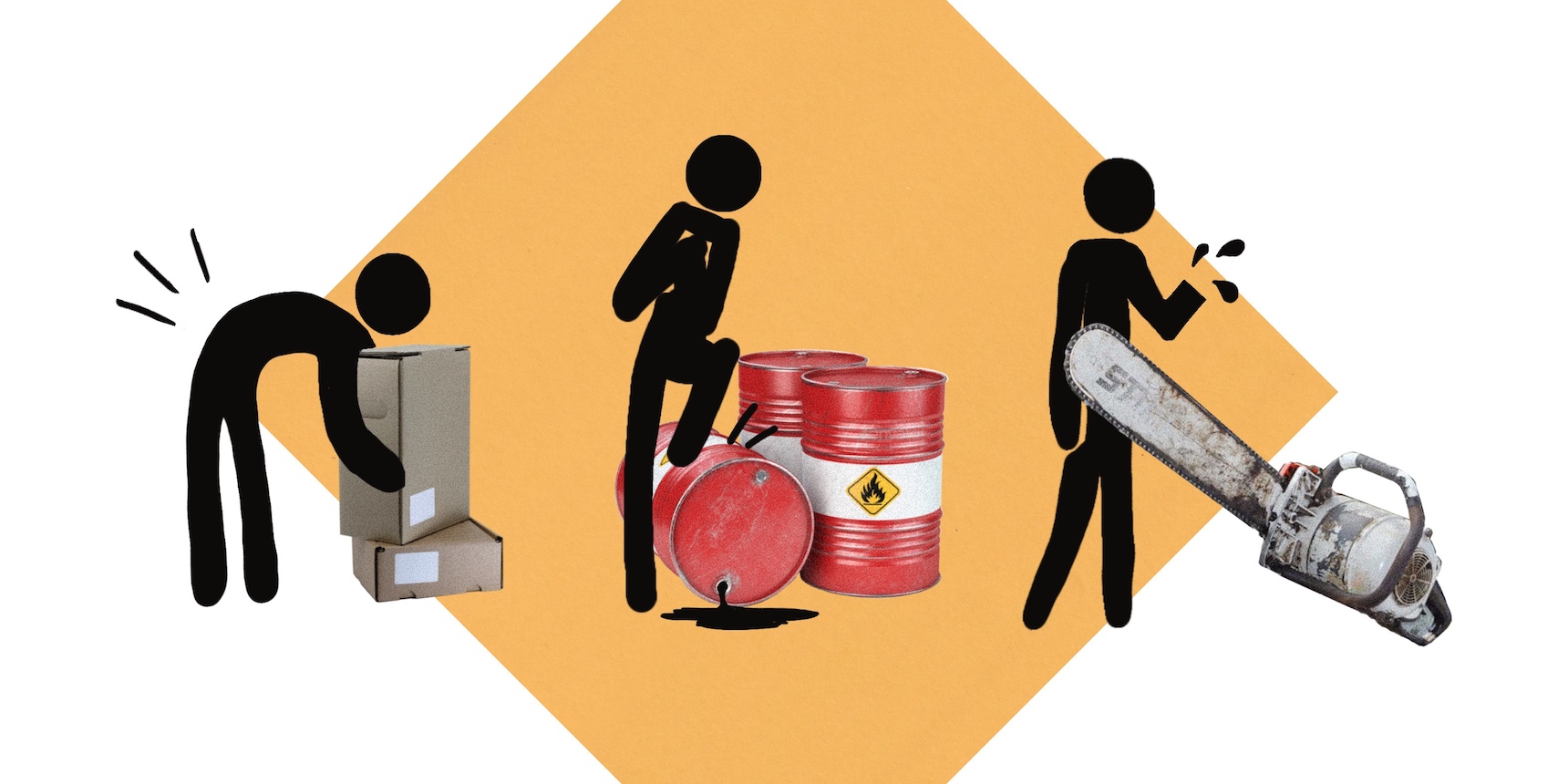 A middle-aged man remembers his fall from a wooden structure in 2019 during a construction job, saying, "The scaffolding fell apart, I broke my right arm and lightly hurt my foot, that's all."  He wanted to remain anonymous, considering the incident as "passed" and not wishing to "harm" his employer. His employer did not compensate him for the injuries he sustained on the job and he had to cover the hospital costs himself.
The man, who has been working in construction for a decade, says that there are many problems in the construction industry in Armenia. For example, employment agreements are seldom signed, scaffolding safety is not always properly maintained and employers rarely provide workers with special uniforms, hard hats, and work boots to protect them. 
"We barely have work, who would want to try to obtain these things?" he asks.
Another construction worker, who also wished to remain anonymous, says that he did not demand compensation from his employer either after he fell 15 meters on a construction site several years ago and was seriously injured. He is still undergoing surgery for those injuries.
Workplace Accidents in Numbers
Gohar Darbinyan, Deputy Head of the Health and Labor Inspection Body of Armenia (HLIB) which was created by the Armenian Government in 2018 to ensure the protection of labor rights, says that the organization received 18 cases for accidents from the Ministry of Emergency Situations and various employers in 2020, three of which resulted in death. In 2021, they received 12 cases, seven of which resulted in death and, as of April 2022, one file which resulted in death. [1]
Darbinyan says that accidents happen mainly in mining, construction and manufacturing. She states that in 2021, HLIB initiated 45 administrative cases against 36 companies in the construction sector alone.
It's noteworthy that Armenia's state trade union, local self-governing bodies and public service workers say that they have no information on these figures, meaning they were out of the loop regarding incidents where an employee's health and safety was harmed in the workplace.
Accidents in the workplace, however, are covered in the media almost every week. On June 29, 2022, an 18-year-old man fell three meters while working on the roof of a building in the village of Shahumyan in Ararat region, dying on site. On June 15, 30-year-old Harutyun G., a crane operator at Gazprom Armenia's Shirak region's gasification and gas supply unit, tried to inflate the tires of a company vehicle with an air pump in the company's parking lot when the metal rims of the wheel disc flew out of its mount and hit his face. The man died on the way to hospital. On June 8, a metal pipe fell seven meters on 59-year-old Varsham M. while he was renovating the cooling tower at the Armenian Nuclear Power Plant, resulting in his death. 
According to DataLeks, an online judicial information system, from 2008-2022, 90 court cases were launched for violating labor protection rules under Armenia's Criminal Code. A recent case on Dataleks refers to H.K., a technical specialist at Evroproduct Ltd. who assumed the company's warehouse manager's responsibilities. He was charged with violating safety and labor protection rules which caused the death of S. S., a company construction worker. H.K. was sentenced to one year imprisonment. 
Legislative Regulations
Constitutional and legal guarantees for labor rights are set in several articles in Armenia's Constitution. Specifically, Article 82 states that every worker shall, in accordance with the law, have the right to healthy, safe, and decent working conditions, a limitation of maximum working hours, daily and weekly rest, as well as to annual paid leave.
Not everything happens according to the law, however. A research paper on Armenia's constitutional protections of human rights by the Human Rights Research Center states that while constitutional changes in 2005 guaranteed rights to working conditions that met safety and hygiene conditions, constitutional changes in 2015 set working conditions as simple legal guarantees.
The research also states that the 2015 constitutional changes rolled back previously established labor rights. For example, rights to healthy and safe working conditions, to rest and minimum wage rights were eliminated and set as subjective constitutional rights.[2] Meanwhile, securing the provision for minimum guarantees of work safety, rest and pay were now in the purview exclusively of legislative and executive bodies. 
Whether an employer is obligated to clearly define the specific conditions that must be provided for employees at the workplace in the employment contract is not clearly stated in the Labor Code, creating a gray area where labor rights can be neglected.
Zaruhi Manucharyan, press secretary for the Minister of Labor and Social Affairs notes that requirements for labor provisions in an employment contract are defined in Part 1 of Article 84 of the Labor Code, but that it does not define what conditions the employer must provide at the workplace. However,  according to a later section of the article, other conditions may be included in a written employment contract with the agreement of all parties. At the same time, Clause 4 of Article 217 of the Labor Code stipulates that the employer is obliged to provide safe and healthy working conditions.
Whether an employer is obligated to cover the costs of medical services for an employee injured at the workplace is defined by Article 234 of the Labor Code: Employers are required to cover the costs of medical services when an employee who is not insured against accidents and occupational diseases at work has contracted an occupational disease, has been disabled/disfigured or died.
Armenia's Civil Code defines how an employer compensates damages they caused. In particular [in accordance with Part 1 of Article 1078 of the Civil Code], physical injury or impacting the health of a employee on the job, lost income and expenses borne out of that must be compensated by the employer if the victim needs medical assistance and care and does not have access or any other legal right to receive them free of charge.
Disproportionate Reality
The Advanced Public Research Group (APR) NGO published a survey on the state of labor rights in Armenia in February 2022, which it conducted in all regions of Armenia and in Yerevan, among 1062 working people.
In response to the question about the presence of dangerous or harmful elements in their working conditions to health such as noise, dust, vibration, radiation above the permissible level, 6.8% of the respondents said very high, and 16.9% said moderately high. The highest degree of danger was found among workers in defense, construction, manufacturing and healthcare.
79.2% of the respondents who work under hazardous health conditions indicated that they do not receive compensation for the danger or harm they risk. About 40% of respondents indicated that health or risk factors were not discussed in any way on the job, either in writing or verbally. Only 19.5% mentioned having a clause about it in their employment contracts.
8.7% of the respondents had health problems caused by their working conditions. Only half of this group received compensation from their employers.
16.7% of the respondents indicated that they did not even have an employment contract.
The study noted that, "in the absence of legal regulation of labor relations, workers are excluded from the possibility of being protected by labor legislation. In such cases, employers do not strive to provide decent working conditions and appropriate treatment."
Manucharyan states that according to the Labor Code, work carried out without an employment contract is illegal. Moreover, employers and their representatives who have permitted employees to perform illegal work and/or forced them to work in this manner bear legal responsibility, and are obliged to compensate for damages incurred.
"If labor relations between the employee and the employer are not regulated by an employment contract, then the employee has the right to take this to court," says Manucharyan, adding that even in the absence of a contract, if an employee can prove they were working at that job, the "employee is entitled to compensation by court order."
According to the 2020 changes to the Labor Code, an employee can also apply to the Health and Labor Inspection Body (HLIB), taking into consideration that this body has the authority to oversee the fulfillment of the requirements of labor laws, other normative legal acts containing labor law norms, collective and labor contracts and to apply measures of responsibility in cases provided by law.
However, Tadevos Avetisyan, an MP of the Armenia Alliance faction of the National Assembly and Deputy Chair of the Standing Committee on Labor and Social Affairs, is skeptical that the inspection body will be able to properly solve these problems.
In 2018, while working at the Ministry of Labor and Social Affairs, Avetisyan headed the working group that developed legislation for ensuring healthy and safe conditions in the workplace.
"In 2018, the bill was put into circulation, we discussed it, proposals were developed, but then the project 'went to sleep,'" says Avetisyan. "The current government either did not understand or did not attach any importance to this legislation. Months ago, they presented a draft bill in which many points from the previous 2018 draft were included. I made many substantive proposals, but the project went to sleep again, like in 2018."
Avetisyan notes that the deadlines for discussing the bill have long passed.
According to the parliamentarian, state oversight is just for show which is why accidents take place regularly. Moreover, Avetisyan claims that official figures do not reflect the real picture, because cases related to damage to an employee's health at the workplace are not properly accounted for or recorded.
"It's a completely neglected situation. There is no control, the inspection system does not work," he explains. "Taking into account the safety and health risks of workers, here's an example: in a country where there are more than 650,000 workers, and risks are quite high, the number of job positions available for state oversight is 20-22."
In Armenia, which has an unemployment and poverty rate of 18% and 25% respectively, employees often prefer to remain silent, neglect their rights and work without an employment contract. It's enough just to have a job, even if their salary barely covers the expenses of their basic needs.
Footnotes:
[1] In the construction sector they received three service and technical examination files for accidents (one of which resulted in death) in 2020, one in 2021 which resulted in death, and as of April 2022, one file also resulted in death.

[2] Subjective rights are relations between legal subjects that depend on the rule of law for their recognition and enforcement.