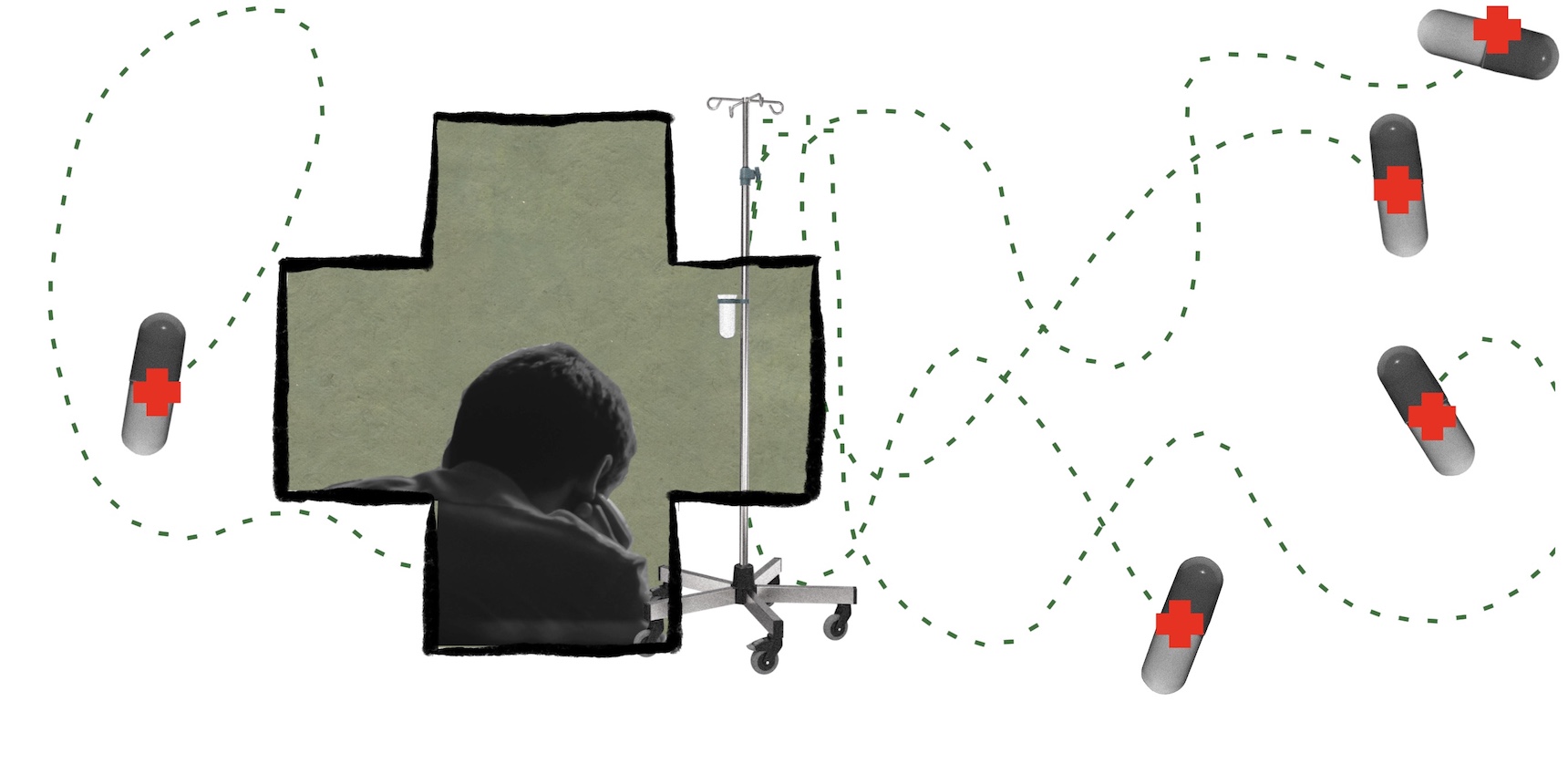 I did everything to avoid becoming a refugee, but…
"Hearing that their child has cancer, people think they are doomed: at best, they might have a month and that's it. They become disheartened. But there is a way forward," says Armen Kharatyan, while sharing his story of the long journey they made for his son Narek's treatment.
In 2015, a metastasized stage IV tumor was found in Kharatyan's then 10-year-old son's brain. They decided to seek treatment in Germany.
"There are many opportunities for treatment. But of course they require knowledge and money. Many people do not know how to get to Germany or who to turn to. People are confused in these matters and it can end badly. When we went to Germany no organization, hospital or doctor in Armenia could help," recalls Kharatyan. He did not apply for refugee status for his son to receive treatment, but instead sent his son's test result to a German hospital and received the response: "We cannot give you a 100% guarantee, but we can try."
The efforts and surgery initially amounted to 25,000 euro. After selling their apartment, they arrived in Germany legally.
"After each chemotherapy session, you see how your child weakens and gets worse and you don't know what to do," Kharatyan says. "And it is not just a day or a month –– it takes years. There have been nights that I have cried. Yet you feel kindness and compassion in people. If I had been alone and without the support of the people surrounding me, I would not have been able to endure it." 
Over the years, around 250,000 euro was spent on his son's treatment, money raised through fundraising, donations, and help from colleagues. After several years of chemotherapy and radiotherapy, his son completed his treatment and they returned to Armenia. Narek is now 16 years old, but years of treatment have left side effects: he has problems with his physical and sexual development. Now father and son are facing a new problem. Kharatyan says that the Armenian doctors they have consulted are not specialized in hormonal issues; they advise that Narek be taken to Germany where he will be prescribed treatments at a clinic, after which they can return to Armenia and continue being treated here.
"But I do not have that ability. On the other hand, Narek has come so far and he needs to start living a full life," says Kharatyan, noting with regret that unlike in Armenia, there are specialized schools in Germany where children with special needs can receive an education. There are good-quality rehabilitation clinics, which his son also needs. "I did all I could not to be a refugee, but now my son does not feel like a fully fledged member of society," Kharatyan explains. "The state provides a disability subsidy of 26,000 AMD in Armenia, while Germany is socially oriented: everything is convenient there. Now I am thinking of going back and this time applying for asylum."
Germany has become a second homeland for Armen and his son. Next to the Armenian flag in their home is the German flag. When there were floods in parts of Germany in 2021, Narek asked his father to transfer his 26,000 AMD subsidy to the flood victims. Kharatyan mentions that in Germany he came across nothing but willingness, professionalism and compassion․
"I hope that we will reach 50% of their level of development in 20 years time, at least," Kharatyan says.
Why Seek Treatment Abroad?
Most of those who leave Armenia for Germany and seek humanitarian aid are diagnosed with either cancer or kidney failure.
According to the National Institute of Health, in 1990 the number of cancer patients in Armenia was 20,929, and as of 2020, that number has reached 50,416. Taking into account the decrease in Armenia's population in recent years, then these numbers are worrying –– in that same time frame Armenia's population shrunk from around  3.5 million people to 2.9 million.
In order to reduce the flow of people to other countries and make treatment more accessible in Armenia, surgeries and examinations of cancer patients became free of charge as of 2019 and radiation treatment is partially subsidized by the state. When malignant tumors are detected in citizens without means or who do not fall in any category warranting benefits, the patient pays a portion of radiation therapy while the rest is covered by the state. However, in the case of benign tumors, radiation treatment must be paid out of pocket. 
While people have the option of surgery, for many, further treatment continues to remain difficult to access.
Khachatur Abrahamyan, the long-time head of the chemotherapy department at the Gyumri Oncology Dispensary, says that there are no issues with the getting medication in Germany, but in Armenia there is a limited amount of drugs provided by the state, while expensive drugs that are more effective in their treatment of the disease are unavailable or are not registered, creating further risks. There is no problem with resources for research and treatment in Germany either. In Armenia, there is one radiation device in Yerevan and few can afford to travel to Yerevan everyday or to stay there for treatment. Additionally, there are always queues for radiation therapy, and people have to wait for hours for their appointment.
Artyom Stepanyan, a member of the European Society of Gynecological Oncology (ESGO), maintains that it is possible to receive quality treatment in Armenia that is ten times more affordable.
"In Germany, the state pays for the entire treatment, while in Armenia the state allocates funds for examination and surgery only. No funds are allocated for chemotherapy, although the oncology patient's costs derive mainly from chemotherapy drugs. So naturally, treatment is less accessible in Armenia," says Stepanyan, at the same time adding that although it is not free, you can also receive high quality treatment in Armenia. "I do not see a problem in treatment; I see it in funding, and in Armenians' love for foreign things."
No Guarantees
Lilya [names and dates changed at her request] recalls the story of going to Germany with her daughter and coming back alone with tears in her eyes. Years have gone by but questions of "what if" do not leave her in peace –– thoughts about what would have happened if they hadn't gone and their daughter was surrounded by loved ones during her last hours. 
In 2016, her 22-year-old daughter Astghik was diagnosed with a stage IV, malignant brain tumor. Following surgery in Yerevan, and after undergoing two courses of radiation and chemotherapy, they decided to go to Germany to continue her treatment.
"There are people who do this for a living: they ask for a couple of documents, you pay them 3,500 euro per person, and they tell you when and where to go. We went to Athens and then to Czechia. There was a person there to meet us. We stayed there one night, and arrived in Germany by bus 12 hours later. We applied for refugee status," Lilya recalls, reliving the pain.
Mother and daughter waited about a month until a doctor came to the refugee camp to take Astghik to the hospital. After moving from city to city, from camp to camp, and changing three hospitals, they started the treatment. Astghik's condition improved slightly, but a few days later she was taken to the intensive care unit, and then relocated to a hospital in another city.
"They said the radiation dose had been too high. She was lying, motionless, the devices connected. She was only opening and closing her eyes. It was like this for 47 days. They gave me a room next to hers. I kept waiting for her condition to stabilize, but my child never said a word," recalls Lilya, adding that she is not complaining about the doctors' attitude or behavior. It is just that the same question keeps torturing her –– was it the first time this happened in that hospital?
Now looking back, Lilya thinks that it might have been better not to go to Germany. The sudden diagnosis and rapid developments did not give her a chance to fully understand whether going abroad was the right decision.
"Our doctor in Yerevan was also persuading us, saying, 'So what? Go, apply for asylum, they can offer the full treatment there.' And you are immediately ready to do anything for your child; especially when people who arrange your transfer to Germany raise your hopes. But now I think it would have been better to stay here," relates Lilya, barely containing her composure. "I was the only one by my child's side; here we would have all been by her side. My child wouldn't have been alone like that, at least at the time of goodbye. The doctor called at two in the morning and said it was over. Just imagine, hearing that it's over. Alone, in a foreign country, surrounded by the four walls of a room; you cry till morning, thinking how can this be possible? It's over… God must have given me some kind of supernatural strength for me to have survived, and not gone mad."
They stayed in Germany for five months; the Armenian community in Germany helped organize and partially fund the transport of Astghik's body to Armenia.
"I have gone through all of this; it's better to stay in your native land in Armenia for treatment, than to get up, leave your home and children and go, at the mercy of chance – whether you get lucky, whether they be cured, whether you get a good doctor – it's a matter of chance," says the woman, recalling how difficult it was to communicate not knowing the language. "Every day, I would try to grasp something from the doctors' facial expressions to understand how my child was doing."
Lilya recalls that they even wanted to send her back, but she hired an attorney, and they explained that her being there was necessary for the child's treatment.
"Had I known all this, had they not given me so much hope, I would have stayed here in Armenia, and my child would have been surrounded by relatives. I don't know. There are so many unanswered questions. I don't know what was the right thing to do. I will always ask myself – for what? Why us? Why did this happen? If we had not gone… if… if."
The Armenian Section of Cologne's Cemetery
We met the priest of the Armenian Apostolic Church, Father Vahrij, in the Armenian Church of Cologne. The Armenian community of Cologne mainly comprises Armenians who have come here in the 1960s from Turkey to work, families of servicemen in the Soviet army, and people who moved from Armenia in recent years. The Armenian Diocese of Germany was formed in 1991, coalescing the Armenian community around it. However, even though in the past their connection with the Armenian Church was strong, their relationship with it is passive now. Those who have come here in earlier times are more connected with the Church, while the majority of newcomers either don't contact the Church, or they begin to attend Church only after some time.
"People who come to Germany don't have residency; it takes a long time to acquire the right to live here and they are sometimes rejected. Then they appeal, and all of that affects them; they often don't want to make contact," says the priest, noting that not far from Cologne is the city cemetery, a section of which has been allocated to the Armenian community. 
Father Vahrij notes that people come here with high expectations, but they also encounter many hardships.
"Their ultimate goal is for a miracle to happen and, thank God, that is the case in many instances. There are also cases when their expectations of a rapid recovery are not fulfilled and they lose hope; some want to return after that," says the priest recalling instances where a person was all alone in Germany, did not have relatives, and passed away. "City authorities were ready to cover the costs of the funeral, and we went and performed the rites. And if the remains are to be transported back to Armenia, we inform the community and ask them to help financially, as transportation costs can be up to 2500-3500 euro at least. Unfortunately, because it is expensive, in many cases the relatives have had to cremate the body here, and transport the ashes to Armenia."
Gor Margaryan has been living in Germany with his family for six years. He is a social worker. He has repeatedly come across numerous cases where people have reached Germany with the false image of life in a fairy-tale country. According to him, in some cases, coming to Germany is not justified because the treatment for that particular illness is available in Armenia.
"Of course, there are instances where even the diagnosis is wrong, but very often people confuse migration with tourism –– they sell their house and assets, and then they are confronted with bitter reality," explains Margaryan. "They try to stay, and make mistake after mistake. The only but nevertheless improbable way to stay in Germany is excellent integration, such as having the language skills and a job, otherwise you cannot stay."
According to Margaryan, life in Germany is not easy, and immediately after you arrive you turn into someone who is always waiting for something.

Refugees have been living in a Düsseldorf's shelter for years, receiving treatment and waiting to either fully recover or be deported. In this series of articles, Armenians reveal how they arrived in Germany in anticipation of a miracle.
Read more