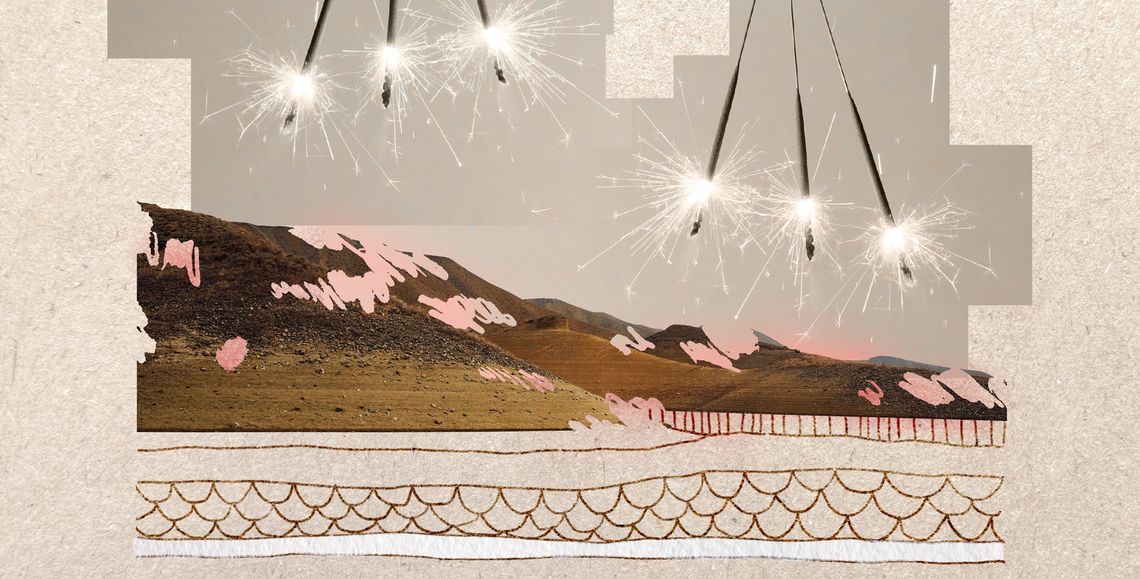 To read the article with images of the
damage caused by white phosphorus,
click here.
Warning: These images may be
traumatizing or disturbing for some
readers. 
During our conversation, 20-year-old Arman Karapetyan, a veteran of the 2020 Artsakh War, relates: "I was on my feet—I could still walk—I was going to help my friend. There was absolutely no skin left on my hands, as if it had melted. The same goes for my feet… My ears had completely melted—they have just been operated on…"
Arman's face is completely burned; only his lovely eyes have been left unscathed. Our chat, however, is not sad. Although there are somber silences, he speaks with cool restraint.
He had already been serving for 15 months when the war began. On October 14, his vehicle was struck by the enemy while he was moving from post to post. "I was sitting in the rear of the vehicle. I tried to open the door, but it wouldn't open. I managed to get out through the window. You mustn't panic. That comes from being prepared. I had been on the battlefield for 20 days; I knew what to do in such circumstances. Nothing could be seen. It was on fire, and I couldn't open my eyes. I had opened my eyes for a second, but if I had kept them open for longer, they would have been burned."
Arman says that, after escaping the fire, they walked for about 20 minutes until they came across an ambulance. They were anesthetized, and he doesn't remember much after that. His mother Lusineh says that they had moved him to Yerevan in extremely critical condition.
He had five operations in the two months following his injury (eight to date). The first operations, which had been very long, had been virtually useless. "They would take my skin and transplant it to my hand but it would not stay on my hand, as if it was melting. Then specialists from America and France arrived, and they saw that it was phosphorus and treated it another way—they managed to operate using silver water, I think."
During his latest operation, when they had to transplant skin to the back of his hand once again, they had to use local anesthetic because full anesthesia was too risky for him. Arman cautiously shows the edges of the skin graft; it is small, but healing with difficulty. Wounds often open up on his scalp. They are from phosphorus remnants, which begin to burn on contact with the air again.
He had decided to become a programmer after he left the army. Now he has difficulties using a computer. He doesn't have enough movement in his hands. He can only hold light things. He watches short video lessons. Since he was wounded, going out during the daytime is contraindicated, and it is difficult to go for walks in the evening—his burns make it difficult to stand for long periods of time.
Wounds That Won't Heal
French doctors spoke out about the fact that some of the burns of the injured were unusual and had been the result of the use of weapons containing phosphorus. Plastic surgeon Patrick Knipper and his colleagues published an article about their work during their visits to Armenia (October, November 2020 and January 2021) and the conclusions of their surgical team.
They detail, "We first observed white phosphorus burns in young soldiers during a visit to the Yerevan National Burn Center in November 2020. Several facts were the basis for this: the history of the soldiers' illness (anamnesis), the circumstances of the burns ('rain' in the absence of an explosion nearby), the deep injuries on the face, hands and skin, which are difficult to heal."
According to the French doctors, of the 93 injured who received treatment during their visit, 13 to 17 had been wounded by phosphorus. Taking into account their experience, they advise the prompt removal of clothes from those who are suspected of having phosphorus burns, covering the burns with damp pads (thus halting exposure of the phosphorus to the air) and avoiding bandages.
The presence of phosphorus on the body can also be revealed using an ultraviolet lamp. According to data provided by the Ministry of Health, around 40 soldiers were injured by the probable use of phosphorus weapons, and were treated.
Ecocide: Deliberately Targeting the Environment
The first video of the phosphorus rain falling on the forests of Artsakh was published on October 31, 2020. A day earlier, the Armenian Human Rights Defender (HRD) had come out with a statement that Azerbaijan was using phosphorus weapons, which had elements of chemical weapons, on the forests of Artsakh.
"It is already the third day that the forest belonging to the community is burning as a result of the use of weapons containing phosphorus," announced the mayor of Nngi.
Arman's mother tells us that the rain falling on the forests also warned the doctors that the burns were from weapons with chemical elements.
On November 6, 2020, the HRDs of Artsakh and Armenia published a joint report concerning the use of incendiary, chemical (identified as most probably white phosphorus) weapons of mass destruction by Azerbaijan in Artsakh.
In his conversation with EVN Report, Sergey Ghazinyan, Adviser to the HRD, mentions that, as of November 2, the results of their fact gathering activities confirmed that around 1815 hectares of forested areas in almost all regions of Artsakh had been damaged, and the damage could be continuing (remnants of phosphorus could ignite and burn on continuous exposure to air). Besides that, the forests are in close proximity to settlements (e.g. 100 meters from Nngi), and civilians were sheltering in the forests during the war.
The joint statement, which was sent to international organizations, revealed evidence that the weapon used, regardless of what chemical elements it contained, had the characteristic of weapons of mass destruction and their use against civilians is banned by international law as a war crime.
"The use of such weapons pursued the goal of ethnic cleansing," claims Ghazinyan, as he points out that the use of this weapon of mass destruction could have serious, long-term consequences for both residents and the environment.
Non-Answers Concerning Important Evidence
Deputy Minister of Environment Anna Mazmanyan explained, "During the war, the Azerbaijani Armed Forces have used internationally banned cluster bombs and weapons containing white phosphorus or thermite substances. Such operations cause irreversible loss to the environment, from widespread forest fires to permanent air, soil and water pollution."
She pointed out that the government has decided to allot 38 million AMD to the Hydrometeorological and Monitoring Center state agency to carry out professional studies on the safety of the water sources fed from the upstream basins of the Arpa and Vorotan rivers in territory that is now under Azerbaijani control, in order to ensure the water security of the Republic of Armenia. "In the future, relevant instruments will be obtained for carrying out monitoring of radioactive pollution, including dosages," Mazmanyan said.
As far as losses incurred to the environment and sampling of animals is concerned, the ministry responded that it is not within their authority and referred to the report by the HRDs of Armenia and Artsakh concerning receiving information on the use of white phosphorus munitions.
The Prime Minister's Office response was that "…no sampling of flora and fauna has been carried out and no studies have taken place at the sites of phosphorus weapon use after the war unleashed in Artsakh in 2020, as due to the recent military operations, these areas have come under the control of the Republic of Azerbaijan."
It is a fact that the Azerbaijani side used weapons of mass destruction containing chemical elements and that, as a result, citizens of the Republic of Armenia have sustained extremely serious burns and injuries. However, it is necessary to conduct histological examinations in order for it to be proven that the burns were definitely from white phosphorus or other chemical elements.
There is information from different sources that histological samples have been taken. However, the Ministry of Health responded to our questions concerning sampling and testing with a single sentence: "There are no laboratories in the Republic of Armenia where phosphorus detection for histological examination can be conducted."
For the record, EVN Report's question referred to the possibility of tests being conducted in laboratories both in Armenia and abroad.
The replies of both the Prime Minister's staff and the Ministry of Health point out that a criminal case concerning war crimes is being considered by the Investigative Committee.
When approached by EVN Report, the Investigative Committee reported that the preliminary investigation of the criminal case instituted against Azerbaijan on unleashing war and committing a number of other crimes is ongoing. It also noted that a criminal case was also instituted in connection with the use by Azerbaijan of weapons which are prohibited under international law including cluster bombs, white phosphorus and incendiary weapons, causing additional suffering. However, they refused to answer whether sampling and examination of human tissue or the environment had been carried out, stating that it was a pre-investigation secret.
Putting Aliyev on Trial for War Crimes
Nazeli Vardanyan, an expert in international law, believes that we must be consistent in gathering evidence of war crimes: "Even during the war, I said that we should not miss the opportunity to sample, and to persevere, so that all this is presented in international courts."
According to Vardanyan, it is important that criminal cases are initiated in domestic courts and trials are held, although there may not be an opportunity for the punishments of the guilty to be implemented. However, these processes create legal grounds for taking the case to international courts.
"I think Aliyev should stand trial for inciting military aggression; and the other crimes such as the use of banned weapons, bombing hospitals, involving terrorists and so on, are all derived from the unleashing of military aggression," Vardanyan says. "We should go in that direction."

In light of the existential threat, high probability of ethnic cleansing and the already imminent humanitarian crisis in Artsakh, the international community has an obligation to grant remedial recognition to Artsakh.
Read more