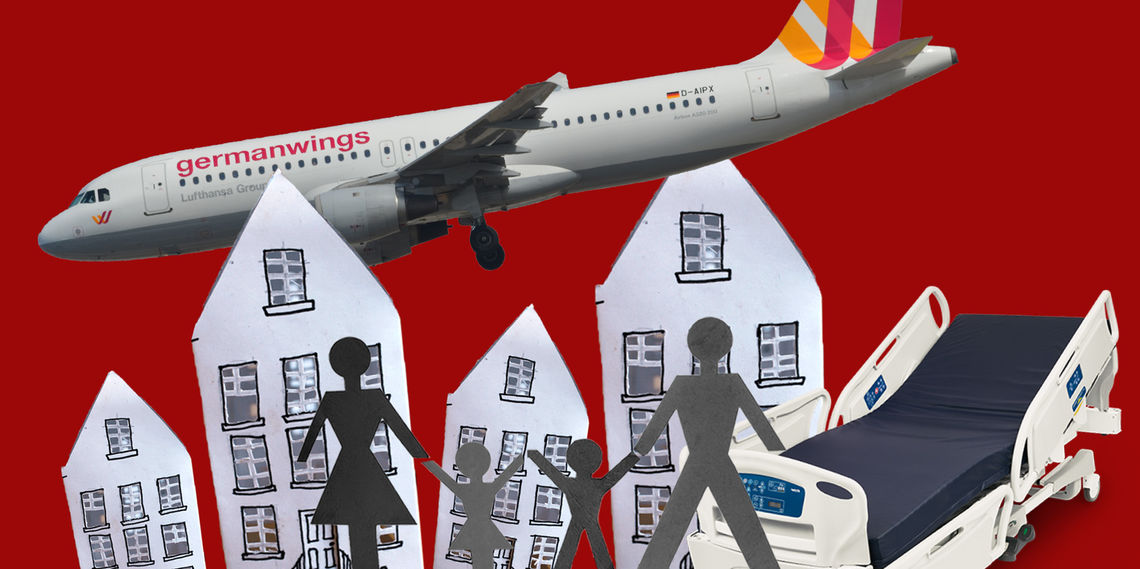 At Zvartnots Airport, an airplane lands at dawn. Passengers get out in silence with tears in their eyes. With heavy bags and even heavier hearts the passengers shuffle through the narrow airplane aisles, leaving behind the refugee label and returning to their homeland, though not by choice.
On September 5, a charter flight from Germany to Yerevan completes the deportation of 45 Armenian citizens. Sofia Ghazaryan is greeted by her husband and two sons at the arrivals hall. They haven't seen each other for two years. In 2017, the lives of the Ghazaryan family changed completely when their daughter Ani was diagnosed with acute leukemia. Shortly after the diagnosis, the family decided to continue her treatment outside Armenia.
"I'll never regret my decision because it saved my child's life," says Sofia Ghazaryan. "In Armenia, we spent nearly $6,000 US for medical examinations alone. We were forced to buy everything ourselves, starting from cotton swabs to the most common medication." The Yeolyan Hematology Center assured the Ghazaryans that they can cure Ani. However, they would need to get the medicine for her chemotherapy from abroad. "One cycle of chemotherapy would cost around $7,000 US. And yet, nobody could tell us how many cycles she would need," explains Ghazaryan. "When we were alone with the nurses or several of the doctors, they would take me aside and say, 'You can still save your child. Take her away from here; take her to Germany.'"
For their daughter's treatment, the family sold everything, including their home. Ani and her family traveled to Italy legally as tourists. However, on the day of their arrival, they illegally entered Germany and then applied for refugee status.
Ani was admitted to a hospital and stayed there for four months. The intensive treatment got the 19-year-old back up on her feet in a short period of time, at no cost to the Ghazaryan family.
"Four months later, we moved to a refugee dormitory," explains Sofia. "We could have applied to get an apartment in a better building because Ani's medical condition qualified us for it. However, we didn't because we believed we didn't have the right to ask for anything more from the country that accepted us and was treating our child for free. Besides, we always thought we would return as soon as Ani got better."
Nine months ago, the Ghazaryan family received their first warning letter from the German Federal Office for Migration and Refugees. The letter requested that the family go down to the Federal Office to discuss their return.
Most individuals who have entered Germany illegally realize that this is the first step to deportation. As soon as they received the letter, Ani's father applied to the Federal Office of Migration and Refugees to organize his return home. Mrs. Ghazaryan says this was a desperate move, a sort of arrangement with the German side that would allow her and her daughter to stay after her husband's return to Armenia.
Months after her husband returned to Armenia, Ghazaryan received another letter. Days later, migration service officials and armed police officers were at her door, accompanied by dogs.
"They came in and said I have 20 minutes to get my things together and say goodbye to my daughter. My plane was scheduled to leave in two hours," remembers Ghazaryan. "At that time, I didn't understand what was going on. I was looking at Ani, who looked hopeless and scared. I told her not to be afraid, that everything was going to be alright. She wasn't allowed to get stressed." Mrs. Ghazaryan was extremely worried that the situation could endanger her child's recovery. She left the room with the officers and sat in the car with them. "I asked the woman sitting next to me if she had children. She said yes, three of them. I started to cry, and she cried with me," recalls Ghazaryan. "And then she said, 'If your daughter can get in touch with a lawyer, there is still a chance she can get you back.' And that's what happened. One hour later, my lawyer was able to get me back to my daughter." Ani's diagnosis stated that her mother's presence was mandatory during her treatment.
Two months later, migration service officers came to their apartment once again, this time at night. Twenty minutes was not enough time for the mother to pack her suitcase. Ani did make sure to pack her mother's boots, though. Winter was coming, and she didn't want her mother to get cold.
This time, they weren't able to get in touch with their lawyer. Two hours later, the airplane was packed with Armenians who did not have the proper paperwork to stay in Germany.
Why and How do Armenians End Up in Germany?
Armenia is no stranger to illegal immigration. The biggest wave of emigration took place during the collapse of the Soviet Union and the Artsakh Conflict. According to rough calculations, between 1991-1994, 800,000 to 1 million of Armenia's 4 million residents left the country through legal and illegal migration routes. Their main reasons were war and the dire economic conditions in the country. Traditionally, the top three three destinations for Armenians were the U.S., Russia and the European Union. Russia is a preferred option, especially for migrant workers, because it has the fewest language barriers. The U.S. has one of the largest Armenian communities in the Diaspora. Armenians usually go to the EU seeking better socioeconomic conditions or for medical treatments.
According to data from the EU Migration Policy Center, the top four countries Armenian migrants prefer are the U.S. (85,263 Armenian migrants), Russia (59,792 migrants), Germany (11,205 migrants) and Spain (11,003 migrants). Over the past five years, these numbers have remained steady.
From 2010-2018, the member states of the EU have received 57,350 claims of asylum from Armenian citizens. Based on official decisions made from 2010-2018, 1080 Armenian citizens were given refugee status, 1015 humanitarian aid status and 880 secondary aid status. The four main destination countries during this time period were Germany, France, Austria and Belgium. In total, these countries have received 88 percent of all Armenian asylum seekers.
The German embassy in Armenia issues more visas to Armenians than any other Schengen-area country. Based on this data, 13,773 of the 14,942 visa applications were approved. However, Germany is also a preferred destination for illegal immigrants.
Ani Dagesyan, a board member of the German-Armenian Central Council, an organization that represents the interests of German citizens of Armenian origin, says Armenians come to Germany illegally for two main reasons: to seek medical treatment or for better socio-economic conditions.
"The problem is that Armenians often don't check the information they are given," explains Dagesyan. "They hear from relatives or friends that Germany has free healthcare, or, for example, it's possible to live a better life here on welfare than in Armenia working at a job. These two opinions, of course, are false. Germany does not give out free healthcare and can't give asylum or refugee status to all applicants."
To obtain a medical visa to Germany legally, an applicant is required to have at least 20,000 euros in their bank account in order to cover medical expenses. For this reason, people instead seek treatment in Germany illegally.
"Armenians come to Germany mainly through visas they've obtained from three main European countries: the Czech Republic, Poland and Greece,"  explains Dagesyan. "As soon as they come to these countries, our compatriots enter Germany through any means possible, even hiding in truck trailers. As soon as they enter Germany, they destroy all their papers and apply for asylum or refugee status under a different name." According to her, Armenians use fake names when applying because they believe it would be impossible to deport them since, according to the law, before deporting someone, the EU Migration Service has to first identify which country they came from.
Conditions Have Changed. Why Armenians are Being Deported From Germany
During the first half of 2019, Armenia's Migration Services received 490 readmission applications for 940 individuals from EU countries. The Migration Services approved 84.8 percent of those applications, or 792 cases. This means that Armenian citizenship for these individuals was approved and, hence, they are required to return to Armenia. Armenian citizens that are subject to readmission mostly come from Germany (576 individuals), France (97 individuals), Sweden (36 individuals) and Austria (35 individuals).
The deported are forced to return to Armenia through charter flights organized by the EU's Border and Coast Guard Agency Frontex. In 2016, they carried out eight charter flights, growing to ten in 2017 and 16 in 2018. The number of deportees has risen as well, from 113 in 2016 to 268 in 2018.
Those being forced to return believe the increased rate of deportations this year is connected to Armenian Prime Minister Nikol Pashinyan's announcement setting a target for Armenia's population to grow to 5 million by 2050. Meanwhile, official Yerevan and Berlin deny on all levels that there are any behind-the-scenes arrangements.
Ani Dagesyan says that the issue is not a confidential arrangement but the reality that the political environment in both countries has changed.
"After the Velvet Revolution, Armenia has changed its status. It's considered a safe country now, where there is no political, religious or racial discrimination," explains Dagesyan. "This is why Germany's government sees no reason to grant asylum to applicants from Armenia. For those seeking medical care in Germany, they must understand that Germany does not provide free healthcare. The law states that an individual who enters Germany with a pre-existing condition, can be deported in the same condition. Exceptions are made in cases where their return will result in their death."
She also states that far-right political ideologies are rising in Germany and taxpayers don't want to pay for the expensive treatments of foreign citizens.
"To evaluate the situation properly, you need to understand both viewpoints," says Dagesyan. "Yes, as a human, it is difficult to see our compatriots in these conditions. However, we have to also understand the German tax-payers who are demanding their government to take action against the increasing inflow of migrants." According to Dagesyan, the Federal Office of Migration is always in contact with Armenia's Health Ministry. In cases where an illness can be treated in Armenia, or the required medication or other replacements can be found in Armenia, the patient is sent back to their homeland to arrange their treatment there.
Dagesyan states that, previously, the process of approving or rejecting asylum applications would take months or years. However, today, it's resolved in 1-2 days. She believes that there will be a new wave of deportations soon.
"This new wave will include those who were given refugee status during the previous regime, especially those who gained that status based on political and religious descrimination," explains Dagesyan. "Refugee status is temporary and an individual is protected as long as their protection is not guaranteed in their country. And when your country can provide protection, the country that has given that refugee status reviews its commitment in protecting the refugee."
"They're Returning Me to Armenia to Bury Me"
At ten o'clock in the morning, in the courtyard of the Armenian Embassy in Berlin, the Gyumri dialect can be heard. Days before, what connected this group of strangers were the same issues: illness and migration cards with red markings, indicating that their asylum status has been withdrawn.
Nune, who is from Gyumri, came to Germany in 2016, after being diagnosed with breast cancer and undergoing a mastectomy. She came with her husband and her son and his family illegally. The family lived in a refugee tent camp for 11 months and then were moved to a stone building.
Her brother moved to Germany before them for the same reasons. He almost died three times in different Armenian hospitals before moving to Germany. Today, he is accompanying his sister, who has already received her deportation order, to the consulate to pick up her Armenian passport so she can return.
"My husband and I lived in one room in a four-floor lodging [dormitory] and my son's family lived in another room," Nune explains. "As a family, we received 520 euros a month. They've now raised it to 720 euros. This amount was enough for us because my treatments and surgeries were free." As for food, Nune and her family went to special stores where a person can buy one week's worth of food for one euro and get whatever they need. These stores mainly sell expired products, products near their expiration dates and slightly spoiled food. "But it didn't make a difference to me if, for example, a potato is not whole and the spoiled part is cut off. What's important is that this country's doctors saved my life. I had such a rare form of cancer that they even sent a sample to the U.S. so medical students can see it and examine it," says Nune as her eyes well up with tears. They had operated on her second tumor days before. They weren't able to get rid of it completely.
Today, Nune fears returning to Armenia. She doesn't have the money for further treatment or surgery, nor trust in local doctors.
"Before my surgery, the professor here [in Germany] got down on his knees beside me, held my hand and told me not to be scared. Everything was going to be alright," recalls Nune. "Can you imagine something like this in Armenia? I've been a medical worker for 26 years. I don't remember seeing anything like this." She claims that she didn't even know where Germany was on a map. However, they welcomed her and her family, gave them a place to stay and treated her. "There is a medication that costs 1,500 euros each. I've already taken six of them. How would I cover these expenses in Armenia?" she asks. "And now, the court has decided that I don't have any reason to stay here. I can go back. Armenia is demanding I be buried there."
Nune loves Armenia. She says she often cries for her country, especially when she sees how Germans live. But she doesn't want to go back. Your homeland is your homeland, but she wants to stay alive.
What Deportees Should Do, But What They're Doing Instead
Ani Dagesyan says that under these conditions the best option for Armenians at risk of being deported is to return of their own free will. In this case, Germany offers several support packages that people can use.
"If a person is denied asylum, they can decide to return of their own free will within 14 days. In this case, they are given certain privileges, even including a 1500 euro lump sum pension for every family member," explains Dagesyan. "This can be very helpful for those who have sold everything to come to Germany. However, very few of our compatriots use this opportunity." Again, she brings up the fact that they listen to advice from other people, hire lawyers and appeal to all the courts, a process that eats through the rest of their money. As a result, they go back empty-handed. "There are groups of Russian-speaking lawyers here that are tricking Armenians by convincing them that they can solve all their issues when they clearly know that it's impossible," explains Dagesyan.
Ashot Smbatyan, Armenia's Ambassador to Germany, says that the Armenian embassy can support those Armenian citizens that have expressed willingness to return to Armenia by providing them with documentation and assisting them through those procedures.
"As for the readmission agreement signed between Armenia and the EU, which came into force in 2014, the Armenian embassy cannot interfere in the decisions made by German law enforcement agencies on returning or deporting Armenian citizens," says Ambassador Smbatyan. "Based on current German legislation, before deporting people, German law enforcement agencies have to notify them about their deadlines for leaving Germany. If those deadlines aren't met, then they use other tools within their jurisdiction."
What is the Homeland Offering Her Children?
To support those who were forced to return, the Migration Service of Armenia has published a draft bill on the "Program on Primary Assistance for Reintegrating Returning Armenian Citizens." According to this bill, support to those being deported is to be organized into four spheres: information support, ensuring temporary accommodations, referrals to health care in case of medical issues and accommodating vulnerable groups into relevant support and care institutions.
Program recipients need to have lived abroad for at least one year and applied to the program within three months of their return. The state budget will be allocating 13,680,000 AMD (26,000 euros) to this program.
These funds will allow the state to, for example, provide a monthly 60,000 AMD apartment rent subsidy for six months for those Armenian citizens who were forced to return. This type of support will be given to 38 recipients, which is around 10 percent of applicants. This calculation is based on experience from previous years and that of partner organizations. Throughout 2018, within the framework of programs organized by Armenian Caritas, 21 out of 95 families required temporary residence (22 percent of the recipients). From November 2018 to June 2019, 31 individuals applied to ERRIN (European Return and Reintegration Network) Armenia to rent an apartment. However, only 10 received support, which was 32 percent of recipients.
Currently, there are two reintegration programs: the One Window service which has an advisory and support role and the European Return and Reintegration Network (ERRIN) which has to provide targeted support to returnees.
The ERRIN project launched in November 2018 and foresaw 400 recipients. However, due to a large number of applicants, the program ran through its budget before the set deadline and has been temporarily suspended until 2020. The support package by ERRIN includes establishing a business, professional trainings, support compensation for medical examinations and apartment rent for a six month period.
State bodies hope that by including international partners, it will be possible to revive the ERRIN program.
Provisions for supporting forced returnees are also established in Armenia's Migration Service's 2017-2021 Strategy.
Last Stop: Home
Mrs. Sofia Ghazaryan is confident that her lawyer, who has already applied to the courts and is fighting to have her return to her daughter in Germany, will not succeed. Every time she talks to her daughter, she tells her not to waste her energy on something that will not happen. Mrs. Ghazaryan understands well that this is a policy for which she is not an exception.
Even today, after everything that has happened to her, she says that Germany saved her child. She can talk about the care and attentiveness of the German doctors for hours. Today, she is also confident that they will take care of Ani better than she could. However, at the same time, she is worried about her child, who is left there alone.
Today, Ani is studying German so that when she is cured and healthy two years from now, she can return to Armenia and continue her education in linguistics and live happily with her family, who hope that the days of chemotherapy are behind them.

Following changes in migration policies of EU countries, an increasing number of illegal Armenian immigrants were deported from the Schengen area. Armenia's government has introduced a draft program, which, if adopted, will be the first initiative aimed at providing state support to deported Armenians.
Read more