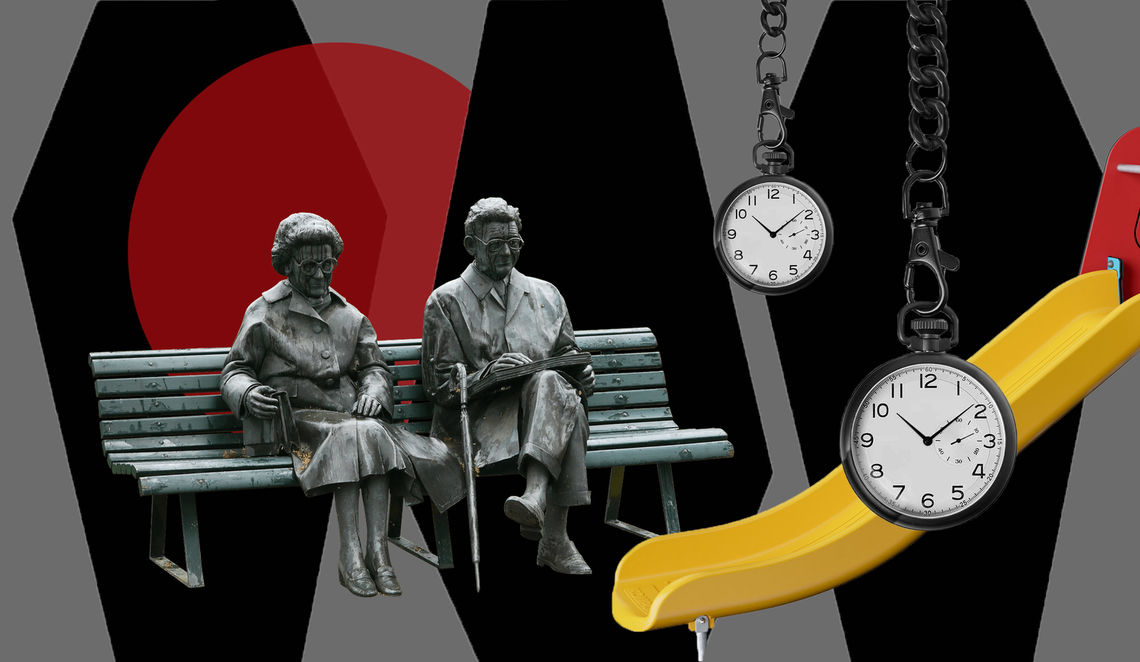 A House Full of Children in an Empty Country
Antaram Kirakosyan is 65 years old. She was married in 1974 and, over the next 20 years, gave birth to 17 children: eight boys and nine girls. Antaram is considered a 'hero mom' in Armenia. Her house is always full of commotion. Today, the whole extended family consists of 81 members.
According to Armenia's last population census in 2011, the number of families with four or more children stood at 13,658. The Low-Income Family Assessment System of the Ministry of Labor and Social Affairs of Armenia serves 6,004 families with four or more children, for a total of 26,846 children covered by the program. These families receive financial support from the state.
Armenian legislation has not yet coined a special legal term for families with four or more children. It also has not set procedures for how families can gain official status as a large family.
Armenia's Demographic Profile: Birth Rate
The UN World Population Prospects for 2019 states that, since the mid-1960s, the world's population has grown from 4 billion to 7.7 billion people. Only 3 million (0.04 percent) of that population resides in Armenia.
The 2011 census placed the country's de jure population at 3,018,854. However, as of July 1, 2019, the Statistical Committee of Armenia has stated that this number is now 2,961,600. The next population census in Armenia will take place in October 2020.
Tsovinar Harutyunyan, Assistant Representative of the United Nations Population Fund (UNFPA) in Armenia, said that, based on a survey conducted in 2017, couples in Armenia say that they want to have three children, however, they end up having only one or two. According to the World Bank, the fertility rate in Armenia in 2019 was 1.6 births per woman. The countries with the lowest fertility rates in the world are Singapore at 1.0 and Portugal at 1.2. The countries with the highest fertility rates are Niger (7.1) and Somalia (6.1).
Artak Markosyan, Head of the Department of Demography at the Ministry of Labor and Social Affairs, finds the infertility rate in Armenia worrisome. He mentioned that the Ministry of Health and the UN Population Fund in Armenia conducted research in 2014 to determine the infertility rate among Armenian women. They studied 605,000 women between the reproductive ages of 25 and 45 and found that 90,000 (14.9 percent) of them had primary or secondary infertility; 25,000 (4.1 percent) had primary infertility, meaning that they could not get pregnant after at least a year of having unprotected sex, and 65,000 (10.7 percent) had secondary infertility, which means that they were able to get pregnant at least once, but are now unable to. This research was the last of its kind conducted in Armenia. Since 2014, there has not been funding for similar studies.
Depopulation: More Deaths than Births
This year, five regions in Armenia have had mortality rates higher than their birth rates. The largest spike was in Lori marz.
Tsovinar Harutyunyan reports worrying numbers. Data by UNFPA Armenia [still to be published] show that Armenia's demographic rates are reaching alarming numbers. "It's estimated that Armenia might face depopulation in several years," Harutyunyan explains. "In 2018, Armenia's natural growth rate was 10,900 people/year. This number shows how many births exceeded deaths." She continues, "However, what's interesting is that, for the first time, in Lori marz, on a provincial level, negative growth rates were recorded: deaths exceeded births by 90. This was predicted to happen in a couple of years."
Artak Markosyan states that the marzes of Tavush, Syunik, and Vayots Dzor are also facing negative population growth. According to him, depopulation was not previously expected to occur in Armenia until 2025. "The issue is that the generation born in the 1990s is starting to form families. Between 1982 and 1992, there were around 77,000 births in Armenia. In 1992-2002, there were 46,000 births," explains Markosyan. "Meaning that there was a nearly 40 percent drop in births. It's possible that emigration was one of the causes of this demographic disruption."
When these numbers were published, Prime Minister Nikol Pashinyan called for the creation of the Council on Demographic Improvement, the main aim of which is to find ways to overcome this demographic predicament.
Markosyan believes that the government should take action aimed at raising birth rates, particularly in the villages, as well as preventing emigration. "Fostering primary birth rates in villages is important," explains Markosyan. "We will be implementing programs that include improving conditions in the housing market and helping youth find jobs." According to Markosyan, fewer children are born in villages than in cities. "This is an unprecedented situation. This means that people living in villages do not have employment opportunities. Their socio-economic situation is in a dire state, leading young people to either not get married or move to Yerevan," Markosyan says. "We have to do everything we can so that people living in villages want to stay and live there."
Today, the Ministry of Labor and Social Affairs has developed four programs aimed at improving the demographic situation in the country. One of the four programs includes reforming the one-time financial assistance (birth benefit) and childcare allowance system. The second program includes expanding care services provided in preschool and elementary educational institutions (after-school programs, etc.) and improving their quality. The third program entails developing and carrying out assistance in securing houses for young families, or families with children. The last program aims at fostering employment for young couples, or couples with children residing in villages.
If the interventions are successful, they can still help the country stave off a demographic collapse.

In the public discourse, sex is often seen as being diametrically opposed to almost everything - religion, love, traditional values, even the motherland. With this in mind, many will be shocked to hear that sex does exist in Armenia, Sona Martirosyan writes.
Read more

Over a decade ago, Armenia's government launched a pilot project called Deinstitutionalization of Orphanages. The initiative, which also sought the creation of a Foster Family program was not successful for many reasons, but mostly because it was never really child-centered. The Ministry of Labor and Social Affairs is set to change that.
Read more