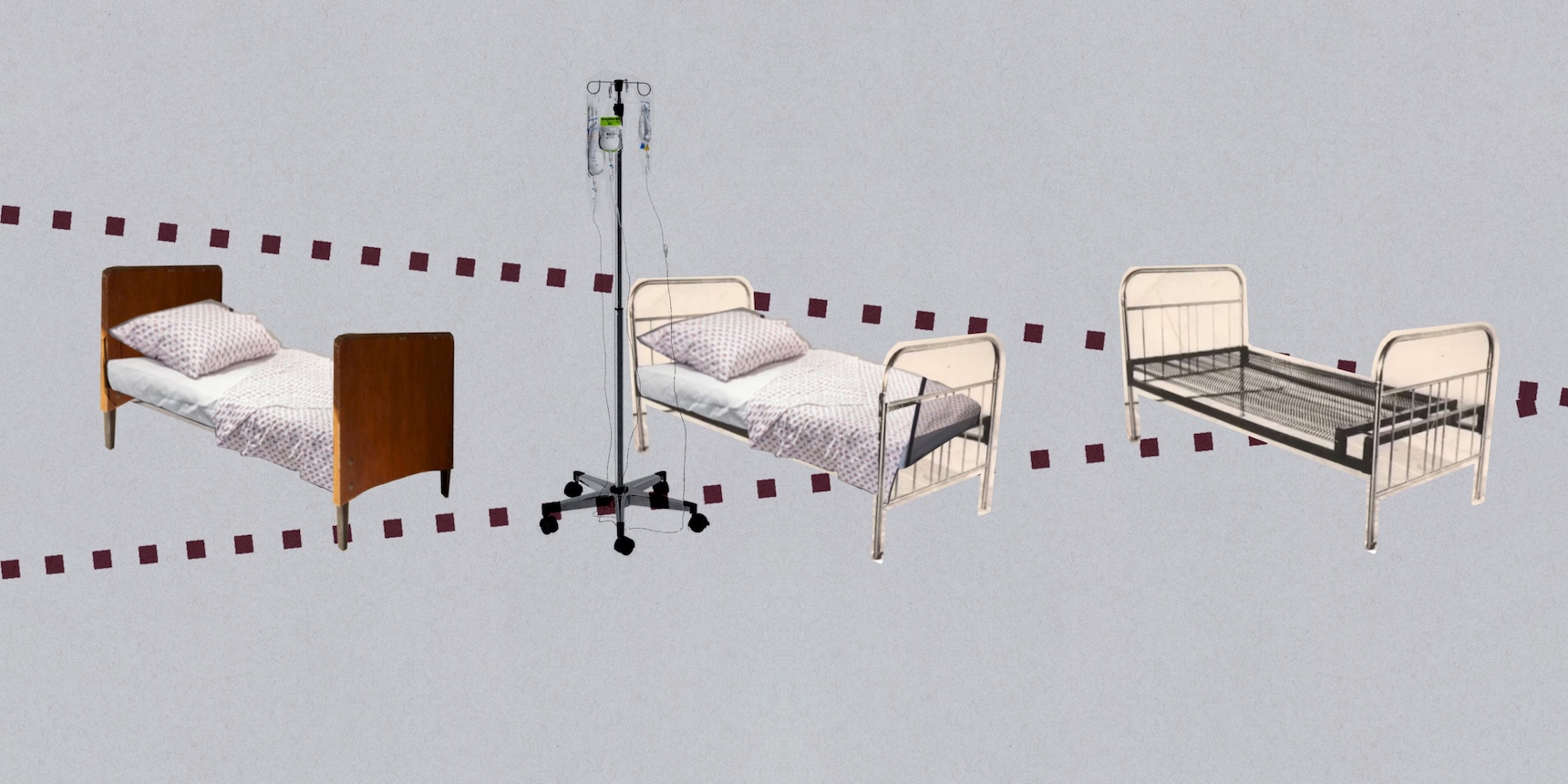 Anyone who has found themselves in a hospital or received medical care in Armenia has wondered who is ultimately responsible for the care of the patient. This is especially true when the patient is paying for their medical care. If the patient has a caretaker, such as a relative, everything is easier. But what can lone patients do?
From Polyclinic to Hospice
Davit Sarafyan, 64, had been registered at his local polyclinic for years due to several heart attacks and strokes. He was well known in his primary health care circle. Sarafyan had been registered as having a third degree disability, and he dutifully took the medication prescribed to him free-of-charge. However, that was only a small portion of the medication he needed. He had to purchase the rest with his pension money and the minimum wage he received from working as a plumber in a private clinic. 
With no family in Armenia, he was all alone. When his condition suddenly deteriorated, Sarafyan knew that the clinic could no longer help him. Various tests indicated that ongoing treatment would no longer be effective in prolonging his life. 
This is when he decided to appeal to his step-brother for help. Safaryan, who was single, not only needed support with the financial burden, which had become unsustainable, but also with his psychological and physical well-being.
"Despite being a single pensioner with a disability, he had to pay for all his tests," says his step-brother, Vaghinak. "State-funded treatment is only available after hospitalization, as an inpatient. Along with the laboratory tests, I tried to ensure that further treatment would also be for free. I spent around a month just organizing the process, and going back and forth for paperwork. It was very complicated. How is a lone, sick person supposed to do this?"
Despite receiving confirmation that the treatment would be free, the brothers were forced to go to several hospitals. They waited for hours in hospital corridors only to be rejected. Finally, one hospital agreed to operate on Sarafyan, but Davit had to wait for months to receive the necessary MRI. By the time they managed to find the necessary funds to pay for the test, it was too late for Davit, and there was no way they could save him. 
"It was then that we realized Davit needed daily care and decided to appeal to the Ministry of Labor and Social Affairs to organize his care in a senior care facility," Vaghinak recalls. "However, we found out those facilities also had long waiting lists."
The only remaining option for Sarafyan was palliative care, which would at least ensure a relatively painless and dignified death. However, hospice services are an expensive luxury for the dying. Vaghinak remembers that there were hospice facilities where you wouldn't dare leave your loved one, and others where conditions were more or less tolerable but still extremely expensive.
"In one of the hospices, the daily fee was 40,000 AMD. Part of the fee was reimbursed by the state, so we ended up paying 15,000 drams a day, not including food. However, this amount is still an impossible burden, especially for patients without family."
According to him, the most difficult thing in this process, besides the psychological stress involved, is dealing with bureaucratic hassles, limited services and the absence of basic amenities.
"When you find yourself in a hospital, more than half your time is spent waiting for the elevator, even when you are physically unable to stand. In one hospital, they provided Davit with a manual wheelchair, despite him not having the strength to hold his medical papers, let alone operate a wheelchair," recalls Vaghinak.
There Is no Problem From a Legal Standpoint
According to Violetta Zopunyan, President of the Center for Rights Development NGO, there is no legal problem here. Lone patients and those without caregivers are not listed as a separate group in the patients' list. Armenia's law On Medical Aid and Service for the Population states that everyone over the age of 18 has the right to receive accessible information about their health, test results, diagnosis and treatment, treatment risks; options for medical intervention, and possible treatment outcomes. This is unless they have previously waived that right and requested that the information be communicated to a third party.
"From a legal standpoint, it is unclear what is meant by a 'lone patient'. The doctor or medical institution cannot assume additional responsibility, as they have provided the patient with the necessary information and guided them in deciding on a treatment plan. In other words, the state does not bear additional care or responsibility towards a person in this case," says Zopunyan.
According to the expert, when a patient requires support from a psychologist, social worker, or personal assistant, it falls under the social protection system rather than the healthcare system. In many countries, these services are provided directly within hospitals or by different public organizations, as an additional means of protecting health care rights. 
"There have been recent legislative changes to Armenia's Law On Medical Aid and Service for the Population. According to these changes psychological support is now considered a paramedical service. However, no sub-legislative act has yet defined the procedure for implementing the service. In other words, it is currently unclear how the service will be provided to patients in need or how to apply for it," says Zopunyan.
The expert notes that all countries, including Armenia, that have ratified the International Covenant on Economic, Social and Cultural Rights –– one of the UN's most important documents –– are obligated to "recognize the right of everyone to the enjoyment of the highest attainable standard of physical and mental health." According to the treaty, states must create conditions that ensure medical assistance and care for everyone in the event of illness. However, the treaty does not specify the procedures by which states must ensure the realization of this right; so each state regulates the field according to its domestic legislation.
What Exists in Armenia
According to the Ministries of Health, and Labor and Social Affairs in Armenia, the state does not provide service or support systems for patients without caregivers. This creates a significant problem, as medical services are often inaccessible, particularly in the regions. For example, while Yerevan has 59 doctors per 10,000 residents, the number in the provinces is just 17, according to the National Institute of Health's statistics annual report "Health and Healthcare".
In 2020, Yerevan had the highest number of available hospital beds per 1,000 inhabitants, with 7.7 beds. The regions, however, had almost five times fewer beds, ranging from 4.3 to 1.6 per 1,000.
When It is Already Too Late
In the final months of Sarafyan's life, the Ministry for Labor and Social Affairs offered him a place in a care facility for the elderly on three separate occasions. The first offer was refused since the facility was located in Gyumri and it would have been extremely difficult for Sarafyan to travel to Yerevan for periodic medical checkups. The second one did not have a palliative care unit. Vaghinak received the third call –– the day after Davit passed away.
Vaghinak laments, "If you ask what a lone person can do when they find themselves in the healthcare system, I can only say, 'die' and nothing else."