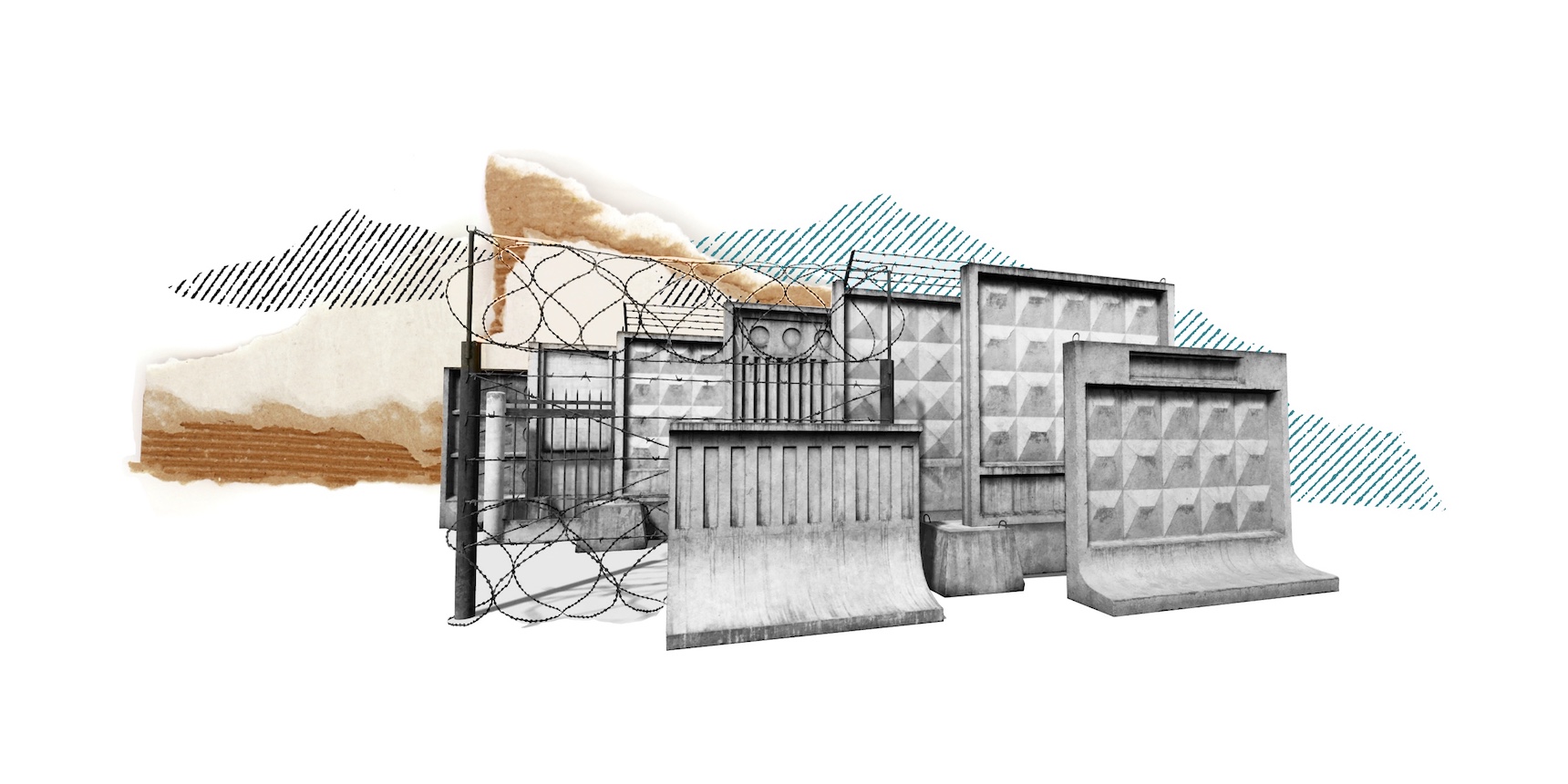 Preface
Have you ever taken notice of fences while passing through rural or small-town Armenia? What if anything do you recall? 
Fences are used to divide landscapes and serve as mechanisms of control. Therefore, we are often more interested in what is being fenced than the fence itself. So, let's deconstruct fences, as befits the best post-modern tradition.
In Armenia, apart from the usual materials such as stone and wood, fences are also made of various things — pipes and metal wires, bed and mattress frames, car parts, even whole cars, bathtubs, boilers, refrigerators, computers, and other unidentified metal scraps. The rusty color of the fences matches well with the pink tufa of the buildings and the okra-ish burnt grass. Over time, they must have become ordinary and unexciting to the locals. Have they ever been a source of fascination and bemusement? Perhaps only eyesores. Once, on a stroll with an Armenian friend in Gegharkunik region, I asked for his phone to take a picture of yet another fence. When he saw my point of interest, he amusingly asked, "Why are you taking a picture of this pile of garbage?"
Garbage is a social and relational category, rather than an objective quality; as the saying goes, "one man's trash is another man's treasure." In this sense, Armenian fences are a noteworthy anthropological treasure. I would like to highlight fences made from radiators that I encountered several times as a powerful symbolic and tangible point of inquiry into the entangled history of Armenia's (de)modernization, which is linked to the dynamics of colonialism and independence, as well as the different state practices in the making. Radiators are not just material remnants of the obsolete Soviet-made heating infrastructure, but rather a significant part of Armenia's history.
I will begin with a theoretical discussion on the centrality of infrastructures to the state's project, with the hope of not boring the reader too much. This will be followed by a brief historical overview of the Russian/Soviet state's rationality that influenced territorial development and "modernization" in Armenia from the late 19th to the 20th century. After this, I will return to the topic of fences, and elaborate on the current state-people relations in Armenia.
Infrustructures and State Power
Although discussions on infrastructure often focus on material objects and substances such as pipes, rails, concrete and wires, it is essential to remember that cultures, political regimes and markets all play equally important roles. According to the prominent French philosopher Michel Foucault, who outlined the contemporary theory of power, infrastructures allow states to govern from a distance, making them a political issue with specific rationalities that are revealed through how, whether, and by whom they are assembled, maintained, repaired, or dismantled.
In the framework of modernity, infrastructures served as the basis for developmental discourses, shaping collective ideas of progress and "normal life," as well as literally building futures due to their decades-long lifespans. As such, infrastructures are among the most recognizable products and manifestations of the state, showcasing its power, celebrating technological advancement and nowadays also promoting commodity fetishism. Large-scale infrastructures such as highways, bridges, dams and power plants contribute to enhancing state authority and legitimacy. The emphasis on the types and spatial distribution of infrastructures reflects the changing nature of the state and reconfigures state-people relations.
Soviet "Modernization" and its Colonial Overtones
From a historical perspective, the modernization and infrastructure development of the territory now known as the Republic of Armenia is largely linked to the Russian/Soviet state, its changing objectives , and its colonial policies. Although the state is an ambiguous concept, I will follow the approach of anthropologist Stef Jansen, which allows me to refer to the state as a set of practices for the sake of pursuing my argument. There are practices that assert power over territory and people (statehood) and those that take care of territory and people (statecraft). 
Statehood and statecraft often overlap and co-shape each other, or one is sacrificed in the name of the other. While the Russian Imperial state engaged in numerous colonial wars, it was not preoccupied with extending statecraft across its territory. However, the nature of the state changed after the Bolshevik coup d'État, also known as the Russian Revolution. The Soviet state, though not less violent (rather more), was underpinned by a somewhat modernizing and developmental rationality. By combining the policy of benevolence with violence and terror, it extracted and controlled, but also attempted to "modernize" the territory and "civilize" its subjects. This dynamic is vividly portrayed in Henrik Malyan's classic 1969 film "We Are Our Mountains," where the Soviet state, though never made visible, is omnipresent in almost every scene.
In the Soviet Union, and in Armenia as an example, collective life was subject to state planning, including the apparatus required to meet people's daily needs. This was done to generate new forms of sociality and ultimately shape the socialist person. Gradostroitelstvo (градостроительство), which means "city-building", was a vital element of the Soviet Union's more enduring project of social modernity. In cities and towns, the mundane elements such as pipes, wires, apartment blocks, bureaucratic routines and social norms were  a new form through which collective life was assembled based on state-set norms
The state took on the role of khozyain (хозяин), meaning master or proprietor, to organize and sustain both the economic life of the country and the everyday lives of its people. The "Soviet infrastructural package" consisting of electricity, water and heating was the khozyain's "gift" and one which ordinary people were eager to receive. However, the act of giving is only complete when the gift is reciprocated. Thus, the giving of the Soviet state went hand-in-hand with the taking of surplus value, lands, resources, freedoms and lives. Through infrastructures, the Soviet state extended its power over land and people, reaching even the most remote territories.
Demodernization or Independence? 
The collapse of state socialism in Armenia was followed by the outbreak of the First Nagorno-Karabakh War, resulting in the "Cold and Dark Years" of the early 1990s. The country, whose population prided themselves on their living standards, and where independence was greeted with overflowing optimism, was suddenly hurled into a "pre-modern age". The hectic privatization and liberalization common in the post-Soviet space, together with the energy crisis, contributed to the evacuation of statecraft in Armenia. This is evident in the decline of much of the Soviet-built infrastructure, especially those based on old technologies, erected in remote places, or too burdensome for the new state, and posing no interest to capital. The contemporary sovereign state in Armenia was founded on war, with the main purpose of securing the preservation of its territory and population. Due to the lack of funds and, perhaps, will, to repair and maintain the "Soviet infrastructural package", the latter was unwittingly lost or willingly sacrificed by the new state, bringing about highly individualized solutions for infrastructural provisioning and maintenance that polarize the population according to wealth.
At the same time, the material parts of obsolete infrastructures, such as the Soviet centralized heating system, were torn down and repurposed to meet the needs of the new reality. This brings us to the fences constructed from radiators, pipes and elements of boiler rooms. The term "demodernization" implies that "the many aspects of modernity…have been either destroyed or severely damaged." Since the centralized heating system was a part of Soviet modernity, can we argue that its collapse and disassembling for scrap metal is a sight of demodernization and decay? Indeed, it may seem so from the center of the Empire. But not so much according to my Armenian interlocutors:
"Yes, in the Soviet Union I lived a good life. Things were taken care of but I hated it. Now, finally, we are free and independent. So what if you had to install your own Baxi [gas boiler]? I can finally read Dovlatov," a female interlocutor in her late 50s told me. This narrative of prioritizing freedom over comfort was echoed in other interviews as well.
The "Independent Landscape"
Armenia's pavilion at the 15th International Architecture Exhibition, "Independent Landscape" cataloged five topics. Two of these topics — post-earthquake Gyumri and Metsamor — showcase abandonment and unfinished Soviet construction. They also hint at the looting of scrap metal both textually and visually. This scrap metal serves as means of salvage value accumulation or is used to construct fences among the many other DIY objects in private households.
For centuries, Armenians have endured hardship, continually creating and recreating themselves from "dust", as beautifully expressed in a poem by Vahan Tekeyan called "The Country of Dust".[1]
…How can you dream of old architecture
today when every edifice caves in
to make way for new shapes?
Any shock can erase you forever and no eye
will even blink. Yours alone the concern. But hope
rises like the sun. Accumulate. Dust consolidates into stone. 
The rusty metal remnants of Soviet modernity in Armenia represent a new form of "dust" that accumulates and consolidates, contributing to the construction of new things in the landscape of shifting state-people relations. By dismantling what was once common, people carve out their own private borders and construct their individual, independent spaces, dynamically and materially undoing the colonial power of the Soviet state.
Footnotes: 
[1]  Translation by Diana Der Hovanessian and Marzbed Margossian.