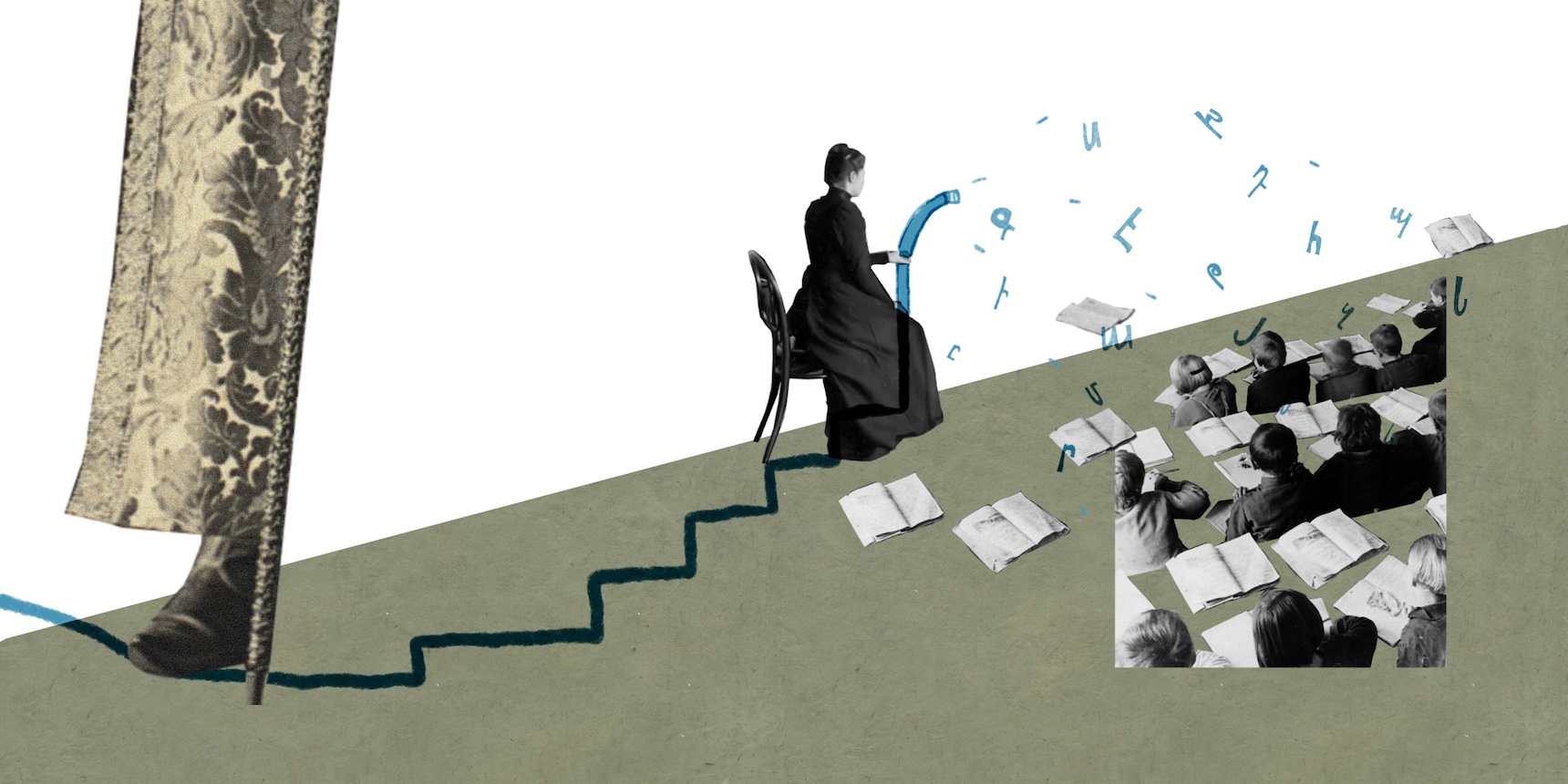 In the second half of the 19th century, the Armenia press in Tbilisi frequently published articles about women. However, their attention was far from positive: "As far as the Armenian woman is concerned, she is a colorless being with no emotions toward her nationality or even general human emotions. While the Georgian gentlewoman at least considers reading a Georgian-language paper or book to be important, the Armenian woman only thinks about her jewelry and entertainment, often playing lottery or cards, or dancing in clubs or gossiping about others. Her daily food, the chain hanging around her neck or her dress, keep her more occupied than any spiritual or mental activity. She only cares about her image. While the daily language in Georgian families is their mother tongue, which becomes the child's language from childhood, Armenian parents consider not so much speaking with their children as using a 'scrambled' form of a foreign language with great pride and dignity; thus their children 'scramble' every language, but cannot speak in any one."[1]
This stereotype of Armenian women was challenged by Armenian women themselves, including by educator Sofia Bayanduryants, who was born in 1855 in Tbilisi, the main Armenian political, social, and cultural center of the period. At the time, Russian was spoken in many families, this was also the case for many Armenian families living in Tbilisi. Sofia, herself, knew several European languages but not Armenian.
Avetik Babayan, a scientist in Tbilisi, fell in love with the 17-year-old Bayanduryants and they decided to be married on the condition that she fully masters Armenian by their wedding day. The condition was achieved, and they were married in 1874 before leaving for Germany.
Having a keen interest in children's health and education while in Germany, the couple explored the idea of establishing kindergartens, with a focus on providing an environment that not only promotes education but also supports a healthy lifestyle for children. 
A similar method had already been developed by the German pedagogue Friedrich Fröbel in 1837, specifically for kindergartens. At the heart of his method were preschools that nurture, develop, and educate children through games, without coercion. In addition, parents would be present and participate preparing them to give their other children a proper education. Kindergartens that use the Fröbel format are referred to as Fröbelian. 
Bayanduryants began studying at the teachers' seminary and later continued her education in Vienna while working as a reporter for the Meghu Hayastani and Dprots periodicals:
"I remember our poor preschools, where young boys would sit motionless for hours, withering and melting in the stale air and dulling density. How many healthy bodies were destroyed, and how many sharp minds were blunted in those useless places?" [2]
The idea of opening kindergartens for children was particularly urgent. In his article, "The Armenian Woman," Raffi presents the situation of girls in cities with a large Armenian population:
"Still not five years of age, her mother forces her to do various household chores and help her. Each mistake is met with a heavy slap. … Although her mother tries to teach her something, all of her education is of a moralistic nature; there is nothing educational or developmental in it. The girl constantly hears the same advice – to be humble, submissive, speak little, not laugh at all, not look at men's faces, kiss the hands of old women, and so on.  Her mind, heart, and soul are oppressed by old prejudices, robbing her of every free, independent development. She becomes an intellectual idiot, but morally – an angel." [3]
In her articles sent from Vienna, Bayanduryants urged wealthy Armenians to spare no expense and send local girls with some education and prospects to Europe to study. This is because children's kindergartens will not serve their purpose if there is an absence of educated and competent teachers.[4]
After graduating in 1877, the couple returned to Tbilisi with the purpose of opening kindergartens. However, there were no suitable buildings, and the classroom provided to them by the board of the Gayanyan Girls' School, which had been operating in Tbilisi since 1869, was not workable. Sofia Bayanduryants set up a kindergarten in her own house, which started with only ten pupils. In a short time, that number increased to 70.
It was a single, private kindergarten with a limited number of children. The couple decided to popularize kindergartens, making them available to all Armenian children — regardless of their family's social situation — and to establish them in neighborhoods populated by Armenians.
George IV of Armenia, Catholicos of All Armenians, assisted in this endeavor by arranging for  Bayanduryants' kindergarten to be designated as the preschool for the Gayanyan Girls' School.
Additionally, a preparatory class was established adjacent to the preschool, which was overseen by writer Ghazaros Aghayan. His interactions with the children were a source of inspiration for many of his poems and fairy-tales.
"I entered the kindergarten, where the children were like innocent angels –– happy, cheerful, constantly running, jumping and singing all around their 'mother' Sofia. I didn't know which I was more enraptured by, the educator or the children. I wrote children's songs and gave them to Mrs. Sofia, who was delighted as if she had made a new discovery.
"I dedicated myself to writing children's literature, which was published continuously in Aghbyur for several years. It was during this time that I compiled the second and third textbooks of my 'Study of the Mother Tongue'.
"I spent one full school year in the kindergarten and came out with a deep indelible feeling towards the virtuous Sofia Bayanduryants." [5]
Thanks to these kindergartens, Armenian children began sharing national stories, songs and poems within their families.
Sofia Bayanduryants tried to increase the participation of women in the field of education. She established the Fröbelian Center to teach local women and young girls the skills required to run a kindergarten, while her husband taught children's healthcare.
The Center accumulated a considerable amount of funds through donations and membership fees. At the same time, Bayanduryants, along with Gayaneh Matakyan, a well-known educator who was educated in Switzerland, went from house to house, creating a list of children from poor Armenian families. They urged the parents to take their children to kindergarten.
The first public kindergarten was established in one of the rooms adjacent to the Zrkinyats Saint Gevorg Church in Tbilisi with the permission of the Catholicos and with the funds raised by the Center. [6] Gayaneh Matakyan was appointed the principal.
Raffi was also present at the opening of the kindergarten next to the Zrkinyats Saint Gevorg Church.
"Here before us stand those children. They have been sung lullabies in foreign languages, and have been immersed in foreign languages. Virtually none of them know even a single word of their mother tongue. In this establishment, they must receive what their family or kin have not given –– or have not been able to give them. Here, they will be educated and learn their mother tongue."[7]
The Fröbel Center targeted neighborhoods where the majority of Armenians spoke Georgian.
The pupils of the newly opened school received food and clothing. The Center obtained supplies and equipment from Germany and purchased other items with donations from local Armenians.
However, the newly created kindergarten soon closed down. Tsarist Russia considered Etchmiadzin and Tbilisi as centers of revolutionary activity where children were being educated in a spirit of rebellion. Teaching history and geography was forbidden in schools as these subjects were seen as evoking nationalism. Strict control was imposed over Armenian schools, and around 300 Armenian schools operating in the South Caucasus were closed in 1885, including kindergartens.
Following requests by Catholicos Makar I, Tsarist Russia reopened Armenian schools, albeit with a limited syllabus. However, the reopening of the kindergarten was delayed.
Sofia Bayanduryants, having lost hope of realizing her program in Tbilisi, left with her family and first went to Germany, and then to France.
The Fröbel Center handed over its funds to the Armenian Charitable Society, and the Society of Armenian Women and Maidens in Tbilisi. The founding meeting of the latter took place in 1882. The society's goal was to organize the education of Armenian women and girls, and to involve them in social, cultural and political life.
Although Sofia Bayanduryants left, the women who had already learned how to run a kindergarten continued their work. Gayane Matakyan, the director of the first Armenian public kindergarten operating next to the Zrkinyants Church, established the first kindergarten in 1882 in Yerevan. It was located on the corner of Astafyan (now Abovyan) Street, Aram Street. In 1887, she also established two Armenian kindergartens in the Armenian districts of Istanbul.
One of Sofia Bayananduryan's students, Natalya Hovhannisyan, established a kindergarten in Alexandropol (present-day Gyumri). These women succeeded in creating an educational and developmental environment for Turkish-speaking, Georgian-speaking, and Russian-speaking Armenian children.
"Song,  dance, meaningful walks, physical exercises, in other words –– a new spirit entered our nurseries, which were transformed not just by being called "kindergartens" but through fundamental changes […] At home, children could not wait to go to school." [8]
Footnotes

[1]
«Մեղու Հայաստանի» , N 3, փետրվարի 28, 1876, Թիֆլիս :
[2] «Դպրոց», N 11, 1875-1876, Վաղարշապատ:
[3]
«Մշակ», 1879,  N 34-43:
[4] «
Դպրոց», N5,  1875-1876:
[5]
Ղազարոս Աղայան, Երկերի ժողովածու, հատոր 4, էջ 497-498:

[6] 1162-
ին
Թիֆլիսում
կառուցված
հայ
առաքելական
եկեղեցի
,
որը
1937-1938
թվականներին
Լավրենտի
Բերիայի
կարգադրությամբ
և
Վրացական
ԽՍՀ
իշխանությունների
հրամանով
ոչնչացվել
է։
[7]
Րաֆֆի
,
Երկերի
ժողովածու
,
հատոր
10,
էջ
49:
[8] «
Սուրհանդակ
», 1900, N 494: