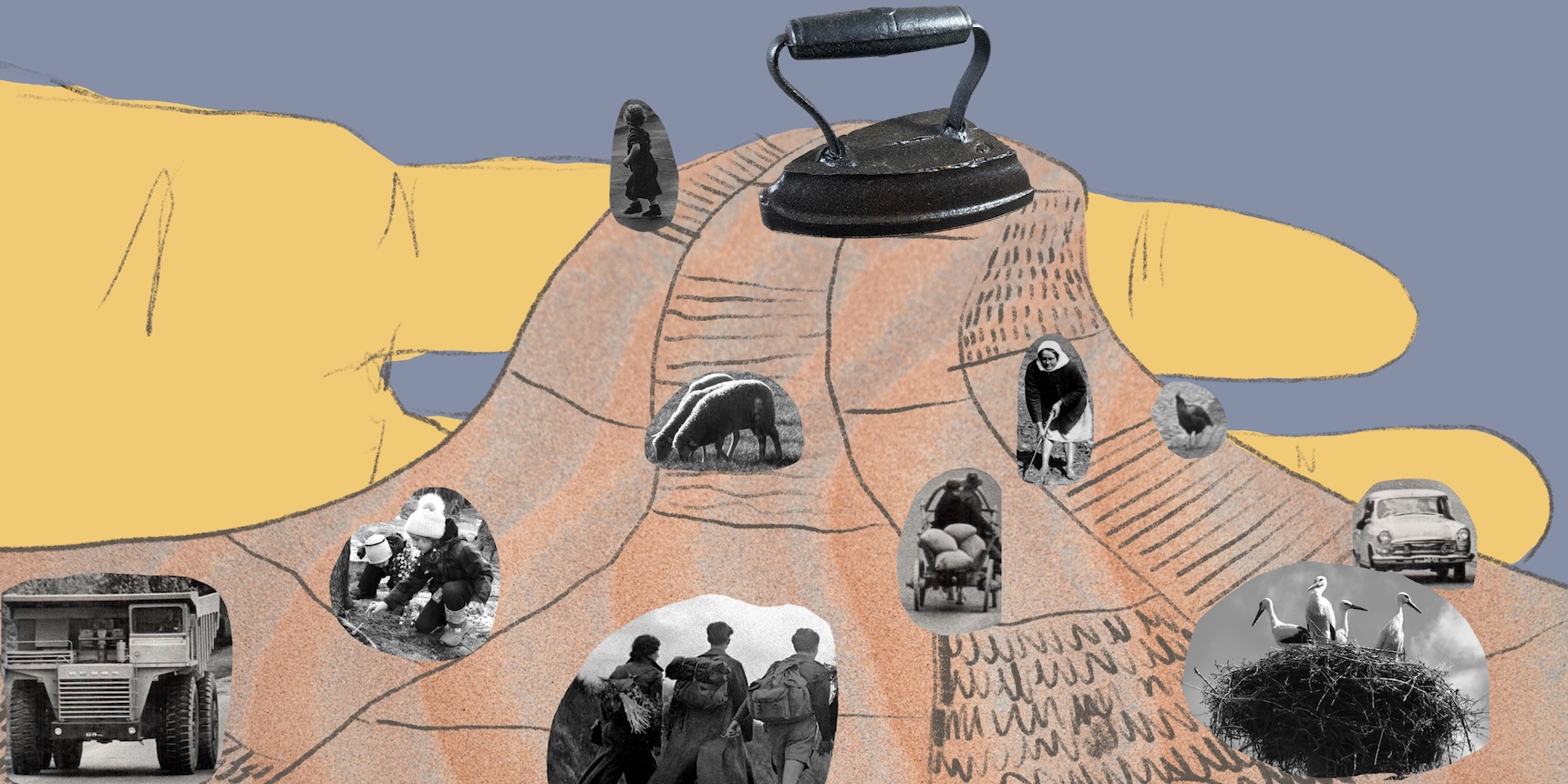 A congested highway, heaving with different types of vehicles, stretched from Stepanakert, the capital of Artsakh to the town of Goris in Armenia, carrying countless families and what little of their belongings could fit. Tens of thousands were stranded on the road for hours. Anxious people, sitting inside their cars, others seated on the roadside, unsure of whether they would be allowed to pass the Azerbaijani checkpoint. What typically was a short drive of a couple of hours became an agonizing journey spanning days without food or water.
People were fleeing from Artsakh, leaving their memories and stories behind, perhaps without fully comprehending that there was no going back. The only way forward was to Armenia.
Cars stream into Goris, creating a procession of vehicles and people that seemingly had no end and no beginning. The city is littered with people's belongings. Children and elderly are disoriented, unsure of what is happening, and yet to fully comprehend the enormity of their plight.
Amid this chaos, an 83-year-old man stands, confused and alone, carrying only a bag. He had previously sat in Stepanakert, with that same bag, quietly waiting to be evacuated. It was only when he spoke to Gassia Samuelian, a Lebanese-Armenian volunteer who had come to Goris to help, that it was revealed that he had no family, no relatives, and nowhere to go.
Gassia tried to help him, and even managed to find a blanket for him, something that was hard to get a hold of those days. However, a government official soon took him to a facility for the elderly. Although Gassia never saw him again, she had taken down his name and number so that she might find him again in the future.
In those days, many Armenians like Gassia left their daily routines and rushed to Goris. Many of them were diasporan Armenians. Among them was Natalie Marcarian, an Australian-Armenian who has been living in Armenia for the past three years. As soon as she got to Goris on September 26, she immediately began helping with the distribution of food. Later, she went from hotel to hotel with her friends, assessing the needs of the Artsakh Armenians. Natalie was surprised to discover that despite being under a blockade for ten months, people did not ask for much. They asked for one item at a time so that those in greater need would receive the essential assistance first.
But, there was a single item that many requested — a clothes iron. The volunteers were surprised by this request, puzzled as to why an iron was needed when most of their clothes were left behind. Natalie soon discovered that they wanted their few remaining clothes to be ironed. As she explained it, "They wanted to feel proper and themselves again. For them, that was shnorhk* (շնորհք)."
Over the next few days, the volunteers heard more and more similar stories. By bearing witness to these accounts, they offered the people of Artsakh not just basic necessities, but also emotional and psychological support.
Anais Astarjian, originally from Boston, and Natalie walked around Goris, hearing stories from people who had left their livelihoods behind. Anais met a woman and her two children who were relieved to have safely crossed the Armenian border. They were touched by the warm reception that they received. 
The woman shared that they had left livestock behind, but she was hopeful that her family could rebuild their lives and continue their work in agriculture. Anais was especially struck by how the woman repeatedly mentioned the number of animals that she had lost: "Five cows, seven pigs, and 20 chickens."
Witnessing the struggles of these people and hearing their stories about the lives they left behind was challenging for the volunteers. They shared how difficult it was for them to see their compatriots in such circumstances. Upon returning home, Gassia couldn't sleep, wondering what had happened to the families. "I am really worried about the people who don't have anyone," she said. "I hope they are taken care of and that someone is there to help them."
In addition to the emotional challenges, the volunteers also faced practical and organizational issues. Natalie described the situation on the ground as chaotic. She identified the main issue as a lack of coordination between organizations and the absence of a central body to coordinate the process.
"It felt like it shouldn't have been as chaotic as it was," she explained. "A plan should have been in place. We didn't have clear instructions; we had to go to hotels, ask people what they needed, and just give it to them." She added that this problem persists, and that, "many people who want to help are unsure where to direct their efforts."
Despite these challenges, the volunteers collaborated and divided the tasks among the organizations. "Everyone was prepared to help," Anais said. "The speed of the response could have been better, of course. It was hard for people to be quick. In terms of organization, everybody did their best."
Seeing this solidarity and dedication from the other volunteers gave Gassia, Anais and Natalie hope that things would get better.
The three women were moved by the fact that Armenians from around the world came to support their compatriots. "The amount of diasporan Armenians on the ground was amazing to see," Anais recalled. "It made me happy to see so many people taking action and fundraising among their communities."
That volunteerism also included local teenagers from Goris. Natalie was struck by the fact that, on the third night in the square, two girls from Goris "who couldn't have been older than 15, had organized a drive and collected clothes working through the night by themselves. They took the initiative entirely on their own."
The dedication they witnessed instilled in them a deeper connection with Armenia and a stronger sense of purpose in the work that they do. And their work didn't stop after returning from Goris. Gassia was reflective. "Now I feel more connected to my motherland," she said. "We have a lot to do. You have to incorporate helping people into your daily life." After returning from Goris, Gassia visits the displaced families regularly to assess their needs and provide assistance. "We have talked to different organizations and sought donations. People are ready to help. We need to focus our efforts and do our best as a nation."
Natalie and Anais are still actively supporting the Artsakh Armenians to get back on their feet. "I'm involved with working on donations and continue working with them [Artsakh Armenians] as much as possible," Anais explained.
The collective tragedy experienced by the Armenian nation has prompted them to rethink their future plans and align them with Armenia's development. "After the attack, I thought to myself, I'm not leaving Armenia. That was before going to Goris. Since coming back, I feel like I want to refocus my efforts and I want to look into new ways into how the diaspora and Armenia can work together," Natalie explained. "Every day I'm thinking what the next thing we need to do is. We need to channel everyone's energy into something good."
Despite the tragic events since the September 19 attack and its repercussions on the population, these women remain committed to their work for their nation. "I still have hope. Maybe it's because I was in Goris and met locals, volunteers, and people from Artsakh. This may be why I feel slightly more hopeful, even though what I witnessed was horrifying," Natalie concluded.
*Armenian for well-mannered and tidy

More than 500 forcibly displaced Armenians from Artsakh are now in the village of Zorak in Armenia's Ararat region, where several families are living together in one house, some even in their trucks. Photojournalist Ani Gevorgyan tells their story.
Read more