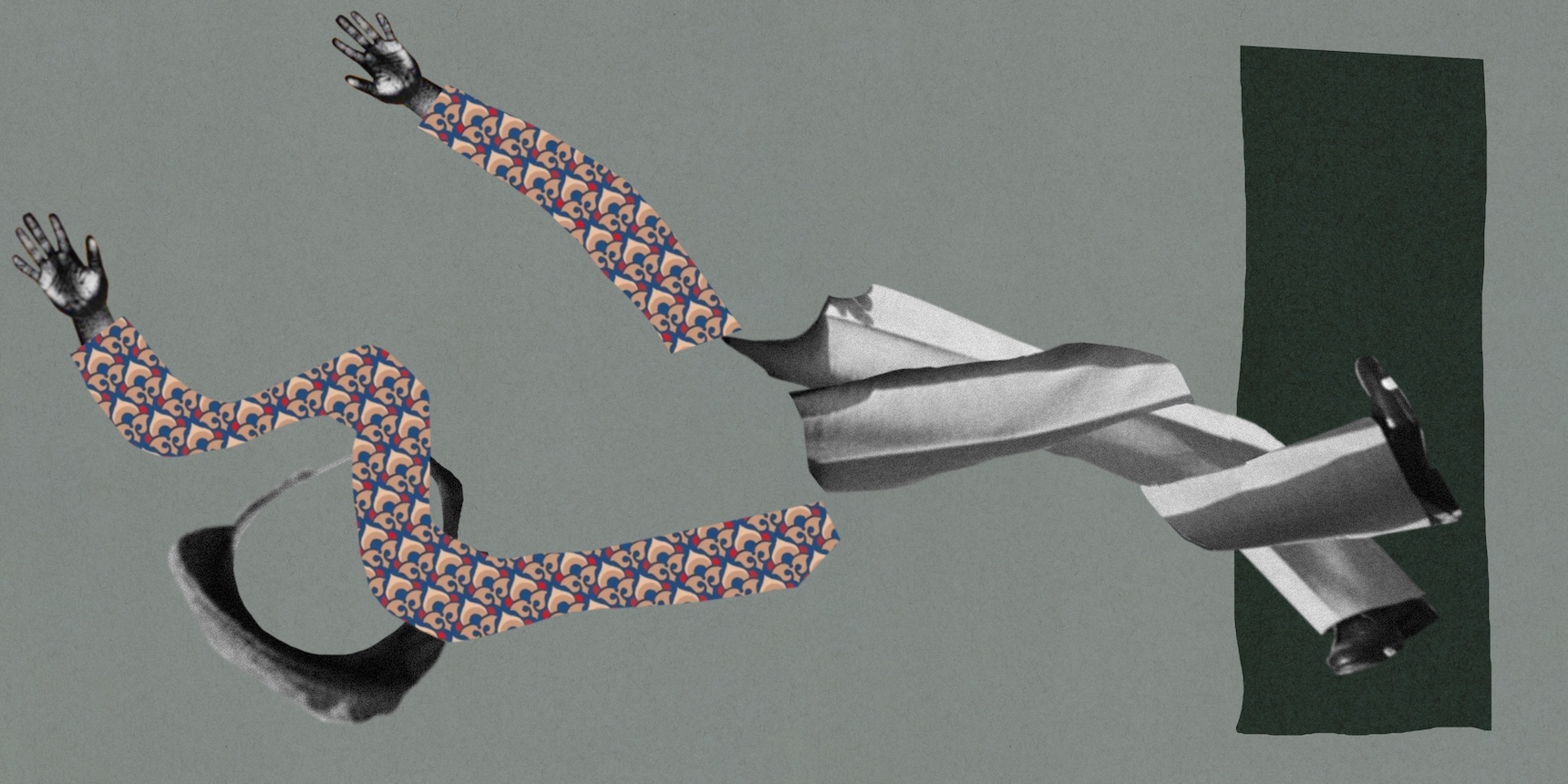 Hiding from Yerevan's merciless July heat, I take shelter under the parasols of my favorite cafe, hoping that a double-dose of black "oriental" coffee and a cold Jermuk would help me take stock of the week's chaotic plans, my baroque do lists, criminally late deadlines and subliminal anxieties whose source I can't quite identify. Like much of the country, I've been discombobulated lately, my brain floating in a dense fog like a ship without a compass. 
The overhead TV screen silently blares a carousel of news clippings of the exhausted faces of my compatriots in Artsakh, empty supermarket shelves in Stepanakert, the chilling stare of Yerevan's mayor-to-be, the prime minister's visit to yet another failed negotiation round and bad 3-D animations of a dismal renovation plan for some park… On the street, people bustle about their business – some to take part in rallies in support of blockaded Artsakh, others to sign a petition against the breakaway republic's recognition as part of Azerbaijan, while most stride toward one of Yerevan's countless eateries to indulge in overpriced coffee or pasta and momentarily suffocate the reality in the deadening pleasures of consumerism. 
That Reality – the big, Lacanian one – has become increasingly hard to fathom. As we stumble about our routines, trying to stave off the terrifying situation of starving and imprisoned people in Artsakh, the ever-present threat of war and the growing mood of helplessness, the only thing that seems to upend the stunned stupor is the inertia of the survival impulse. People talk, whisper or shout about looming disasters — the loss of Artsakh and even Armenia's sovereignty, the government's corruption, or the quiet influx of "Turks" into the country… And then there is everything else. I notice the absence of the flies that usually congregate around our tables at the cafe. Is the insect world really disappearing that fast? Did another chunk of the Arctic melt away while I was writing this? Am I actually going to live to see the end of the world? 
Regardless of how one is predisposed to all these dystopic prognoses and conspiracy theories, their net-effect is toxic, debilitating one's ability to respond, argue and simply resist the general air of doom. This sense of powerlessness and disenchantment seems to have infested all nodes of social relations and interactions, leading to a kind of resigned cynicism and detachment or, at worst, debilitating paranoia and despair. Against this background, the breathless rush of events, real estate developments and the glut of Russian emigres and tourists that has engulfed the country during the past two years, only exacerbate the feeling of confusion, lack of direction and, well, meaning. 
Slogging through that to-do list, I catch myself on the crippling thought that all this Google-synched planning is in fact a parodic reflection of my delusional efforts to mask a sense of futility and lack of actual agency. A mechanical scroll on Facebook underlines this illumination with some sarcastic post by a smug naysayer who sniggers at "people who write articles. Who's going to read them? If we were readers then there are tons of books to read, but we're too lazy." Despicable idea, for sure, but I can't bring myself to dismiss it entirely. Who is actually reading this article? Is anybody out there? 
If you've reached past the one page of what now undoubtedly seems like an excruciating trek through a "long read", then I better start getting to some semblance of a point before I lose you completely, my dear, diminishing reader. What is it that I wanted to say? Primarily that I'm tired, exhausted, drained… No, wait… These words are not self-pitying moans of an "intellectual" who wants to exorcize his sense of guilt about the inability to institute change, or offer some cohesive solution to the current dispiriting state of things. At least, I hope it's not.
What I do wish is to do is to earmark a moment in time and a condition that I feel pertains to many, if not most in the cultural sector at large. That gnawing whiff of disillusionment has gradually and deeply permeated what now appears to have once been a vibrant, resourceful, hopeful, if a little naive community of art makers and cultural workers. Yes, the parade of non-stop projects, initiatives and activities that clutter Yerevan's cultural calendar appear to testify to the contrary. But beneath this facade of hyperactivity the anguish is palpable, etched on the fatigued faces and ringing through our half-hearted conversations. As a friend recently confessed, echoing my own state of mind, "I'm throwing myself into doing as many things as possible, just not to go crazy from thinking about the shit we're in." 
The overdrive of current cultural production appears surreally strange against the backdrop of the country's worsening condition, the ominously uncertain fate of Artsakh's population and the wider geopolitical turbulence in the region that is one button away from spilling into an all-out world war. Is this a sign of indifference, survival instincts, shock, or just plain apathy? Earlier today, a prominent public figure/TV personality — one who used to host shows on "hard truths" — asked me in perplexed tones why nobody seems to care about the woeful political and humanitarian crisis that the nation is hurtling towards. 
That question in itself seemed indicative of our collective inability to grasp the eviscerating and dehumanizing psychological effects of war-time traumas and how divergent and specific their expressions are on individuals. As a society, we have been so indoctrinated into how we should feel and think as a "common" entity, that the reality of people coping, grieving and struggling on their own terms comes as a shocking betrayal of some vague ontology of national "togetherness". But how can we be "together" if we can't even accept the diversity of our perspectives, experiences and identities? 
The country has tangibly splintered into a multitude of bickering camps and groups, who accuse each other of treason, disloyalty or other grievous crimes. And yet, aren't these divisions, in fact, constitutive part of our cultural make-up, with its dual-language system, multiple church heads, Western and Eastern Armenias, Soviet and diasporan pasts, its progressive and parochial tendencies? Turn the pages of any Armenian periodical from the late 19th century and you'll find vicious quibbles between opposing parties and factions with their conflicting ideological programs and visions for Armenia's future. 
In retrospect, such rifts were a substantial contributing factor to both the 1915 Genocide and the Armenians' painful maturation into a modern nation. That path to growth has primarily consisted of our incessant attempts to overcome divisions and piece together the fragments of historical experience into a cohesive stratagem of cultural and political identity. The tangible outcome of these efforts has been the creation of the State of Armenia with all its social, symbolic and institutional infrastructures. 
And yet, this desire for all-encompassing unity, wholeness and cohesiveness reached a point of absurdist, monosyllabic obsession that gradually, but relentlessly pushed out (if not erased) expressions of difference, diversity and multifariousness that was once the true, albeit unappreciated hallmark of Armenian culture. Think of Alexander Tamanyan's meta-project for modern Armenian "national" architecture with its pseudo-religious lexicon of classical forms, or the perpetuation of Martiros Saryan's hyper-saturated color schemes as an epitome of the "Armenian" style in painting. One can trace similar parochialist tendencies in literature, music, theater, cinema and fashion where anything other than the distilled "purism" of Komitas, the spiritual symbolics of Parajanov, or Hovhannes Tumanyan's blunt poetics was seen as a threat to the bastion of Armenianness. 
Of course, there have been many gestures of dissent and anarchism against such monolithic framings of Armenian culture — everything from the texts of Armenian futurists in the 1910s to the subversive works of the 3rd Floor Movement that satirized "establishment" art and their makers — but their impact has been marginal. In general, the conviction that a certain set of commonalities had to be conserved as an irrevocable paradigm of Armenian identity has remained resilient to global transformations. Such ossification was, evidently, an irrefutable factor behind the catastrophic consequences of the 2020 Artsakh War, also enabling the geopolitical Gordian Knot in which the country has become progressively entangled in since the 1991 independence from the USSR. What actual agency can be expected from a society that can't even acknowledge the fact of its own colonization at the hands of an Imperial force that it still thinks of as its "big brother"? 
But in the fall-out of the mishandled 2018 revolution and the recent war, all certainties seem to be undone. With every subsequent day the smog of confusion renders all "unifying" paradigms invisible and vague. The immediate imperatives appear clear enough: preventing the looming genocide and ethnic cleansing of Artsakh's population, strengthening of state structures, remedying Armenia's geopolitical position in the region and consolidating the forces of civic society. The issue is that there is no consensus on how all of this is to be achieved and what grand vision must be driving these processes. 
And so we return to art and the cultural sector which, in times like these, is traditionally expected to provide pointers, inspire action and define ideas that can mobilize people — at least on the level of grassroots activism. After all, it was not that long ago that politically-oriented artistic circles in Armenia contributed, in a very direct way, to the downfall of Serzh Sargsyan's autocratic regime. Those who expect a similar initiative today would be sorely disappointed. Aside from a handful of mournful exhibitions, an occasionally loud, but expected gesture of anti-establishment protest and smidgens of web-based agitational images, there is little resembling an onslaught of politically-engaged artistic response. In fact, the dominant position in the local art scene is one of cool remove, a certain kind of detachment and an inclination toward self-introspection. 
The problem is not simply in existing, or non-existing political allegiances. While a vast majority of progressive intelligentsia roundly supported what it saw as an establishment of democratic order in 2018, a significant fraction of these actors have made a dramatic turnabout and are actively speaking and acting against the reigning government. Others largely prefer to remain silent or non-committal, generally wary of expressing views and opinions that could prove to be fatally "wrong", or damaging to the foundations of the State. The result is a suffocating double-bind where one has either loud proclamation for a return to old autocratic orders, figures and botched paradigms, or the indistinct hope defined by the prime minister's pre-election slogan that "There is Future!" — presumably as a neo-liberal hotspot for third-tier global corporations. In all cases, however, there is no clearly formulated vision of what that future holds, what it must look like, or how we should arrive there. To translate it in tangible cultural terms, this is a sad quandary between the "tallest" statue of Jesus, courtesy of one very rich oligarch and an absurdly misplaced mega concert by Snoop Dog with his outmoded odes to drug culture and gangsta life. 
Meanwhile, the art world stages opening, after opening of projects that on the surface, appear to shun a direct confrontation with this reality as if it existed in some other, parallel dimension. Even the projects that profess "engagement" are mired in a nostalgic and idealized comfort zone of the past, blindly refusing to acknowledge the drastic and unpredictable developments that are reshaping the entire planet, and not just us Armenians. And when I look at the work of my favorite contemporary local artists, what I often tend to find is a kind of removed, bitterly ironic gaze at the debris of a disjointed world, oblivious to its own self-destruction. 
There are no answers to be found here, no grand schemes or ideas that tell us how we should navigate ourselves out of these treacherous times. And frankly, that's a good thing. For far too long, Armenian art has been forced into serving as a straightjacket for our "exclusive" national identity or some other deterministic ideology, which ironically resembles that ethnographic museum display case into which Talaat Pasha allegedly promised to leave the last Armenian. This has generated a condition where doubt, uncertainty and questioning have been driven out as strategies for development and growth, leaving us appallingly incapacitated against the forces of inevitable change, with which time and history have demolished even the most powerful of civilizations. 
So instead of the self-aggrandizing poems and pathos-filled paintings of an idealized past, what the art world unfolds before us is a vast landscape of negativity. This is negativity not in the sense of "emptiness", but in terms of a surplus of elements, ideas and images that do not coalesce into atavistic, positivist doctrines for our collective worship. Even those doctrines seem tired of us, like the Mother Armenia statue who descends from the pedestal to take a break from her tiresome role, as seen in one of my favorite recent artworks by Harut Tumaghyan and Armen Hayastantsi. In short, the current output by the cultural sector perfectly mirrors the state of fragmentation and divisionism that reigns in the socio-political sphere. 
One colleague likened this state of disjointedness to the atmosphere of decadence that preceded the looming catastrophes in pre-Soviet Russia and pre-Nazi Germany. Yet, I don't feel that this is the case in Armenia. Yes, the lack of widespread, protest-based activity in the cultural scene is troubling and puzzling in equal measure, but seen from a different angle, this picture is also surprisingly reassuring. The cataclysmic events of the past few years have induced a break with the indoctrinated ideologies based on fear and empty self-assurances, forcing us to question and rethink who we are, how we define ourselves and our place in the world. 
The shattering of previous convictions has cleared a space that was previously occupied by hardline polemics and stiffened beliefs. Many in Armenian society see this as a terrifying and dangerous vacuum that is gnawing away at the very foundations of the nation. Dangerous it may be, but this open space is also an opportunity for outlining new horizons, creating novel shapes, building fresh relations and structures. And this is precisely how we can frame the artists' response to the realm of negativity: an incentive to produce a multitude of ideas, reactions and conceptions. The heterogenous, disconnected and omni-vectoral direction of these responses should not be a cause of alarm and condemnation. On the contrary. It may sound like an exaggeration, but I do believe that we are at a stage where our cultural agents are finally free to think and do whatever the hell they want to. As they should be and as they should have been doing long ago. 
Artists are the most intuitive and sensitive members of the community, and instead of straightjacketing them into enforced roles as guardians of morality, or "collective values", we must learn to be attentive to what moves and troubles them, and what images and visions they manage to conjure out of the chaos. And what I witness currently is an astonishing range of responses — both contemporary and historical — that contemplate and ask what it is to be human and Armenian, what it means to be alive and to mourn an unfathomable loss, what it means to have a history and enable change, what it means to dream… 
But am I just desperately trying to put a positive spin on what is patently a horrific condition, where you wake up every morning expecting to see a news flash about people dying of hunger in Artsakh, a kidnapped soldier, or another infuriating faux-pas by a flailing and incompetent government? There are no illusions about the fact that as a society and country what we're faced with is a vast ocean of negative forces. So how does one then explain the dichotomies of the current socio-cultural processes? I vaguely recall something about negative dialectics from a university class on Hegel and do a Google search, which takes me to a 1912 book by the Italian philosopher Benedetto Croce called "What is Living and What is Dead in Hegel's Philosophy". Expanding on, or rather revising Hegel's ideas on negative and positive oppositions, Croce stresses on the negative as an absolute precondition for the emergence of positive experience. Scrawling through, I find a quote that puts my digressive thoughts into a perspective, which I feel compelled to reproduce in full" 
…If the negative term did not exist, development would not exist; reality, and with it, the positive term, would disappear. The negative is the spring of development; opposition is the very soul of the real. The lack of all contact with error is not thought and is not truth; but is the absence of thought, and therefore of truth. Innocence is a characteristic not of action, but of inaction: he who acts, errs; but he who acts is at grips with evil. A true felicity, a felicity that is truly human or manly, is not a beatitude that knows no suffering. Such a beatitude would be possible only to fatuity and imbecility; and the conditions of it find no place in the history of a world, which, where strife is wanting (says Hegel), "shows its pages blank."
For quite understandable reasons, Armenians have tended to avoid strife, which has followed this nation like a perpetually hovering Damoclean sword. But in tandem, we have also repeatedly avoided dealing with error — that marker of negative value that has little place in our cultural mythology. Instead, self-pity and victimhood have served as comfortable escape routes from pervasive issues. In the current post-war reality, however, there are clear signs that there is a desire to address the fault lines, to understand and rethink the reasons behind past failures, to stop and reflect. This space of contemplation and self-introspection is the "negative" moment that we have rarely allowed ourselves, but one that seems to me to be an essential precondition for generating new, more agile and robust paradigms of national unity. And this is exactly what we're witnessing now in Armenia's cultural sector: a willingness to embrace the ambivalences of the negative as a means of producing positive action. 
This article may be a case in point. I began writing it from a place of consternation and anger, frustrated at what I saw as a criminally lax reaction to Armenia's and Artsakh's deepening existential crisis by the entire cultural sector and civic society. The impression of normality created via the buoyant chain of cultural events was infuriating in its lack of sustained focus on the unfolding horrors around us. Having advocated and demanded some form of direct political engagement from my colleagues in my work as a curator and editor, I saw this as either a symptom of apathy, ignorance or self-centered detachment. 
As if to incense me further, I got a Facebook notice about the closing of a show at Cafesjian Centre for the Arts dedicated to… butterflies. Butterflies? Really? Having finished off my cup of black coffee and defeated by my to-do list, I stormed down to the Cascade to gaze at this incongruous spectacle, already making mental notes for a firebrand article about the delusional obliviousness of Yerevan's art scene. On the way, I passed by dozens of billboards for classical concerts and a new staging of Turandot by an emigree Russian opera director. Butterflies and Turandot. Shoot me now. 
Cafesjian's library where Siranush Aghajanyan's mosaic butterflies were displayed was practically empty when I walked in. Hovering on a long wall above the bookshelves, these magnified insect forms appeared like dazzling jewels or vitrages upon which the artist has rendered faces of young people looking, dreaming and kissing. I sat down and stared at this strange sight, unable to deny the easy, effervescent pleasure that emanated from these shiny, unapologetically playful artworks that could've come straight out of Jeff Koons show. The butterflies sparked memories of the stupefying impact of the Byzantine mosaics at Aya Sofia and brought back a faint echo of my childhood wonder at nature's boundless beauty and creativity. For a short moment, I was transported far beyond my pit of misery, to a place where butterflies, Byzantine mosaics, pop art and an Armenian artist's vision of a (possibly transhuman) future intersect. It was not a place that made me forget, but one that beaconed me over to itself like a foreign land I had yet to visit. 
In her artist's statement, Aghajanyan says that her mosaic installation was created as a retort to the mood of despair and disenchantment with the future. It is a simple, but empowering gesture, which reminded me of Martiros Saryan's response after witnessing the horrors of the 1915 Genocide, when the artist shut himself in his studio and painted flowers in order to remind himself that life was worth living. Walking out into the heat once more, I mentally looked back at the deafening cacophony of exhibitions and events that artists and cultural workers have managed to put out in just the past few months, covering the charred body of the country like a huge swarm of butterflies. 
In their immense, unprecedented diversity, these events have and continue to act as a loud pulse of a nation that resolutely refuses to be defeated, to be embalmed in the casket of victimhood and become disengaged from the wider processes of the world and the pleasures of living and creating. For that is precisely what the country's adversaries desire, relentlessly working to crush the spirit of our people and our ability to envisage a brighter future beyond the terrors of the current day. But as long as we have artists who can help us dream of butterflies and freedom, these plans are doomed to failure.

Hayasdan (Armenia) is a graphic essay that explores the relationship between contemporary Yerevan and its past. The work, by Harut Tumaghyan and Armen of Armenia (Ohanyan), is divided into three parts, each delving into the city's socio-political and cultural context from an urban perspective.
Read more

A story weaving together the fragments of a woman's life who organized the chaos of reality into a sensible and livable realm offhandedly called "home" but no one recognized it until she was gone.
Read more