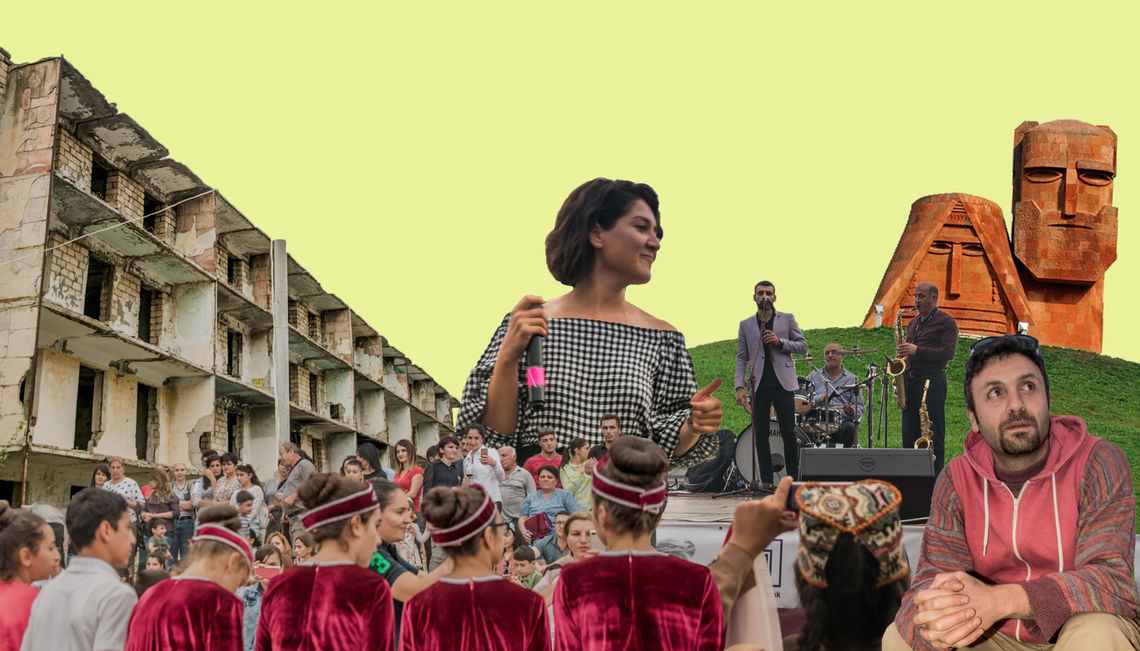 Political limbo and the constant threat of war seem to have branded the unrecognized nation of Artsakh (Nagorno-Karabakh). It is rare to hear much about this land aside from its stormy past and vulnerable future. But beyond this, lies a people with passion and a culture of their own.
Music here has survived the war and has been born out of it. It has created a space to connect with tradition, to break tradition, and to look beyond.
Music creates a space that transcends Artsakh's tense borders, without strictly tying it to the war with Azerbaijan. Schools and cultural centers, bands and events have emerged within the last decade in Artsakh, along with increasing participation from its eager citizens. These are some of the stories of those driving the music scene. All born and based in Artsakh, they are forging a new path, each with a purpose and impact on a people who embody resilience and unity.
Blues and Rock & Roll of Artsakh
Endless Possibilities, Breaking the Status Quo
Armen Bab Caspian is breathing new life into his homeland by showing Artsakh something different. "We started to change the color and atmosphere here… 10 years ago, I couldn't dream that I can play my guitar and people would come," he says.
Being one of the few blues and rock & roll bands, Shushva Band (after Caspian's hometown of Shushi) does not embody the cultural traditions of Artsakh, nor does it attempt to forget the war or bring cheer with heartwarming songs. The lyrics are honest and sometimes crude, like many things in Artsakh. "To me for Artsakh, rock & roll music is a way to independence and freedom. It brings [people] some trust in themselves, what they can do, what they can achieve, so that they are the owner of their lives, not someone else at the top like it was before," he says. This may sound obvious, but for a place like Artsakh, finally hearing something aside from the usual can open a small window to what is possible, and Caspian is pulling the blinds.
Caspian's passion for music began at his uncle's concerts in Baku, Azerbaijan, approximately a year before the conflict began. Only five years old at the time, he knew what he wanted to do but for years he could not see it through. Being a post-war teenager, music and music education was weak and homogenous. "It was a very hard time to find even a cassette… There was no connection with the outside world. It was a very bad time," he recalls.
It all changed when he found an old Soviet guitar that was nearly impossible to play, but he availed. As he grew, he was introduced to classic rock bands such as Deep Purple, Black Sabbath and Led Zeppelin. With no formal music education, his art comes directly from within—it is natural, raw and keeps him alive: "When I want to shout I can shout. When I want to say something silently, I can play my guitar, even without thinking what I play and how long I am playing."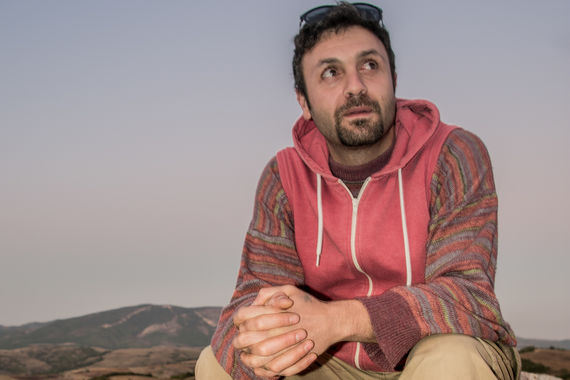 Armen Caspian in his hometown of Shushi.
At 22, after completing his military service, an old man told him he would never succeed within the genre of blues and rock—this was the push Caspian needed. "Anyway, I decided to do it," he says, "because I love it, it comes naturally, I don't think." And so began his musician's life, as he calls it. But at the time, there was only one place where he could play in Yerevan called Stop Club. "That's it, no pubs, no clubs and nobody who wanted to listen," he says.
He spent seven years in the UK and Europe but realized that everything had already been done, not only regarding music but also regarding culture and lifestyle. "I understood that [in Artsakh] we deserve some kind of a better life, and then this landscape was calling me back," he says.
In 2017, he returned, taught his friend the bass and played at Bardak Pub in Stepanakert, Artsakh's capital—it all grew from there. Now at 38 years old, he and his band are invited to play around Armenia and Artsakh, often traveling to Yerevan for shows. While the music scene and the cultural vibrance has drastically improved over the last 10-15 years, Caspian prefers to stay in his homeland, as there is still work to be done.
"They still can't believe. They still live in fear. And rock & roll makes them feel and believe in themselves," he says. Through this, he adds that blues and rock music have inspired the young generation to learn guitar, drums and bass rather than just the traditional and classical instruments, which were essentially the only options in the past. "I am so happy for that. And I hope it will change more," he says.
Caspian writes when he is inspired and tries to look forward rather than reminisce. "I only feel lost time and a lost childhood when I start to look back, I can't play," he says. He sings in Armenian, Russian and English, and the band is currently working on recording their first fully-English CD.
"We live in the war, in a frozen war, and it can happen any time and everyone here is a soldier," he says. That is why the hope music brings isn't just important to him, but to Artsakh as well. "It's one step closer to freedom. When we play, there is a completely different atmosphere than usual."
Stepanakert's Sayat-Nova College
As Bombs Fell, Classical Music Could Still be Heard From the Halls
For almost 60 years, the Sayat-Nova Music College's significance has prevailed, even during the country's most traumatizing times. It has essentially been Artsakh's conservatory in Stepanakert since 1961. Surviving bombings during the war and recently undergoing a massive renovation, it upholds its artistic platform for new generations. Current director Anahit Suleymanyan-Harutunyan is living proof of classical music's invincibility.
"When they were bombing, during the worst moments, the professors and everyone were still working in the school and the students, too," says Harutyunyan. "Music is how we represent ourselves. Artsakh is recognized with its culture, with art. That's why it's so important." In fact, among Artsakh's new generation of classical musicians is Arsen Safaryan, a child musical prodigy whose story would not exist without the Sayat-Nova Music Co.
Safaryan was in fifth grade when he won first prize in the 2017 International Competition for Junior Trumpet Players in Bulgaria, competing against an Azerbaijani student. While their nationalities may imply hatred, the power and legacy of classical music allowed for a harmonious event and brought pride to Safaryan's small unrecognized nation. But Sayat-Nova College played a key role in Arsen's career—his lifelong mentor, teacher and grandfather, Albert Safaryan, attended and has taught there for decades. Not only has the musical college provided a space for education and creativity during the war, but it has created a new and stronger one for generations to come.
The school started very small upon its founding, and the increase in students called for a higher demand for professors as well. Aside from big names like Beethoven and Mozart, the main focus at the time was on classical Azerbaijani and Russian music.
As Artsakh moved toward secession, the school correspondingly and organically shifted its focus to Armenian composers. In the 1980s, "The main purpose [of the school] was that the Armenians living in Karabakh (Artsakh) could have more chances and opportunities to be more in touch with Armenia and the culture," says Harututyan.
Perhaps the fact that famous musicians, such as Oleg Pirumyan, were killed in the war drove them to continue for the sake of resilience. "Music in the time of war didn't stop," seconds confirms flutist Artashes Grigoryan, a former teacher of Sayat-Nova and current member of Yerevan's Philharmonic Orchestra.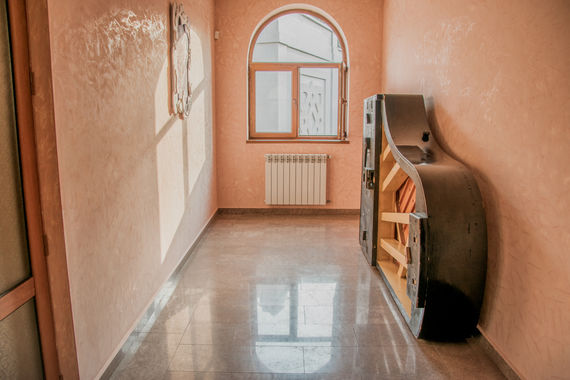 Sayat Nova Music College of Stepanakert.
The school was hanging by a thread after the war. "There were almost no instruments left," says Harutyunyan. "It was really difficult to revive because the biggest part of our population was going to Armenia and Russia and trying to escape." But eventually, as the guns fell silent and people walked the streets freely, they were able to focus more on education, specifically music. While this focus on music and education has been increasing, there is plenty of room for growth, according to Grigoryan. "It would be better if the quality of life increases. When people don't live well, they are not interested in art as much." He adds that there is still no classical music radio station, so many young people are drawn to Russian pop, which is more widely available through radio and television.
Nevertheless, the numbers at Sayat-Nova have increased, holding about 150 students according to Harututyan. The school now teaches piano, wind and string instruments, traditional Armenian instruments such as kanon, tar, duduk, shvi, kamancha, saxophone, trombone and clarinet. They also teach some jazz, music theory and ballads, and also have a choir.
Today, the music school's modern architecture is adorned with grand pianos, sculptures and paintings. The sound of music seeps through its halls. Harutyunyan also mentions that efforts of the President Bako Sahakyan whose contribution and commitment to the renovation was imperative to the school's survival.
Students can enroll at the age of 14 and study for four years. They participate and have won in regional and international competitions; many go on to study in Yerevan's Conservatory, as well.
As for Harututyan, she started as a piano player and became a conductor while studying at Sayat-Nova and later at the Yerevan Conservatory. Now the director of the Sayat Nova Music College, her passion and contribution to the survival of music in Artsakh is telling. "How can I not love music?" she asks, "I don't have any other purpose."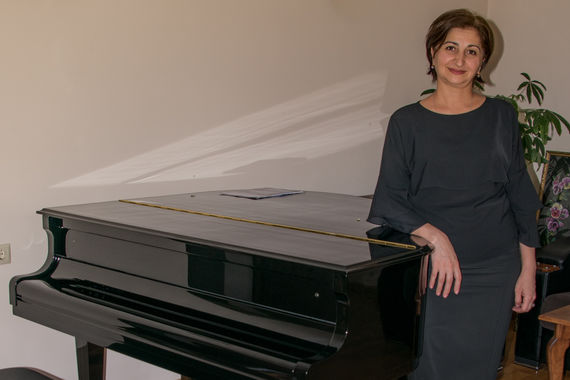 Director of Sayat Nova Music College Anahit Suleymanyan-Harutunyan in her office.
Karabakh State Pop Group (Petakan Estradayin Hamuyt)
Bringing Artsakh to the world and the world to Artsakh
When they perform in countries like Russia, France and Lebanon, they bring a piece of Artsakh to the world. When they perform jazz and rock covers in Artsakh, they bring a piece of the world to their homeland. "We want to develop Artsakh's taste in music," says lead singer Tatevik Balayan.
The band also performs widely loved folk and traditional Armenian songs, and the audience is on their feet dancing the way they have for generations. By also playing covers of a wide variety of genres, they manifest their impact on the audience through diversity, new energy mixed with a loyalty to their roots.
They started in 1997 and, just like everything during war, music took a hard hit—but Balayan emphasizes that it was also a growth opportunity, and the war created a space for different kinds of music to express the experiences and identity of Artsakh as well. "Our audience is always present. The number increases year by year," she says.
"I find that people who have been through these things [war] feel everything deeper because they have experience in their lives. They can transmit the meaning of the song in a more correct way to the audience by understanding the meaning," says Balayan.
Karabakh Petakan has even been offered opportunities abroad, but while they do perform abroad, Artsakh will always be their home. "Every musician is obliged to serve their country," says the band's keyboard player Simon Sargsyan. He has also been teaching piano at the Sayat-Nova Music College for 19 years and is the director of the Artsakh Chamber Orchestra. He adds that, if every band starts leaving for money and fame, the impact of music in Artsakh will fade. "Our role is to stay and keep [music culture] as much as we can," says Sargsyan.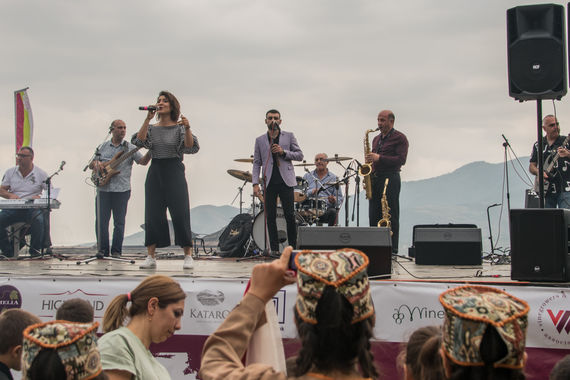 Karabakh State Pop Group performing at Artsakh Wine Festival.
Aside from traveling, they have performed at festivals, events, bars and clubs around Artsakh and Armenia. This year, they performed at Artsakh's Wine Festival in Togh, where they brought their trademark traditional Armenian "joghovrdakan" songs mixed with their own selection of jazz, rock and pop covers. "Our music depends on our mood. We put style in our moods," says Balabyan.
By combining the old and the new, introducing their small nation to different genres and artists, Karabakh Petakan Estradayin Hamuyt have realized how important their contribution is. "Artsakh needs this kind of band. Music is food for the soul," says Balayan. "There's no one like us in Artsakh. If we don't stay here, who is going to do that job?"
Images by Sofia Bergmann.
also read