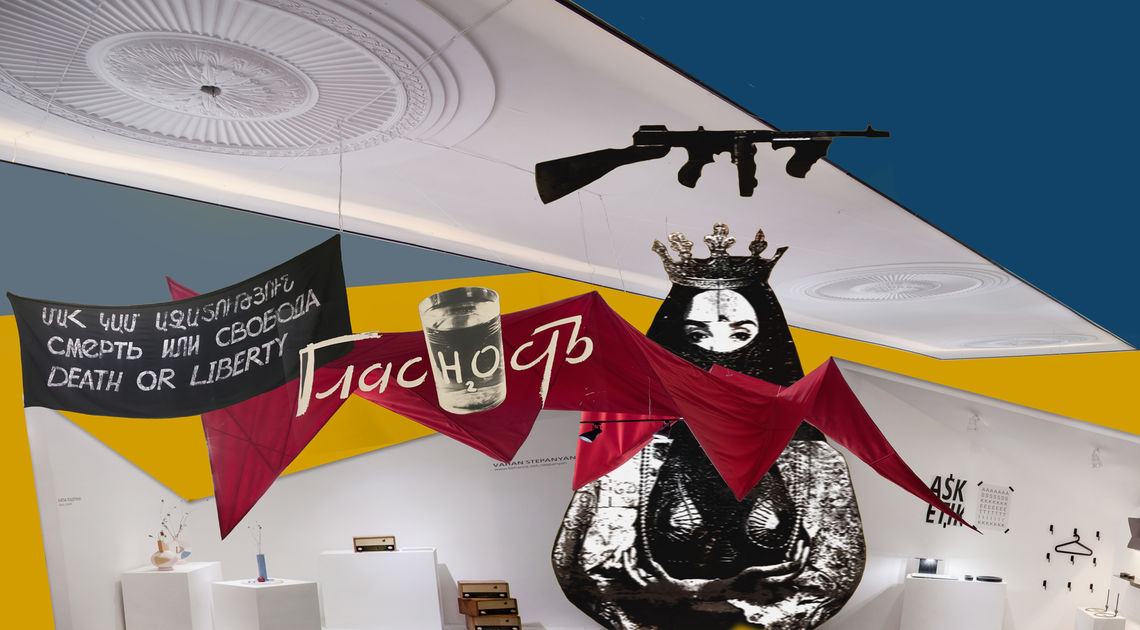 Armenia has a rich artistic history, and contemporary artists from the country continue to be innovative in contributing to its evolving and modernizing cultural landscape. Earlier this year Armenia hosted its first ever art fair (Armenia Air Fair, May 2018) and in September, New York's Metropolitan Museum of Art will host its first major exhibition called Armenia! on the artistic and cultural achievements of the Armenian people over fourteen centuries. The contemporary art world's most influential gallery owner is Armenian-American Larry Gagosian, whose 16 galleries span the globe. Yet, despite all this, outside of Armenia, contemporary Armenian art receives very little attention. I spoke to the curators who are supporting emerging talent in Armenia to understand how they work and gain an insight into their hopes for the future.
Many curators in Armenia come from an art history background and not through direct curatorial study. Anna Gargarian, founder of HAYP Pop Up Gallery, studied in New York before doing a Masters at the Spinelli Institute for Art Restoration. After a string of internships she began working at Otto luogo dell'arte, an avant-garde gallery that designs conceptual collaborative projects with artists working between art and design. She then managed a studio in Boston before leaving to curate the Armenian national pavilion at the Beijing International Art Biennale from 2014-2015. During this time she founded HAYP with her cousin and co-founder Charlotte Poulain. "I moved to Armenia for BIAB (Beijing International Art Biennale) in order to meet local artists and expedite the coordination process with the Ministry of Culture," explains Gargarian. "As I was familiarizing myself with the local art scene, I was surprised at the disparity between the number of artists and the lack of cultural spaces for contemporary art – galleries, alternative spaces, museums. On the other hand, the booming construction industry, general disinterest for historic buildings, and relatively informal administrative and legal framework created the perfect climate for a pop up gallery." Thus, after an initial crowdfunding campaign to raise funds for their equipment, HAYP began as an experimental project in 2014, officially becoming an NGO in December of 2015. Four years later the gallery continues to run pop ups with experimental and innovative exhibitions across Armenia.
From experimentation to analysis, Ella Kanegarian, who found herself walking down the curatorial path 'by accident,' approaches her curatorial projects through analysis. "It all started with my friend Gayane Yerkhanyan, who offered me to do her first show," she explains. "Then after came the exhibition on the Four Day War with Ashot Avagyan, [an Armenian artist, works depict the suffering and loss experienced during the Nagorno-Karabakh war]. My approach is mostly shaped during work and not in institutional zones." The lack of institutional support seems to suit Kanegarian's way of communicating with her artists: "I like to be in a free conversation with the space, artist and our topic. No one is leader and no one is submissive." That said, outside of Armenia, the support of museums and galleries is usually something that curators depend on. Another curator, Emma Harutyunyan even had one of her shows closed. ECLIPSE was on exhibit at the Tumanyan House Museum in Yerevan in 2017 and was dedicated to the memory of the victims of the Stalin-era repressions of the 1930s. However, the Armenian Ministry of Culture deemed it too 'politicized' and asked for it to be re-curated, in fact, it was basically shut down.
Harutyunyan is a specialist in Armenian religious textiles and the ceramic art of Kutahya. Her expertise led her to take on the role of cultural consultant when photographer David Mushegain prepared a photo shoot about the history and culture of Armenia for Russian Vogue. She describes the Armenian art community as small and closed with a "small quantity of art spaces, state museums and cultural organizations, who are not open to cooperate." Despite this, in June of this year she curated Nerka Design Happenings in the former building of the Ministry of Foreign Affairs. The exhibition – which showcased the work of 19 designers and architects from Armenia, Russia and Ukraine – aimed to create an open and active platform for the development of industrial design in Armenia, in the hope of spurring growth in the industrial sector. With more than 2,000 guests from Armenia and abroad visiting the space in just nine days, Nerka Design Happening was obviously a success.
HAYP Pop Up Gallery's most recent exhibition Voices & Choices: The (anti)aesthetics of political posters from Switzerland & Armenia was also ambitious. In collaboration with the Embassy of Switzerland to Armenia and in partnership with Design Museum Zurich and ProHelvetia Swiss Arts Council, with support from the UN in Armenia, it would seem that Armenian art and design is establishing links that cross borders. The exhibition brought together works from collections like the Sardarapat Museum, Demirchyan Museum and Yerevan History Museum, putting them on display together for the first time. In light of this, is there much potential for entering global markets? "For sure," affirms Gargarian. "It's a cliché, but we are at an interesting geographical crossroads." With relaxed visa restrictions for neighboring countries and a boost of tourism from places like Iran, Russia, Georgia and the Emirates, Armenian culture is opening up to a wider audience. Yet there is still not an established contemporary art scene in Armenia. "Before you can nurture a market you have to create a culture," explains Gargarian. "What I mean by that is a culture of awareness, appreciation, interest and a critical mass in contemporary arts."
It seems that while Armenia and Armenians are intensely proud of their historical arts and crafts traditions, there is a lack of knowledge when it comes to contemporary artistic endeavors. Harutyunyan explains that young artists need a new and "alternative education system and open art platforms." Traditional art not only has historical significance, but can also be used for marketing and tourism potential. Despite the presence of artistic high schools and universities, the curricula are outdated. "There is no institutional support, infrastructure or support systems in place for artists and cultural workers," explains Gargarian. "Many artists self-teach outside of their schooling in order to familiarize themselves with the contemporary art world – its artists, critics, change-makers and market. There is no curatorial program across the board. Curatorship, professional art installation and art handling, art criticism and journalism don't exist from an institutional perspective." The contemporary art events that do manage to take place within Armenia rely heavily on support in the form of grants from international organizations and institutions. Moreover, when exhibitions do take place, they are often free, meaning that costs are rarely covered. "I think we should study international models that are successful," adds Gargarian. "There is no one solution, but a healthy combination of systems could be the answer."
As well as experiencing difficulty finding the means to stage exhibitions, there is also the matter of the changing methods and technologies used to display artwork across all forms and genres. "We are at an interesting point in time," says Gargarian. "No matter where you are in the world, artists have to be strong conceptually and technically in various media." In our technological world, even classical art exhibitions include new media in order to change how audiences interact with art objects. "I hope to see more crossovers between our tech and artistic sectors in Armenia, I think these two worlds have a lot to learn from each other," adds Gargarian. This seems to adhere to Harutyunyan's Nerka Design Happening, which displayed advances in industrial design.
On the whole, there seems to be a consensus that Armenia does not support its young artists enough. "The development of every artist mainly depends of him/herself," explains Harutyunyan. "They are quite active in finding new possibilities and ways of professional growth, but there is no state strategy for contemporary art development and promotion." Nevertheless, people are optimistic. "Even if you don't have much you can always talk about your ideas and find those who will support you in your path," explains Kanegarian. "The absence of a market may be harsh but it also has a liberal point. It means you are free to experiment." And, while Kanegarian comments on the positives of a small, local art environment, she understands that it is important to think about this 'local narrative' on a global scale. "It means that you are able to talk about local problems with a global language, and not local issues in a local language," she says, adding, "Art is not a closed club, it has opportunities for giving you a universal language to speak out, so why not use it?" It seems therefore, that while the figures who are striving to create a contemporary art scene in Armenia recognize the struggles, they are not willing to give up when it comes to supporting and presenting young Armenian artists to the world.