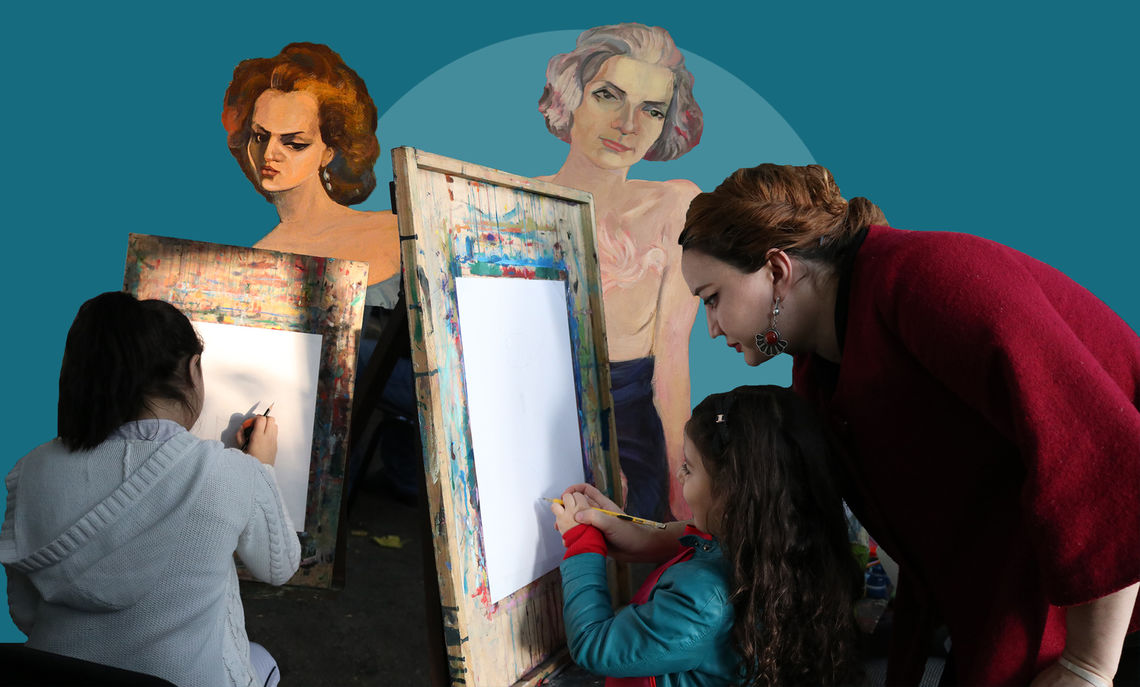 Born in Berdavan, Tavush province, 31-year-old Mariam Mughdusyan always knew she was an artist at heart. Starting out in journalism, she decided to simultaneously apply to the Academy of Fine Arts and eventually got her second M.A. in Fine Arts. However, interestingly enough, it was her eight-year-long experience in journalism that determined the nature of her future artistic work.
"Journalism helped me see social issues that I might otherwise not be aware of while sitting in my art studio," she explains. Mariam's artistic and social work revolves around feminist issues, such as the representation of the female body and women's empowerment. The first time she encountered the word feminism was in her senior year in college. She started reading feminist literature and couldn't help but draw parallels with the Armenian reality. These issues caught her attention, especially after working on an article about self-induced abortion in the regions of Armenia. After getting a better understanding of the social feminist issues that exist in Armenia, Mariam wanted to make positive change in her society.
Mariam considers herself lucky. From a very young age, she always had independent women around her as role models to look up to. "We are a 'holy trinity.' In our family, the 'holy trinity' has always been manifested through women: my mom, my sister and me," she explains.
Mughdusyan Art Center
It was Mariam's willingness to bring about social change that led her to open the Mughdusyan Art Center in 2014 to offer free art classes to children from vulnerable backgrounds, including children with disabilities. Currently, the center serves over 50 students, ranging from 4-17 years old, in Yerevan. Mariam started the art center with the goal of giving children what she was once deprived of and helping them overcome poverty. She notes that if it wasn't for her mother and English teacher, she would probably never have succeeded in life, and today, she expresses her gratitude by giving an opportunity to those who have no other resources.
"I opened this center to make invisible children visible and empower them."
During the first year of its existence, the center had only art classes taught by Mariam. Later on, sculpture, carpet-weaving, vocal production and ceramics classes were added. The establishment of social justice has always been the basis for Mariam's work. The Mughdusyan Art Center isn't merely a place where young children can temporarily escape from their harsh realities; it gives them the necessary tools and skills to help further their education. Mughdusyan notes that, although there are numerous state art centers that offer free classes to children in need, they don't prepare them for colleges or universities. "If we want these children to overcome poverty they should have access to education that will help them sustain themselves later on," says Mughdusyan. That is why she has designed her art classes so that her students will meet the criteria necessary to enroll in art schools.
Besides the emphasis on academic preparation, Mariam makes sure her students acquire critical thinking skills. She believes that one of the biggest pitfalls of the Armenian educational system is the lack of focus on critical thinking: "You can't always cover everything up with pink and yellow clouds."
For students, the Mughdusyan Art Center is not only an educational institution but also a safe space, where they can openly talk about their fears and dreams. "I frequently talk to them about motivational tools," she says. "The most important thing that I try to explain to my students is the importance of freeing ourselves of our inner constraints." The center often holds lectures and film screenings on topics such as women's empowerment, gender equality, arts and culture.
Nairian Vocal Ensemble and Women's Empowerment
Also established in Yerevan in 2014, Nairian Vocal Ensemble is the only a cappella choir in the region that also "sings" in sign language. The all-female ensemble is conducted by Mariam's sister, Naira Mughdusyan, and consists of five professionally trained vocal artists from challenging backgrounds. Mariam explains that they had two goals when they started the ensemble: popularize Armenian folk and classical music and empower women.
Nairian frequently takes part in local and international festivals and competitions. Not only has it helped these women gain more experience in the field but also provided them with a more stable financial foundation. "The ensemble has helped them to be more independent. It has become a tool of emancipation for them," she explains.
Naira and Mariam believe that art should change social norms. Mariam explains that learning sign language was necessary to communicate better with some of her students who have hearing impairments. Incorporating sign language, helped them be more inclusive.
Portraits of Survivors
Mariam's latest initiative to fight social stigma and empower women is her portrait project. The idea is to make portraits of breast cancer survivors who had to have their breasts removed. Her motivation behind the project is multilayered.
In 2018, Mariam was diagnosed with thyroid cancer. A day before her surgery, she was overwhelmed by the thought that there would be a big scar on her neck for the rest of her life. That's when she told herself, "It's just a scar. Imagine what women with breast cancer have to go through?"
This was also when she started to pay closer attention to how popular media portray women and femininity. "I realized that, for centuries, the idea of female beauty has focused primarily on the breasts. And visual arts, especially painting, have hardly ever represented women breastless." Mariam believes that many women avoid surgeries, "letting cancer take their lives," due to the stereotypical standards of beauty and social stigma.
"I want to represent women who aren't afraid to show their bodies as they are. Women who love their bodies as they are. Women who defeated death."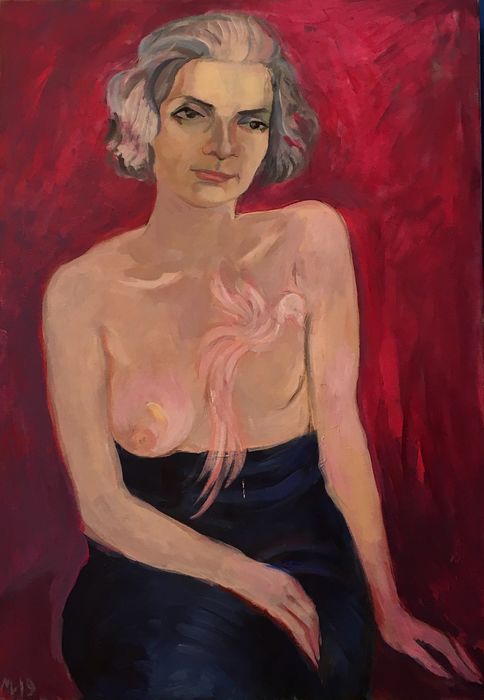 The first portrait of Mariam's project on breast cancer survivors.
So far, Mariam has been able to find six women who agreed to be painted. All of them are over 50, "resilient and inspiring." She explains that her project isn't merely visual. Before painting her "characters," she talks to them and listens to their stories. Only after that does she proceed to pick up her brush and paint. "This has been an incredible experience," she says. The response she gets from these women is the biggest motivation for her to continue her work in spite of financial constraints and the lack of encouragement from her male colleagues. "I started to love myself," said one of Mariam's characters after the session.
"I have a phobia of cancer," Mariam admits. Her father died of it and she was at risk, and that is why this project is of crucial importance to her. Through her paintings, not only does she want to break the stigma surrounding breast cancer but face and fight her own fear of the disease.
The biggest issue that Nairian Vocal Ensemble and the Mughdusyan Art Center have always faced is a lack of funding. To sustain her projects, Mariam has applied and received several small, short-term grants. However, for the most part, she has paid out of her pocket and applied for loans when necessary. In early October, the Center had to move to a new location as Mariam wasn't able to pay the rent, which had gone up drastically due to the recent inflation in real estate values. "If my income has stayed the same for 4-5 years, but the prices go up, then something is definitely wrong in this country's system," she says.
Even when facing financial obstacles, Mariam has never even considered shutting the Center down. "When dozens of people do what they can't do anywhere else, I can't stop this. I can't let them down," she says. "And I can't let down my family – my mom and my sister – who have contributed so much." In September, Mariam and her friends started a crowdfunding campaign through GoFundMe. Their goal is to raise $7000, an amount that would allow them to finally have their own space.