Nine years after his death, Gurgen Haratunyan is still remembered fondly by the elderly residents of Meghradzor.
A village organizer, he made his big impact in the early eighties after being appointed as leader of a project which would bring him both fame and prosecution. Living in the upper-part of the valley, his neighbours wanted a water irrigation system so they could grow the fruits and vegetables enjoyed by those residing lower down the village.
Even now they still call the water Gurgenijur (Gurgen's Water) in these parts laughs his granddaughter, 22-year-old Naira, who is preserving his tale – along with dozens of others from across her village – as part of a new cultural project.
She has teamed up with Sarine Arslanian, a Belgian-Armenian filmmaker who travelled to Armenia this year to reconnect with her roots. Beginning in Meghradzor, the pair's new NGO, PATMI, which translates as 'tell us a story,' is turning stories into colorful murals throughout the community through a cultural exchange with artists from Armenia and abroad.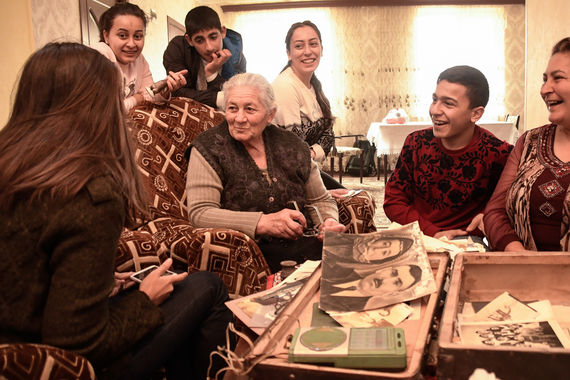 Sarine Arslanian listening to the Gevorgyan family stories.  Photo by Tsovinar Hakobyan 
"The idea was to take everything that was forgotten out of the sunduk, the wooden chest, and bring it to life so everyone can see it on the walls of the village and learn," says Naira.
Like many rural communities across Armenia, Meghradzor, or the valley of honey, loses dozens of its young men to work in Russia every year. Some leave permanently while others return home for one or two months in the winter. A population of just over 2500 remains in the village, which is 15 kilometres northwest of Hrazdan and an hour or so from Yerevan.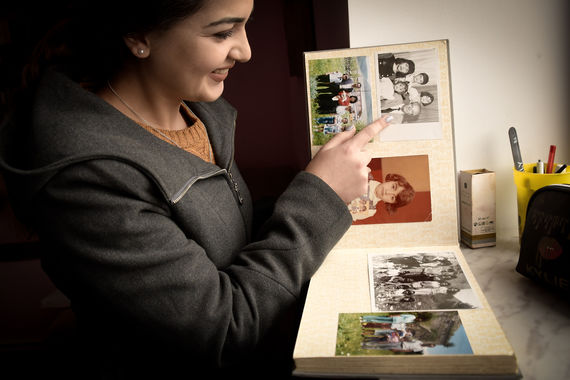 Naira Haratunyan looks at a photo of her grandfather Gurgen.  Photo by Tsovinar Hakobyan.
Naira's ancestors are remembered well in the village. "I've learned a lot, even about my own family," she says. "When I talked to the older villagers, they all remembered my grandfather as a leader and on a white horse. It makes me proud of him. I've discovered some characteristics that are in me from my ancestors. I didn't understand where these parts of me came from but now I do."
She was first told Gurgen's tale by her own father, Rubik, whose scholarship money was re-diverted by his father in order to begin the construction of the system.
Working with an engineer, Gurgen used experience he had gained as both a mechanic and the director of a spring water factory to build the five kilometre system from the mountain through seemingly unpassable passages.
After eight months of work in 1982, the 100 or so families in the upper-part of the village immediately saw their crops diversify. No longer were they limited to just growing corn. From cabbages to potatoes to lush red berries. The land grew greener. Large families from the foot of the valley, aware they could now enjoy the same crops at higher ground, started to build new houses. A liberation for young newly-weds as they escaped the close watch of their in-laws.
But less than 12 months after the irrigation system was completed, Gurgen was sentenced to three years in prison by officials from the community's Kolkhoz (regional farming collectives controlled by the Soviet authorities). His crime? Failing to provide full receipts for the materials and equipment used.
The outrage felt by villagers at this injustice was muted by the fear of the USSR authorities. Only Gurgen's brother took action. Fantasizing of revenge he penned a furious letter to the tomb of Lenin complaining about the local officials.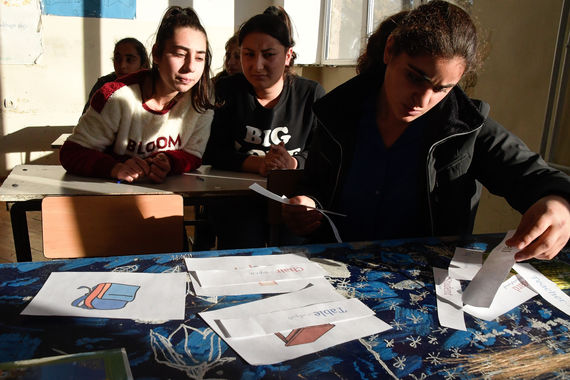 Students during their first English language lession in Meghradzor.  Photo by Tsovinar Hakobyan.
After eight months, Gurgen was freed early on good behaviour and returned to the village that his ancestors had settled in after emigrating from the Western Armenian town of Aratsap.
36 years on and not only does Gurgen's irrigation system continue to provide villagers with water, but his story is being retold, reshared, and revisualized.
Through PATMI his granddaughter is also organizing regular English lessons for youngsters in Meghradzor – the first ever at the school – and is planning to attract tourists by transforming the walls of the village into outdoor art galleries inspired by its cultural heritage.
"People still remember my grandfather's work, what he's done for the community. So I knew this story should be illustrated somehow," says Naira.
As well as her grandfather's triumphant tale, the pair have captured stories of female empowerment, of strict ex-school directors, and how the villagers used to have to strip to cross the river to the old monastery – until a bridge was finally built in the eighties.
They have also learned of the curious mistake which led to the Aratsap villagers settling in the community in 1830 when scouts spotted what they believed to be cotton trees in Meghradzor. They rubbed their hands in glee and decided this would be their new home. Unfortunately, when the 60 or so families arrived, they realized there was no cotton.
All these stories and more will be painted across the community's walls to empower the villagers, says Sarine. "These stories are very specifically ones that won't make it into history books but are family stories," she adds. "Stories can create a sense of belonging and a pride in a community, in a positive way. People know where they can come from and the stories are the essence of their community.
"It's pride in a way in which you can feel comfortable in your shoes, pride in the fact you come from the village."
That pride is swelling, particularly after the appearance of the first mural this week. Painted on the wall of the village shop, it remembers Nazan – an orphaned ancestor of Naira's. She was rescued from the village of Mastara, near Talin, by a soldier following the battle of Sardarapad in 1918. Swinging her up onto his horse, he rode back towards Meghradzor where he left her with his mother. Several years later he returned from war to marry her.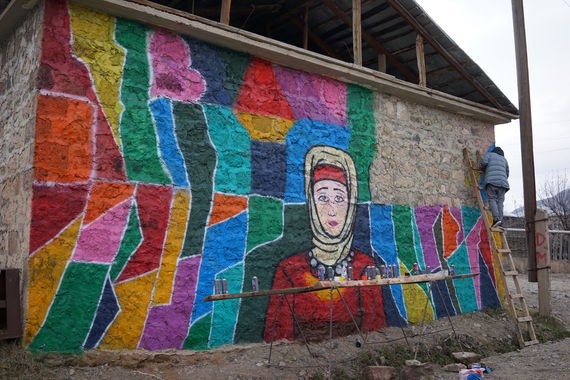 Village tales turned to muralas in Meghradzor.  Photos courtesy of Sarine Arslanian/PATMI.  
Yerevan-based artist Sevak Nazaryan transformed the story, which involved the collaboration of dozens of enthusiastic school children. These youngsters are now hassling their grandparents for tales of yesteryear, reveals Sarine. Meanwhile elder villagers are offering up their brick walls as canvases.
"It's great because this is not a project that can be imposed on people," says Sarine, who is keen to transfer the idea across Armenian villages if the demand is there.
"It's nothing without the participation of the people," she adds. "It's for them, it's about giving them the tools so they can do it for themselves and be involved in the whole process. It's not us telling them something. They need to be excited and make this their own."