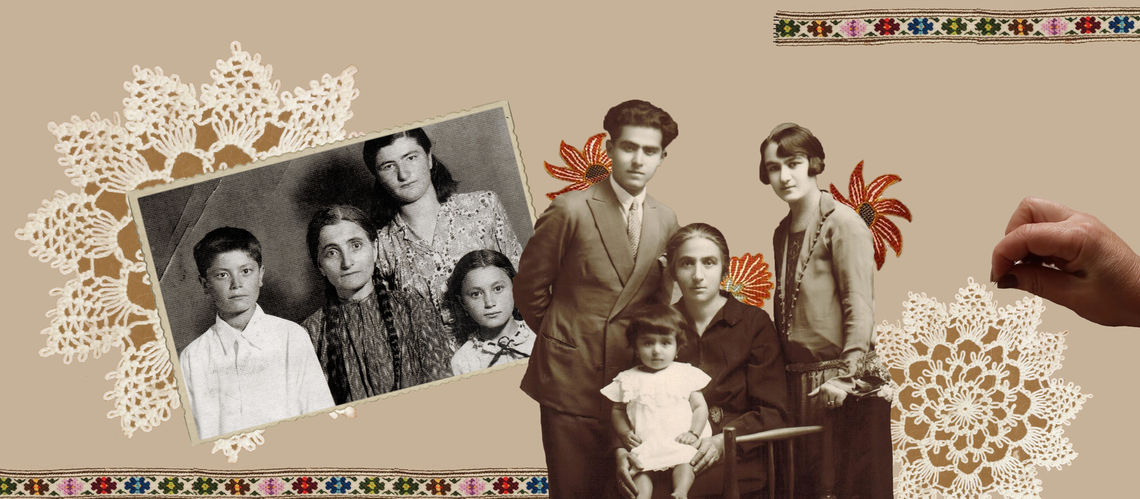 Visiting with Syrian-Armenian women, a sharp eye will spot embroidered pieces decorating their homes. They come together around coffee tables to embroider and discuss the most basic and, at the same time, intricate issues in cooking, sewing, housekeeping and more. Some are bent over their small looms, their hands sliding across the fine threads, fingers cramped from the repetitive motion of stitching.
"I would open my mother's large cloth bag where she kept all her work and stitch some patterns secretly, continuing what she had already started," says Dzovag Kantarjian-Ohanian, recalling her childhood memories of embroidering in Syria. "Despite knowing if those were correct or not, I would unstitch them at the end, so that my mom wouldn't notice that I worked on them." Most Syrian-Armenian women started with almost innate skills. "I learned to embroider back in my mother's womb," Terez Chirishian Der Sarkissian explains joyfully.
Embroidering easily lends itself to a metaphor. Each tiny stitch and symbol demands these women's effort, and invites a closer look into their aesthetic preferences and attention to detail. It must have lent them a quiet and free dwelling space. In a moment of despair, anger or happiness, they take up the needle and thread to reclaim the histories of female craft through their "immaterial speech."[1] Syrian-Armenian refugees in Yerevan are banded together by the silent understanding of pain.
Following years of exile and trauma in the early 20th century, families of genocide survivors retained memories as traces within their crafts, serving as a tactile remembrance of space and time.
The loss of the homeland naturally links to the loss of identity. Some scholars assert that post-Genocide Armenian identity assumes a sense of the "lost homeland" and the need to regain it.[2] The two generations of the relocated, living in Syria in the 1910s or in Armenia in the 2010s, the migrants and their ancestor deportees, made themselves comfortable in creating and recreating a new concept of "home." For Armenians in the Ottoman Empire, and for Syrian-Armenians in Yerevan, crafting has served not only as a way of earning a living, but also as a process of rebuilding and reimagining a social world through the temporal markers that help them nurture a sense of "home."
Crafts and the craft-making process itself provide a "safe haven" for the two waves of refugees. It helps to normalize existence in the present moment by remembering the past and weaving the future.
Material Claims of Their Roots
Maral moved to Yerevan with her mother in 2015. Both of her grandmothers were weavers from Ainteb. When asked about her embroidering skills, she explained that her grandmother taught her how to embroider before she was able to walk: "She would give me a needle and a thread without worrying that I could harm myself."
The in-depth analysis of trades in Marash, Ainteb, Ourfa and other historically Armenian-populated cities in the Ottoman Empire reveals generations of Armenian families actively engaged in the mainstream production of textiles. In his book Marash Needlework, Hrazdan Tokmajian points out that the archives of Hayganoushian College reveal how embroidering was taught along with regular classes.[3] The practice was rooted in every family, passing down from mother to daughter.
The practice of embroidering serves multiple purposes, incarnating the women's personal experiences and mirroring their feelings. Maral enthusiastically explains what each of the elements symbolize. She describes that the roots and the genealogical trees embroidered in Sivas embroidery[4] symbolize the nation's struggles to establish their roots and, at the same time, avoid assimilation. Maral thinks that the square boundary framing the trees of life in the center illustrates safe-keeping and sheltering. "Only after claiming our identity can we develop as a nation and spread just like the branches of the tree of life stretch out of the boundary," she interprets the Sivas stitch.
Displaced people often look for other forms of "ground" to sustain themselves.[5] In an effort to claim a sense of belonging, they construct it on an imaginary level. This might explain the symbolic meaning behind the genealogical trees of life, flowers and roots in the embroideries done by the refugee women. The fear of an unstabilized sense of belonging made them weave imaginary roots on "a safe land of crafting." The visualization of such elements related to land marks the struggle to compensate for the lack of belonging to a particular place in real life.
Hripsime Sarkissian was a genocide survivor. In her late years, her works feature her homeland, the landscape, mountains and flowers of the land where she came from. Her granddaughter, Anita Toutikian, describes Sarkissian's works as "a mental journey to the lap of her grandmother, and to the arms of her husband. She traveled not on foot, not on horseback, but on her fingertips."[6] Making the patterns of land and landscape is to express belonging by claiming a space. Toutikian explains that her grandmother's embroidery is "a testimony of Longing and Belonging, a desperate yearning to return and unite with loved ones, a loud petition for a legitimate passport to return 'home,' and to reclaim home." Sarkissian's work illustrates her psychological pursuit for a safe shelter, "a mental plunge into the valleys and the waters of Munzur, a spiritual ride into the flower fields of Dersim, and a mystical climb to the mountaintops of Dersim."[6]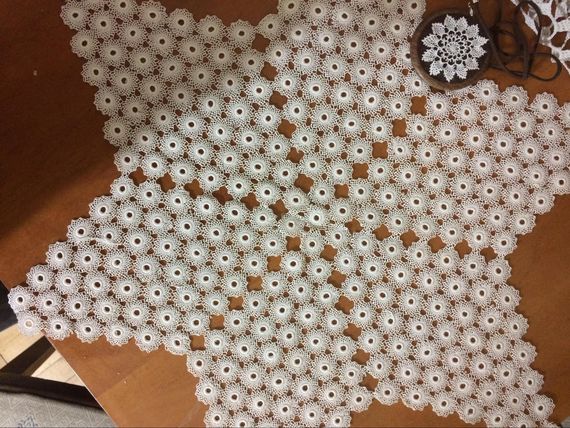 Maral Sheuhmelian Berberian's work with her grandmother when she was around 4 years old.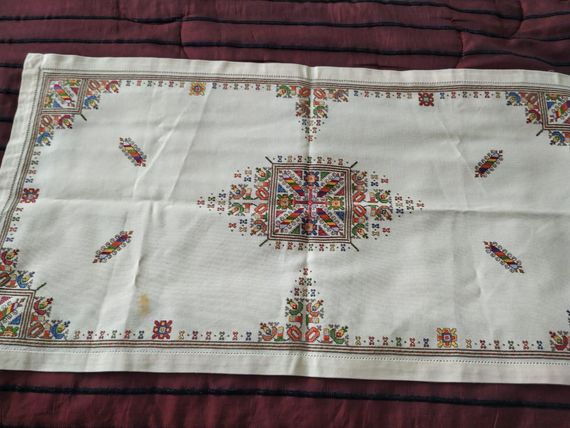 Dzovag Kantarjian-Ohanian's Sivas embroidery.

1. A view from Karşılar village.
2. The resemblance.
Source: Toutikian, A., "Narrative Analysis of the Exbroideries of Hripsimeh Sarkissian 1908-2000."

1. Exbroidery, The Self-Portrait. Photo by Tarek Mokadem.
2. Ters Lale or inverted tulip, native flower of Dersim.
Embroidering the Past and Weaving the Future
Maral had packed a small suitcase full of her embroideries, old and new, when she was still in Syria. She explained that the luggage full of embroideries was her most valuable possession. "I wanted to have it on hand so that, whenever we might be forced to leave our house in Syria, the first thing I would grab would be that suitcase," she explains.
There is meaning behind the act of choosing which personal belongings to carry as people migrate or are forced to seek refuge away from their homes. Diasporan Armenian women wove the past to support the future through carrying these possessions—the material memories of the past. These possessions are then used to provide a sense of familiarity, to fight the feeling of "stripped" identity and preserve a sense of continuity. "Embroidering is a way of continuing our presence, testifying that we are still alive, we are a living nation," Maral explains.
"The first thing that I wanted to retrieve from Aleppo, when we knew we were going to stay in Yerevan forever, was my grandmother's sketches and motifs," says Ayda, a Syrian-Armenian woman now living in Yerevan. She embroiders according to her grandmother Arika's sketches and motifs, validating the material connections that evoke both change and continuity.
Other Syrian-Armenian women also claim that handcrafts are personalized reminders of the maker and their origin. They keep those embroideries as heritage that carries life experiences in a way that the memories embedded in those crafts bring a sense of meaning to their lives. "We don't have our families with us, let's keep the memories," the women agreed.
One of the oldest embroideries left to Dzovag is from her husband's mother. It is a woven cloth designed for carrying bath towels and washing clothes. The initial "Ա" [A] is embroidered for Arshaluys Arakelian. This work reminds Dzovag about the Arakelian family. "Having this embroidery at hand makes me feel as if the whole family is with me." She notes that this is what makes it so valuable for her.
Dzovag also reflected upon her experience of moving her dearest possessions from Aleppo to Yerevan. "I was used to carrying embroideries with me wherever I went. My husband wouldn't even know, but whenever we traveled, I always had embroideries with me," she says. "They are my work, and I need to have at least some tools and material to embroider whenever I want." Dzovag brought her embroideries when they came to Yerevan for what was supposed to be just a summer holiday. Then, as the decision to seek permanent shelter in Armenia was made, they were able to transfer only a small part of their belongings, leaving almost everything they had, including heirlooms, in Aleppo. The few embroideries that Dzovag brought were the only possessions that link her with her roots.
Selecting similar possessions from their past, the Syrian-Armenian women seek to "form a vessel to bear them safely into the future."[7] American academic and professor Russell Belk explains that people keep desirable memories and identities intact and selectively extract the material reminders of their less desirable past. With Syrian-Armenian embroiderers, the heirlooms became their desirable memories.
Arpiné Kurdian Altounian talks about her grandmother Yepraksé's experience of moving from Erzurum to Mosul in Iraq. While walking in the desert for over six months, their ox cart was taken away, along with all the belongings that they had carried with them. The only heirloom that Yepraksé was able to save was her Singer sewing machine, which is a treasure for the family. "As we move on with the times and adapt to our new environment, our possessions connect us to our roots, reminding us of who we are. They are palpable and distinguished testimonies of our specific culture that can continue to define us in our host countries," Altounian concluded.
Therefore, crafting is a way of preserving personal history through "emotion-labeled memories."[8] Altounian also explains that coming together and working as a group gave her grandmother and other refugees in Syria a chance to reminisce about the old days and to share memories from their former lifestyle, including their traditions of cooking, sewing, housekeeping and more. Crafts bring people together, generating social relations and a setting where ideas are exchanged. This illustrates how the sociability associated with the craft reconnects these women to a communal experience. The underlying communications of the craftsman at the loom should have also assisted diasporan Armenians and their ancestors in the continuous act of "home" making and shaping their community through the narratives woven within their crafts and during the weaving itself.
"I put all my thoughts and memories into my work. I am not there on earth. I am just wondering somewhere else," Maral admits. This is her way of bringing the past into the present: she gets immersed in the act, reiterating her thoughts and refreshing her most emotional and vivid memories. Some others see embroidering as a process that helps them transcend from the real and tangible issues of the day and the problems they face in real life. Even now, during the COVID-19 confinement, they use crafting and embroidering as a method of fighting against the fears of pandemics and all their negative thoughts and emotions. Embroidering serves as a practice through which they detach from the concrete and the tangible of their daily lives and weave their own safety net within the creative process as a site of dwelling or shelter. They gain a sense of accomplishment through embroidering, comforting themselves and channeling their creativity and feelings into crafts. Encoding exchanges and animating relationships, these material craftings embody memories and are able to maintain a flexible yet permanent "thread"—a link that carries them through the once lost and regained sense of belonging.
---
[1] Håland, E., J. (2004). Athena's Peplos: Weaving as a Core Female Activity in Ancient and Modern Greece. Cosmos 20, pp. 155-82.
[2] Panossian, R. (2006). The Armenians: From Kings and Priests to Merchants and Commissars. pp. 235-240. New York: Columbia University Press.
[3] Tokmajian, H. (2010). Marash Needlework. Printery, Aleppo.
[4] The stitch of Sepastia (Sivas) is known as "reverse stitch." They embroider on the reverse side of the fabric and the design is shown on the right side. Darson Tarsus stitch is executed on transparent fabrics using silk threads for fillings. Kilis stitch includes cutting and sewing different types of fabrics.
[5] Panossian, R. (2017). Homelands and Diasporas: Building a Multilocal National Identity.
Hrant Dink Foundation Lecture.
[6] Toutikian, A. (2015). Narrative Analysis of the Exbroideries of Hripsimeh Sarkissian, 1908-2000. DEPO – Lüleci Hendek cad. No. 12 Tophane İstanbul.
[7] Belk, R. (1988). Possessions and the Extended Self. Journal of Historical Research in Marketing.
[8] Kouhia, A. (2012). Categorizing the meanings of craft: A multi-perspectival framework for eight interrelated meaning categories Categorizing the meanings of craft. Techne Series A: Vol 19, No. 1 pp. 25-40.