While Armenia produces sugar domestically, it also imports the product. Customs duties on the import of sugar and sugar-producing raw materials from third countries to the Republic of Armenia are quite high, at about $340/ton. In 2020, Armenia imported $6.88 million worth, or 21,000 tons, of sugar, an increase of 62% over the previous year ($2.6 million, 6,100 tons in 2019). Of these, 97.4% were from Russia, 2.1% from Ukraine, as well as much smaller quantities from Belarus and Italy.
In 2020, Armenia imported $9.49 million or 22,100 tons of white sugar, which exceeded the level of the previous year by 50.2% ($4.7 million or 12,800 tons in 2019). 47.7% of the white sugar was imported from Ukraine, 47.2% from Russia, 4.9% from Belarus, as well as much smaller quantities from Austria and Italy.
It should be noted that Armenia imports two types of raw material for sugar production (sugar cane), for which the common customs tariff is $250/ton. In 2020, $11.1 million or 30,500 tons of raw material was imported into Armenia, which is a decrease of 9% compared to the previous year ($12.2 million or 35,100 tons in 2019). Raw material for sugar production is mainly imported from Brazil, as well as a much smaller quantity from Russia.
Thus, sugar is imported to the Republic of Armenia from Russia—an EAEU member state with which Armenia shares a common customs territory—and from Ukraine, with which Armenia has a free trade agreement. As a result, the import of sugar from these countries is exempted from customs duties.
It should also be noted that direct costs make up a significant share of the cost price of imported sugar. About 85% of the cost price is the purchase price, and about 14% are transportation costs. Indirect costs, which make up 1% of the cost of imported sugar, include customs clearance costs, customs warehousing costs, etc.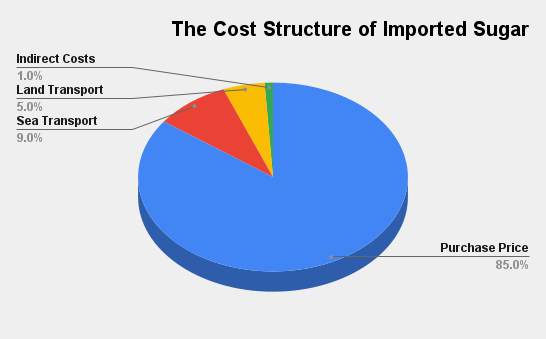 In 2019, 73 companies were active in importing sugar to Armenia. In 2020, that number rose to 83, but the majority of them could not enter the market, or their market share was so small that they cannot be considered market players. As a result, the sugar market is highly centralized; only three companies account for more than 80% of sugar import volume. Although there are a large number of economic entities operating in the sugar market, only one of them—owned by former Member of Parliament for the Republican Party of Armenia Samvel Aleksanyan and members of his family—has market dominance. About 50% of the sugar sold by the latter is sold by its own retail chain, City Supermarket, at a cheaper price; other chains and stores are supplied at a higher price, creating unequal competition.
As for sugar production, according to the data presented by the Armenian National Statistical Committee, 39.2 million AMD worth ($79,000) of sugar was produced in Armenia in 2020, a decrease of 99.7% compared to the previous year (13.2 billion AMD in 2019). The domestic industry was virtually wiped out.
An analysis of the cost price of domestically-produced sugar shows that it mainly consists of direct costs, in particular raw cane sugar, materials, salaries, gas, electricity, amortization, etc. Indirect costs make up 1% of the cost price of domestically-produced sugar.
While inflation has been a global phenomenon since the COVID-19 pandemic, a shortage of sugar in Armenia led to rising prices in late June and early July 2021. Retailers refused to sell more than 5 kg of sugar to citizens and the price of the product exceeded 400 AMD/kilo. Year on year, the price had risen 39.4% in July 2021, an issue that was not fully addressed by authorities. Nevertheless, from the situation in the market, it can be concluded that the main reason is the sharp increase in demand for sugar, both at home and by factories due to the canning season. Under these conditions, large import companies have created an artificial deficit. At the same time, supermarkets deliberately stopped selling unpackaged bulk "cheap" sugar, forcing consumers to opt for more expensive packaged sugar.
On the other hand, due to the unfavorable situation in the Russian sugar market in spring 2021, recently spearheaded the Eurasian Economic Commission's Resolution No. 33 of April 23, 2021, providing EAEU member states with tariff-rate quotas for sugar imports from third countries. To comply with the directive, the Armenian Government adopted Decision No. 838-N of May 21, 2021 "On Applying Tariff-rate Quotas on White Sugar Imported to the Territory of the Republic of Armenia". According to the new rule, until September 30 of this year, the import of white sugar intended exclusively for sale in the domestic market or for the production of products containing sugar, is exempted from the import duty to the volume of not more than 22,400 tons, in the presence of a license.
Thus, the high level of centralization in the sugar market is maintained, which allows the main sugar importer, producer, wholesaler and retailer to leverage its market power into an arbitrary pricing policy. The public is expected to pay up these added costs, making it a bitter pill to swallow.

Armenia's Nuclear Power Plant in Metsamor is vital for Armenia's energy security; it also poses dangers that are often overlooked. While the focus has been its location, less public scrutiny has been paid to its ongoing environmental impact.
Read more

With the right choices in education, Armenia can build an IT community capable of creating its own secure and reliable systems, which will be beneficial from a business perspective as well as for social institutions, including government and national defense.
Read more