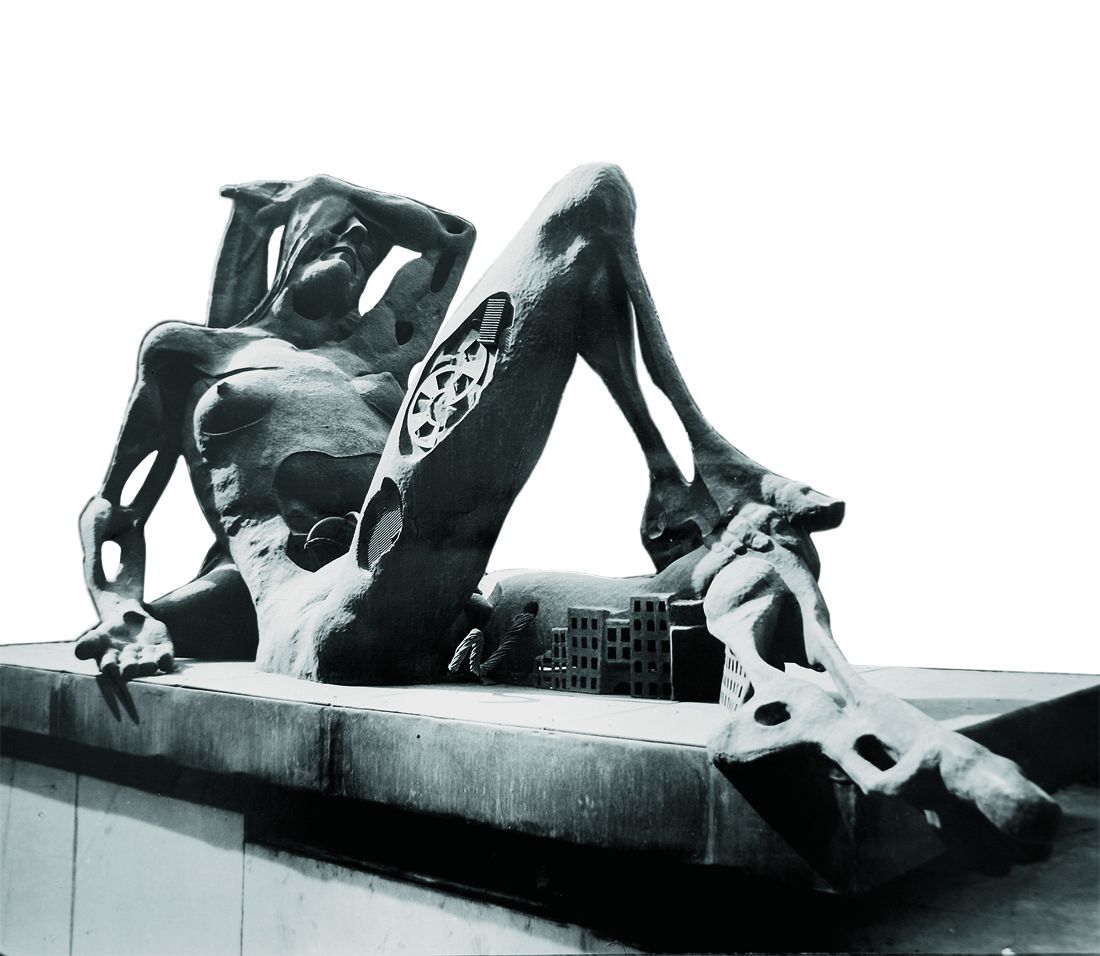 The Muse of Cybernetics by Yervand Kochar (1972).
Author and inventor Edward de Bono coined a new word in 2009 he called ebne. An acronym for excellent, but not enough, De Bon said that he came up with this new word because there's a real need for it: "If you want to change something you have to attack it. We do not have an easy way of saying something is excellent but not enough."
Ebne is a term which neatly captures Armenia's technology sector – excellent, but not enough.
Tech now accounts for around 15,000 jobs in Armenia. The country boasts around 400 tech companies, a 25 percent increase between 2014 and 2015.
The technology sector in Armenia produces a combined USD 475 million per annum, around five percent of the nation's GDP. According to TechWorm there are around 200 tech startups in Armenia.
Technology has helped smash borders, level the playing field, and help people all over the world turn ideas into a commercial product.
Being a small nation, contrary to the old economy, is no longer a barrier to being the world's best.
Israel is a case in point. According to Israel's National Cyber Bureau, the country's tech sector accounted for 10 percent of global security technology, and sales of its security software topped USD 60 billion in 2014 – that is six times the size of Armenia's GDP! Almost 80 percent of its hi-tech products are exported.
Another example is Estonia. A member-state of the European Union, Estonia has long-term prospects of being among the most promising in Europe. It is projected that by 2025 the GDP per capita of Estonia could rise to the level of the Nordic economies of Sweden, Finland, Denmark, and Norway.
With a population less than half of Armenia's, Estonia is the home of Skype (acquired by Microsoft) and a world leader in digital government services.
Which technology can Armenia be a world leader in?
This needs to be addressed aggressively.
There are myriad of technologies disrupting existing business models, and many of these technologies have yet to be taken full advantage of such as data analytics, artificial intelligence, robotics, blockchain, Internet of Things (IoT), etc.
For Armenia to be a world leader, it needs to develop a plan – but more importantly fully understand the skills it currently has to thoroughly exploit.
In a recent interview to tert.am, Hovhannes Avoyan, Co-Founder and CEO of PicsArt, one of the most successful tech start-ups in the country said that Armenia's traditional strength in science and math should be taken advantage of by building competence in Artificial Intelligence (AI) and Machine Learning (ML).
"Government and businesses should take it very seriously and have a plan for implementing AI in many areas such as healthcare, banking and finance, transportation, manufacturing, security, telecom, etc. The timing is right and the window of opportunity will not last long. This is the only option for the country to effectively compete with the rest of the world," Avoyan said.
Israel is a world leader is global cyber security, because many people who set up firms in this area came from the Israeli Defense Force (IDF). Having secure borders is ingrained in society. It is a logical pathway to follow.
Armenians are noted problem solvers. We are world leaders in the strategy game of chess. We have the ability to be a world leader in a technology niche.
The Armenian Government's decision to establish a Center of Strategic Initiatives is a positive step forward and could be an opportunity to advance this thought to a reality.
The Center is a public private partnership to develop and implement concepts for short and long term reforms, to further propel Armenia's development and economy. One of the areas it will be exploring is technology.
Technology has helped smash borders, level the playing field, and help people all over the world turn ideas into a commercial product.
But this is not enough.
Another way to further propel growth in this area would be to establish a new Innovation & Technology Council.
The leadership or Chair of the proposed council needs to be independent from government.
The Council needs to develop an innovation plan with clear goals and timelines, allocating responsibility to agencies to be accountable for its delivery. Progress of deliverables should be made available to the public in real time.
Armenia should look at Singapore's Research Innovation and Enterprise Council (RIEC), which appoints members to two-year terms, and invites global experts and businesspeople, not just Singaporeans to be part of it.
The proposed Innovation and Technology Council must include and invite successful entrepreneurs and businesspeople who are internationally recognized, including non-Armenians. The Council needs to have a global focus and needs to draw upon global experience.
Another area ripe for implementation is the creation of an "Innovation District" in Yerevan – like Boston, which has one focused on biotechnology.
The Innovation District is a model used in urban planning to stimulate economic growth in cities. These districts are dedicated zones exclusively for the purpose of clustering entrepreneurs, startups, business accelerators and incubators.
These spaces are easily accessible via public transportation, wired for public Wi-Fi, support mixed-use development and collaboration. It is estimated there are more than 80 official innovation districts worldwide.
Innovation districts have proven to be effective for cities to modernize their economies and pivot to technology-driven services, as well as attracting investment.
Yerevan is relatively small city, with abundant public Wi-Fi, as well as many startups within a confined area.
The location of the district should be selected in consultation with all key stakeholders, and can be part of the remit of the proposed Innovation and Technology Council.
Technology is changing very rapidly. Armenia cannot be lulled into complacency and needs to act with urgency and purpose. The high-speed development of the sector is excellent, but not enough.
Armenia is capable of being world's best, it should aim for no less.