In 1972, when Tesla founder Elon Musk was still celebrating his first birthday in Pretoria, South Africa, a Soviet Armenian-made electric vehicle was parked in front of the Matenadaran Museum of Ancient Manuscripts in downtown Yerevan. The electric car was a project implemented by the Yerevan State Polytechnic Institute (the main engineering university) under the supervision of Dr. Emil Dilanian. It was a working e-vehicle, which could be spotted circling around Yerevan's Kentron district. Dilanian, fondly remembered by his students as Emil Markovich, was a World War II veteran who had been handipcapped and was in poor health. According to Dr. Arkadi Durinyan, the official historian of the Polytechnic Institute, this was one of the reasons why the prototype of one of the first Soviet-made electric vehicles never made it into mass production. Nevertheless, it is noteworthy that, back in the 1960s and 1970s, Armenian engineers were already researching and designing electric battery-powered vehicles.
It is widely believed that electric vehicles will transform human mobility and energy usage patterns. The origins of this transformation, however, are rooted several decades back.
In 1990, the California Air Resources Board (CARB) passed the zero-emissions vehicle (ZEV) mandate, which called for major automobile manufacturers in the U.S. to offer electric vehicles; otherwise, they were to be barred from selling combustion engine vehicles across the state. Although General Motors managed to mass produce its first electric vehicle model EV1 – a whopping 5,000 cars – pressure from auto manufacturers, the oil industry and the U.S. federal government was so massive that they forced CARB to not only reverse the mandate, but also to order the destruction of the 5,000 EV1s. This tragic episode in the automotive industry is well documented in a 2006 film called "Who Killed the Electric Car?"
Fast forward to 2012 and the director of the film, Chris Paine, released a sequel called "Revenge of the Electric Car," which offered a sneak peak into the early years of Tesla Motors and Elon Musk's first steps in the industry.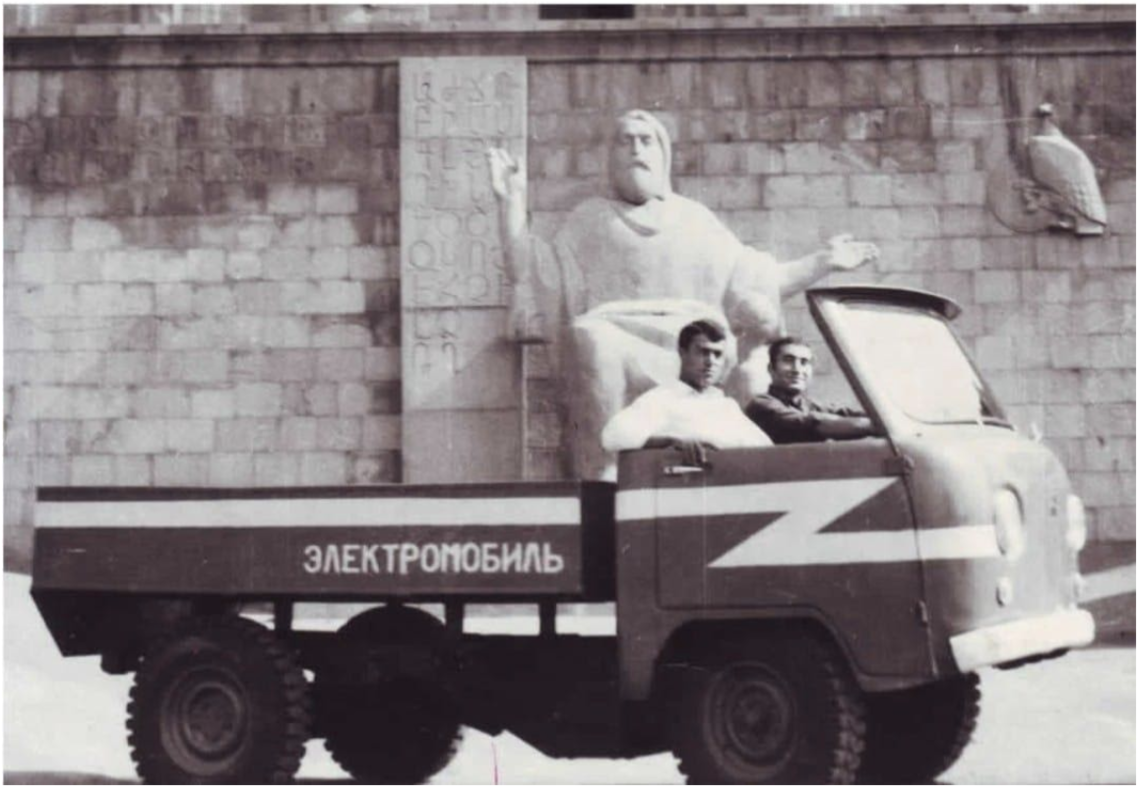 Armenian electric vehicle prototype by Dr. Dilanian and his team.
E-vehicles are actually less complex than combustion engine cars. Compare, for example, the average 30,000 parts that go into the design of a traditional vehicle to the 3,000 in a comparable e-vehicle. Hence, the latter does not require nearly as much maintenance as traditional vehicles do, ranging from oil maintenance to multiple part replacements, though an eventual battery replacement is a significant cost. E-vehicles can also recover energy from the braking process, which helps keep overall fuel costs low.
Until recently, there were a number of factors preventing the widespread use of electric vehicles:
E-vehicles were considered to be less reliable, powerful or generally lower in quality
The existing vehicle production market was quite limited
The limited distance range from one full charge
Long charging times
The limited availability of specialized charging stations
The average price of e-vehicles
When assessing these concerns today, essentially all but the last one has been addressed. Now, the market offers multiple options for e-vehicles from high-end Teslas and Audis to more budget options from China like BYD and JAC. These car manufacturers' e-vehicles are not only up to par in reliability, power and quality to that of combustion engine cars, but in fact surpass the latter in certain aspects. For example, some e-vehicle models can go up to 500-600 km per charge, and the charging station network for e-vehicles is growing exponentially.
In Armenia, drivers typically take short to medium distance trips. Nevertheless, few know that Armenia's current charging infrastructure enables the use of e-vehicles for country-wide trips.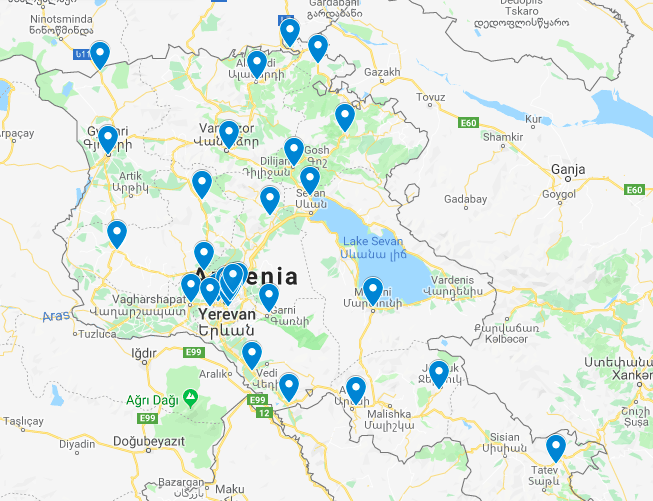 Thus, the only remaining obstacle preventing e-vehicle user growth from leap-frogging the status quo is the relatively higher initial purchase price, compared to fossil fuel-powered vehicles.
This is why many countries, organizations and entities are opting for e-mobility at scale, by means of employing grant and low-interest loan facilities from international environmental, climate and financial institutions.
Armenia has the potential to tap into these financing facilities for upgrading and electrifying its public transport through climate and environment funds available from the Green Climate Fund (GCF), European Investment Bank (EIB), European Bank for Reconstruction and Development (EBRD), Asian Development Bank (ADB), World Bank (WB),  International Financial Corporation (IFC), KfW and others. Some of these financial institutions do not provide any financial facilities for the modernization of public transport unless it is for electric vehicles (e.g. EIB).
In 2019, ADB conducted a study and offered recommendations on fostering electric mobility in Yerevan with a special focus on the deployment of electric buses. The recommendations are substantive and feasible in nature, and it would certainly be to the benefit of Armenia if the government followed them, especially considering that ADB had also offered support in mobilizing climate finance for e-mobility.
In 2019, the Ministry of Environment initiated the development and adoption of a legislative provision effectively waiving the 20% Value Added Tax (VAT) on the import and sale of electric vehicles until the end of 2021. Coupled with the Eurasian Economic Union's decision in May 2020 to waive customs taxes on e-vehicles, this move has led to very favorable import and sales conditions for e-vehicles in Armenia, resulting in unprecedented growth for e-vehicle imports and sales over the past year (15,000% growth, or 155-fold in the first half of 2020 as compared to e-vehicles imported in the first half of 2018).
A number of new e-vehicle representative offices opened up in Armenia just in 2020 alone. If the tax waiver is extended past 2021, the demand for e-vehicles will continue to grow and open up possibilities for businesses to consider opening up e-vehicle assembly lines and even setting up production facilities.
There is a rising demand for e-vehicles not only in the general market but also commercial one. Many private businesses abroad are opting for e-trucks, which in the mid- to long-term significantly reduce delivery costs. Now that delivery services have become absolutely critical to many businesses (spurred by COVID-19), the latter are open to investing more upfront and purchasing small- to medium-sized e-trucks in order to reduce fuel costs associated with delivery. In early 2020, the Ministry of Environment drafted a legislative bill calling for a VAT waiver for these vehicles as well. It would be important for the government to pass this bill quickly to give a much-needed boost to the delivery industry in Armenia.
Why is the Large-scale Introduction of e-Mobility Important for Armenia?
From an environmental perspective, e-mobility significantly reduces greenhouse gas (GHG) emissions. Recent studies claim that up to 20% of global elderly deaths are in one way or another related to burning fossil fuels and its impact on air quality.
Energy security: Armenia imports all its fossil fuels, a significant portion of which is used for transportation. However, electricity, which is necessary for powering electric mobility, can and should be generated predominantly from renewables. Currently Armenia's energy is generated from renewables (around 30%), nuclear power (around 30%) and thermal power (30%).  The market for renewables continues to grow as the country is beginning to tap into its solar power potential. Renewables have been and continue to be incentivised by the government through various instruments (e.g. hydropower plants have a guaranteed 15 year contract with the government from the starting point of operations). It is worth mentioning that the draft of the new Energy Strategy of Armenia plans to increase the solar power potential in the country up to 1000 megawatt by 2030. The growing e-vehicle market can be well aligned with the growing solar power generation in the country, thus ensuring that domestic transport consumes locally produced commodity, i.e. electricity generated from solar power. This would ensure energy security and energy independence for domestic transport in Armenia in general and most critically during force-majeure events.
Electrifying Yerevan's public transport: It has already been confirmed by consultant reports and Yerevan's city council that the capital's public transportation system requires a complete overhaul of the bus fleet and respective infrastructure. Significant financing will be required whether an electric or fossil fuel strategy is undertaken. Around the world, major cities in both developed and developing countries are already transitioning to electric public transport. Instead of sinking resources into diesel buses, the time is now to invest in the electric mobility infrastructure that can bring Yerevan back on par with other global cities. Moreover, it already makes more financial on top of sustainability sense to invest in electric mobility now, because one kilometer run of an electric powered vehicle, inclusive of all expenses, is already more affordable (as compared to diesel) or comparable (as compared to CNG) than a fossil fuel energy powered 1 km run. (TCO per km: 0.59 diesel, 0.41 CNG and 0.41 fast charge E-bus).[1]
Offsetting the pressure on the energy distribution network: Large scale development of electric mobility will give the opportunity to significantly reduce the difference between the day-time and night-time energy consumption, as charging of the e-vehicles can be done predominantly during the night hours. In Armenia night time electricity costs are around 25% cheaper than day time; municipalities or operators, thus, would save significant resources by charging e-buses during the night time. Passenger e-vehicles owners, who are dwellers of multi-apartment residential buildings are installing charging stations in their garages or in shared community backyards (or parking spaces), which also allows for night time charging.
Economically more efficient: As mentioned, significant growth in e-mobility users is hindered by the relatively higher prices of e-vehicles. However, the fossil fuel vs. electricity cost ratio, as well as the operating and maintenance costs of owning an e-vehicle, are economically more efficient than owning a combustion engine
vehicle.[2] At the moment, there are multiple financial incentives for investing in e-mobility and its respective infrastructure. A well-planned and thought out strategy would help in attracting necessary financing from international climate and environmental funds to cover the difference of introducing e-mobility at scale, as opposed to simply buying new diesel buses.
Development of the science behind e-mobility: Development of e-mobility in Armenia will potentially lead to growth in interest for the engineering, science and technological solutions in this sector. Increased public policy promotion and private sector engagement with e-mobility will provide opportunities for organizations in the high-tech industry and academic sector to engage in finding innovative solutions in the field of electric mobility.
Creation of green jobs: This development will lead to potential growth in green jobs and expansion of this engineering knowledge also to vocational jobs, the growing need of vocational training and possibilities of fast transition from traditional vocational engineering knowledge and skills to the knowledge and skill set required for servicing potentially growing electric mobility market (e.g. average training can last between one and four weeks).
Reduction of noise pollution: This issue is quite relevant in large cities, where the levels of noise pollution generally surpass maximum permitted levels (as set by the World Health Organization) often precisely because of the transport and lead to negative effects, both on the environment and human health (e.g. stress, poor concentration, productivity loss, fatigue, etc.). Conversely, e-vehicles produce little to no noise and would dramatically reduce noise pollution, which often surpasses the maximum permitted levels particularly in downtown Yerevan. In fact, to tackle noise pollution in Armenia's capital, the National Center for Disease Control initiated a project to map noise pollution in the city, which last was done in 1976. According to NCDC the main source of noise pollution in the capital is transport.
Development of new projects/programs for young families: The Government's continued incentives, either in the form of the extension of the VAT tax waiver or application of currently existing policies on home purchasing or loan repayment (through income tax) also on e-vehicles, will provide opportunities for many young families to consider acquiring e-vehicles, thus reducing subsequent maintenance and operational expenses of owning a vehicle, including parking fees, taxes, fuel expenses, etc.
Global Electric Mobility Program
In 2019, the Ministry of Environment joined the Global Electric Mobility Program and was the first in the world to offer its government (cabinet) to transition to e-vehicles. Despite a number of existing obstacles, the project is still underway. In the meantime, many government officials around the world, including U.S. President Joe Biden's new presidential vehicle, will most likely be an electric one.
The project also calls for a macroeconomic assessment of the benefits of scaling up electric mobility and proposes a strategic approach to increasing the market share of e-mobility. It explores various scenarios and mechanisms, including policy measures and market instruments, for effective injection of e-mobility at scale, from cash-back programs to stimulus packages.
The state must also consider proactive and market-invasive policies, such as, for example, favorable policies (tax breaks and waivers) for assembly lines or full production of electric vehicles, thus creating the demand. The state has information on how many vehicles are imported and sold every year, understanding what the domestic gap is as well as the potential in the EAEU market, and may consider enforcing that this gap is filled with electric vehicles and potential export to the EAEU territory of e-vehicles from Armenia is duly promoted on the state level.
In promoting electric mobility, it must be constantly reiterated that this strategy is grounded in energy security, energy independence and boosting consumption of locally-produced renewable energy. This is important, as there is a crystalized misconception both in the government's circles and among the larger consumer public that electric vehicles are fancy, exclusive and luxurious.
In the next five to ten years, electric vehicles will almost entirely replace their combustion engine counterparts. This will lead to tectonic changes in the automobile industry. Some large players will simply be pushed out and replaced by auto producers in those countries which set a vision far in advance, realizing that these changes are inevitable.
Years ago, the undisputed leader in the cell phone industry was Nokia. But when the era of smartphones emerged, Nokia did not adapt quickly enough and was replaced by producers from the U.S., South Korea and China. Today, for example, the three largest Chinese e-vehicle producers BYD, Chang'an Auto and BJEV have patented close to 18,000 innovative solutions related to electric vehicles.
Just as  smartphones revolutionized day-to-day life in the 2010s, the next decade will be focused on development and innovation in the electric mobility sector. Today's positioning of countries will define their role in this industry in the future. Perhaps, just like in 1972, Armenia could become a hub of innovation for electric mobility.
—————————
1-"A report on the potential of Electric Vehicles in Yerevan and strategies to foster electric mobility with a special focus on the deployment of electric buses." E-Mobility Options for ADB Developing Member Countries, Yerevan, Armenia 2019
2- Ibid.