We were all artists when we were kids. It's just that our avenue of self-expression was often the walls of our homes where the displeased faces of our family members were what we had for a response. It's only when one gets older does one realize that the ambition of making walls into canvases carries much more responsibility and aspiration. Some of us forgot about our childhood "talents" while others stuck to creating the city they dreamt about.
What is Your Yerevan Like ?
Our perceptions of Yerevan are not that different – it is the center of urban life where people run to get to their jobs, freelancers make their way to their cups of coffee at Achajour,* where there is a constant traffic jam on the road to the zoo and endless arguments in public transport about opening or closing windows.
Half-way through the work day, I dream about a tropical country where I'm drinking cocktails and not doing much else. Would that not be something? I could write an article sitting in Ecuador surrounded by tall palm trees and colorful streets. And one day, as I was walking thinking of nothing in the morning, I got a glimpse of tropical Yerevan on the wall of Tapastan.* You too may have seen the new and unique murals in downtown Yerevan with a distinguishable hand, these are called Yerevantropics by Sergey Navasardyan, who this morning transported me to another Yerevan.  Sergey is a designer and he too started with the walls in his house and then moved on to draw on every available wall in his courtyard. Then he learned more about street art in other countries, the message and the purpose of it and decided to make it a thing in Yerevan as well. For the longest time, figuring out what his own message should be was a source of stress. In 2013, on one of the streets in Yerevan, he drew a pig with the writing, "Until another independence." The aggression of that year's events had manifested in the form of a pig, a protest against Russification and the Post-Soviet chronicle.
Sergey says that when your street art reaches a certain scale you come to realize that you need to genuinely take care of the already violated urban landscape; that the piece you draw should not be just images on an empty wall, like the paintings in the archways of the city. "When you are interfering with the environment, it is important that you take that environment into consideration, to study, understand it. It is like a tattoo, it is important to have the right image in the right place," Sergey explains "It's a pity that you understand this later on. But better late but skilled, it gives you the chance to cover the old with the new, to edit or just go and cover it in a smooth layer of paint, make it disappear."
Street art has been a means of protest, be it against the authorities or the injustices of the time. You can even sometimes consider it to be a media outlet of sorts which allows for the citizen, the artist to express dissatisfaction and quench the need to be heard.
"Ararat with palm trees has a satirical twist. Do you remember, there was a time when every every drawing of Mount Ararat would have two aspen trees? For me, Yerevan is a city of utopic thoughts and I decided that palm trees should come to replace the aspen trees. I draw Mt. Ararat but it is not ours, we do not have palm trees either. Overall, my work is about the city I would have liked to see. Imagine if there were palm trees in Yerevan, then the sea would probably be somewhere not so far from Charbahk*."
Sergey says we have a tendency to live by old and nostalgic thoughts, a longing for things and events that have not happened or are not ours. Talking to Sergey, a word that I had come across about a year ago kept coming to mind – Hiraeth– homesickness for a home that you can never return to, no longer exists, or maybe never was.
It is interesting that the lines of legal and illegal street art in Armenia are unclear. The law says that vandalizing buildings or other structures with obscene writing or images, harming property in public transport or in other public places, is punishable with a fine in the amount of 50 to 100 times the minimal salary of the perpetrator if the defendant has no prior police record, or with up to two months imprisonment. In practice, if the work does not have political context, is not about social issues, it will likely be preserved, even though that does not make it legal. One could assume the authorities and the police are quite the connoisseurs and decide to keep the ones that are "pretty" and "nice."
For Sergey, street art is fine arts without the canvas and the studio, he paints on the streets. He says his art is public and he wants Yerevan to be the way he dreams of it.
A little astray from the center and yet part of the center of Yerevan, at Kond, the mood is already tropical. Sergey has managed to leave his mark there as well. He says Kond is like an open air studio with interesting people who have interesting lives and stories.
"My first work in Kond, one that I really liked was painted over and I went to find out why they covered it up. They were not in a friendly mood but after I explained what I had painted and why, I painted a second mural next to where the first was and then the third, the fourth. I wanted to change the atmosphere and the mood in Kond and I accomplished that. The people in Kond helped. Now I can go paint there during the day instead of working at night."
It is difficult to imagine palm trees and colors in the overlooked neighborhood but turns out it was in Kond that Yerevantropics was able to create a separate republic with unique street art and its own mood. A street artist from Georgia has already worked in Kond and there are plans to invite artists from other countries for a collaboration next season. And this despite the constant plans to demolish the neighborhood, "Why make urban art in Kond and why specifically in the area that looks set for demolition? And why not? if they are going to tear it down one way or another, then we better make the best use of it until that day comes. Especially since the people there have welcomed it."
Kond, one of the oldest surviving neighborhoods in the city looks set to become the proof of the existence of street art in Yerevan. A stage that will have its curtains open as long as Kond survives in its current form. And if there is anyone from Kond reading this, thank you for providing the inspiration on behalf of myself and Sergey.
* Achajur & Tapastan – Cafes in Yerevan
*Charbakh – A suburb of Yerevan
Photos courtesy of the artist.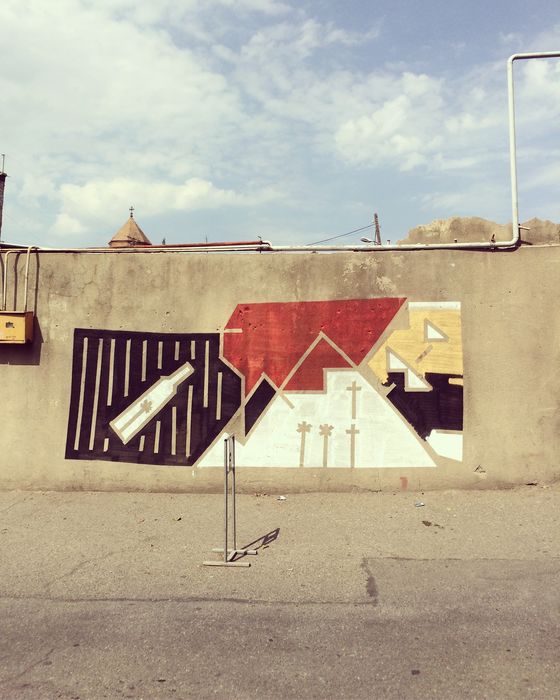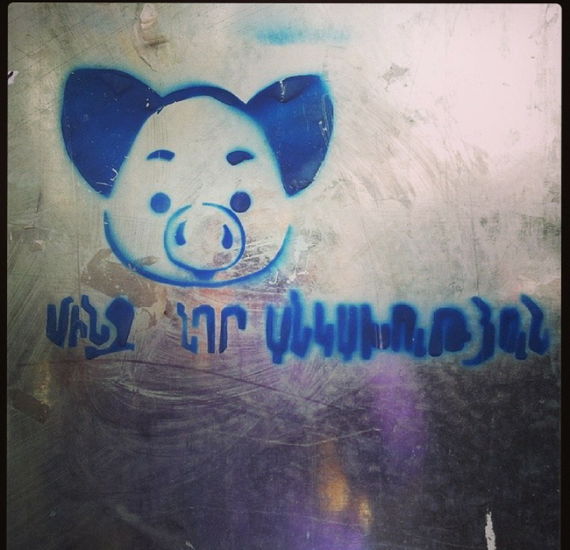 "Until another independence."