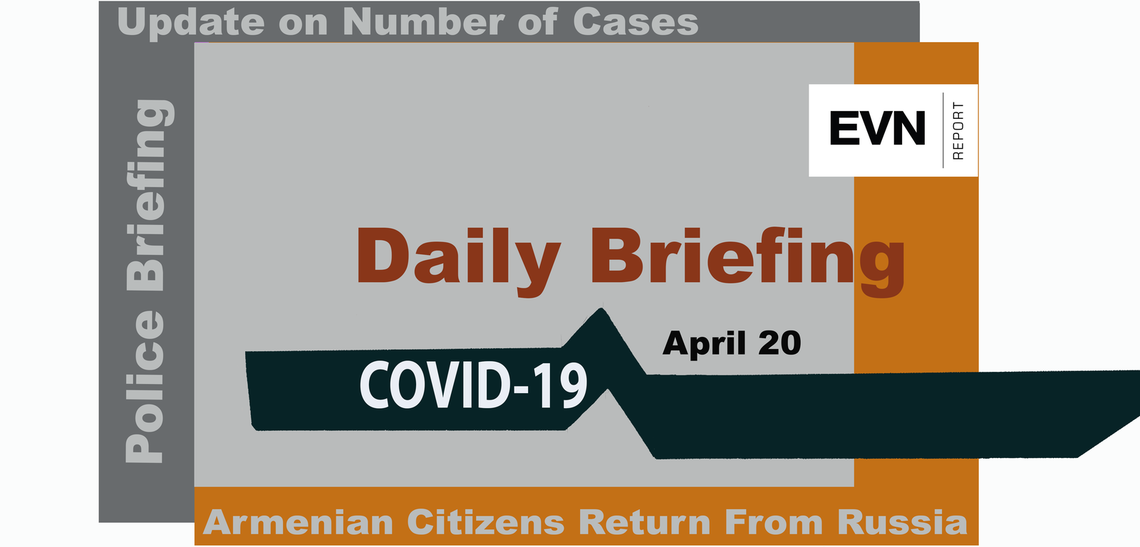 Cumulative Cases: 1338
Active Cases: 736
Recovered: 580
Deaths: 22
Armenian Citizens Return From Russia
4:30 p.m.
According to the Armenian Unified Infocenter, 200 Armenian citizens returned on April 19 and 20 from Krasnodar and Doni Rostov on two charter flights. All passengers will be kept in mandatory quarantine for 14 days.
4 p.m.
Deputy Chief of Police Hayk Mhryan gave a briefing on police activities during the State of Emergency (SOE). To date, police accompanied over 1,271 cargo transport trucks that entered Armenia from neighboring Iran. Because transportation through Zvartnots Airport is restricted, police officers also accompanied Armenian citizens returning from abroad to their self-isolation addresses. As of today, 2,946 vehicles (different modes of transportation) were allowed to enter Artsakh, while 603 others were not.
During the SOE, restrictions were imposed on certain forms of economic activity. Police officers distributed informative packages to over 2,195 such entities and temporarily suspended the activities of 2,065. Since April 1, 67 checkpoints have been formed throughout Armenia to prevent the movement of citizens between the administrative districts of Yerevan and regions of Armenia. To prevent interaction with infected or potentially-infected individuals, checkpoints have also been set up in 37 places where citizens of Armenia are currently quarantined or are receiving treatment. Three special checkpoints were set up in the Norashen community alone to monitor the people that enter or exit the village. As part of the restrictions, there can be no more than 20 people during funeral services and, so far, police officers have monitored 1,606 such services in Armenia. Police officers also monitored the activities of 2,348 individuals currently in self-quarantine.
To date, 10,377 administrative violation reports were prepared and 6,706 decisions on administrative liability were made. Mhryan said that Police received 483 reports regarding violations of self-quarantine rules. He went on to explain that, in some of the cases, decisions on administrative liability were made, while others lacked sufficient evidence and reports were not substantiated. In March and April, over 9,000 officers also helped to distribute pensions and state assistance. The police hospital is among the medical centers where patients infected with coronavirus are being treated. As of April 20, 106 patients are being treated at the hospital.
Mhryan also provided updates on the number of confirmed coronavirus cases among police officers. He noted that, to date, 124 officers have been in self-quarantine, 30 others are still in quarantine, 10 officers have tested positive for COVID-19 and five of them have already recovered. The Deputy Chief of Police spoke about road safety during the SOE and the number of registered accidents. He said that, from March 16 to April 16, 2020, 225 (93 in Yerevan, the remaining 132 in the regions) traffic accidents were registered, as a result of which 17 people died and over 330 were injured. Within the same period of 2019, 342 traffic accidents were registered, which resulted in 19 dead and 501 injured. Within the same period, over 21,000 administrative violation reports were prepared for various traffic violations, and 104 drivers had their license suspended.
While answering reporters' questions, Mhryan noted that, similar to the rest of the world, the Police of Armenia could not have predicted the spread of COVID-19 and increased its capacity accordingly. Besides their main activities, police forces are involved in the enforcement of the decisions of the Special Commission. Mhryan responded to concerns regarding increased civilian activity in the streets and stressed that it is mainly connected with the recent decision of the Commission to ease restrictions on certain forms of economic activities. The Deputy Chief of Police also said that, because of the launch of the assistance packages introduced by the government, banks have been especially crowded over the last few days. By the decision of the Chief of Police, the presence of police officers is being increased at banks and other places that can get crowded.
Government Assistance Packages
12 p.m.
During a press conference, Nairi Sargsyan, assistant to Prime Minister Nikol Pashinyan, spoke about the eighth and ninth assistance packages offered by the government and aimed at mitigating the economic fallout of COVID-19. Sargsyan said that, to date, the government has already allocated 12.5 billion AMD for the implementation of the announced assistance programs, which was provided to over 460,000 citizens of Armenia. He stressed that, as part of the thirteenth assistance program alone, 1.2 billion AMD was allocated to about 85,000 families, impacting 300,000 citizens.
While answering reporters' questions, Sargsyan explained that the government has adopted a step-by-step approach to easing restrictions and that we need to learn to live along with coronavirus. He also said that the Special Commission is discussing lifting the restrictions on certain forms of economic activities during this week and that citizens will be notified through an official announcement. Questions were raised about the most-recent fourteenth assistance package that targets students and why it does not also include students involved in distance learning. Sargsyan reminded that the program has not yet been adopted (It was announced by the PM over the weekend) and that discussions are still in progress. He also noted that motivational mechanisms are at the core of each assistance program launched by the government. The fourteenth program was designed with the same mindset. Tuition fees for the current semester of undergraduate, graduate and residency students in their final year of study with a 90% average in public universities will be fully covered by the government. The package extends assistance to students with lower marks as well.
Speaking about the patrol service carried out by police officers, Sargsyan noted that they continue performing their activities and ensuring that people who are outside do not violate the restrictions imposed by the Special Commission.
Clarifications were provided regarding the eight assistance packages for individuals who were employed in specific sectors or were self-employed. Sargsyan explained that, if an individual qualified for more than one package, then only the assistance for the most generous package would be provided to the beneficiary. To date, 5.4 billion AMD in assistance has been provided to over 78,780 individuals. Sargsyan reminded that the list of beneficiaries for this program was expanded (by a government decision last week) and that an additional 8,000 individuals can also apply for assistance. The updated list is now available, and Sargsyan encouraged all the beneficiaries of the program who applied previously and were rejected to apply once again, now that technical problems have been addressed. Speaking about the ninth assistance package, which is for families with a child aged 0-18, where both parents do not have a registered job, Sargsyan said that over 70,000 families have already received assistance and that the number will double by the end of the day.
Clarifications were also provided regarding the twelfth assistance package, the beneficiaries of which are all those citizens whose utility bill was between 10,001 and 30,000 AMD for natural gas and between 5,001 and 10,000 AMD for electricity, for the month of February 2020. Sargsyan said that the government has already transferred the funds to 486,000 families. The PM's assistant also reminded that, if citizens have already paid their gas and electricity bills, then the assistance will be credited to their utility account as prepayment for next month.
The government continues discussions of new assistance programs, which would be aimed at individuals that were especially hit hard by the spread of COVID-19. Sargsyan explained that the government is particularly focused on programs for those who do not have regular employment, and do not have a child to qualify for the ninth assistance package.
Update on Number of Cases
11 a.m. 
According to the Ministry of Health, there are 48 new cases of COVID-19 in Armenia (based on 693 tests conducted), bringing the total to 1339 cases, of which 737 are active and 580 have recovered. Two coronavirus patients, 62 and 90 years of age, both of whom had pre-existing health conditions, passed away, bringing the number of deaths in the country to 22.
April 19
In a Facebook post, Nikol Pashinyan announced Social Assistance Package N.14, which targets students:
1. The current semester's tuition fees for students in their final year of study at public universities will be fully covered, as long as they have maintained a 90% average grade. For those not in their final year, three quarters of their tuition will be covered as long as they maintain a 90% average.  The credit will be automatically transferred to their university bill. Graduating students who have already paid their tuition can either forgo the assistance or they can receive a cash payout. If the tuition was paid through a student loan, then the funds will be transferred to the lending organization, helping increase liquidity for additional student loans.
2. The procedure for providing student loans will be simplified. Current and new loans for students at state-accredited universities with an average over 80% will be interest-free for 2020.
3. For students with an average lower than 80%, loan interest will be subsidized by 5%, i.e. loans will be available at 4%.
Update on Number of Cases
April 19
According to the Ministry of Health, out of the 884 tests conducted on April 18, 43 tested positive, bringing the number of infected to 1291. There are currently 726 active cases in Armenia. With no new deaths, the number of fatalities stands at 20.
April 18
In a Facebook post, Health Minister Arsen Torosyan wrote that the cumulative number of confirmed COVID-19 cases is doubling every 17 days. "If this rate holds, then we will have 2,500 cases on May 4 and 5,000 cases by May 21," the Minister said.
Torosyan noted that the issues and concerns remain the same: to prevent the rate of transmission of the virus. He went on to say that everyone must maintain social distancing at all times, modify behavioral patterns, wash hands constantly and avoid touching our faces as much as possible. "Never before have so many daily PCR [polymerase chain reaction] tests been performed in our country. This complex process includes five main components: specialists, equipment, biosafety, logistics, electronic system; the proper provision of which requires great efforts from our specialists. Such capacities will always be needed for our country in order to overcome such challenges in the future," wrote the Minister.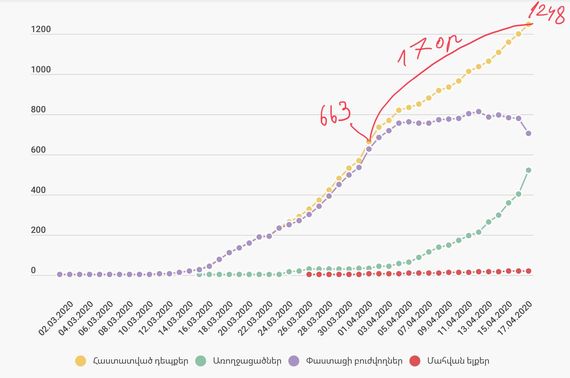 Update on Number of Cases
April 18
Prime Minister Nikol Pashinyan wrote in a Facebook post that, of the 1003 tests conducted yesterday, 47 were positive, bringing the number of infected to 1248 and 121 people have recovered, bringing the number of active cases in the country to 705. One COVID-19 patient has died, bringing the number to 20 deaths.