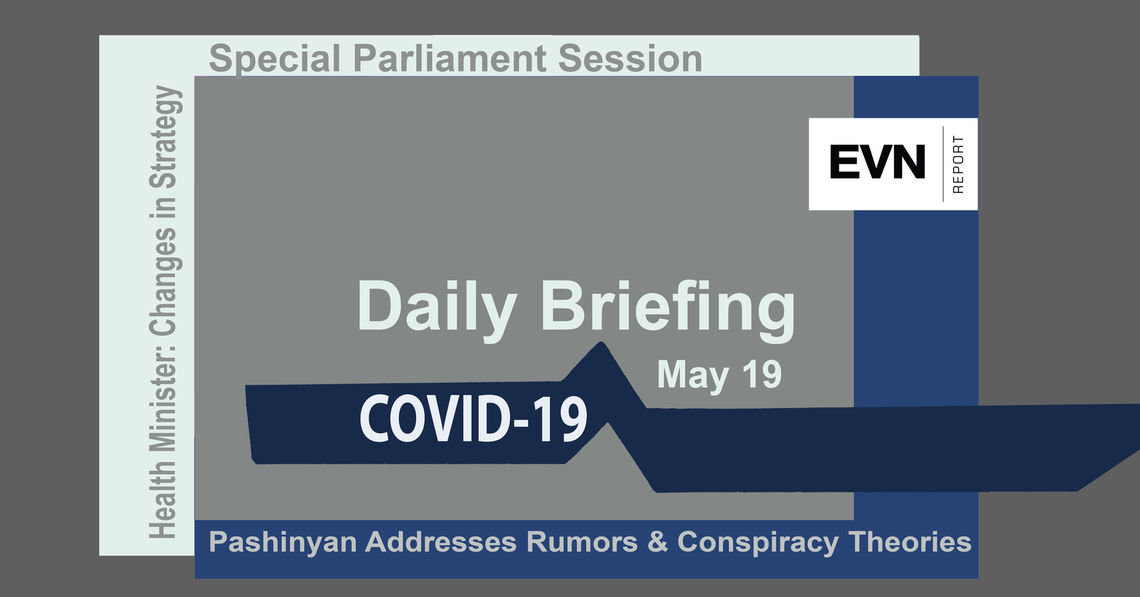 Cumulative Cases: 5041
Active Cases: 2788
Recovered: 2164
Deaths: 64
Nikol Pashinyan Addresses Rumors and Conspiracy Theories
5:30 p.m. 
Prime Minister Nikol Pashinyan, in a Facebook live, spoke about the recent spike in the number of COVID-19 cases – 218 cases (in 24 hours), 64 deaths and 2788 active cases. Pashinyan said we are all facing a serious problem at the moment and the reason is that people are not grasping the gravity of the situation. Pashinyan said it is possible that everyone is being affected by the information [disinformation] being spread but it is time to take the situation in hand with ten times more seriousness than before and understand that with almost all restrictions lifted, each one should demonstrate civic and political responsibility to combat the situation.
The Prime Minister said he understands people are not alarmed as the number of deaths including the COVID-19 deaths this year are still lower than the number of deaths in the same period last year, however if this dynamic is not stopped, there will be 10,000 cases by May 29 and 20,000 cases by June 12, which means the number of fatalities will substantially rise, getting to a point when there are dozens of deaths a day if not hundreds.
If the dynamic of infections does not slow down the government will once again be obliged to impose the strictest of restrictions, Pashinyan said, however there is still the possibility to avoid returning to a lockdown; this would involve each citizen showing the utmost degree of personal responsibility and strictly following the rules imposed by the Special Commission.
Pashinyan noted that there are already several instances when funerals have turned into major infection hubs, as many people in the regions and some in the capital insist on going ahead with funerals as if there is no State of Emergency. Pashinyan said the deceased will not be honored or thankful if ten more people die because they were at their funeral. He went on to say that the government will be vigilant in fining people who do not abide by the general safety measures put in place by the Special Commission because this is a matter of national security. No one's social vulnerability is an excuse for not following the rules, he said.
Pashinyan said the dissemination of false information, lies about COVID-19 not being real, that someone in government profiting off selling masks have also had their negative effect.
Pashinyan said that starting with the very first case in Armenia, the government has not withheld any information from citizens and is done with refuting misinformation, including slander about corruption and treason or about COVID-19 not being real. Pashinyan said when the government asks people to wear masks, it is not because the government is making money off masks, it is because masks are necessary for public health. Pashinyan suggested that those who believe such fake news should restore the rule of the previous regime.
Health Minister: Changes in Strategy
3 p.m. 
Minister of Health Arsen Torosyan in a facebook post addressing the medical workers from polyclinics, rural dispensaries and health centers from across the country wrote: "In a couple of days, hundreds of patients who have tested positive for COVID-19 but have no symptoms or very mild symptoms will be sent home and new patients will no longer be quarantined in hospitals or hotels. You will be in charge of their health once they are in self-isolation just like you have been before with patients with acute respiratory diseases."
The Minister said this change is conditioned by two things. Firstly, the increasing number of positive results on a daily basis. Secondly, a change in strategy in dealing with patients with no symptoms in an attempt to optimize the use of hospital beds and other resources.
According to Torosyan, to ensure the shift in strategy is swift, the Ministry's National Institute of Health is organizing large-scale online classes for medical workers on how to care for COVID-19 patients in home conditions.
A call center will be established at St. Gregory the Illuminator Medical Center where health workers from across the country can be in touch with doctors with considerable experience in COVID-19 treatment with questions regarding treatment methodology as well as individual cases. According to Torossyan this will also help organize communication between primary health care institutions and hospitals.
"The effectiveness of the fight against this global challenge depends on your dedication and responsibility. We must overcome this together," Torosyan said.
Special Parliament Session
11 a.m.
During the first reading, the National Assembly voted in favor (92 in favor and 1 abstention) of the government's proposal to make changes and amendments to the Code on Administrative Offences. Vahe Danielyan, the Deputy Minister of Justice was in Parliament to present the government's proposal. According to the proposed changes, Article 182.3 of the Code will be amended to add a clause saying that violating the rules of free movement during the State of Emergency (SOE) will be punishable by a fine of ten times the minimum wage.
According to the existing regulations, violation of the rules of free movement or isolation/self-isolation is punishable by a fine of 100 to 250 times the minimum wage. With the proposed changes, the fine for violating the rules of free movement (more specifically the requirement that everyone who is outside should have a face mask) will decrease from 100,000-250,000 to 10,000.
Update on Number of Cases
11 a.m.
The Ministry of Health reported that 218 new cases of COVID-19 were confirmed and 145 patients have recovered, bringing the total number of confirmed cases to 5,041, of which 2,788 are active cases and 2,164 have recovered. Three patients, ages 59, 74 and 56, died, bringing the total number of deaths to 64. To date, 43,041 tests have been conducted.