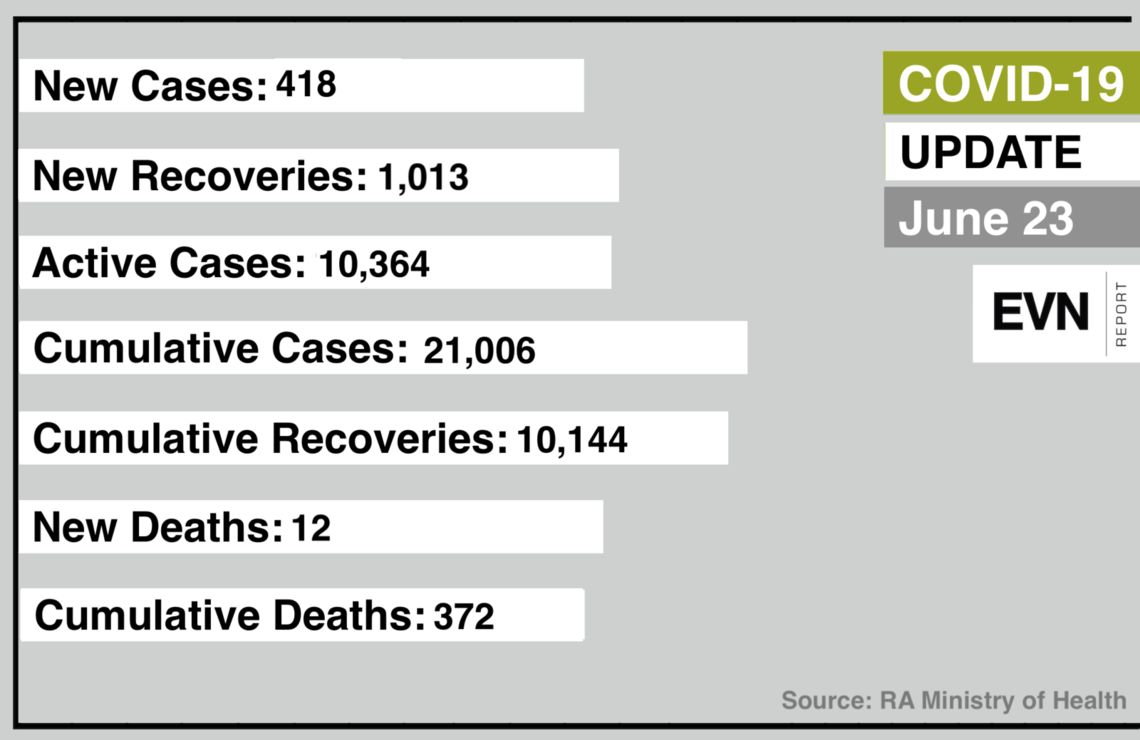 A second group of French doctors have arrived in Armenia; the first group of seven doctors arrived on June 14. The French medics are working in the intensive care units of St. Gregory the Illuminator and St. Astvatsamayr medical centers and the Scientific Center of Traumatology and Orthopaedics, all of which treat COVID-19 patients.
This was the first international medical mission to Armenia, which was made possible through the close collaboration of the High Commissioner for Diaspora Affairs Office, USAID and the Ministry of Health.The second group of medics from France is led by diaspora Armenian physician Dr. Laurent Papazian, a renowned expert in intensive care and ventilator-associated illnesses.
Earlier, the High Commissioner for Diaspora Affairs Zareh Sinanyan, Minister of Health Arsen Torosyan, US Ambassador to Armenia Lynn Tracy, French Ambassador to Armenia Jonathan Lacotte and head of the first French medical group Alexander Mignon held a press conference.
During a Facebook live, Prime Minister Nikol Pashinyan reminded that COVID-19 started spreading in Armenia in March and that during the better part of April, the country was under lockdown and restrictions on movement and economic activity were imposed. He noted that the economic decline was the most important problem that Armenia faced during the past few months (until the end of April) and over 71,470 jobs were lost due to the pandemic. The analysis of data confirmed the Government's earlier announcement that it is critical to develop a strategy on how to live alongside the virus. Pashinyan explained that if the Government directed all of its resources exclusively to the healthcare sector, Armenia would not just have experienced an economic decline but rather an economic collapse. Pashinyan went on to say that the Government's approach is justifiable because income tax remittances filed for May shows that when the Government decided to lift restrictions on movement, over 50,090 jobs were recovered. The PM said that he had a discussion with the Chairman of the State Revenue Committee (SRC) and they came to the conclusion that job recovery is an ongoing process. According to Pashinyan, this is the most important news in the past few weeks.
The registered increase in the number of jobs, however, does not mean that Armenia has overcome the economic hardships, it just means that the process of recovery has already started. Pashinyan said that Armenia still continues "to walk through hell," meaning the country is registering deaths from COVID-19 every single day. The PM noted that today's encouraging economic indicators were unexpected for him but stressed that no one can cast doubt on its accuracy because it is based on the reports filed by employers (It would have been illogical for employers to exaggerate the number of jobs and pay higher taxes). The statistics, according to Pashinyan, mean that we have to do everything to avoid a scenario when there is a need to impose restrictions and reinstate a lockdown. Such a scenario may bring down the number of confirmed cases, but it would be devastating for Armenia's economy and the country may not be able to recover from it for a decade. Pashinyan urged citizens to follow the anti-epidemic rules: wear face masks correctly, regularly wash/disinfect hands and maintain physical distance, because that is the only way to avoid another lockdown. The PM noted that the COVID-19 situation in the country still remains critical.
Speaking about the statistics presented by the SRC, Pashinyan said that they also show an increase in the volume of trade turnover. He went on to say that the Government needs to keep the current economic pace, recover what has been lost and move forward. Pashinyan also expressed hope that the remaining 20,000 jobs will be recovered during June. He said that the Government will have discussions regarding its strategy moving forward and the ways to stimulate economic activity.
***
Deputy Speaker of Parliament, Vahe Enfiajyan of Prosperous Armenia Party has tested positive for COVID-19.
In a Facebook post, Prime Minister Pashinyan wrote the following: Double, trible, quadruple vigilance. Today, we have at least been able to ensure that we no longer have patients waiting to be hospitalized. However, the ability of the healthcare system to expand capacity is not limitless.
Remember, that 15 out of every 100 infected need to be hospitalized, five of whom will inevitably end up in ICU, of whom two, unfortunately and despite all efforts, will die.
You can stop the development of this deadly statistic by wearing a mask, securing physical distancing and periodically disinfecting your hands.
The Health Ministry of Artsakh reported six new cases of COVID-19. Five of the patients and residents of the capital Stepanakert, who were all in quarantine, one patient is a contact person of a previously confirmed case form Getavan.
To date, there are 103 confirmed cases of COVID-19 in Artsakh, 65 patients have recovered, 74 people are quarantined, 1688 tests have been conducted. No COVID-19 deaths have been registered in Artsakh.
Update on Number of Cases 
The Ministry of Health reported 418 new cases of COVID-19 and 1,013 recoveries, bringing the total number of confirmed cases to 21,006, of which 10,364 are active cases and 10,144 have already recovered. Twelve COVID-19 patients (the youngest aged 53 and the oldest 89), who all had pre-existing health conditions, died bringing the total number of deaths to 372. Nine other patients with COVID-19 also died, but the virus was not the cause of death; 126 such cases have been reported. To date, 98,117 tests have been conducted, of which 1,271 were in the last 24 hours.