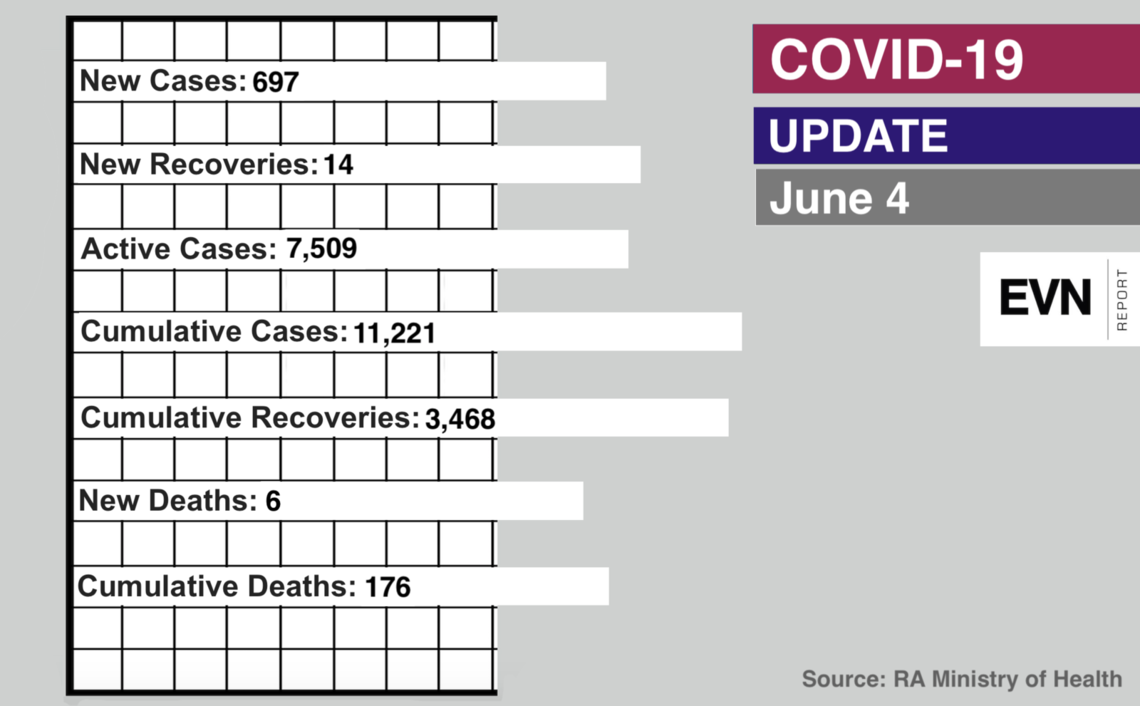 7 p.m.
Below we present the main points discussed during the daily COVID-19 briefing:
– Prime Minister Nikol Pashinyan started the daily briefing by saying that the epidemic situation in the country remains critical. Two days ago, he launched an initiative for people to share images and details of others violating the anti-epidemic regulations on social media.
– The information shared by people has helped the authorities understand the underlying reasons behind the current situation in the country.
– The PM expressed concern that the social media posts could descend into hate speech. Pashinyan condemned such behaviour.
– Society is undergoing important changes because of COVID-19; people are beginning to reassess their attitude toward compliance with the rules. Unfortunately, the change is not happening fast enough and at the expense of human lives.
– Though they tested positive, the PM and his family members do not have any symptoms and there is very little likelihood that their condition will get worse.
 Pashinyan asked Dr. Lilit Museyan, who has been working at the Artashat Medical Center, to say a few words about the challenges medical staff are facing. Below are the main points: 
– Combatting COVID-19 requires everyone's effort, not just the health system's.
– There has been an increase in patients who are in serious and critical condition.
– There is a motto, "My mask saves you and yours saves me." We are struggling for you and we are returning you to your families; she called on people to struggle so that they can return to their families.
– Beyond the Special Commission's regulations, she urged everyone to follow voluntary safety guidelines as well, for the sake of their own health and those around them.
Minister of Health Arsen Torosyan 
– Torosyan provided an update on the condition. He said there are currently 418 serious cases and 81 severely critical cases; a 33-year-old patient has died.
– No one, regardless of age, pre-existing health conditions or social status is invulnerable to infection.
– Behavioral changes are required to get the spread of the virus under control and ensure that the healthcare system can provide the necessary treatment to all those who need it.
– The Minister urged citizens to follow the three simple rules introduced by the Special Commission: wear a face mask, maintain physical distancing and disinfect/wash your hands frequently.
– Torosyan thanked all the healthcare workers for their tireless work.
– Polyclinics will be the point of triage for all patients and the Ministry is working to strengthen and expand the capacity of medical staff.
– The Health Ministry will publish a guideline tomorrow for those patients who have tested positive for COVID-19 but will not be hospitalized because they are asymptomatic, not in a high-risk group or because there is simply no more room.
– Health Minister Arsen Torosyan called on people not to self-medicate and to only follow advice from qualified doctors.
Two Kindergartens Suspended
5:30 p.m.
According to the Armenian Unified Infocenter, the activities of two kindergartens in Yerevan [N. 122 Nork Marash and N. 24 Arabkir] have been temporarily suspended due to registered violations of anti-epidemic regulations.
The N. 122 Nork Marash kindergarten has been suspended for one day. The premises will be disinfected, appropriate disinfectants will be procured and violations related to children's bedding will be corrected.
The No. 24 Arabkir kindergarten will be shut down for seven days because, in addition to not following the anti-epidemic rules, there was contact between an infected employee and a child.
11 a.m.
During the Government session, Health Minister Arsen Torosyan provided the latest update on the COVID-19 situation in the country. He said that Armenia had registered a one day record [697 new cases] over the last 24 hours. Currently, there are 391 patients in serious condition, 59 are extremely critical and 15 patients are on ventilators. Torosyan highlighted manufacturing plants as a major vector for the spread of the virus. One such plant caused a large cluster of the first cases in the country in early March. He emphasized how important it is for manufacturing plants to strictly follow all the safety guidelines to avoid a similar scenario in the future.
Speaking to hospitalization capacity, Torosyan explained that between 15 – 20% of the new reported cases require hospital care, while the rest receive treatment in their homes. He mentioned the critical need to reduce the volume of new cases in order to be able provide treatment to all the patients whose lives depend on it. He stressed that the government's course of action should be primarily directed toward this objective.
Prime Minister Nikol Pashinyan reaffirmed that the government's priority should be to ensure that the healthcare system has the capacity to treat all those in need of such treatment. He went on to say that the problem, however, is outside the healthcare system and is about ensuring that citizens follow the anti-epidemic rules and guidelines. The public monitoring efforts during the past several days have shown that crowding continues to take place. He stressed that the biggest issue is with crowding in front of banks as large groups of people wait for their turn. He had posted photos of such scenes on his Facebook Page yesterday. PM Pashinyan asked Artur Javadyan, the Governor of the Central Bank, to continue working with the banking sector to address the issue. Javadyan explained that the Central Bank has been working with the banks to ensure that physical distancing between customers is maintained, disinfectants are available and face masks are handed out to those who do not have one. He went on to say that violations were registered today in two regional branches of a bank and in one of the administrative districts of Yerevan. The banks have introduced some new measures to reduce the likelihood of crowding. Javadyan believes that the situation in the banking sector is now under control.
Hakob Arshakyan, the Minister of High-Tech Industry, provided updates regarding the situation in HayPost offices, where violations were registered. He said that, similar to the banking sector, crowding in front of HayPost outlets has been recorded and management has been instructed to address the situation. To help citizens maintain physical distancing, markings were made in front of HayPost offices. Arshakyan also said that, according to a decision by the Special Commission, pension payments and state support benefits will be distributed to citizens by the employees of HayPost. Most of these beneficiaries receive the payments in cash. Those who receive it by direct deposit in a bank account will continue to receive it that way. The Minister noted that the National Assembly is discussing new draft legislation tabled by the Ministry of Labor and Social Affairs, proposing to introduce direct deposit pension payments starting from summer of 2021.
During the session, the Government approved a proposal by the Ministry of Labor and Social Affairs to expand the list of sectors whose employees are eligible to receive state assistance as part of the eighth assistance package aimed at mitigating the consequences of COVID-19. Nine new sectors were added to the list, including textiles, wood-based production, pulp and paper, rubber and plastics, electronic and optical equipment production, computer repair, personal use and household products, etc. PM Pashinyan said that, as part of the 19 assistance packages introduced by the Government, over 100 billion AMD in assistance has already been made available to beneficiaries. He also said that assistance has already been provided to over 51,800 business entities and over 1.1 million citizens.
Update on the Number of Cases
11 a.m.
The Ministry of Health reported 697 new cases of COVID-19 and 14 recoveries, bringing the total number of confirmed cases to 11,221, of which 7,509 are active cases and 3,468 have already recovered. Six COVID-19 patients (the youngest aged 44 and the oldest 90), who all had pre-existing health conditions, died bringing the total number of deaths to 176. Nine COVID-19 patients also died but the virus was not the cause of death; 68 such cases have been reported. To date, 63,459 tests have been conducted, of which 1,809 were in the last 24 hours.
As a reminder to our readers, starting today (June 4), it is mandatory to wear masks at all times outside your home, including while walking on the sidewalk outside. The mask can be a home-made piece of cloth as long as it covers your nose and mouth.
Benefits to Be Delivered by Mail
10:30 a.m.
According to a decision by the Special Commission, starting on June 4, all pension payments and state support benefits will be distributed to citizens exclusively by employees of HayPost CJSC (the national postal service), who will be accompanied by police officers. The decision aims to ensure the safety of the elderly and beneficiaries of state support by reducing their likelihood of being infected as a result of crowding.
PM Pashinyan: Situation is Dire
9 a.m.
In a Facebook Live, PM Pashinyan said that Armenia has registered 697 new cases of COVID-19 and six deaths over the last 24 hours. This means that we are in a situation where our healthcare system can no longer provide medical care to everyone who needs it, he said.
The Prime Minister reminded the population that wearing masks everywhere is now mandatory, even outside on the sidewalk. As many of those who contract the virus do not display any symptoms (including him and his family), Pashinyan said that calculations estimate there could be an additional 20,000-25,000 Armenian residents who are currently carrying COVID-19 but do not know it. Therefore, he asked people to consider that everyone around them is positive and act accordingly.
Pashinyan said that, over the last several days, he had come to the conclusion that the best tool is "public monitoring" [he began uploading photos and videos of people defying safety regulations on his Facebook Page]. He reminded listeners that he had announced a day earlier that they are putting together an anti-epidemic public monitoring team and that we now have to start a movement to ensure we stop the transmission of the virus. He added there are three steps everyone should follow: a) properly and strictly adhere to the safety regulations; b) demand others follow the regulations; c) when you witness any violations, take pictures and upload them to your social media platforms.
State bodies and the police have already created monitoring teams to respond to the violations that have been captured and uploaded to social media platforms. He asked people to pay particular attention to banks, HayPost (post offices), stores, public transportation, government offices ["so that I can punish all state officials who are not following safety regulations"], your place of work (public or private), etc.
Pashinyan also provided an update on the government's social and economic assistance packages. He said that, to date, over 100 billion AMD has been provided to beneficiaries, including for the ninth assistance package [which was for unregistered workers]. He went on to say that 4.9 billion AMD in assistance has been provided for 186,000 children and 8.4 billion AMD in assistance was provided to 124,000 people [as part of the eighth assistance program for those who lost their jobs because of the lockdown].