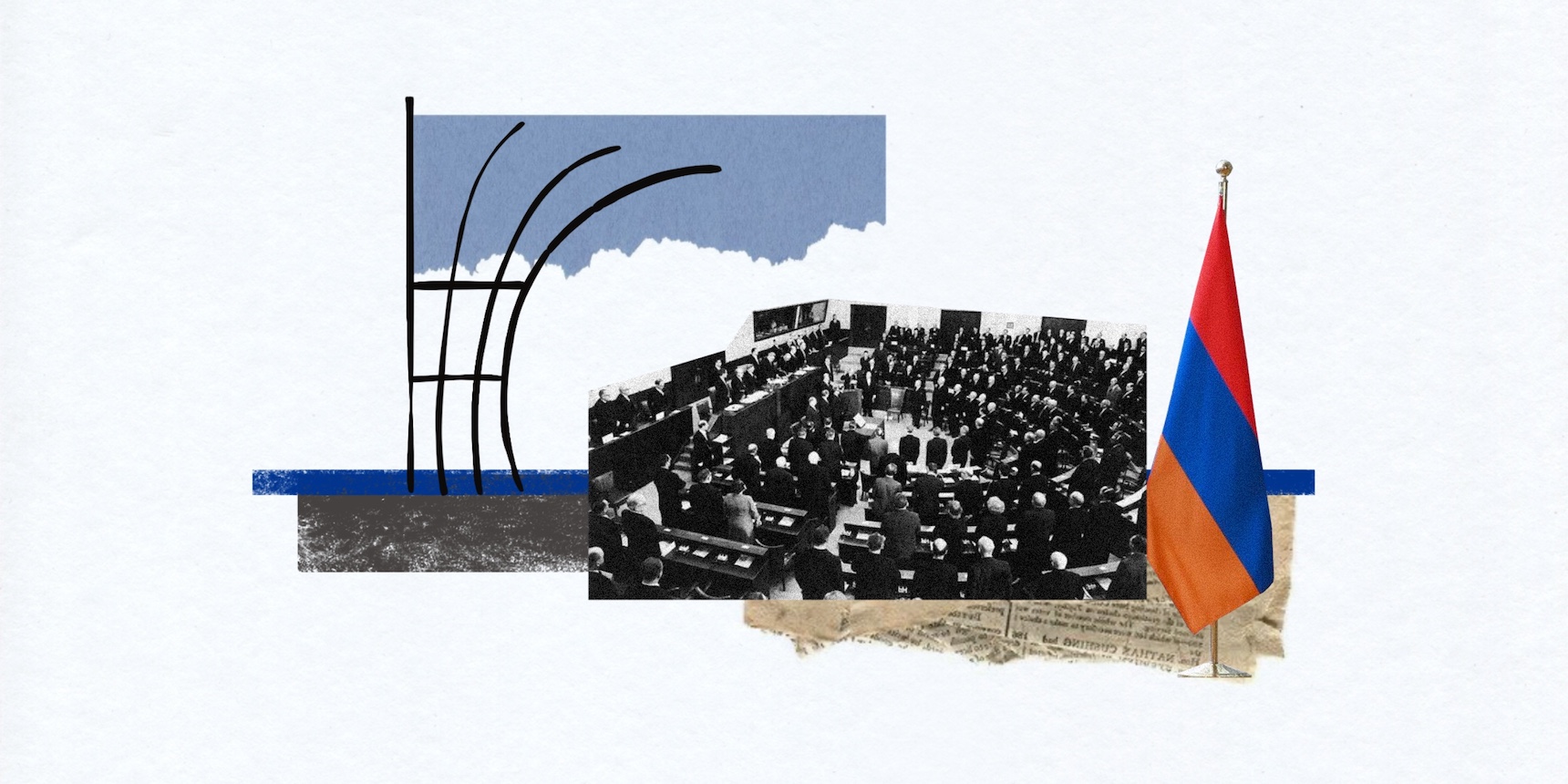 In the constantly evolving landscape of international diplomacy, a single document can often carry the weight of hope, accountability and change. Today, there are so many international organizations, judicial bodies, and committees intertwined within the realm of international relations and law. The similarity in names, like the Council of Europe and the European Council, the Parliamentary Assembly of the Council of Europe (PACE) and the European Parliament, the European Court of Human Rights (ECtHR) and the Court of Justice of the European Union, can leave people perplexed as they navigate the complex world of global affairs.
This confusion is even more pronounced in societies experiencing distress and uncertainty. The abundance  of resolutions, reports, guidelines, and rulings can be overwhelming. In the current context of Armenia, this sense of disorientation and desire for justice is particularly evident. 
The nation has often held high expectations for the various solutions put forth by international organizations. However, the international community's weak or sometimes non-existent response to Azerbaijan's devastating hostilities in 2020, its subsequent aggression against Armenia proper, and its blockade of the Lachin corridor –– all of which violate international law and the rulings of the International Court of Justice (ICJ) –– has left many Armenians feeling disillusioned. Yet, both extremes are unproductive. This article proposes a set of fundamental guiding principles in the face of imminent threats and challenges: "Stay informed, remain calm, and continue working." 
Let us take a look at the recent resolutions adopted by PACE, their substance, underlying messages, and potential. 
PACE: Tea and Resolutions
On October 12, PACE addressed the humanitarian and human rights crisis in Nagorno-Karabakh (Artsakh) by adopting Resolutions 2517 and 2260 (provisional at the time of writing) in response to the Azerbaijani military operation of September 19, 2023, and the resulting displacement of the Armenian population. 
Resolution 2517 begins by emphasizing Azerbaijan's "commitment to a peaceful settlement of the Nagorno-Karabakh conflict" (see here, para. 11). This legal standpoint highlights Azerbaijan's failure to fulfill its international obligations, as per the pacta sunt servanda principle it ascribed to when becoming a PACE member. This declaration strengthens the argument that both Azerbaijan and Armenia were bound by the Bishkek ceasefire to resolve the Nagorno-Karabakh issue solely through peaceful means. Yerevan can and should cast Azerbaijan as a state that blatantly disregards its international commitments, using this clear qualification as a powerful tool.
The resolution condemns the military operation initiated by the Azerbaijani army in Nagorno-Karabakh on September 19, 2023. While the document occasionally extends an olive branch to Azerbaijan in an attempt to strike a diplomatic balance, it leans noticeably in favor of Armenia.
Going further, the resolution employs even stronger language. It acknowledges that Azerbaijan's military operation followed a ten-month blockade of Nagorno-Karabakh, in clear violation of the provisional and interim measures mandated to Azerbaijan by both the ICJ and the ECtHR. 
The Assembly reveals a trump card in paragraph 3 of the Resolution, indicating that the chain of events –– prolonged food and supply shortages, followed swiftly by a military operation. and the subsequent opening of the corridor to Armenia for departures –– could have been strategically orchestrated. The suggestion is that this orchestration was intended to compel the civilian population to flee their ancestral homes. This aligns with the author's perspective, underlining the potential to classify the operation as containing acts of terrorism.
The statement highlights that Armenians left their homeland due to the "genuine threat of physical extinction, a long-standing policy of hatred in Azerbaijan towards Armenians and a lack of trust in their future treatment by the Azerbaijani authorities." This strong language emphasizes Azerbaijan's intent, at the highest political level, to promote hatred, discrimination, and incite genocide against Armenians, which is prohibited under international Conventions such as the Convention on the Elimination of All Forms of Racial Discrimination and the Convention on the Prevention and Punishment of the Crime of Genocide. 
The Assembly unequivocally states that Azerbaijan's ethnic cleansing practices could result in individual criminal responsibility under international law. These practices resemble specific war crimes or crimes against humanity. The Assembly strongly emphasizes Armenia's territorial integrity and sovereignty, particularly in relation to Azerbaijan's pursuit of the "Nakhichevan corridor." Lastly, Azerbaijan is urged to release all detained representatives of Nagorno-Karabakh and free all Armenian prisoners of war.
Unsurprisingly, Azerbaijan strongly condemned PACE's stance. 
In Resolution 2260, the Assembly called for the Committee of Ministers to consider initiating a complementary joint procedure in response to Azerbaijan's violation of international commitments.
So far, we have two resolutions that are strongly worded and direct. Yet, to deduce the real-life impact of these resolutions, we must understand the powers behind them. This brings us to the principle of staying informed, which this article emphasizes. We should be aware of global realities, stay calm, and avoid having unrealistic expectations of external saviors.
Stay in the Know
When you come across resolutions from the PACE, do not expect too much. Almost everything PACE does is like a child trying to wear their parents' shoes – adorable but not exactly functional. It's all under the big umbrella of the Council of Europe (not to be confused with the European Union or the European Council) which has two main statutory bodies: the parliamentary wing – PACE, and the Committee of Ministers. The Committee of Ministers may sound fancy, but it's just a gathering of foreign ministers from member states. 
PACE serves as the Council's 'deliberative organ'. It consists of 324 parliamentarians handpicked from their national parliaments of the 46 member states. In PACE, they engage in discussions on various important topics such as human rights, democracy, and the rule of law. Additionally, they occasionally demonstrate their diplomatic influence and draft resolutions to make their point. Although they do not enact legislation like a traditional parliament, they certainly have a voice in matters. Ultimately, the influence and authority of PACE depend on the powers granted in the Council itself.
Council: Not the One You Thought Of
The Council does have some solid accomplishments under its belt. And the star of the show is the ECtHR, the most famous organ of the Council, which operates under the European Convention on Human Rights (ECHR). 
To spoil the picture a bit, the Council had its very own scandal often referred to as "caviar diplomacy." Azerbaijan developed a rather charming custom of hosting foreign politicians and international organization staff at lavish conferences in Baku, complete with extravagant gifts like rugs and, of course, caviar. In 2018, a substantial 219-page report was unveiled, which explicitly criticized the former Parliamentary Assembly president, Pedro Agramunt, hinting at his involvement in "corruptive activities." This controversy eventually led to his resignation in 2017 under the mounting pressure.
These revelations do not necessarily spell doom for the organization. Instead, this article highlights that in real-world politics, things can become complicated, particularly concerning Azerbaijan's tactics. Armenia should capitalize on this momentum to strengthen its policies, designed to secure its self-preservation and advancement.
Here is the kicker: while the Council might sound authoritative, it is not a state, and its Committee of Ministers is not really a government. Yet, PACE still has some influence over its member states through their foreign ministers. The parliamentarians can have informal conversations with their minister colleagues and say, "Hey, why not drop a hint to your governments?" It's a bit like a game of broken telephone with a twist. And in this whisper game, there is an opportunity to persuade a group of states to adopt more pro-Armenian stances in their temporary foreign policies and diplomatic dealings. This brings us to the "stay calm" approach that is being advocated for in this article.
Keep Your Cool
This article is not intended to be a secret manual on diplomacy. Its purpose is to explain what resolutions can and cannot accomplish. Importantly, resolutions cannot magically impose sanctions on Azerbaijan or provide Armenia with complete protection. So, let us manage those high expectations. Not because the world is full of deceitful troublemakers, but because that is just the way things work out sometimes. If we want genuine support, we must roll up those sleeves and present a convincing case. It is like asking someone to join in on your ambitious plans: you have to make it sound compelling. 
To illustrate an extreme scenario, consider the possibility of Azerbaijan being suspended or excluded from the Council and aligning with Russia, another "champion" of human rights. Let's be clear, right now, it is all just a wild hypothetical scenario. While the immediate impact may not be significant one notable consequence would be the potential denial of Azerbaijani citizens and those under its extraterritorial jurisdiction the ability to bring cases before the ECHR. Not that this would break Azerbaijan's heart. 
Nevertheless, Article 58 of the ECHR will preserve the Court's jurisdiction over Azerbaijan for breaches that occurred prior to its exclusion or withdrawal from the Convention. This provision holds significance for many Armenian citizens and their families who have suffered from Azerbaijani aggression on Armenian soil but under Azerbaijani effective control (see here, at para. 695), as was the case in September 2022, for instance. 
Whether Azerbaijan chooses to comply with the Council of Europe framework remains a decision for the policymakers in that country. As Louis Henkin observed, "Usually a nation deliberately violates a norm or agreement because it expects that the advantages of violation will outweigh its costs." (see here, at 66). It appears this was the case regarding the violations reflected in these resolutions, where the advantages of violating norms outweighed the costs. Be that as it may, the remainder of this article focuses on the "keep working" narrative. 
Keep That Shoulder to the Wheel
The first step to finding a solution is recognizing the reality of the problem. Our current situation is a complex crisis that cannot be ignored or downplayed. However, reacting impulsively, spreading misinformation, and becoming emotionally charged are equally harmful.
Addressing such a situation requires planning that emphasizes individual and collective accountability. The government should be transparent about its direction, policies, and mistakes. We need to engage in thorough self-evaluation, avoiding overconfidence and underestimating potential challenges. Any changes or reforms should be well-structured, adaptable, and followed through to completion. While it is important to embrace foreign practices, they should be tailored to fit our unique Armenian context.
While it is important to have a strong sense of national identity, it should not be conflated with a narrow, exclusionary nationalism. Embracing ideas of exclusivity or superiority will only impede genuine progress and the development of realistic goals. To ensure that we stay on course, it is crucial to maintain resilience, establish clear benchmarks, and regularly evaluate our progress. By adopting a global perspective and rejecting insular thinking, we can continuously strategize and evolve. This mindset applies to both individuals and nations.
This outlook is the opposite of fatalism. It demonstrates a proactive and determined approach, acknowledging challenges while actively seeking solutions and improvements. Of course, putting this into practice is always easier said than done. Nevertheless, we must not wait for the storm to pass, but rather mend the sail while navigating through both turbulent and calm seas.

Azerbaijan, emboldened by impunity, is aggressively pursuing an irredentist foreign policy, now targeting Armenia proper. Yerevan must swiftly undertake measures and adopt a robust and unequivocal legal strategy to safeguard its sovereignty and deter further acts of aggression.
Read more

The collapse of Artsakh is the failure of preventive diplomacy, the end of the human-rights-based liberal world governance system and can embolden other autocratic states to use force against small entities claiming self-determination to subjugate or eliminate them in other parts of the world.
Read more

In the absence of political will to exert pressure on Baku to accept necessary preconditions for the security and fundamental rights of Nagorno-Karabakh Armenians, any calls for their return will only serve to legitimize and whitewash the ethnic cleansing that Azerbaijan carried out.
Read more

With the collapse of Artsakh, will the EU further enable Baku's irredentist agenda to seize Armenian territory as part of the opening of the "Zangezur Corridor" or will Brussels show the same initiative to sanction and deter Azerbaijan that it deployed in response to Russia's aggression in Ukraine?
Read more

While some welcomed Armenia's ratification of the Rome Statute of the International Criminal Court, a cohort of skeptics remain opposed to the idea. Sheila Paylan addresses the most relevant concerns.
Read more