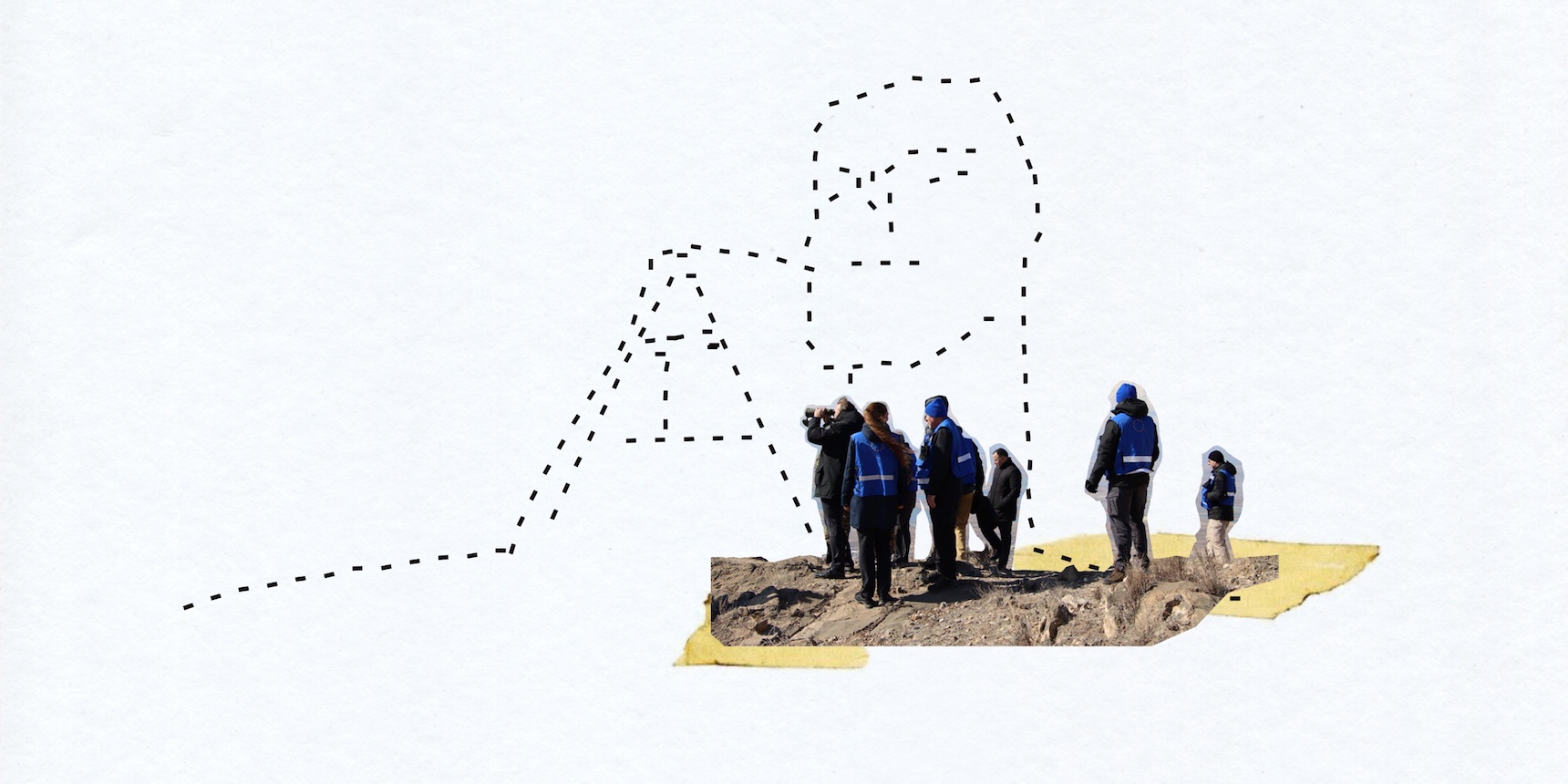 "You see from the hill there, there is a position, they are shooting at us, to our cars probably… Now we are here in the trenches, waiting for the next information – if we can move back to our cars."
From inside a bunker, a blurred figure gestured towards the hills near Verin Shorzha. After months of patrolling the internationally recognized border of Armenia and Azerbaijan, the European Union Mission in Armenia (EUMA) came under small arms fire from Azerbaijani forces. This incident, along with multiple reports of recent ceasefire violations by the Azerbaijani military, open signaling of Baku's intent to launch a military operation, and the ongoing blockade of Artsakh, should have been enough to compel Brussels to take action and deter Azerbaijan's increasingly brazen displays of aggression. 
Weeks later, the Azerbaijani military launched an "anti-terrorist operation" against the civilian population of Artsakh. This has resulted in the forced displacement and ethnic cleansing of Artsakh's Armenian population, creating a refugee crisis that requires immediate attention from the Armenian government. Additionally, recent statements from Azerbaijan President Aliyev have raised concerns about future military actions against Armenia's southern Syunik region. 
The Russian peacekeeping presence Nagorno-Karabakh has done nothing in response to Azerbaijan's military campaign in Artsakh and Moscow has abandoned any pretense of being even a nominal ally of Armenia. The future of Armenia and the South Caucasus has never felt so uncertain, and yet the European Union's inaction has never felt more conspicuous.
The establishment of the European Union Monitoring Capacity to Armenia in the fall of 2022 was one of Brussels' largest foreign policy initiatives aimed at promoting security and stability in the South Caucasus. However, EUMCAP's successor EUMA now risks repeating the inaction and indecision seen by European observers during the darkest hours of the Yugoslav wars. Given the potential for future Azerbaijani aggression against Syunik and eastern territories of Armenia, it is crucial for the European Union to translate its diplomatic and political support for Armenia into concrete actions. 
Europe After 2020
The 2020 Artsakh War had exposed the European Union's limited ability to respond to an active crisis in the South Caucasus and highlighted the weaknesses of Brussels' glacial pace in decision making. By the time the November 9 trilateral agreement was signed and Russian peacekeepers had entered the territory of the Republic of Artsakh, the European Union had only managed to reiterate its earlier calls for a mutual ceasefire. Coupled with the EU's paralysis was a sense of disinterest and distraction within Washington. President Trump's COVID diagnosis on October 2 paralyzed the decision-making process of an administration already grappling with an underdeveloped diplomatic approach towards the South Caucasus. 
Outside observers approached the November 9 agreement with cautious optimism and some were fixated on the potential usage of that agreement as a tool for normalization of Armenia's borders with Azerbaijan and Turkey. Similar to the United States, the European Union grounded its response in expectations of a mutual ceasefire and sustainable peace. Any hopes of the November 9 agreement providing a meaningful, lasting peace had evaporated by the summer of 2021. Armed attacks against the territory of Armenia by the Azerbaijani military during the summer of 2021 shattered any expectations of a sustainable border normalization process in the near future. References to the establishment of a corridor between Azerbaijan and its exclave of Nakhchivan listed in the November 9 agreement was appropriated for renewed irredentist claims by Baku against Syunik region. 
September 2022

September 2022 serves as a useful point of reference for understanding the state of Eurasian security prior to the deployment of EUMA. On September 6, 2022, the Ukrainian military launched a counter-offensive in Kharkiv oblast using equipment provided by Kyiv's western allies and tactics borrowed from the United States. This successful campaign resulted in the Ukrainian military reclaiming almost the entirety of Kharkiv oblast, followed by a secondary offensive in Kherson oblast. In response to the loss of these territories and the routing of Russian forces, Moscow declared a partial mobilization on September 21, 2022. Since then, for nearly a year, the line of contact between Russian and Ukrainian forces has remained static. The Ukrainian military has continued its push into Zaporizhzhia oblast, while Russian forces have made incremental gains in Donetsk.
Six days after the start of Ukraine's Kharkiv offensive, the Azerbaijani military launched its largest attack on Armenia since the 2020 War. From September 12-14, 2023, the Azerbaijani military struck targets within the territory of Armenia, citing "provocations" from Armenian forces and the mining of positions near Azerbaijani military supply lines. This offensive came days after Baku's rejection of a normalization agreement with Armenia brokered by Russia. Unlike previous ceasefire violations or cross-border shelling, this offensive included the seizure of Armenian territory by the Azerbaijani military. Most troubling of all, was the torture, murder, and mutilation of an Armenian servicewoman and mass-execution of six Armenian POWs by the Azerbaijani military. Footage of these murders was voluntarily shared by the perpetrators and disseminated through Azerbaijani telegram networks. The resumption of large-scale attacks on Armenian territory, coupled with the cruelty displayed by the Azerbaijani military toward Armenian POWs cast a shadow over the future of Artsakh's already precarious safety and security. Three months later, Azerbaijan began its blockade of the Lachin Corridor. 
On September 14, 2023 fighting also resumed along disputed areas of the Kyrgyzstan-Tajikistan border. Tajik forces had reportedly opened fire on Kyrgyz positions after advancing into a non-demarcated section of the Kyrgyz-Tajik border. The subsequent escalation of fighting between Bishkek and Dushanbe would last four days and included usage of Bayraktar drone-strikes against civilian populated areas and the widespread targeting of ambulances and non-combatants, leading to an estimated 37 civilian deaths.
While these three conflicts are separated by different historical contexts and regional dynamics, we should consider how the combination of the erosion of Russian power in Central Asia and the South Caucasus and increased cooperation between autocracies rekindled Eurasia's long-standing conflicts. Having already deployed the militaries of Abkhazia and South Ossetia alongside its invasion force during the opening weeks of the invasion, Moscow increasingly drew upon military assets and manpower from its deployments in Central Asia and Syria to bolster its offensive in eastern Ukraine. That need for manpower and material made the prospect of Russian intervention in defense of Armenia or Artsakh even more unlikely than before. Additionally, the broad "Declaration of allied interaction between the Republic of Azerbaijan and the Russian Federation" signed two days prior to the invasion of Ukraine could be interpreted as a signal of Baku's tacit approval of Russia's coming invasion. In response, Russia gradually prioritized its bilateral ties with Azerbaijan over its status as either a neutral party in the Karabakh conflict or guarantor of Armenian security. Between the resumption of armed conflict against the territory of Armenia, drastic reshuffling of Eurasia's security balance, and Moscow's abandonment of its nominal neutrality in the Nagorno-Karabakh conflict, a rare opportunity was presented to Brussels to launch what would eventually be known as the EU Mission in Armenia. 
Scope and Vision
The first iteration of what would come to be known as the EU Mission in Armenia can be traced back to France's tenure as president of the Council of the European Union. As shown in the documentary "A President, Europe, and War", Macron's tenure as EU president involved the rapid political mobilization of the European Union following Russia's invasion of Ukraine in early 2022. One of the initiatives associated with this period was the creation of the "European Political Community" (EPC). The EPC is a multilateral grouping envisioned as a means of coordinating a wider European response to Russia's invasion of Ukraine. Its membership was similar to that of the Council of Europe with the noted exclusion of Belarus and Russia and inclusion of Kosovo. 
The inaugural meeting of the EPC was held in Prague on October 6, 2022. The summit primarily focused on the ongoing war in Ukraine and the anticipated shut-off of Russian energy delivery to Europe. Within the context of discussions on "peace and security," a quadrilateral meeting took place between Azerbaijani President Aliyev, French President Macron, Armenian Prime Minister Pashinyan, and European Commission President Charles Michel. The initial statement issued after the meeting stated that Aliyev and Pashinyan agreed to the deployment of a civilian mission along the borders of Armenia and Azerbaijan. This mission would be known as the "European Union Monitoring Capacity to Armenia" (EUMCAP). While the deployment was overseen by the European Union and operated as a neutral monitoring mission, Armenia was considered to be the facilitator of the operation. This meant that patrols and observation activities along the Armenian-Azerbaijani border would take place on Armenian territory. Additionally, explicit reference was made to the mission's two month limit in the initial announcement. During a meeting in Moscow on October 14, 2022, Azerbaijani President Aliyev stated that he rejected the possibility of the observation mission being deployed on the Azerbaijani side of the border and insinuated that the size of EUMCAP's staff was larger than initially agreed upon.
EUMCAP is similar to the earlier EU Monitoring Mission in Georgia (EUMM Georgia) in many ways. Both deployments involved unarmed observers with law enforcement backgrounds conducting regular patrols along potential flashpoints and reporting any instances of ceasefire violations to their host country and Brussels. Additionally, EUMCAP was technically established as an extension of EUMM Georgia and required the transfer of 50 staff members from Abkhazia and South Ossetia to the Armenian-Azerbaijani border.
However, these missions are separated by the different treaty texts they are tethered to and the potential flashpoints they are expected to patrol. The EU Monitoring Mission to Georgia was specifically created as a means of enforcing the six-point peace plan brokered by French President Sarkozy at the end of the 2008 Russo-Georgian War. Beyond recording possible ceasefire violations to ensure compliance with points one and two of the six-point plan ("No recourse to use violence between the protagonists" and "cessation of hostilities"), EUMM Georgia is also tasked with ensuring point four –– "granting access to humanitarian aid". While EUMM Georgia's mandate allows for interpretation in enforcement of this peace plan, this typically involves organizing capacity building projects and facilitating the normalization of relations between Tbilisi and the separatist governments of Abkhazia and South Ossetia. In contrast, EUMCAP was not established as part of a specific treaty agreement or normalization process. Although the 1991 Alma Ata Declaration is referred to as a guiding principle for border delimitation between Armenia and Azerbaijan, EUMCAP and its successor are not considered enforcement mechanisms for this treaty. Instead, it is expected that future border delimitation will be conducted bilaterally between Armenia and Azerbaijan, with mediation from the European Union. EUMCAP's role in this process is to document and report ceasefire violations and other armed actions along the Armenian-Azerbaijani border.
Additionally, EUMCAP and EUMM Georgia observe different types of conflicts. EUMM Georgia approaches the aftermath of the 2008 Russo-Georgian war with the perspective that both Abkhazia and South Ossetia are constituent territories within Georgia. Consequently, EUMM Georgia's efforts aim to facilitate the limited resumption of movement of people and goods between these territories and the rest of Georgia, even though such movement was minimal prior to 2008. While Russia's ongoing "borderization" of Abkhazia and South Ossetia has restricted European monitors' access to the territories, this framing allows for more flexibility in normalization and capacity building projects. For example, EUMM Georgia facilitates the transfer of water from the Zonkari reservoir across the boundary of South Ossetia during droughts in the Tiriponi canal. Additionally, they investigate unlawful arrests and kidnappings across the boundaries of separatist-held areas. 
In contrast, EUMCAP and its successor monitor an internationally recognized border between two states that have been in conflict for over 30 years. Unlike Georgia, Azbkazhia, and South Ossetia, there is no recent pattern of Armenian-Azerbaijani international traffic that can be restored by EUMCAP. The only cross-border traffic that would have occurred over the past 30 years would have been travel from Armenia to Artsakh via the Lachin Corridor. 
On December 19, 2022, EUMCAP completed its original mandate. Rather than dissolving the mission, it was instead announced that the deployment would be expanded into a "transitional team" as part of the groundwork for a future long-term deployment in Armenia. On December 27, 2022, Armenian Minister of Foreign Affairs Miroyan invited the European Union to deploy a long-term civilian CSDP mission to Armenia in a letter delivered to High Representative Borrel. On January 23, High Representative Borrel announced the deployment of a long-term observation civilian mission to Armenia to "bring stability to border areas". Almost immediately, a popular Russian military blogger telegram channel speculated that the mission was a part of a larger plan to close the 102nd military base in Gyumri and replace the Russian military presence with a 2,000 person observation mission. On February 20, 2023, EUMA was formally launched. Unlike EUMCAP's two-month operation, EUMA's deployment did not require Azerbaijani approval. The mission was given a longer two-year mandate with mandatory review at the one-year mark.
Shortly after the mission was launched, a joint press conference was held between Russian Foreign Minister Sergei Lavrov and Azerbaijani Foreign Minister Jeyhun Bayramov. During the conference both governments criticized the decision to deploy the monitoring mission. Bayramov stated that Armenia's approach to negotiations with Azerbaijan had become "more destructive" following the deployment of EUMCAP. He also claimed that the previous EU monitoring mission had "failed to achieve its goals".
Despite operating as an unarmed civilian mission, EUMCAP and its successor EUMA did provide a limited form of security to Armenia's eastern borders. The deployment of EUMCAP led to an overall decrease in kinetic activity along the Armenian-Azerbaijani border following Azerbaijan's offensive in summer 2022. Beyond granting Brussels greater insight into developments along the Armenia-Azerbaijan border, the presence of EU nationals near the line of contact also presented a risk of collateral damage and could deter the usage of large-caliber artillery or indiscriminate shelling along the line of contact. As of September 3, 2023, EUMA was conducting regular patrols with less than 90 of its planned 103 staff members and relocated to its operational headquarters in Yeghegnadzor on September 19.
Atlantic Dimensions
On July 19, 2023, the acceptance of a "third state" contribution to the EUMA was published on EurLex from the Political and Security Committee of the European Union. Canada would be joining the Armenian-Azerbaijani border observation as a full member of EUMA. Local Armenian outlet Masis Post provided first coverage of the announcement, citing a statement from the Armenian Ministry of Foreign Affairs welcoming Canada's contribution. According to a source close to EurasiaNet, Canada's corps of observers would be drawn from the Royal Canadian Mounted Police.
Nearly every EU CSDP mission features a clause describing the possibility of third party participation with approval from the EU. Historically, this has allowed EU candidates and associates to participate in EU CSDP missions abroad. This has led to Turkey's participation in the EU Mission in Congo, Norway's inclusion in the EU's military assistance program in Ukraine, and the participation of EU candidates Albania, Serbia, and Bosnia in missions in Mali, Mozambique, and the Central African Republic. Participation from a country which is neither an EU candidate nor EU association is uncommon. In 2015, South Korea and Columbia were accepted as third party contributors to Operation Atalanta, the European Union's anti-piracy mission off the coast of Somalia. 
Ottawa's decision to join EUMA is likely part of Canada's wider push for diplomatic engagement with Armenia in the aftermath of the 2020 Artsakh War. The opening of a Canadian embassy in Yerevan and the appointment of Canada's first resident ambassador in 2023 represent major milestones in this process. Additionally, the physical presence of Canadian monitors along the Armenia-Azerbaijan border may have been envisioned as a possible concession to Yerevan in the event that sanctions targeting arms exports are lifted in order to secure Turkey's approval of Swedish NATO membership. Moreover, it's also possible that Canada's participation in EUMA is part of a wider strategy of gaining visibility along the Armenia-Azerbaijan border by the transatlantic community. Unlike other participants in EUMA, Canada is part of the "Five Eyes" intelligence sharing consortium. It regularly exchanges information on foreign threats with its partners in Australia, New Zealand, the United Kingdom, and the United States. While it may be unrealistic to expect that Canada or the Canadian members of EUMA to directly represent American or British interests, it is important to acknowledge that there is a high likelihood of information being shared on ceasefire violations along the Armenian border and the movement of Azerbaijani troops and equipment with the EU's partners in London and Washington. 
Canada's engagement with Armenia elicited an overwhelmingly negative response from Azerbaijani political commentators. A statement from the "Western Azerbaijan Community" in August demanded that Canada refrain from interfering with the "internal affairs" of Azerbaijan. An op-ed published on Caliber.az titled "Country of the Maple Leaf vs. Country of Fire" suggests that Canada's diplomatic engagement with Armenia, suspension of arms sales to Turkey, and condemnation of Ankara's invasion of Northern Syria are all evidence of an anti-Turkic bias from Ottawa. Azerbaijani commentators have repeatedly drawn attention to the supposed incongruencies between Canada's support for Artsakh's self-determination and Ottawa's rejection of Quebecois independence. 
Under Fire
Although diplomatic language like "energy partner" and "strategic partnership" has been used to describe the bilateral relationship between Azerbaijan and the European Union, Baku has become more outspoken in its opposition towards the presence of an EU observation mission in Armenia. This hostility has gone beyond mere commentary and opinion pieces, and has led to direct threats against EU officials and attacks on EU observers. 
From June 19-22, 2023, members of the European Parliament's Security and Defense Subcommittee traveled to Armenia and took part in a field-visit to the Armenia-Azerbaijan border facilitated by EUMA. On June 22, 2023, Armenian Ministry of Foreign Affairs spokesperson Ani Badalyan shared a statement from MEP Nathalie Loiseu calling for the withdrawal of Azerbaijani troops from the Armenian border and the end of the blockade of the Lachin corridor. An individual posing as a Ukrainian woman in Azerbaijan shared an image published from the trip and commented that the delegation was two kilometers from the border. In response, head of Azerbaijan's mission to the EU Vaqif Sadiqov shared an image of an Azerbaijani IST-14.5 anti-material sniper rifle and reassured social media users that the delegation was well within its three-kilometer range.
Just two months later, at 2:57 p.m. on August 15, 2023, the Armenian Ministry of Defense reported that a EUMA patrol had come under small arms fire from Azerbaijani forces during a routine patrol. This was followed by a statement from Armenian MoD spokesman Torosyan confirming the incident while reporting no casualties. The Azerbaijani Ministry of Defense denied the report, labeling the statement as "misinformation" and claimed that the event was impossible as the Azerbaijani military is aware of the time and location of EUMA patrols. EUMA released a now-deleted statement at 3:56 p.m. claiming that no EUMA patrol "was the target of shooting". This tweet featured a screenshot of Torosyan's initial statement with a large "FALSE" label over it. At 4:32 p.m., Telegram channel "Armenian Military Portal" shared a video from Verin Shorza wherein an EUMA observer describes coming under fire from Azerbaijani positions. At 4:56 p.m., EUMA released a revised statement claiming that a patrol "has been present to the shooting incident" and that no EUMA member was harmed. 
The initial mislabeling of Torosyan's statement and the inability to either name Azerbaijan as being the perpetrator of the shooting or directly confirming that a EUMA patrol came under fire was a major blunder by the EU mission, particularly as these events occurred right before a UN Security Council briefing on the blockade of the Lachin Corridor. Two days later, Report.az cited EU Foreign Affairs and Security Policy spokesman Peter Stano's claim that EUMA recorded "four to five" shots near the patrol and did not feel targeted, but nonetheless left the area as a precaution. This quote is presented as evidence of the European Union "exposing disinformation" from the Armenian Ministry of Defense. According to an article published by RFE/RL on September 4, the press officer for the EU mission claims that the shooting took place "about a kilometer" from the EUMA patrol and that the EUMA patrol "did not feel targeted". Although monitors are reportedly witness to occasional shooting, head of EUMA mission Markus Ritter claims, "we have never been threatened so far".
The aftermath of the shooting near Verin Shorza on August 15 is a public communications failure by both EUMA and the European Union. According to an account of an EUMA observer present at Verin Shorza, patrol members felt the need to shelter in a bunker after because they were directly under fire or in close proximity to a target. While the Armenian Ministry of Defense may have exaggerated the targeting of the patrol, EUMA's initial denial portrayed Torosyan and the Armenian Ministry of Defense as fabricating the incident entirely. While the revised statement confirmed the shooting, the vague phrasing and subsequent "clarification" from Peter Stano failed to effectively convey the details of the incident. This ambiguity allowed Azerbaijan to dismiss the entire incident as "misinformation", and Brussels' subsequent silence further reinforced this claim. The inability of the European Commission and EUMA's public relations manager to coordinate a uniform and consistent statement regarding the events of August 15 with the Armenian Ministry of Defense raises concerns about the effectiveness of the mission's public messaging in the event of an attack by Azerbaijan. 
Overextended, Uninterested?
According to independent Russian media outlet Meduza, Moscow instructed government officials and state affiliated media to shift blame for the fall of Artsakh toward Armenia and its western partners. Statements from Russian Ministry of Foreign Affairs spokeswoman Maria Zakharova have consistently aligned with this strategy. On the day of the "anti-terrorist operation", Zakharova listed the quadrilateral meeting on the sidelines of the October 6 EPC meeting in Prague as a violation of the peace process which was supposedly established during three earlier trilateral meetings between Armenia, Azerbaijan and Russia. Furthermore, Paris and Brussels are accused of "pushing" Armenia into accepting Azerbaijan's claim over Nagorno-Karabakh. This accusation specifically refers to the mutual affirmation of Armenian and Azerbaijani territorial integrity outlined in the Alma Ata Declaration, which was reaffirmed by both Baku and Yerevan as part of the creation of EUMCAP/EUMA. 
While these sentiments became widespread in Russian media after the fall of Artsakh, a closer examination of one of the largest Russian language media networks covering the war in Ukraine would suggest that there was a secondary narrative regarding western overreach in Armenia. One of the largest media projects to emerge since the Russian invasion of Ukraine has been the "think tank" and media network Rybar (Рыбарь). Since its founding in 2018, Rybar has received monetary support and editorials from members of RIA Novosti's "Federal News Agency" and Yevgeny Prigozhin's Patriot Media Group. In February 2022, Rybar joined a wider network of military bloggers and commentators in acting as an informal mouthpiece for the Russian military's ongoing invasion of Ukraine. With over 1 million subscribers on Telegram, Rybar is one of the most popular Russian sources of information related to the war in Ukraine outside of legacy Russian media. Although the operators of the collective remain anonymous, IT specialist Denis Shchukin and former Russian MoD press service member Mikhail Zvinchuk have claimed ownership of the channel. Like the Washington-based Institute for Study of War, Rybar regularly publishes maps covering theater-wide military operations and tactical developments along the line of contact in Ukraine. Rybar has also produced maps of developments in Nagorno-Karabakh as well as Russian operations in Syria and Africa.
On June 7, 2023 a map was posted on Rybar's VK page and Telegram channel titled "Expansion of the European Union into Armenia". The territory of the Republic of Armenia is shaded blue with small hexagonal symbols (erroneously labeled "UN Mission") marking the EUMA monitoring posts in Goris, Jermuk and Martuni. The author claims that European Union monitors have reported no ceasefire violations along the line of contact as they only arrive after incidents of shooting. According to the author, the primary objective of the EU monitoring mission in Armenia is not to observe the Armenia-Azerbaijan border. Instead, it is claimed that the mission focuses on monitoring Russian forces in Syunik and Iranians along Armenia's southern border. Additionally, the planned observation post in Kapan, marked with a lighter shade hexagonal symbol, is said to be intended for surveillance of the Iranian consulate and a future Russian consulate in the region. An updated copy of the map was posted on August 2, 2023. In addition to correcting the previous legend listing "UN Mission" to "EU Observation Mission," this map featured new markings showing EUMA's deployment to Kapan and planned positions in Ijevan and Yeghegnadzor. A week prior to Azerbaijan's attack against Artsakh, Rybar shared another updated copy of its "Expansion of the European Union in Armenia" map. A week before Azerbaijan's attack on Artsakh, Rybar shared another updated copy of its "Expansion of the European Union in Armenia" map. The author states that the observation mission in Ijevan will not be effective in preventing the upcoming conflict in the South Caucasus. The author also speculates that this deployment is meant to monitor Iranian and Russian diplomats and military posts, rather than solely observe the border.
Rybar's portrayal of EUMA presents an interesting contrast to the rhetoric expressed by Zakharova and the Russian Ministry of Foreign Affairs. Moscow has attributed the fall of Artsakh as being the result of Armenia's rejection of Russian-mediated trilateral peace talks, citing outside intervention from the European Union. According to this perspective, "Brussels and Paris" aim to undermine Russian interests in the region by offering Armenia an alternative security guarantee via EUMA, thus undermining a Russian-brokered peace agreement in Karabakh. This is despite Azerbaijan's previous rejection of any negotiated settlement with Armenia in August 2022. 
In comparison, Rybar considers EUMA and the European Union as a whole to be disinterested in Armenian national security, focusing instead on surveillance and information gathering on Iranian and Russian entities. The separation of Rybar's maps into the series "Expansion of the European Union into Armenia" and "Armenia-Azerbaijan Conflict Zone" suggests that the authors may not see a direct link between the activities and deployment of EUMA and the status and security of Artsakh.
Action After Inaction
As of October 3, virtually all of Artsakh's population has been displaced and relocated to Armenia. The Republic of Artsakh is set to be dissolved on January 1, 2024. The Nagorno-Karabakh conflict has come to an end. Now, the only question that remains is whether the EU will further enable Baku's irredentist agenda to seize Armenian territory as part of the opening of the "Zangezur Corridor", or if Brussels will show the same initiative to sanction and deter Azerbaijan that it deployed in response to Russia's aggression in Ukraine. 
Brussels has the option of expanding its current civilian observation mission into a more comprehensive deployment within the CSDP. A long-term deployment of individuals with law enforcement and military backgrounds with a mandate similar to that of "Operation Althea" in Bosnia may provide a serious, lasting deterrent to Azerbaijan's aggression against Armenia. Given that Operation Althea was focused on ensuring the full implementation of the Dayton Agreement, this mission could be based on enforcing the 1991 Alma Ata Declaration or upholding a future normalization agreement. The upcoming review of the mission may be an opportunity for the European Union to expand upon EUMA's original mandate. If nothing else, at least increasing the frequency of EUMA's patrols or expanding the headcount of the mission should be considered by Brussels as a means of deterring further aggression by the Azerbaijani military. 
The EU has the opportunity to leverage its economic might and existing legal framework in response to Azerbaijani's aggression. If deploying a military or more complex civilian mission is not possible, Brussels must issue a clear ultimatum that further encroachment on Armenia's internationally recognized territory will not be tolerated. The same measures used to sanction Russia should be applied to Azerbaijan. There is no reason to believe that sanctioning the leadership or assets of an entity like SOCAR would be more challenging than Gazprom, or that implementing sanctions similar to the Magnitsky Act targeting specific individuals within Aliyev's government would be any less difficult than those targeting Putin's closest associates.
Finally, it is crucial that the EU reconsiders its energy trade with Azerbaijan. Armenian activists and political commentators have long called for consistency between the EU's willingness to sanction the Russian Federation for its aggression against its neighbors and Brussels' willingness to import energy from Azerbaijan. What is unique about this particular moment, however, is that Azerbaijan has abandoned the pretense of being even a nominal ally of Brussels. Moreover, the EU has already shown itself capable of committing to drastic overhauls in its energy policy as part of a larger crisis response. 
The notion that Azerbaijan is an indispensable part of Europe's energy network is entirely misplaced and serves to enable Baku's continued aggression against Armenia. In 2021, Azerbaijan exported 8.1 billion cubic centimeters of natural gas to the EU. This figure represents 2% of the 397 billion cubic meters of gas consumed in Europe in 2021. The amount of natural gas delivered by Azerbaijan to Europe later increased to 11.4 billion cubic meters in 2022. This figure represents 3% of the 343 billion cubic centimeters of natural gas consumed by the EU in 2022. This 1% increase required a 38% increase in total Azerbaijani natural gas exported to the EU during a year where overall energy consumption was lower, suppliers outside of Russia were in high demand, and 1 billion cubic meters of natural gas was supplied to Azerbaijan by Gazprom. Despite composing a small single-digit percentage of the EU's natural gas import, the European Union was the destination of 42% of all natural gas exported by Azerbaijan in 2021. 
To put these figures in context: if the recent Memorandum of Understanding on natural gas delivery between Azerbaijan and the European Union is fully implemented, by 2027 Azerbaijan will export the same amount of natural gas annually to the European Union that the United States has delivered via LNG terminals between March and July of 2022. This is assuming that the outstanding issues with Azerbaijan's current energy delivery network are resolved and the physical infrastructure needed to deliver this natural gas is constructed. After successfully committing to a drastic pivot away from Russian gas despite decades-worth of momentum in the energy trade and a delivery network dating to the Soviet period, why should the European Union feel beholden to Azerbaijan's phantom pipelines and laundered gas?
Azerbaijan has displayed open hostility towards the European Union's presence in Armenia and has refused any diplomatic engagement with Yerevan. Russia has retrospectively claimed that a civilian monitoring mission posed a direct threat to security guarantees it never intended to uphold. Baku and Moscow have expanded their bilateral relations through a comprehensive treaty signed on the eve of Russia's invasion of Ukraine. The debate between self-determination and territorial integrity has been resolved through military action against a starving civilian populace. Having already been scapegoated for the fall of Artsakh, the EU now has a clear opportunity to fully commit itself to deterring future aggression against Armenia and defending the principles of liberal democracy and human rights. 

The status quo established by the Russo-Azerbaijani tandem in Nagorno-Karabakh completely broke down after Baku launched a massive invasion of Artsakh while coordinating operations with Russian forces. This culminated in the collapse of the Artsakh Republic. Nerses Kopalyan presents an in-depth analysis of developments.
Read more

Armenian experts were hardly under the illusion that the CSTO would fulfill its statutory obligations toward Armenia, given strong military and political ties between Azerbaijan and some CSTO members.
Read more

The question of whether Armenia should remain a member of the Russian-led Collective Security Treaty Organization or withdraw continues to be debated in Armenian political circles. Armine Margaryan explains and offers a new perspective.
Read more