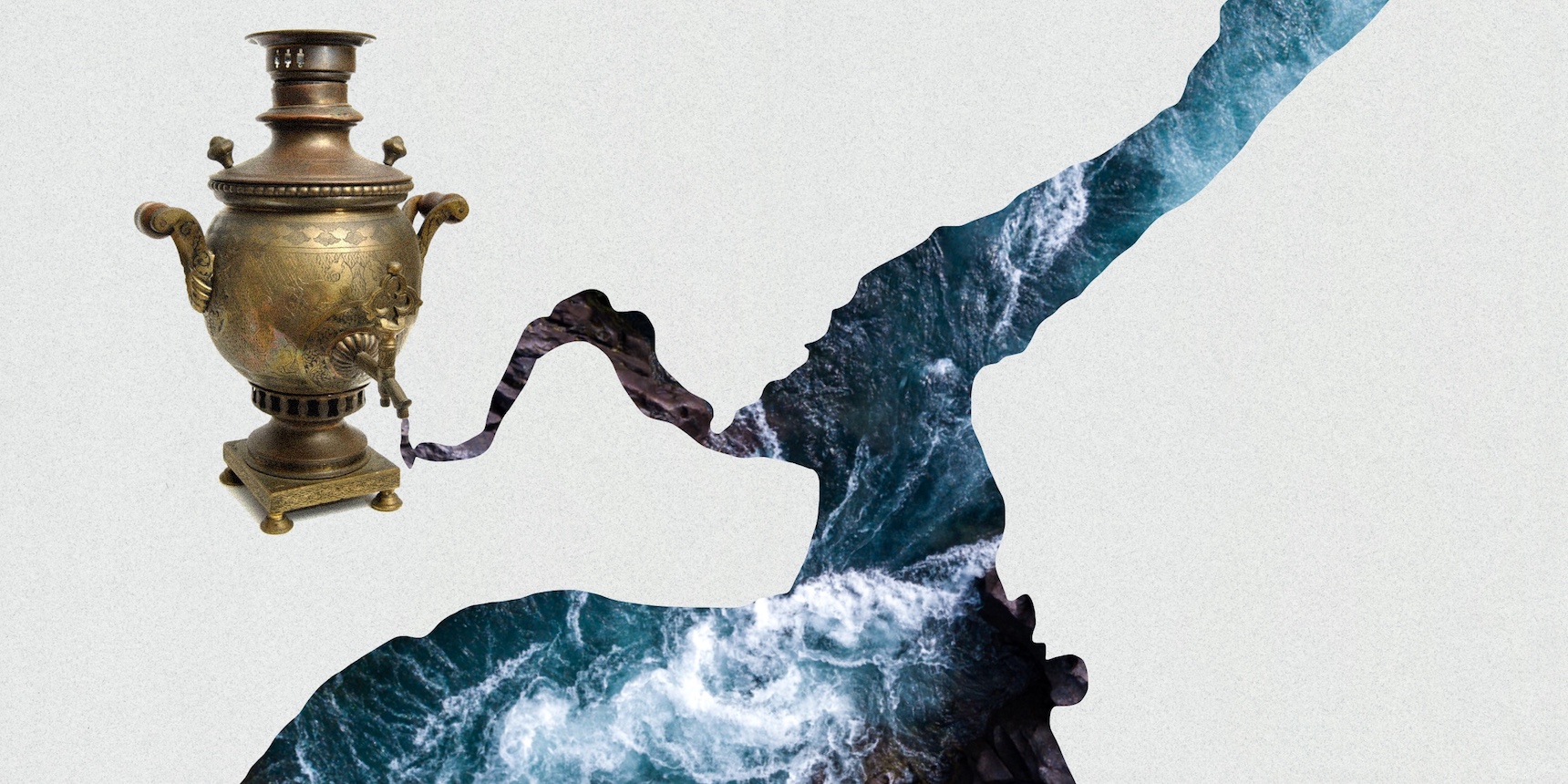 Russia's war against Ukraine has thrust the South Caucasus into a contest for control over transport routes. Despite being landlocked, Armenia remains at the center of Russian-Turkish ambitions to deepen cooperation.
The opening of the Turkish-Armenia border is becoming a reality, especially in the wake of the war in Ukraine. That's because the primary engine for jumpstarting Yerevan-Ankara relations is Moscow. Still, both Armenia and Turkey have their own reasons to satisfy this impending "normalization" of diplomatic relations, yet Russia remains the primary initiator and beneficiary. This is simply because the war in Ukraine has deprived Russia of land routes to the outside world. The opening of the border on the Arax River would enable Russia to control this strategic space, while facilitating exchanges between Russia and Turkey through Armenia, thus circumventing Western sanctions. This arrangement would also open a rail link for transit of Russian goods to the Middle East and Africa through Turkey.
Ankara and Moscow have a geopolitical and economic interest in opening the border. Strategically, Erdogan and Putin wish to reduce areas of tension between their states. At the moment, Turkey is honoring its NATO commitments, continuing to arm Ukraine and denying access to the Bosphorus Straits to Russian warships, drawing Moscow's ire. But Turkey also looks to Russia as a serious partner, as evidenced by the fact that it has not levied sanctions against Moscow. Given these circumstances, why wouldn't it attempt to expand on areas of cooperation without risking destabilizing the Russo-Turkish balancing act? Economically, Russia is engaged in "cereal diplomacy" with the Middle East and Africa, as the current denial of maritime trade routes portrays Russia as roguish in terms of grain supplies to the global South, showing Moscow in a poor light, given its ambitions to expand its influence in Africa and maintain its strategic interests in the Middle East. Ankara's goals are similar––to appear as a savior of poor countries and a facilitator of trade without taking the risk of exposing equivocal ties to Moscow. The entire strategy aims to portray the West as the alliance of indifference towards Africa.
In this geo-economic context, both Russia and Turkey are incentivized to create new trade routes, and the so-called Zangezur Corridor idea now extended across the Turkish-Armenian border merits scrutiny. Erdogan's July 11, 2022, phone call with Armenia's Prime Minister Nikol Pashinyan came barely a few weeks after Russian Foreign Minister Sergei Lavrov's June 8 visit to Ankara. These two preliminary meetings helped pave the way for opening this new strategic route. Turkey reiterated its support for Baku's demands for a Zangezur Corridor, vehemently ruled out by Yerevan, unless Azerbaijan drops claims to sovereignty over the route. A joint Russian-Armenian management of the corridor might be a reasonable compromise for Yerevan, however. Lavrov, in a visit to Yerevan following his visit to Turkey, publicly voiced support for Armenian sovereignty over the proposed route, putting an end to Azerbaijan's ambition to control this route, at least for now. This effectively means that the proposal could be turned into one for a simple transnational transport link, rather than a corridor. This fuels Baku's persisting sense of frustration as it attempts to achieve border demarcation with Armenia before having to deal with a reopening of Armenia's international connections through Turkey. 
Thus, there are several parties who may be delighted by the war in Ukraine. Turkey and Russia for economic and strategic reasons, and Armenia for political reasons. Yerevan sees it as a sign of its respected sovereignty and its desire for regional appeasement, especially with Ankara. Furthermore, Pashinyan's administration hopes that cooperation with Moscow and Ankara could help consolidate its hold on power, neutralize the now-rudderless opposition, and deprive Azerbaijan of an opportunity to continue drawing dividends from its strategic military and political victory. Yerevan is also sending signals to Brussels, with an eventual Armenian-Azerbaijani peace treaty now on the back burner. Faced with this reality, the Azerbaijani army is now intensifying provocations on the Armenian border and on the Line of Contact with Artsakh while President Ilham Aliyev continues to make threats against Armenia.
The other actor closely following these developments is Iran, who is hostile to any redrawing of Armenia's territorial integrity. During a visit to Yerevan on June 7, the head of Iran's security services, Ali Shamkhani, obtained a guarantee for Iran that the border between the two countries would not be threatened, that Azerbaijan would not have a hand in reopening this communication route. Renowned for their fine diplomacy, the Iranians have also obtained from Russia and the other states bordering the Caspian a strategic agreement on the uses of this inland sea. During the Fifth Caspian Summit held in Ashgabat, Turkmenistan on June 29, 2022, the Russian President congratulated himself on strengthening the partnership between the five Caspian states, relating to, according to the Turkmen opposition site Gündogar, "the need to improve the logistical architecture and transport links of the region," which would pave the way for implementing the "North-South axis, 7200 km long, connecting Saint-Petersburg with the ports of Iran and India." 
This would happen through the International North-South Transport Corridor, or INSTC, or through a network of maritime and river routes under Russian control connecting the five seas along Russia's western border (the White, Baltic, Azov, Black and Caspian seas). Thus the transport of goods, including wheat destined for the Middle East and Africa, as well as gas and petroleum would now be transported along rivers before crossing the Caspian and eventually reaching the Indian ocean. In order to avoid unnecessary conflict with its neighbor, Iran decided to double natural gas trade volumes with Baku and Ashgabat in June 2022, thus cementing regional integration between these three hydrocarbon-rich states, anticipating the hike in the price of natural gas driven by the Ukraine conflict. 
Finally, Tehran just announced that it would also be delivering drones to Russia. A trilateral summit between Iran, Russia and Turkey took place on July 18 in Tehran. Putin, Erdogan and Raisi discussed the Syria Peace Process as well as guidelines for upcoming transportation projects between the three states within the framework of the "3+3" program involving Russia, Turkey, Iran, Azerbaijan, Georgia and Armenia). By denying Georgia EU candidate status, Brussels is sending the wrong message to Georgians and signaling a carte-blanche for the hegemonic powers of the Middle East in the South Caucasus. Once again, there is no mention of Armenia in these Iranian transport network agreements although Iran and India have yet to give their final word on the idea of a link with Yerevan, having shown remarkable composure to the point where New Delhi patiently waits for an announcement from Armenia about joining the North-South Transport Corridor through Iran…But, we cannot help but wonder about one thing: is the opening of the Armenian-Turkish border a consolation prize from Russia to Armenia for it to give up any claims on any further links to Iran and India? If Armenia's sovereignty is indeed linked to normalizing relations with Ankara, then its participation, along with Georgia's, Iran's and India's in the corridor project is even more crucial.