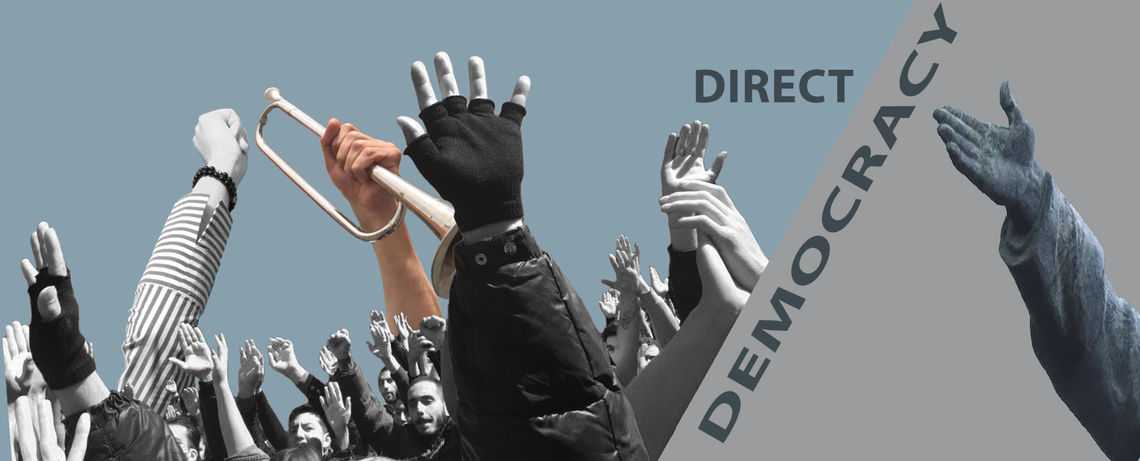 "There are people in Armenia, and the highest power belongs directly to the people, and the people carry out the direct governance," said Nikol Pashinyan during a rally marking his 100th day as Prime Minister in August.  "We succeeded in creating a direct democratic popular governance system," he told French publication Le Monde less than a month later.
The key phrase, repeated on the night of October 2 as his supporters protested outside parliament, is "direct democracy."
The term refers to a referendum and initiative-led political system which is predominantly used to describe Switzerland's democracy. By that definition it was misused by Pashinyan, argues political scientist and lecturer at the American University of Armenia, Dr. Yevgenya Jenny Paturyan.
"He wanted to emphasize that people's voice does matter, that people power is real power," she says. "It's not direct democracy …It's non-conventional political participation. It's an element of democracy but not the whole thing."
So what exactly is direct democracy? In Switzerland it refers to the power citizens hold in having the last word on certain decisions by parliament through three types of referendums: mandatory, popular initiative and optional. A mandatory vote is organized to decide any amendments to the Constitution. Meanwhile a popular initiative is launched by citizens to demand a change to the Constitution. Any eligible Swiss voter can sign an initiative which must collect 100,000 valid signatures within a period of 18 months.
While parliament works to pass new legislation and amendments to existing legislation, any citizen, including MPs, can call for a referendum on any new laws. In this case, voters must collect 50,000 signatures within 100 days. If a majority of voters say yes, the new law will be introduced. If it is rejected then the old law continues to apply.
According to the Institute for Democracy and Electoral Assistance (IDEA), since 1980, national referendums and popular votes on issues ranging from constitutional amendments to legislative initiatives have been held in 80 percent of countries worldwide. More than half of those have taken place in the last 30 years. While some established democracies do not allow popular votes on national issues, they do support and allow for (within their laws) direct democracy at local and regional levels.
Dr. Wolf Linder, a political science professor and expert on the Swiss political system, warns that Pashinyan should be aware that direct democracy is not an alternative to parliament but rather an addendum.
It is crucial that any direct democracy works with a framework of parliamentary democracy, he argues, insisting politicians and political parties must also play a part in encouraging citizens to engage with any mechanisms introduced.
Discussing Pashinyan's repeated use of the term, if not yet the model, he adds: "If direct democracy is just in the hands of one person who says, now we will have a vote, or no, on this issue I will not have a vote, then it is a completely different affair. It is only being used to legitimize the person being in power."
In Switzerland, Dr. Linder explains, the people's tools to call for a vote are in sharp contrast to anything organized by parliament or the Prime Minister. Direct democracy, he adds, has to mean that a call to vote is in the hands of the people.
Putting aside his claims that direct democracy already exists in Armenia, it is quite possible Pashinyan is planning to implement tools which give the public more of a voice in decision-making.
In fact, Armenians do already have the option of utilizing pre-existing mechanisms. The 2015 constitutional changes included introducing the opportunity to request a referendum on any legislative proposal if 50,000 signatures are collected. If this request is rejected by the National Assembly then a further 300,000 signatures are required to force a national vote.
Thus, if as expected, the My Step Alliance sweeps to electoral victory on December 9 and wants to pursue direct democracy, they would not need to actually make constitutional changes, says Dr. Paturyan.
"You just need to implement those mechanisms," she adds. "There seems to be a sense that the government wants people to feel more in charge of what is happening, more of a voice."
One stumbling block for the application of conventional direct democracy in Armenia, Dr. Paturyan points out, could be a lack of funds to organize regular referendums. Nationally Switzerland held ten votes across four dates in 2018.
She favors the slightly different model of deliberative democracy in which citizens are involved in discussing and critiquing policies prior to the legislative process. Applied within a direct democracy framework it would mean a period of citizen debate takes place before any public vote.
And so while Pashinyan's public declarations of installing direct democracy stretch the Velvet Revolution's accomplishments a little, it certainly provided the potential for a more citizen-involved parliament, says Dr. Linder. But any changes, he adds, must be given time to grow and develop.
"It's like a laboratory," he explains. "Direct democracy cannot be introduced from one day to the other. It's a long learning process for politicians and also for the people. What Armenia can learn is the historical experience from Switzerland on how to do it and how it functions."