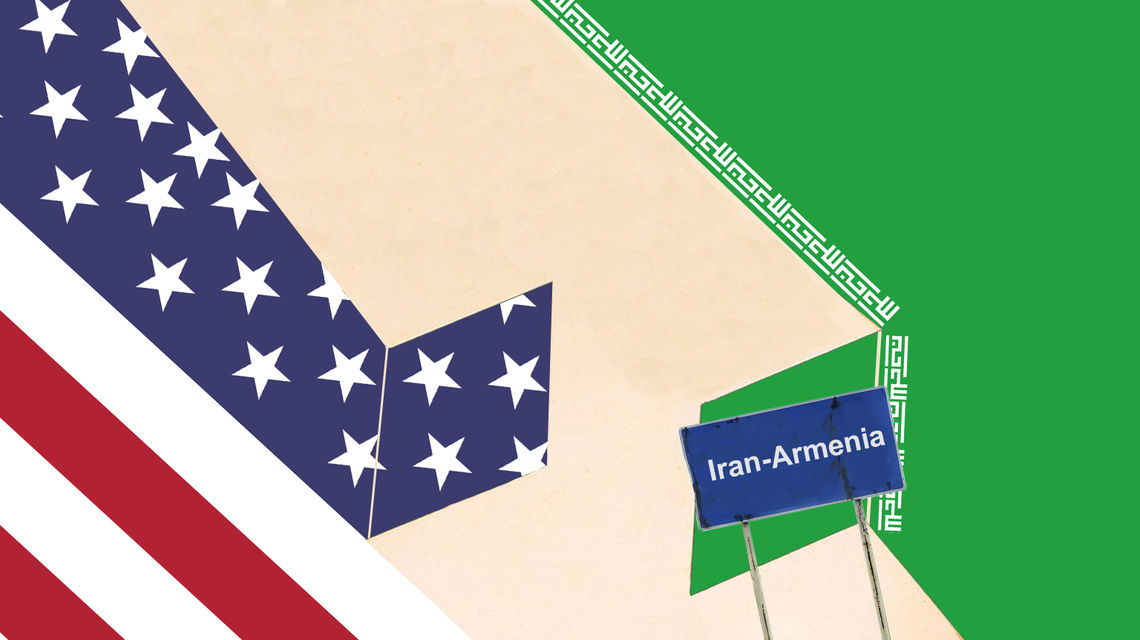 Last week, Iran and the United States came close to the brink of war. The assassination of the Islamic Revolutionary Guard Corps Quds Force commander Qasem Soleimani by the U.S. escalated an already tense situation between the two states. Iran was expected to retaliate, but the possibilities for war have dwindled as Iran attacked U.S. military bases in a calculated way that showcased its missile capabilities, but also prevented American casualties, and subsequently averted opportunities for further escalation. Armenia observed the situation nervously, encouraging both the U.S. and Iran to de-escalate. While the short-term crisis is over, the situation is far from stable, or certain, specifically due to volatile domestic politics in Iran. A war, at this point, is highly unlikely, but Iran's domestic political turmoil exposes its crisis of legitimacy and raises alarms about the possible repercussions of Iranian state weakness on regional stability.
It is no secret that for landlocked Armenia, Iran's stability is imperative. Iran is Armenia's sixth trading partner, exporting primarily gas, oil, polymers, and fertilizers to Armenia while importing electricity and food from Armenia. In February 2019, the media reported of $364 million in trade in 2018, the highest recorded rate of trade between the two states since the dissolution of the Soviet Union. Additionally, the free trade agreement between Iran and the Eurasian Economic Union (EEAU) went into effect in October of 2019, with significant economic benefits for both states. In January 2020, the head of Iran-Armenia Joint Chamber of Commerce Hervik Yarijanian announced that Iran and Armenia benefit from the lowered tariff rates, and trade has increased between the two countries following the signing of EEAU agreement with Iran.
Additionally, since 2017, Armenia and Iran initiated a Free Economic Zone (FEZ) in Meghri, strategically located city at the Armenian-Iranian border. The Meghri FEZ encourages trade by exempting businesses from a majority of taxes, except income tax.
The increasing trade between the two states occurs against the backdrop of U.S. sanctions on Iran following Trump's administration's withdrawal from the Joint Comprehensive Plan of Action (JCPOA), and its implementation of Maximum Pressure Policy. Regardless of the reasons, it appears that these sanctions have not significantly impacted Iran-Armenia political and economic ties. A possible war, however, would have unintended consequences. It was no surprise that the Secretary of Armenia's Security Council Armen Grigoryan announced about back-up plans for the procurement of goods to ensure food security in case of military escalation in the region.
Additionally, Iran-US tensions puts Armenia in an uncomfortable position as Armenia had to delicately balance between the desires of a neighbor and a superpower. Assuming neutrality and calling for de-escalation was a smart position, an appropriate response to a short-term crisis. However, as Iran grapples with state-weakness, regional states will be forced to deal with the consequences of its changing domestic situation. Over the years, Iran's domestic situation has become more volatile, and it would be increasingly difficult for Armenia, and other regional states, to assess the possible spill-overs of domestic political changes.
In Armenia, some compare Iran's economic and military strength to the power of a small state like Armenia and conclude that Iran is a strong state. Iran is also perceived as a friendly neighboring state, rightfully. However, neither Iran's relative strength nor its friendly relations, do not diminish the risks associated with its state weakness. Iran faces a serious crisis of legitimacy, the consequences of which are difficult to speculate. Although some believe that Iran's status quo – stability of the central government – serves Armenia's interests, it should be noted that the continuation of the state of affairs would not guarantee desired stability.
First, Iran's State Fragility Index is 52 out of 178 states, which places it in the "high warning" category for its lack of stability (the lower the ranking, the higher the degree of state instability). This score suggests that Iran's domestic management policies are not sustainable, causing serious issues with legitimacy, economic management, and subsequently, stability. There is ample evidence of mismanagement and lack of accountability, including environmental degradation, disastrous human rights' record, and incompetence in response to natural disasters. The latest example of gross mismanagement was Iran's shooting down of the Ukrainian passenger plane in the morning of its retaliatory attacks on U.S. bases in Iraq that followed the assassination of Soleimani. Instead of accepting responsibility, it initially hid the cause, and later caved under international pressure. This incident has instigated protests across the country for the past several days. Additionally, causing another international incident, Iran also arrested the British Ambassador to Iran after he attended a funeral for the passengers of the downed Ukrainian plane.
Today's protests are radical compared to previous social movements. The reform movement of the late 1990s and 2000s was, arguably, modest in its demands for liberalization of a closed autocratic regime. Iran experienced a significant degree of liberalization, but as hardliners cracked down on reformists, as well as social movements, the rift between the population and the elite has deepened gradually. The protests in the fall of 2019 in response to the petrol price hike, and their suppression by the regime—a unified elite response—exacerbated popular discontent. Iranians are in the streets again, voicing anti-regime slogans. In this context, no student of Iranian politics would rule out possibilities for a coup d'état, a revolution, or a brutal crackdown that would not resolve the issue, but delay the crisis until it bursts again in the near future.
Low human rights' record, coupled with elite factionalization that, in the absence of democratic institutions capable of mitigating conflict peacefully, create instability and unpredictability. It is not difficult to envision the consequences of a lack of transparency on uncertainty. For  reference, notice how the U.S.–a western democracy–has become more unpredictable and unreliable following the rise of Trumpian style authoritarianism. Hence, those advocating for maintaining the status quo in Iran, in reality, fail to highlight that the crisis doesn't go away, it just gets postponed until a resolution—a democratic change—occurs in Iran. This crisis of legitimacy will remerge in different forms and could spin out of control, and Iran's neighbors will be forced to deal with it sooner or later.
While Iran grapples with repercussions of its domestic institutional inefficiencies and a crisis of legitimacy, any foreign-sponsored attempts to pressure Iran would also backfire. Precisely, the Trump administration's policies had grave negative consequences on domestic politics. His administration's withdrawal from the Joint Comprehensive Plan of Action (JCPOA) achieved nothing but undermining a significant treaty that has succeeded in assuring Iran wouldn't develop nuclear weapons. The JCPOA never aimed to address Iran's regional behavior, and its success hinged upon the ability of world leaders to stay focused on resolving one significant security issue, as opposed to broadening the agenda to include an array of issues. Furthermore, Trump's policies marginalized President Rouhani's moderate team. The assassination of Soleimani was another unwise decision that resulted in the sidelining of moderate and reformist forces in Iran. This is not the first time that U.S. policies change domestic equilibrium. George W. Bush's calling Iran as part of The Axis of Evil was a blow to Iran's reform movement in 2002.
Iran faces serious challenges in state management. This conclusion counters those narratives that praise Iran as a strong state—often conflated with a glorification of the Persian empire—that is simply too strong to collapse. While this piece is not suggesting that Iran is on the verge of state failure, it is worth remembering that scientific data suggests that Iran faces serious challenges stemming from its state weakness. Subsequently, any assessment of Iran-Armenia relations should also take into account the possible future security risks emanating from gross mismanagement or uncontrollable political turmoil. The issue is not that Iran is not Armenia's friend, or that Iran is not supportive of Armenia. The issue is that state weakness would, unintentionally, have repercussions that no one should dismiss.
For security concerns the identity of the author is protected.