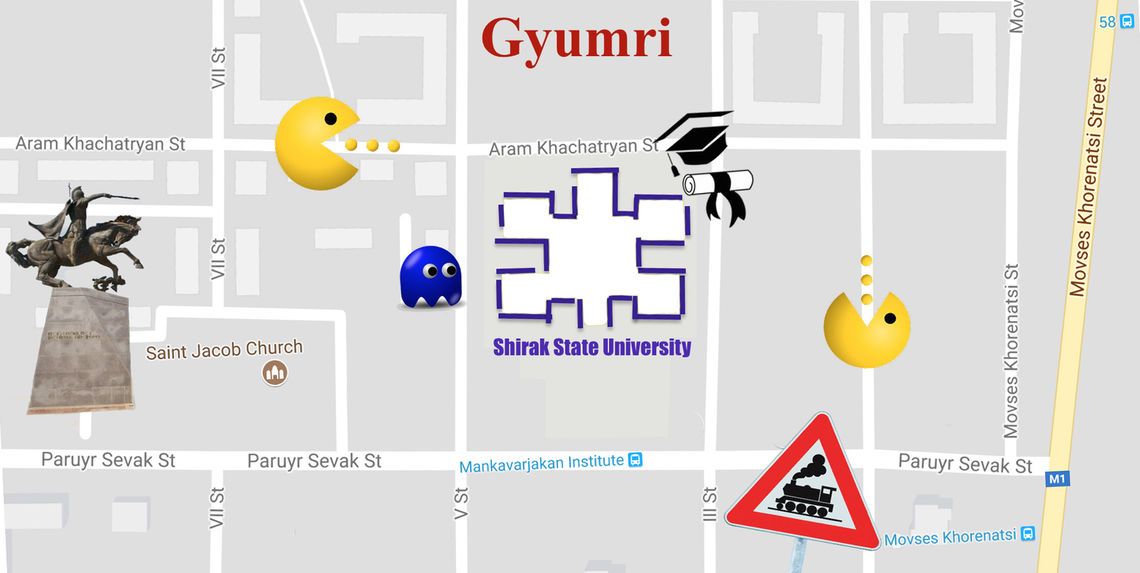 Last week, Gyumri, Armenia's second largest city was in the national spotlight. Its main institution of higher education – Shirak State University (SSU) – was at the center of strikes and student demonstrations. Levon Mkrtchyan, the Minister of Education had to visit the University to meet the rector, professors and students in order to ease the tensions. However, statements made by the minister after that meeting and his actions added more uncertainty to the situation. Different media outlets covered the developments in Gyumri extensively and it was widely discussed on social media.
The Pedagogical Institute of Gyumri, (SSU's name until 2016), was established in 1934. It currently has around 2500 students and is the biggest institute of higher education in northern Armenia. It used to be an institution where the residents of Shirak region and Armenians from the Javakhk region of Georgia could study certain professions and pave their ways for career advancement. In the 1990s, the institute, in spite of difficulties, was able to adjust to new realities, however, like most of the institutes of higher education in Armenia, it was unable to carry out deep institutional reforms to eradicate widespread instances of corruption and systemic weakness. As a result, corruption in that institution came in different shapes and forms – nepotism, bribery, clientelism, cheating, embezzlement, etc. Being far away from Yerevan and public scrutiny, the severe damage to the reputation and prestige of the institute was constrained by local efforts. For the last several years certain measures were taken to eradicate the problems and there were certain visible achievements as the quality of education was starting to show signs of hope and recovery.
In 2016, however, a new rector – Sahak Minasyan – was appointed to lead the institute. It is important to mention that from 1996 to 2016 he was the head of the education department of the Shirak Region. More importantly, though, he was (and still is) the head of the regional division of the ruling Republican Party of Armenia (RPA). This appointment, which became yet another manifestation of the merger of politics and education, came as a surprise to many. Some optimists even interpreted that the rector, having a strong mandate from the RPA, will carry out a number of structural reforms and eventually pull out the institute from its problems. However, those, who knew him, had no doubts that this wouldn't work. Little did they know that troubles were going to surface so soon and so visibly.
Sahak Minasyan took over the leadership of the university without prior experience of higher education, nor had he experience in teaching or research. He initiated a series of steps, which he dubbed reforms, aimed to overhaul the entire system. However, within a short period of time, it became obvious his management style, work ethics and skills were incompatible with the contemporary requirements of higher education. Within a year, according to the protestors, he managed to squander 500 mln AMD that was left in the institution's bank account, he removed the library and thousand of volumes of books, he reduced the workload of faculty, he came up with a curriculum which lacked coherence and consistency etc. He invented a system of education, which he coined "integrated," which ran contrary Armenia's legislation on education. He has also managed to estrange the students by failing to keep the former policy of tuition waivers for those who maintained good GPAs. He also has a track record of offending his colleagues and hiring and firing staff and faculty without providing much explanation.
It is in these circumstances that professors and students decided to oppose him. Two professors, who led the strikes, have a track record of academic publications and achievements. They could not endure the injustice and mismanagement of the institution, and students were also incapable of tolerating the injustice. This is one of the major student strikes that occurred in Armenia for the last few years.
What is happening in Gyumri is yet another indication that the system of higher education in Armenia is in deep crisis… it is easy to weaken and undermine the entire system and it takes years, if not decades, for it to recover.
What is happening in Gyumri is yet another indication that the system of higher education in Armenia is in deep crisis and those who are responsible for it prefer to react to emerging problems rather than prevent them.
The situation in regional institutes of higher education (in Gyumri, Vanadzor, Goris, Ijevan, Gavar) gets little attention in public discussions. One may speculate that they are too far away to bother the authorities in Yerevan. The government should take immediate measures to carry out targeted reforms to stop the deterioration of higher education in Armenia. It should take resolute measures to stop the politicization of higher education and the government should stop playing politics in education; it is easy to weaken, shake up and undermine the entire system and it takes years, if not decades, for it to recover.