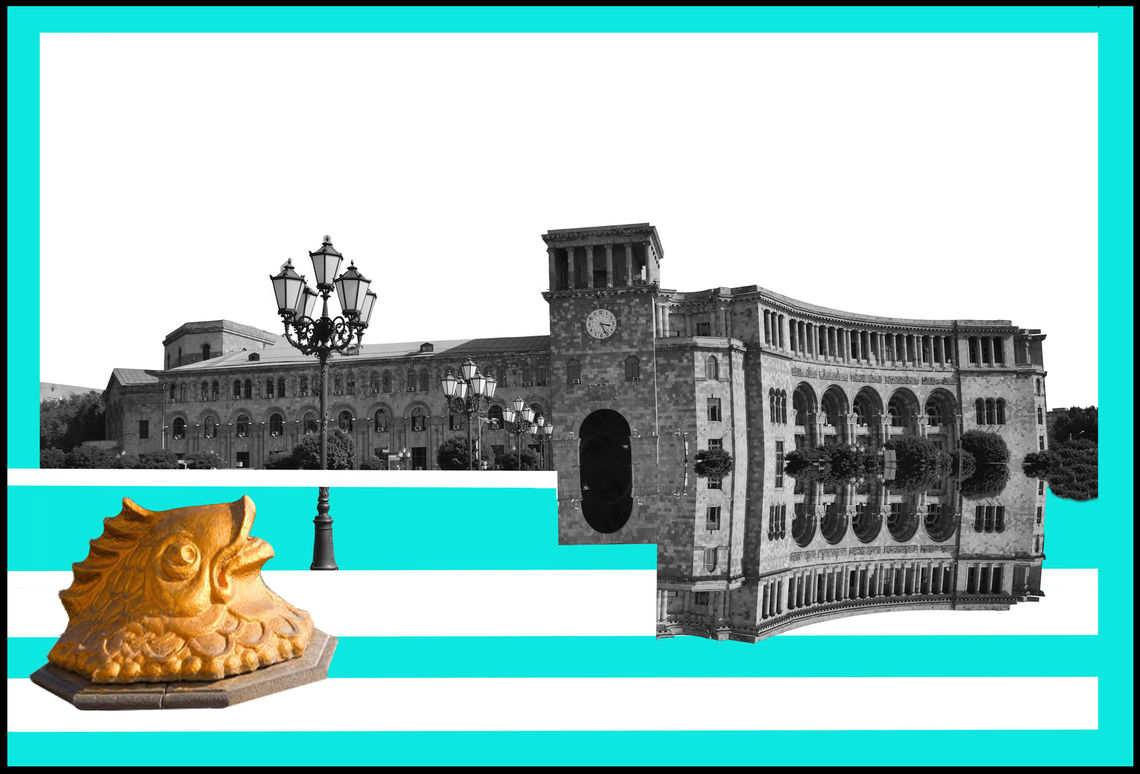 Many Armenians are equally disappointed with the government and the opposition, as well as with the legal means of political struggle, that is people no longer believe that government can be changed through elections.
So, even though Sargsyan's chess game so far seems to be progressing without major hurdles, the question of what will happen to Armenia's political system in April 2018 remains open.
What Will Happen in April 2018?
In July 2017, in an interview with journalist Satik Seyranyan, Serzh Sargsyan once again dodged the question whether he was planning to become prime minister after the end of his second term. At least since 2015, this has been the question around which Armenia's internal politics has revolved. When the government initiated the constitutional reform, its critics argued that the transition to a parliamentary republic with a strong office of prime minister had been designed in order to allow Sargsyan to remain in power. Sargsyan's supporters dismissed such criticism as biased and speculative, claiming that the reform was introduced in order to make Armenia's political system more democratic by removing the excessively powerful post of the president. However, the closer the date of the transition to the parliamentary system, the more it looks like Sargsyan is unwilling to relinquish power when his presidential term ends in April 2018.
Several months ago, during the parliamentary election campaign, Sargsyan said: "If the political force headed by me wins the upcoming elections, then based on the configuration at that moment, I will play a role in some capacity to ensure the security of our people." Since then the idea that Sargsyan was not going to leave politics after April 2018 was commonly repeated in statements by various pro-government figures. However, in most of these cases the position which Sargsyan would occupy after April 2018, remained unspecified. Relatively recently, voices appeared that suggested that Sargsyan should become prime minister, such as former National Assembly Speaker Galust Sahakyan and, surprisingly, opposition MP Sasun Mikayelyan. It is possible that such statements serve the purpose of checking the reaction of the public to the idea. Even if these statements had not been coordinated "from above," willy-nilly they help to make the idea that Sargsyan should stay in power, part of the public discussion. Developments in Artsakh, where Bako Sahakyan's presidential term was in effect prolonged until 2020 by a parliamentary vote, strengthens the impression that Sargsyan is not going anywhere in 2018.
The victory of the Republican Party of Armenia (RPA) in the April election strengthened Sargsyan's position. Though the election was accompanied by allegations of voter bribes and use of administrative resources, there were no post-election protests. Sargsyan stressed this fact in the above mentioned interview. From the government's perspective, it does not really matter whether voters chose RPA sincerely or not: what matters is that the election showed that there is at least a passive acceptance of RPA's domination in Armenia's political life, shared both by the political parties and the general public.
Obviously, becoming prime minister is not the only option for Sargsyan: he can choose from a wide range of options. At this point it is hard to guess which option will be chosen in the end. However, arguably, the prime minister option should be the most desirable for Sargsyan, as it would allow him to concentrate both de jure and de facto power and safeguard him against attempts of an intra-elite coup. Armenia's post-Soviet history shows that in the long run no person had been able to concentrate de facto power without formally holding the highest executive position in the country.

Armenia's Eurasian Allies: A Model for Emulation?
A situation in which an outgoing president may not be willing to relinquish power is somewhat unusual for Armenia. Armenia's first president, Levon Ter-Petrosyan left office in 1998, in the middle of his second presidential term. As for Robert Kocharyan, by the time his term in office was coming to an end, there was plenty of speculation on whether he was planning to retain a role in the government afterward. These speculations were fueled by Kocharyan's own words, when he announced he was not planning to become "Armenia's youngest pensioner." At the time, some observers expected that Kocharyan and Sargsyan, prime minister at the time, would swap positions, however when Sargsyan assumed the position of the president, Kocharyan was left with no formal role, and his informal influence on Armenia's political elite steadily declined throughout Sargsyan's presidency. Thus, in spite of Kocharyan's desire to maintain influence after leaving the presidential post, no institutional changes that would allow him to maintain power were made. In this sense the constitutional reform, undertaken precisely at the time when Sargsyan's final presidential term is nearing its end, was something unprecedented for Armenia.
However, while new for Armenia, it reflected a fairly common practice among post-Soviet countries. Thus, when it comes to Armenia's EAEU (Eurasian Economic Union) and CSTO (Collective Security Treaty Organization) allies, most of them have a long history of altering the constitution in order to prolong the incumbent leader's power. In fact, in all these countries, with the exception of Kyrgyzstan, the power of the incumbent has been prolonged in one way or another. Among his EAEU and CSTO colleagues, Sargsyan is the shortest serving leader, second only to Kyrgyzstan's president Almazbek Atambayev, who became president in 2011 and whose term will be over this December (he is not running for a second term, since only one presidential term is allowed by the constitution).
Kazakhstan's Nursultan Nazarbayev holds the record among post-Soviet leaders: he has ruled his country since independence in 1991, and if we count the last Soviet years, even earlier that that, since he became Kazakhstan's Communist boss in 1989. Belarus' Lukashenko and Tajikistan's Emomali Rahmon have both been in power since 1994. Vladimir Putin has ruled Russia since 2000, including the years 2008-2012, when he was the prime minister, but was widely considered more influential than the actual president Dmitry Medvedev. Among other CIS countries, there are quite illustrative examples, like Turkmenistan and Uzbekistan, where presidents Saparmurat Niyazov and Islam Karimov, both former Communist bosses, ruled from the late Soviet period until their deaths (1990-2006 in the case of Niyazov, 1989-2016 in the case of Karimov).
Finally, there is the example of Azerbaijan, where Heydar Aliyev managed not only to rule the country for life, but also transfer power to his son, an achievement still unmatched among post-Soviet rulers. In most of these cases, the constitution has been changed several times, while the ruler has stayed the same. So, while prolonging the incumbent's power, using constitutional changes may raise some eyebrows among Armenia's Western partners, it looks like a perfectly acceptable practice against the background of post-Soviet politics.

"Efficient Manager," International Community and Popular Protest: What (or Who) Could Stop Serzh Sargsyan?
Obviously, whatever Sargsyan's plans are, there is a chance that he will not be able to retain power after April 2018, There are three factors upon which Sargsyan's plan will succeed or fail: his relationship with current Prime Minister Karen Karapetyan, the attitude of international players, and the possibility of protest.
Karen Karapetyan, appointed prime minister in September 2016, has a public image of "an efficient manager" and "an outsider," someone who has not been involved with the local criminal-oligarchic networks. Instead, he is rumored to have strong connections in Russia, including figures such as Samvel Karapetyan (no family relation between the two), Russia's wealthiest Armenian, who, with an estimated worth of 3.4 billion USD occupies the 32nd position in the Russian Forbes list. Among Armenia's political and economic elite, such connections are seen as a valuable asset. It was Karapetyan, rather than Sargsyan, who became the public face of the Republican Party in the election campaign, so to a certain extent Republicans owe their victory to Karapetyan. The enthusiasm that Karapetyan's appointment created among the Armenian public in the autumn of 2016 may have somewhat faded, as Karapetyan's cabinet has not achieved any major breakthroughs. However, it has so far not had significant failures either, so at least for the moment Sargsyan has no credible reason to get rid of Karapetyan.
Obviously, whether or not Karapetyan may become a problem for Sargsyan depends on his own ambitions. So far Karapetyan has not shown signs of disloyalty to Sargsyan, at least publicly. However, in June 2017 he said he was ready to continue working as prime minister after April 2018, adding that his cabinet's program covered the years 2017 to 2022. There is a legal hurdle that Karapetyan faces – from April 2018 the prime minister's office will have a requirement of five years of continuously residing in Armenia, and Karapetyan has worked in the Russian natural gas giant GazProm from 2011 to 2016. However, Armenia's post-Soviet experience shows that legal issues can be solved, in case there is a political will. So, it is not entirely impossible to imagine how this hurdle can be avoided (e.g. it might come to light that Karapetyan has been mostly working from his Yerevan home during his tenure in GazProm). So, Karapetyan remains a potential competitor for Sargsyan. If a part of Armenia's political-economic elite decides it has had enough of Sargsyan, then Karapetyan could become an ideal candidate to replace Sargsyan.
Another issue is the international reaction. Probably, if Sargsyan prolongs his power after the end of his presidential term it would harm Armenia's democratic credentials and put it on the same level with the Central Asian countries and Azerbaijan. However, both the EU and the U.S. have shown flexibility in dealing with authoritarian regimes in the region. Even in the immediate neighborhood of the EU, in Montenegro, (EU candidate since 2012 and NATO member since June 2017), the West has tolerated a leader as controversial as Milo Djukanovich. Djukanovich, a former Communist and former ally of Slobodan Milosevic, has in effect ruled Montenegro from 1991 to 2016, with two short breaks in 2006-2008 and 2010-2012. So, if Sargsyan manages to perform the transition without major complications or protests, he can hope for a relatively mild Western reaction. As for Russia and other EAEU countries, they will hardly be the ones to criticize Armenia for failing to uphold democratic values.
Time after time rumors emerge in Armenian political and analytical circles that Moscow is unhappy with Sargsyan and is looking to substitute him with a more loyal and reliable figure (Karapetyan may often be mentioned in this context). However, so far these speculations have not been substantiated by reliable evidence. So, unless Sargsyan's plans are interrupted by a force majeure, the international reaction, whether from the West or from the East, is unlikely to hold him back.
Arguably, the most important factor that may influence Sargsyan's plans is the factor of internal protests. Today the situation seems under control. Political opposition that could have challenged Sargsyan's desire to prolong his rule is either very weak, or is being co-opted by the government. The "Sasna Tsrer" who are currently on trial, have failed to create a wide political movement and can hardly present a serious threat to Sargsyan at the moment. Moreover, the arrival of Karen Karapetyan and the rebranding of RPA helped to ease the tensions within society that led to the events of July 2016. However, this calm can be deceptive. Though the RPA as a party has claimed victory in the elections, the level of Sargsyan's personal popularity (or unpopularity) remains unclear.
Many Armenians are equally disappointed with the government and the opposition, as well as with the legal means of political struggle, that is people no longer believe that government can be changed through elections. As opposition parties are weak and lack credibility, these protests are more likely to be dominated by radicals and result in violence. In the long-term this means that either street protests or armed incidents are possible in the medium and long-term perspective. And it is possible to imagine a situation, in which a perspective of indefinite prolongation of Sargsyan's power can trigger protests. So, even though Sargsyan's chess game so far seems to be progressing without major hurdles, the question of what will happen to Armenia's political system in April 2018 remains open.