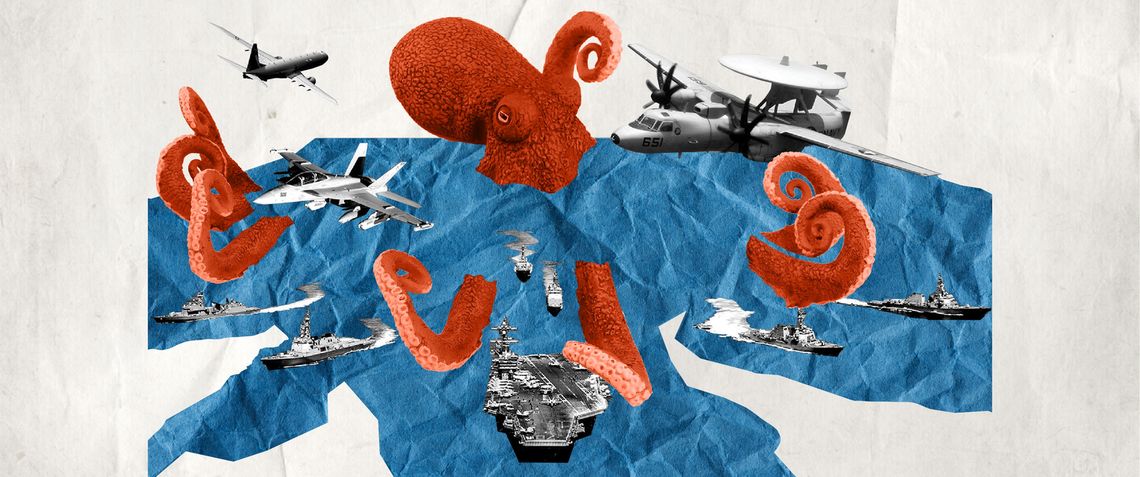 Turkey's Shifting Security Policy
A storm is brewing again in the Eastern Mediterranean. Conflict over drilling rights to massive natural gas deposits in the eastern Mediterranean Sea is escalating, with the potential to turn into a militarized conflict between two NATO members. Earlier, this past summer, Turkish President Recep Tayyip Erdogan visited the self-declared Turkish Republic of Northern Cyprus, where he announced the resumption of Turkish exploration in the area.
Turkey's actions should not be a surprise; it is part of a strategy guiding the foreign policy of Turkey called "Mavi Vatan" or "Blue Homeland", which has replaced the principle of "strategic depth" that was formed by former Turkish Prime Minister and Minister of Foreign Affairs Ahmet Davutoglu [elaborated below].
The Blue Homeland is a strategy suggested back in 2006 but was marginalized at the time as Davutoglu's approach was more viable. There are different views on who first proposed the Blue Homeland concept; however, following trends in Turkish media, it is obvious that the Turkish government wants to attribute it to Cem Gurdeniz. Up until recently, the Blue Homeland was mainly used in the rhetoric of the navy's former Chief of Staff, Cihat Yayci. However, after his demotion and resignation, Turkish authorities shifted credit for the theory to former Turkish Rear Admiral Cem Gurdeniz. The choice is quite interesting. After obtaining a Masters degree in Brussels, Gurdeniz served on various warships and at NATO headquarters. During 2009-2011, Gurdeniz was the head of the Turkish Navy's policy planning division. Moreover, he is the author of multiple books on military and naval strategy. Three years after attaining the rank of rear admiral, he was arrested with other senior officers as a part of the broader Sledgehammer (Balyoz) trials of 2011.
One of the fundamental principles of Kemalism is revolutionism, the aim of which is to achieve a modern society through revolutionary changes and prevent remission to old habits. The Turkish military was the guardian of modernism and secularism. Every time any religious party came to the fore, the army stepped in to bring the country's leadership back into secular hands. After the AKP came to power in 2002, the military attempted a coup d'etat in 2003, but failed. The plan was codenamed "Sledgehammer" (Balyoz in Turkish). It was approved by 162 officers of the armed forces, including 29 generals and involved declaring a State of Emergency to create an atmosphere of chaos and violence, preparing the ground for a coup d'etat. But Erdogan not only prevented the attempt, he also neutralized the military as the guardians of laicism. It was followed by a large number of military arrests.
Gurdeniz's connection to the Sledgehammer case exposes his ties to the nationalist-Kemalist branch of Turkish policy. Though convicted and sentenced to 18 years in prison, he was released in 2015. Surprisingly, he is now the key figure who stands behind the Blue Homeland doctrine. It is possible that Erdogan is trying to please the nationalist electorate and attract Kemalist voters (who traditionally support the CHP) to his side.
The adoption of the Blue Homeland strategy was inaugurated with the largest naval exercise in the history of modern Turkey, held on February 27, 2019, and lasting 10 days. The exercise aimed to test Turkey's ability to wage war simultaneously on three fronts: the Black Sea, Aegean Sea and Eastern Mediterranean, collectively comprising the 462,000 square kilometers that make up the Blue Homeland maritime map. 103 military ships and 20,000 soldiers participated in the military exercise, with the Turkish Navy visiting 33 ports in Turkey and another seven abroad on the coasts of the Black Sea.
After the exercise, Erdogan and the Commander of the Navy publicly appeared in front of a Blue Homeland map, which asserted a claim over Greek islands and was seen as a threat to neighboring countries. It was a show of dominance over the maritime space and a signal that  Erdogan had given the plan his green light.
What is the Blue Homeland?
Though the Blue Homeland concept was devised 15 years ago, it was overshadowed at the time by the doctrines espoused by Davutoglu. The Blue Homeland was acceptable only in limited nationalist circles. It has three main pillars: heavy militarization of Turkey's foreign policy, defense in cross-border areas, and investment in the defense industry.
The militarization of Turkey's foreign policy is evident by their military presence in Iraq, Syria and the Eastern Mediterranean. Turkey employs armed drones in Cyprus and has set up military bases in Somalia and Qatar, in addition to their direct involvement in the 2020 Artsakh War.
Second is the defense in cross-border areas. Turkey maintains military bases and a troop presence in Cyprus, Qatar, Somalia, northern Iraq and Libya. One of the manifestations of the second pillar is Turkey's agreement with Libya, which grants Turkey a right to control Libya's maritime territory. Accordingly, Turkey can control both vessel movement and natural gas reservoirs and pipelines. Given the fact that recent hydrocarbon discoveries in the Eastern Mediterranean give Israel an opportunity to lay pipelines to Greece and Italy, Turkey could assert control over them. Another striking case is northern Syria, where Turkey not only obtained control but also established administrative structures.
Last but not least is investment in the defense industry. Indeed, Turkey's defense industry is one of the few bright spots in its economy. It benefits from both public investment and also the participation of private producers. It unites all the branches of Turkish politics—the secular, nationalist and religious wings. Turkey produces combat drones, its own rocket systems, and co-produces attack helicopters, tanks and warships through its MILGEM project.
The main goal of the Blue Homeland doctrine is to achieve and consolidate Turkey's control in its surrounding seas to raise its regional and international influence and eventually to control new energy resources. In adhering to the Blue Homeland, Turkey implements an expansionist energy policy in the Eastern Mediterranean, exploring for gas reserves. More broadly, Turkey wants to control the Mediterranean Sea, the Aegean Sea, the Black Sea and even the Red Sea to be a maritime, economic and political power. Turkey is refusing to ratify the 1982 UN Convention on the Law of the Seas (UNICLOS), leaving it in a minority of one each year in the General Assembly of the United Nations voting against the Omnibus Resolution of the Law of the Sea, as it did most recently on December 5, 2017. Its refusal to ratify this maritime law is putting it in conflict with most regional actors. Namely, Turkey is refusing to accept the maritime rights of its neighbors, and as such, making claims against their maritime sovereignty through its Blue Homeland doctrine.
Turkish expansionist policy doesn't enjoy the support of its NATO partners France and Greece. Moreover, Israel, Russia, Egypt and Saudi Arabia have shown their dissatisfaction over Erdogan's ambitions. Turkey's aggressive maritime politics have left the country in isolation in the region. On January 16, 2020, Cyprus, Egypt, Greece, Israel, Italy, Jordan, Lebanon and Palestine formed The EastMed Gas Forum international organization. France has already requested to join the forum earlier this year, and the United States has become a permanent observer, which gives the forum important international weight. France and the U.S. have their own interests in the region; their energy giants Total, Noble Energy and ExxonMobil have already obtained licenses to extract gas in the countries of the region. During the summer of 2020, when Greece came to a confrontation with Ankara over oil and gas exploration in disputed waters off Cyprus, France deployed naval vessels to the Eastern Mediterranean in support of Greece. Moreover, the US lifted a 33-year arms embargo against Cyprus. Washington had placed restrictions on the transfer of arms to Cyprus in 1987 to encourage reunification efforts and avoid an arms race on the island. These are extremely important developments that are leading to the further isolation of Turkey due to a severe reaction against its Blue Homeland doctrine.
The End of the Davutoglu Era
It is obvious that Turkey has already shifted away from the concepts of former Prime Minister Ahmet Davutoglu, who was one of the few members of the ruling Justice and Development Party (AKP) with an academic background. He was the chairman of the Department of International Relations at Beykent University in Istanbul. By becoming a member of the AKP, he implemented his academic theories into practice. According to Davutoglu, Turkey possesses "strategic depth" due to its history and geographical location. He positioned Turkey with other small groups of powers, called central powers. Davutoglu argued that Turkish power goes beyond regional capacity and could be a superpower.  Due to its strategic depth, Turkey could implement a multi-dimensional foreign policy and play a central role in global politics. Davutoglu claims that Turkey can simultaneously have influence in the Middle East, Balkans, Caucasus, Central Asia, Caspian, Mediterranean, Gulf and Black Sea countries, and be a bridge between Islam and the West.
Though the foreign policy implemented by the AKP under the rule of Ahmet Davutoglu was famous for its principles of "zero problems with neighbors", it was just one element of the foreign policy doctrine. In reality, there are five key principles: a balance between security and democracy, "zero problems with neighbors", develop relations with neighboring regions and beyond, a multidimensional foreign policy, and rhythmic diplomacy.
According to Davutoglu, there is a need to balance security and democracy, without which it would be impossible to remain a legitimate political regime. Security should not limit freedoms and human rights. Back then, Turkey aspired to be an Islamic state with a democratic culture that could be an example for the whole Islamic world. Today, however, Turkey's democratic backsliding has popped any such illusions.
Second is the famous "zero problems with neighbors" principle, which also collapsed, most notably beginning with Turkey's direct involvement in the Syrian Civil War. Today, it is sometimes sarcastically rephrased as the "zero neighbors, no problems" formula. This principle had led to normalization attempts with Armenia in 2009, but true commitment never materialized; the "football diplomacy" of the day is now viewed as a cynical PR attempt to sideline recognition of the Armenian Genocide by then-newly-elected Barack Obama. Today, Turkey has problems with almost all of its neighbors including direct intervention in the 2020 Artsakh War and with the recent events with Greece a case in point.
Another principle is the development of relations with neighboring regions, including the Near East, Caucasus, North Africa and Central Asia. These expansionist ambitions were one of the first steps toward Erdogan's current neo-Ottoman obsession.
The fourth principle is adherence to a multi-dimensional foreign policy. According to Davutoglu's theory, Turkey's relations with other global actors aim to be complementary, not in competition. Among them are the USA, NATO, Russia and the EU. However, Erdogan has managed to fail this principle, too.
Last but not least is rhythmic diplomacy. Turkey tried to adapt to the ever-changing international situation. For instance, Ankara tried to institutionalize its relations with different international organizations and play a mediator role in different international situations.
Summing up, Blue Homeland and its reliance on hard power tools is tangible evidence of Turkey's clear shift away from the principles that guided the AKP's earlier foreign policy. It extends its expansionism from land to sea, further straining regional relationships and traditional alliances. Turkey is testing its limits and can expect to find itself in deeper conflicts when it finally reaches them.

Many assumed that Turkey's direct involvement in the 2020 Artsakh War and thereby its intrusion into Russia's "near abroad" would be met with hostility by Russia, or at least vocal condemnation. The reaction was mild, writes Zaven Sargsian.
Read more

A number of international media outlets have published stories about Syrian militants who have been offered up to $1500/month by Turkey to fight alongside the Azerbaijani military.
Read more