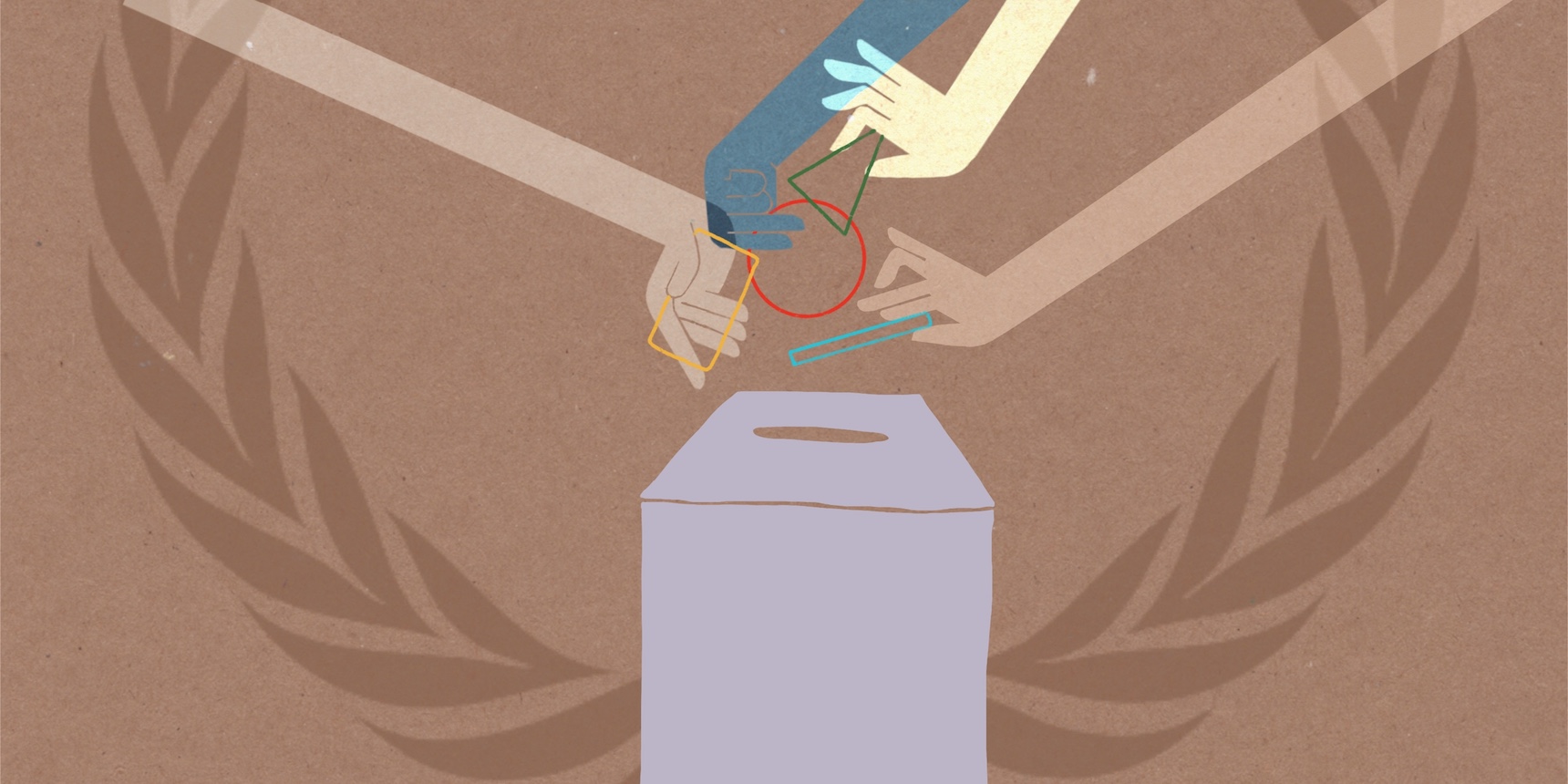 On February 23, 2023, on the eve of the anniversary of Russia's invasion of Ukraine, the UN General Assembly once again voted to condemn it. The resolution demanded that Russia withdraw its military forces and emphasized the need to ensure accountability for crimes committed on Ukraine's territory. Armenia once again abstained. It was the seventh vote at the UNGA since the start of the war that Armenia refused to take a side. The Russo-Ukrainian war has put Armenia in a difficult place and the country has accordingly taken the middle ground between explicitly opposing and supporting Russia, its primary ally, at least on paper.
During his recent visit to Germany, Armenian Prime Minister Nikol Pashinyan was asked about why he was "unwilling to fully condemn Russia's war of aggression." Pashinyan responded that Armenia is "doing everything to position itself on international platforms as a responsible member of the international community."
Through the years, Armenia has voted on a variety of conflicts and issues at the UN, including at the General Assembly (UNGA) and the Human Rights Council (UNHRC), where it was a member for a three-year term in 2020 to 2022. An analysis of Armenia's voting patterns throughout time reveals some overlooked aspects of Armenia's foreign policy and its evolution.
Ukraine–Russia
From 2014, the start of the Russia-Ukraine conflict, until 2021 Armenia consistently voted in line with the Russian position vis-à-vis Ukraine.
On March 27, 2014, following the formal annexation of Crimea, the UNGA voted for resolution 68/262 calling on states and international organizations not to recognize any change in the status of Crimea and to refrain from actions or dealings that might be interpreted as such. Armenia joined 10 other countries, including Russia, Belarus, Cuba, North Korea, Sudan, Syria, Venezuela, Zimbabwe, to vote against it. Garen Nazarian, Armenia's Deputy Foreign Minister, explained that Armenia believes that the situation in Ukraine is a "sensitive matter" and an enduring solution can only be achieved through dialogue and "not as a result of statements made or resolutions adopted by the [General] Assembly."
For six years (2016, 2017, 2018, 2019, 2020, 2021), Armenia voted against annual resolutions on the situation of human rights in Crimea, which condemned the continued occupation of the peninsula by Russia. Then came the Russian invasion of Ukraine in February 2022. Since then, the UNGA has voted on six resolutions regarding the Russo-Ukrainian War and one on Crimea. Armenia has abstained in all but one, where it did not vote at all. These resolutions include:
On December 15, 2022, after six negative consecutive votes since 2016, Armenia also abstained in the vote on the above-mentioned perennial resolutions on the human rights situation in Crimea.
In the UN Human Rights Council (UNHRC), where Armenia was a member through 2022, there were three notable votes on the war. Armenia abstained in all cases. First, on February 28, 2022, the UNHRC voted to hold an "urgent debate" at the request of Ukraine. A week later, on March 4, 2022, the UNHRC voted to establish an independent international commission of inquiry as a result of Russia's aggression. And on May 12, 2022 the UNHRC voted to increase scrutiny on the "deteriorating human rights situation in Ukraine stemming from the Russian aggression."
Armenia's consistent diplomatic support for Russia at the UNGA, from 2014-2021, spanned two administrations, those of Serzh Sargsyan and Nikol Pashinyan. The latter continued to oppose anti-Russian resolutions until it became no longer defensible to do so. Opposing these six resolutions would have put Armenia next to a dozen pariah states and likely at odds with the EU and the U.S.
In 2014, Armenia refused to condemn Russia's annexation of Crimea. In a phone call with Vladimir Putin, then-President Sargsyan went as far as framing it as "another case of exercise of peoples' right to self-determination via free expression of will." Armenia likely hoped to win Russia's favor and accentuate the right to self-determination over territorial integrity in the context of the Nagorno-Karabakh conflict. 
But Russia's recent aggression and blunt violation of international law is unjustifiable for a country that considers democracy its main brand and seeks international, especially Western, support in the face of Azerbaijani incursions into its sovereign territory. Even more so, with Armenia having grown disillusioned with Russia's role as a security guarantor and arms supplier, it now has little reason to sacrifice its international standing over a hesitant ally.
Georgia
On May 15, 2008, just two months after Georgia voted for a pro-Azerbaijani resolution on Nagorno-Karabakh, Armenia reciprocated and voted against a resolution presented by Georgia. It emphasized the right, necessity and urgency of refugees and internally displaced persons (IDPs) from Abkhazia to return to their homes and places of original residence. Only 14 countries voted for it and 11 against. The rest abstained or did not vote. Armenia explained its opposition with the inclusion of the item entitled "Protracted conflicts in the GUAM area and their implications for international peace, security and development" in it. It had implications for Nagorno-Karabakh, a conflict in the "GUAM area". GUAM is the organization that brought Georgia, Ukraine, Azerbaijan, and Moldova together and was particularly active in the 2000s. Armenia instead called for a comprehensive approach as opposed to a focus on "single issues, as significant as they may be."
Since 2009, the UNGA has annually adopted resolutions on the "Status of internally displaced persons and refugees from Abkhazia, Georgia, and the Tskhinvali region/South Ossetia, Georgia." Through 2018, Armenia voted against these resolutions (2009, 2010, 2011, 2012, 2013, 2014, 2015, 2016, 2017, 2018), but has changed course since then, by not voting (2019, 2020, 2021, 2022). This shift is an attempt by the Pashinyan government to break away from the long-standing antagonistic voting vis-à-vis its northern neighbor. Regardless of its close ties with Azerbaijan and Turkey, Georgia is a vital state for Armenia and a lifeline. Non-voting does no harm and offends no one.
Palestine–Israel
Armenia does not recognize the State of Palestine and instead has diplomatic relations with Israel. Despite this, successive Armenian governments have consistently supported the Palestinian cause at the UNGA. In fact, since 1996, Armenia has repeatedly voted in favor of resolutions reaffirming the "inalienable rights of the Palestinian people and the population of the occupied Syrian Golan [Heights] over their natural resources, including land and water." In 2012, Armenia voted for the resolution according Palestine an Observer State status in the UN and in 2017 Armenia voted in favor of a resolution asking nations not to establish diplomatic missions in Jerusalem after the United States moved its embassy there.
During its membership in the UNHRC (2020–2022), Armenia voted on several occasions in favor of pro-Palestinian resolutions, including those backing accountability and justice for all violations of international law in the Occupied Palestinian Territory, Israeli settlements, and backing the right of the Palestinian people to self-determination.
Armenia's non-recognition of Palestine is tied with its (formal) non-recognition of Artsakh (Nagorno-Karabakh). Consequently, as a principle, Armenia does not recognize and establish ties with disputed areas, such as Palestine and Kosovo. This policy does not, however, prevent Armenia from advocating for the right of self-determination. It also does not prevent Armenian diplomats from meeting their Palestinian and Kosovar counterparts.
Iran, Syria and Belarus
During its three-year term at the UNHRC, Armenia was expected to vote on a number of issues that did not often reach the UNGA floor. These include voting on partners and friendly states with questionable human rights records, including Iran, Syria and Belarus.
At the UNHRC, Armenia twice voted against resolutions on human rights in Iran. The first, adopted in March 2021, extended the mandate of the Special Rapporteur on the situation of human rights in that country. The second, adopted in November 2022, established an independent, international fact-finding mission to thoroughly and independently investigate alleged human rights violations in Iran related to the protests. At the UNGA, too, Armenia voted against resolution 76/178 entitled "Situation of human rights in the Islamic Republic of Iran" in December 2021.
On Syria, since the start of the civil war there in 2011, Armenia has consistently abstained from voting on resolutions at the UNGA (2011, 2012, 2013, 2014, 2015, 2016, 2017, 2018, 2019, 2020, 2021, 2022). In 2012, Armenia twice abstained on resolutions condemning the Syrian government for use of violence against civilians. Armenia's voting pattern at the UNHRC was somewhat different. During its three-year term there, Armenia initially, in 2020, abstained in votes on resolutions on Syria, but then voted against multiple resolutions on the situation of human rights in Syria in 2021 and 2022. This may be indicative of closer ties with Bashar al-Assad's Syria as it was vocal in its support of Armenia and critical of Turkey's role during the 2020 Artsakh War. Earlier, in February 2019, Armenia had sent 83 medics, sappers and other personnel to Syria to help civilians and clear landmines in the Aleppo area. After the recent earthquake, Armenia was one of the first countries to send rescuers and humanitarian aid to Syria.
Armenia's votes on Belarus, a nominal economic and military ally within the Eurasian Economic Union and the CSTO, but widely considered to have closer ties with Azerbaijan, also reveal a shift. At the UNHRC, in July 2020 Armenia voted against the resolution urging the Belarusian authorities to guarantee a free, fair, and transparent presidential election that was slated for August 9, and to take all reasonable measures to facilitate a peaceful process, in accordance with its international obligations and commitments. Pashinyan became one of the first foreign leaders to congratulate President Alexander Lukashenko on his reelection, which was highly controversial and followed by large-scale protests in Minsk and other cities across Belarus. Following the 2020 Artsakh War and growing disappointment with the CSTO (and Belarus) over inaction and toxic rhetoric, Armenia changed course. On three occasions, in 2021 and 2022 Armenia abstained in votes at the UNHRC on the situation of human rights in Belarus.