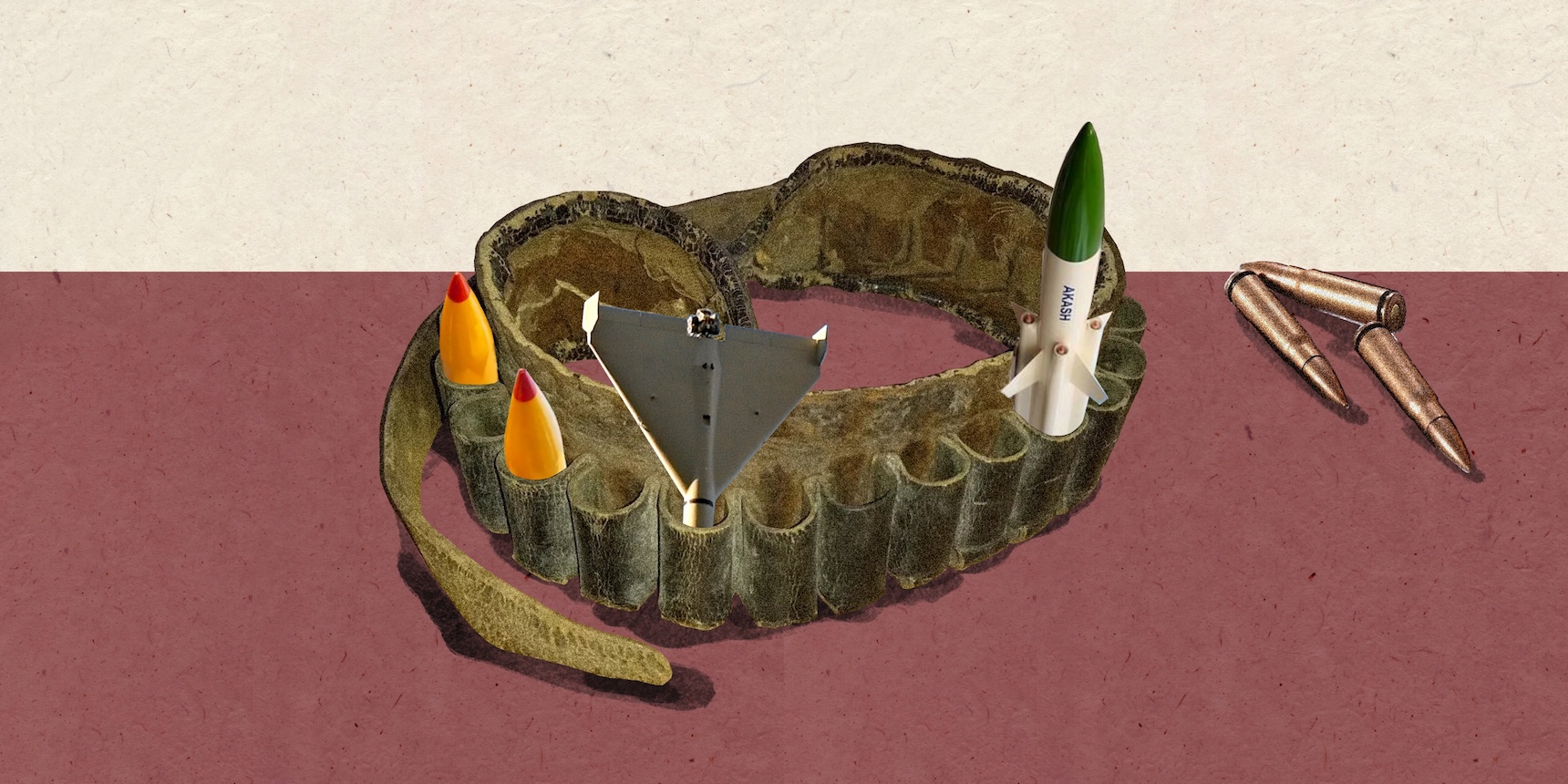 Apart from the human and territorial losses, the 2020 Artsakh War devastated Armenia's military hardware. In just six weeks, the Armenian and Artsakh militaries lost much of their equipment, including by one count based on the visual evidence, 255 tanks, 84 multiple rocket launchers, 40 air-defense systems and two Scud ballistic missiles. This is the big stuff. Armenia also lost smaller pieces of armament like mortars and anti-tank missiles critical for self-defense.
For the past two years, Armenia has faced an uphill battle of recovering—and upgrading—its arsenal. The latest Azerbaijani invasion on September 13-14, 2022, made the complexities of arms procurement, and the endeavor of doing this independent of Russia, central to Armenia's strategy.
The Trouble With Russia
Although after the 2020 war Russian weapon's systems suffered some loss of reputation among Armenian observers and decision-makers, Russia remained, until recently, the go-to country to procure arms. For three decades, it dominated Armenia's arms supply. As recently as the time period from 2015 to 2019, approximately 94% of Armenia's arms imports came from Russia.
This unidimensional trend, however, appears to have shifted. Pro-government MP Gagik Melkonyan, who served as deputy defense minister in 2000-2008, recently confirmed that Russia has neither sold nor supplied any weapons to Armenia since the 2020 war.[1] While Moscow has neither confirmed nor denied these stipulations, a wide range of factors, such as Azerbaijani pressure, the Russo-Ukrainian War, and a lack of interest in aiding Armenia have presumably contributed to the halting of Russian military supplies to Armenia.
In late September, Pashinyan revealed, without naming Russia, that Armenia's allies (read: ally) have failed to deliver weapons that Armenia had paid for in advance. When pressed, Pashinyan refused to name the country, but one of his closest allies, parliament speaker Alen Simonyan essentially confirmed this by saying that "maybe it has something to do" with the war in Ukraine.
Pashinyan said the deal in question is worth hundreds of millions of dollars. It was likely formalized in August 2021. During his visit to Moscow, Armenia's then-Defense Minister Arshak Karapetyan was given a dagger as a gift by his Russian counterpart Sergey Shoigu, who declared: "We can consider that the process of arms supply to Armenia has begun." At a Moscow defense expo the same month, Karapetyan said that Armenia's policy is to obtain new and high quality arms, while Deputy Defense Minister Karen Brutyan stated that Armenia was set to sign contracts with several Russian defense manufacturers and exporters. The director of Russia's Federal Service of Military-Technical Cooperation (FSVTS) confirmed that Armenia had signed contracts on armament supply at the expo.
An article published in Haykakan Zhamanak, the Pashinyan affiliated-newspaper, in early October and widely believed to have been authorized by Pashinyan, argued that Russia's inaction during the Azerbaijani incursion in September and Russia's failure to deliver on its arms supply commitments point to Russia's desire to expose the vulnerability of Armenia's security in order to "swallow" Armenia into a "union state" along with Belarus.
The Geopolitical and Logistical Barriers
At a Q&A session in parliament on September 13, Pashinyan outlined three difficulties with arms acquisitions. He insisted that Armenia has no problem with funds, but there are political, technical, and transportation challenges. There are countries that will not accept Armenia buying weapons from third parties, he said, and if Armenia were to go ahead and purchase armaments from those "unnamed" countries, it would create new security challenges. This may be a hint at Iran, with the U.S. likely staunchly opposed to any weapons trade with that country. 
Another problem is transportation. Armenia is landlocked with most of its borders closed. Weapons can either be airlifted to Armenia or be transported via land through Georgia and Iran. The routes can at times be problematic. During the 2020 Artsakh War, Georgia officially banned transportation of Russian armament via land or airspace, but the ban was not (and could hardly be) enforced. In fact, Russian cargo planes continued to fly to Armenia via Georgia and Turkish ones to Azerbaijan via Georgia's airspace.
Another challenge is Azerbaijan's public and private efforts to thwart any supplies to Armenia. In a cabinet session, Pashinyan insisted that Azerbaijan has had "some success" in that area, including with Armenia's allies. "Wherever possible, they try to prevent arms and ammunition from being supplied to Armenia," he said. Pashinyan suggests that by foiling armament supplies to Armenia, Azerbaijan wants Armenia to abandon and concede its "statehood, sovereignty, territorial integrity." 
In August 2021, Azerbaijani President Ilham Aliyev expressed his grievances about Russian supplies to Armenia. Baku expects Russia not to arm Armenia, he said. "We have brought this issue to the attention of Russian officials. We are alarmed about that. The war is over. The people of Armenia have come to terms with this situation. The Armenian government has also come to terms with its defeat," Aliyev argued. In a recent interview, in a hubristic manner typical of him, Aliyev said Armenia should not "waste money" on acquiring weapons, because if it sees a serious threat, Azerbaijan "will crush this threat immediately – no matter where this threat comes from, from our territory or beyond our borders." Apart from the speculative Azerbaijani role in Russia's non-delivery of weapons, we know of one case when a relatively small arms export from Jordan was canceled likely due to Azerbaijani efforts.
Despite these challenges, in his September and November interviews, Pashinyan said Armenia is working "actively and intensely" to expand the list of countries it buys weapons from and diversify its potential to obtain equipment. Key Pashinyan ally, Andranik Kocharyan, chair of the Parliamentary Standing Committee on Defense, said Armenia is working on all fronts, "possible and impossible", to obtain arms. In November, a senior Azerbaijani security official complained that Armenia "attempts to buy modern weapons and military equipment from various foreign countries," which may be an indication of some success in countering Azerbaijani efforts. 
Below are a number of countries that can serve as sources of armament for Armenia in the absence of Russia's willingness and/or capacity in the face of the persistent threat of attack by Azerbaijan.
India
India has come to (partially) fill the void left by Russia. India is not known for being an arms exporter and is, in fact, the world's largest importer of arms and stands out in the global arms trade for purchasing Russian, Western (U.S., French), and Israeli weaponry. 
Early Interest
Armenia's pivot to India as a source of armaments is relatively recent, although a memorandum on defense was signed back in 2003. The groundwork for deep cooperation was laid in December 2016 and February 2017 when the Indian ambassador to Armenia met with Yuri Khachaturov, secretary of Armenia's Security Council, and Levon Ayvazyan, head of the MoD's defense policy department. Ayvazyan visited India in May 2017 to boost cooperation, among other areas, in the military-technical field and toured arms factories. Not long after, in December 2017, Hindustan Times, a leading Indian outlet, first mentioned Armenia's interest in Indian weapons, particularly radars and long-range artillery ammunition.
In August 2018, The Times of India reported that Armenia is interested in purchasing the Pinaka multiple rocket launchers. A Pinaka manufacturer "carried out extensive firing trials" for the Armenian delegation the previous month. A spokesperson of the Armenian Ministry of Defense confirmed Armenia's interest in Indian weapons. Artsrun Hovhannisyan, the spokesperson at the time, said that the Pinaka was not the "sole and biggest" of Armenia's interests, which includes both "defensive and offensive" arms.
The First Acquisition
In March 2020, after a two year pause, came the news of Armenia's first actual acquisition of Indian weapons. Leading Indian outlets reported that Armenia purchased the Swathi counter-battery radar. Armenia ordered four pieces with a price tag of $40 million. SIPRI's arms transfers database confirms the radars were ordered in 2020 and were supplied in 2021. They were reportedly airlifted to Armenia in January 2021 via Iran's airspace on a Russian Air Force Antonov An-124 cargo plane.
Recent Developments
In November 2021, India appointed a military attaché to Armenia, who met with the Defense Minister and Chief of the General Staff. Armenian-Indian security cooperation intensified in 2022. In June of that year, an Armenian MoD delegation, led by Major General Mher Shirinyan, head of the armed forces armament department, visited India with a shopping list. Shirinyan met with his Indian counterparts, while DNA India claimed that while little is known about the weapons Armenia sought to procure, "drones have been confirmed to have figured prominently on the list."
When in early July, Sanjay Verma, a top Indian diplomat visited Armenia, he stated: "On the defense side, we have begun looking at concrete cooperation. We are looking at a long-term relationship in that area." In an interview that month, Kishan Dan Dewal, India's ambassador to Armenia, noted that there is interest from Armenia to "have more defense ties, which we understand."
Since Azerbaijan's large-scale incursion into Armenia in September 2022, the Indian media has been flooded with reports of arms acquisitions or interest therein by Armenia.
Pinaka
First, in late September, The Economic Times reported that earlier that month Armenia and India signed "a number of contracts" for the supply of missiles, rockets and ammunition with an estimated total worth of 20 billion rupees (more than $244 million). According to its sources, these included the Pinaka multiple rocket launchers, anti-tank missiles, as well as a "range of ammunition." The weapons are to be supplied to Armenia "over the coming months," it said. In an interview the next day, Pashinyan essentially confirmed this by saying "the Republic of Armenia has not refuted those Indian media reports." Further confirmation came from Satyanarayan Nuwal, chair of Solar Industries, a Pinaka developer. He told ANI News that they have received an export order from Armenia which is "to be completed within two years."
The Economic Times further corroborated that Armenia has ordered four Pinaka batteries—"two to be delivered first and an equal additional order later"—and various "extended range rockets being developed for the Indian Army" and "guided rockets in the near future." Another Indian outlet, The Print, said the supply of weapons of the "government-to-government contract" will be "fast-tracked according to Armenia's requirement." The same outlet said the anti-tank missile mentioned as part of the deal is the Konkurs, produced in the Soviet Union/Russia and exported to India in the tens of thousands. 
Papikyan's Visit and Further Reports 
Armenia's Defense Minister Suren Papikyan visited India on October 18-19, 2022, where he met with his counterpart Rajnath Singh, and with Chief of the Army Staff General Manoj Pande and attended a defense expo. While Papikyan was there, Indian outlets reported that Armenia is interested in the Akash air defense systems, UAVs (drones), and loitering munitions ("kamikaze drones") developed by private Indian companies such as Tata Advanced Systems Limited (TASL) and Solar Industries. At the expo, Papikyan was hosted by BDL, the manufacturer of the Akash missiles. Indian military blogs and observers reported that at the October expo, visited by Papikyan, Armenia had shown further interest in the Pralay short-range ballistic missiles, which is still in the trial stage and anti-drone technology. 
In November, Indian media reported that Kalyani Strategic Systems, a subsidiary of Bharat Forge, had signed a deal to export 155mm mounted gun systems to Armenia. The company said in a press release that the export order will be "executed over a 3-year timeframe" and has a total worth of $155.5 million. It also said the order is "to a non-conflict zone," but at least two Indian outlets have insisted, citing defense sources, that Armenia is the buyer. Retired colonel Ajai Shukla, writing for Business Standard, estimated that the order includes somewhere between 72 and 100 howitzers. The Multi-Terrain Artillery Gun (MArG) 155, as it is called, was officially unveiled in December 2021. 
Indian Defence Research Wing (IDRW) reported in January 2023 that Armenia is considering acquiring MR-SAM, the Indian variant of Barak 8, an Israeli surface-to-air missile system. IDRW learned that Armenia made some inquiries regarding the MR-SAM, while India has offered the Akash and Akash-NG systems, but "all options are open for further talks." Although India would not need export clearance from Israel since some components come from Israel, IDRW says India still needs to notify Israel Aerospace Industries (IAI), its developer, about the potential export to Armenia.
Assessment 
Armenian-Indian cooperation is mutually beneficial with no obvious downsides for either party. India may not have been Armenia's first choice, but one thing is certain: neither Russia nor the West appear to have any problems with it. Simultaneously, both countries have also become increasingly outspoken about mutual diplomatic support. Pashinyan has voiced his support for India's policies on Kashmir, while in September, India—without naming Azerbaijan—called upon the "aggressor side" to cease hostilities.
In 2018, the prospective acquisition of Indian weaponry was seen by some analysts as an effort to diversify Armenia's supply and to build a strategic alliance with India, the archrival of Pakistan, one of Azerbaijan's staunchest supporters. Now, Indian weapons may just be a lifeline for Armenian self-defense. There have also been reports that the two countries envisage "setting up joint manufacturing bases in Armenia." India's former ambassador to Armenia has hinted at the possibility of joint weapons production and military exercises. 
Back in 2020, military analyst Leonid Nersisyan noted that the problem with Indian weapons in general is their unpredictability and called for careful examination before purchases are made. Two years later, Nersisyan opined that India is a safe choice for arms, such as MRLs. Nersisyan praised the acquisition of Swathi radars as a "big step forward", especially because it is designed for harsh high-altitude conditions (similar to Armenia) and was influenced by American radars. Swathi was reportedly passed over in favor of the Russian Zoopark-1 radar.
As for the Pinaka, depending on the variant, it has been compared to the Soviet/Russian Grad and Smerch MRLs. Some analysts have convincingly argued that the Pinaka acquisition is more about building a security partnership with New Delhi and curtailing Armenia's dependence on  Russia.
Artsrun Hovhannisyan, in an interview in October 2022,  praised the upgraded Akash-NG surface-to-air missile system, which can help Armenia build serious air defense capabilities. India, he asserts, can share its experience with the Russian Su-30 fighter jets with Armenia. India, which possesses the largest fleet of Su-30s in the world, has successfully integrated Western technology to it, including weapons, sensors, and avionics. India can help Armenia, Hovhannisyan believes, in building a squadron or two. IDRW claimed in early January that Armenia has sought India's aid in building an air force, including training Armenian pilots. 
Hovhannisyan argues that Armenia can also acquire second hand Soviet/Russian artillery systems from India, of which it has a large quantity. Any weapons procurement is welcome at this stage, he says, as Armenia is in need of everything from shells and rockets to advanced systems. Hovhannisyan has also pointed to the Dhanush, which has a firing range of 600 km, as a "perfect ballistic missile for us."
United States
Increasingly proactive American and French diplomatic efforts have led to discussions in and outside Armenia of the possibility of arms supplies. Neither country has previously sold any significant equipment to Armenia. In fact, there is a voluntary OSCE embargo on arms deliveries to Armenia and Azerbaijan still in place, but it has been overlooked by some member states, like Russia, but mostly held by the West. When in 2018, Donald Trump's National Security Advisor John Bolton visited Armenia in an effort to sign Armenia into the anti-Iran alliance, he noted that while there are restrictions on weapons sales to Armenia and Azerbaijan, "there are exceptions to that."
In 2016, then-Deputy Defense Minister Davit Tonoyan told RFE/RL that there is a "gentlemen's agreement" by EU member-states and the U.S. not to supply any significant equipment to either Armenia or Azerbaijan. Gagik Melkonyan, the pro-government MP and former Deputy Defense Minister, has asserted, like many others, that CSTO membership prevents U.S. arms sales to Armenia. Armen Kharazian, Armenia's former deputy ambassador to the U.S., has argued that Armenia would receive U.S. and Western military support if it quits the Russian sphere of influence, including the CSTO and the Eurasian Union.
Renewed speculation of possible American weapons sales revived after Azerbaijan's large-scale incursion in September 2022, especially during and after the visit of a Congressional delegation, led by Speaker Nancy Pelosi. When asked about the possibility of military assistance, she notably said that "on the defense side, […] we're listening to what the needs are." Rep. Frank Pallone, chair of the House Energy and Commerce Committee, said: "We're going to work to see what can be done by the U.S. to help Armenia's security without reference to Russia or the Russian [security] arrangement." During the same visit, Pelosi, along with U.S. Ambassador Lynne Tracy, met with Defense Minister Papikyan and discussed "a number of issues related to the cooperation of the two countries in the defense sector." Then followed Security Council Secretary Armen Grigoryan's visit to the U.S., where he met with Laura Cooper, Assistant Defense Secretary for International Security Affairs, and had meetings at the CIA headquarters. Earlier in September, Minister Papikyan had visited the U.S. with a large delegation, where he met with, among others, Colin Kahl, Under Secretary of Defense for Policy.
The United States has further increased its defense relations, especially in regards to training and education. In early October, leaders from Armenia's Defense Ministry visited several top U.S. military educational institutions, meeting with their counterparts at the United States Military Academy at West Point, The U.S. Army War College, The National Defense University, and with personnel and training specialists at the Department of the Army Headquarters. They exchanged ideas on admissions, integration, academics, and military training as a whole.
Andranik Kocharyan, chair of the Parliamentary Defense Committee, has said procurement of arms is "naturally" a topic of discussion with the U.S. and France, but emphasized that Armenia expects the U.S. to increase education capabilities in the Armenian military. In November, Major General Daniel Lasica, Director for Strategy, Plans and Policy, United States European Command, visited Armenia. He met with Defense Minister Papikyan, Chief of General Staff General Edvard Asryan, and Security Council Secretary Armen Grigoryan. Lasica and Prime Minister Nikol Pashinyan attended the opening of the Zar training center, the main training unit of Armenia's peacekeeping brigade, which had been improved with American support. 
France
Many of the same challenges that prevent U.S. arms sales to Armenia apply to France. Jonathan Lacôte, the former French ambassador to Armenia, said in July 2021, that France is "willing to examine Armenia's requests relating to defense," but France's priority is to facilitate a peaceful resolution of the Nagorno-Karabakh conflict. "But one must also take into account the overall context. First of all, France and Armenia are not part of the same military alliance," he reminded. When his statement was (mis)interpreted online as "France's readiness to provide military assistance to Armenia," Lacôte reiterated that "France stands ready to consider potential requests from the Armenian side."
As with the United States, speculations regarding possible French military assistance, including weapons supply, intensified in September 2022. France's increasingly pro-Armenian stance and meetings of defense officials have raised public expectations of military support. Defense Minister Papikyan first met with his French counterpart Sébastien Lecornu in Paris in late September, then in October, Papikyan received presidential adviser Isabelle Dumont and a French defense delegation in Yerevan. The delegation, led by Guillaume Olangier, head of the Europe-America Multilateral Operations Service of the General Department of International Relations and Strategy of the French Defense Ministry, also met with Armen Grigoryan, Secretary of the Security Council, and Robert Khachatryan, Minister of High-Tech Industry.
France's active engagement in the region can be interpreted as an attempt to assert a role for itself as a great power. Nowhere in the region are pro-France sympathies as high as in Armenia, but as former Ambassador Lacôte reminded of the obvious, Armenia and France (and the U.S.) are in opposing military blocs, which remains a barrier to deeper defense cooperation. Nevertheless, France appointed a permanent military attaché in Yerevan in October 2022 as a sign of growing relations. Pashinyan stated in a January 2023 press conference that Armenia and the West have increased mutual engagement and have reciprocated signals that there is "certain potential" in security cooperation. 
Iran
Iran is Armenia's only neighbor which is often looked at by Armenian analysts as a possible source of weapons. Procurement of Iranian arms has become a matter of much speculation since mid-September. This was further boosted by Russia's wide use of Iranian loitering munitions in Ukraine. The most obvious barrier to Armenia-Iran military cooperation and weapons transfer is Iran's antagonistic relations with the West, especially the United States. Possible weapons purchases from Iran are likely to be received highly negatively. As one commentator has argued, any serious security cooperation between Armenia and Iran is a red line for the U.S. On the other hand, Leonid Nerisyan has argued that Tajikistan, which has recently begun a joint production of drones with Iran, has not been threatened with sanctions by the West.
Nevertheless, others like Vardan Voskanyan, a known government critic, and chair of Iranian Studies at Yerevan State University, insist there is no justification why Armenia should not buy Iranian loitering munitions and "other advanced weapons from Iran." Suren Sargsyan, a widely-quoted commentator on the United States, argues that since both Russia and Iran are under similar sanctions, Armenia can now acquire weapons from Iran as well, since purchasing from Russia would presumably entail sanctions on Armenia regardless.
Robert Beglaryan, an ethnic Armenian member of Iranian parliament, insists that "nothing can prevent" the supply of Iranian weapons to Armenia if both sides agree on it. Military analyst Artsrun Hovhannisyan, the former Defense Ministry spokesperson, has called for a security cooperation with Iran if (geo)political obstacles can be overcome, although he argues that Iranian drones can only be useful for Armenia in the short term. 
In mid-October, Middle East Monitor quoted Major General Yahia Rahim Safavi, former Commander of the Islamic Revolutionary Guard Corps and top military aid to Iran's Supreme Leader, as saying that Armenia is interested in acquiring Iranian drones. This remains dubious as Armenian fact-checkers were unable to locate Safavi's original speech in which he reportedly listed Armenia among the 22 countries interested in Iran's drones. It was further circulated by Turkish and Azerbaijani media and pundits and made it to Forbes. Two analysts quoted by Forbes argue that Iranian loitering munitions can be effectively used by Armenia as they have the "ability to quickly create significant losses to stronger opponents," and are "relatively low-cost/high-impact investment."
When asked about the reports, Iran's newly appointed consul in Kapan, responded: "I think that this question should be better addressed to those responsible for the defense sector" and added that "I think Armenia will never need offensive weapons." Iran's ambassador in Yerevan told Armenian media that defense cooperation between the two countries is an "internal topic. It will be announced if necessary." In early December, Armenia's Defense Ministry denied Azerbaijani reports that Iran had supposedly supplied, in late October, some 600 anti-tank missiles, including 500 Dehlavieh missiles.
China
Armenia's defense cooperation with China in terms of arms trade has been limited to two known cases. Thanks to the efforts of Armenia's late Defense Minister and Prime Minister Vazgen Sargsyan, in 1999, China became Armenia's first arms supplier other than Russia. Armenia bought four WM-80 multiple rocket launchers. China reportedly delivered six AR-1A MRLs in the early 2010s.
In 2013, then Defense Minister Seyran Ohanyan visited China and met with top defense officials. China pledged to provide 5 million yuan ($826,000) annually as military aid. There was much speculation about possible acquisition of additional Chinese weapons by Armenia when former President Serzh Sargsyan visited that country in 2015. At the time, the opposition media claimed that Russia essentially forbids Armenia from acquiring armaments from third parties, including China and Israel.
Arms procurement from China became a much-debated topic in 2017 after then Defense Minister Vigen Sargsyan's high-profile visit to China. There, he visited Poly Group and Norinco, China's largest weapons manufacturers. He met with Defense Minister Chang Wanquan and signed an agreement for a 10 million yuan ($1.5 million) aid package for Armenia's defense industry. Sargsyan told Armenian media that it will be used for the acquisition of "non-lethal" equipment, including surveillance devices and communications equipment. When asked about Chinese arms, Sargsyan said that Russia supplies modern arms at a competitive (affordable) price, but if there are possibilities outside it, Armenia "can be interested in Chinese arms supply." At a press conference a month later, Sargsyan said there is no agreement on arms and ammunition supply from China. "For many years, Armenia's Armed Forces have had weapons and ammunition imported from China, which were displayed during military parades. We are open to any dialogue," he added.
China has a large defense industry and it was the world's fourth largest exporter of arms in 2017-2021. Armenia can look to China for everything from firearms and anti-tank rocket launchers to tanks and fighter jets. Leonid Nersisyan, the military analyst, has argued in favor of procuring Chinese combat drones, but not much has been done in this direction publicly.
In December, Edvard Asryan, Chief of the General Staff, met with China's ambassador and military attaché to Armenia. The official readout said that the sides highly appreciated the level of bilateral cooperation, including in the defense sector, and expressed readiness to continue cooperation in peacekeeping, education, and medicine, which may indicate the limits of the relations, which evidently does not include arms procurement. 
Israel
Although Israel is—and has been for some time—one of Azerbaijan's key suppliers, six years ago, just days after the Four-Day War of April 2016, Davit Tonoyan, Armenia's deputy defense minister, told RFE/RL that Israel had offered Armenia the same weapons it had sold to Azerbaijan. When asked about Armenia's refusal, Tonoyan, whom Pashinyan appointed defense minister in 2018, replied that Armenia simply did not need them. "We've come up with other solutions and as we see, those [Israeli] weapons don't work very well," he insisted. 
Artyom Chernamoryan, an Armenian community leader in Israel and long-time contributor to Azatutyun, says the administrations of both Robert Kocharyan and Serzh Sargsyan rejected any Israeli arms offers to Armenia. He claims Israel has previously turned down offers by Armenian businessmen who have shown interest in acquiring Israeli armament.
Jordan
Armenia notably bought Soviet-produced Osa-AK air defense systems from Jordan in 2018. SIPRI says Armenia acquired four such systems. Subsequently, however, two deals with Jordan's state-affiliated Jadara Equipment & Defence System failed, in 2019 and 2021. In the first case, the company backed down when it learned that an offshore company was to be the signatory party from Armenia, not the Ministry of Defense. In the more recent case, the company failed to deliver the supply and Armenia demanded a fine of around $58,000. Based on the last figure, it was likely not a sizable deal and probably included a limited number of anti-tank launchers and missiles, namely the Russian RPG-32, which Jadara produces under Russian license. Azerbaijan likely played a role in foiling the second deal. Jadara has sponsored a defense expo in Baku and partnered with Azerbaijan's Ministry of Defence to develop a new anti-tank guided missile system.
Greece
Greece, like France, has been seen as a pro-Armenian actor, but cooperation so far has been limited to diplomatic solidarity, especially regarding Turkey. Armenia, Greece and Cyprus have recently begun diplomatic cooperation on a trilateral basis. Greece has long had a military attaché in Armenia and Armenian soldiers and officers have studied in Greece. Nikos Dendias was the only Greek foreign minister to visit Armenia during the 2020 Artsakh War as a sign of solidarity. When Dendias visited Armenia after the September 2022 incursion, he also met with Defense Minister Papikyan. Armenia reportedly bought MILAN anti-tank missiles from Greece around 2012-2013, but deeper defense cooperation is, again, constrained by the fact that the two countries are in opposing military blocs. 
Other Countries
Armenia has previously acquired ammunition and small arms from Eastern Europe, especially Bulgaria and Serbia. They are not constrained in supplying both sides, which they have done for years. Serbia has a large defense industry and has exported rifles, mortars, and rockets to Armenia. Both Artsrun Hovhannisyan and Leonid Nersisyan have pointed to South Korea as a prospective and realistic source of arms for Armenia.
Footnotes: 
[1] In January 2022 Armenia
received
a small batch of modern variants of Mil Mi-8 helicopters. According to SIPRI, Russia delivered four of these, but they were ordered some time in 2020, likely before the war. These helicopters are commonly used for transport.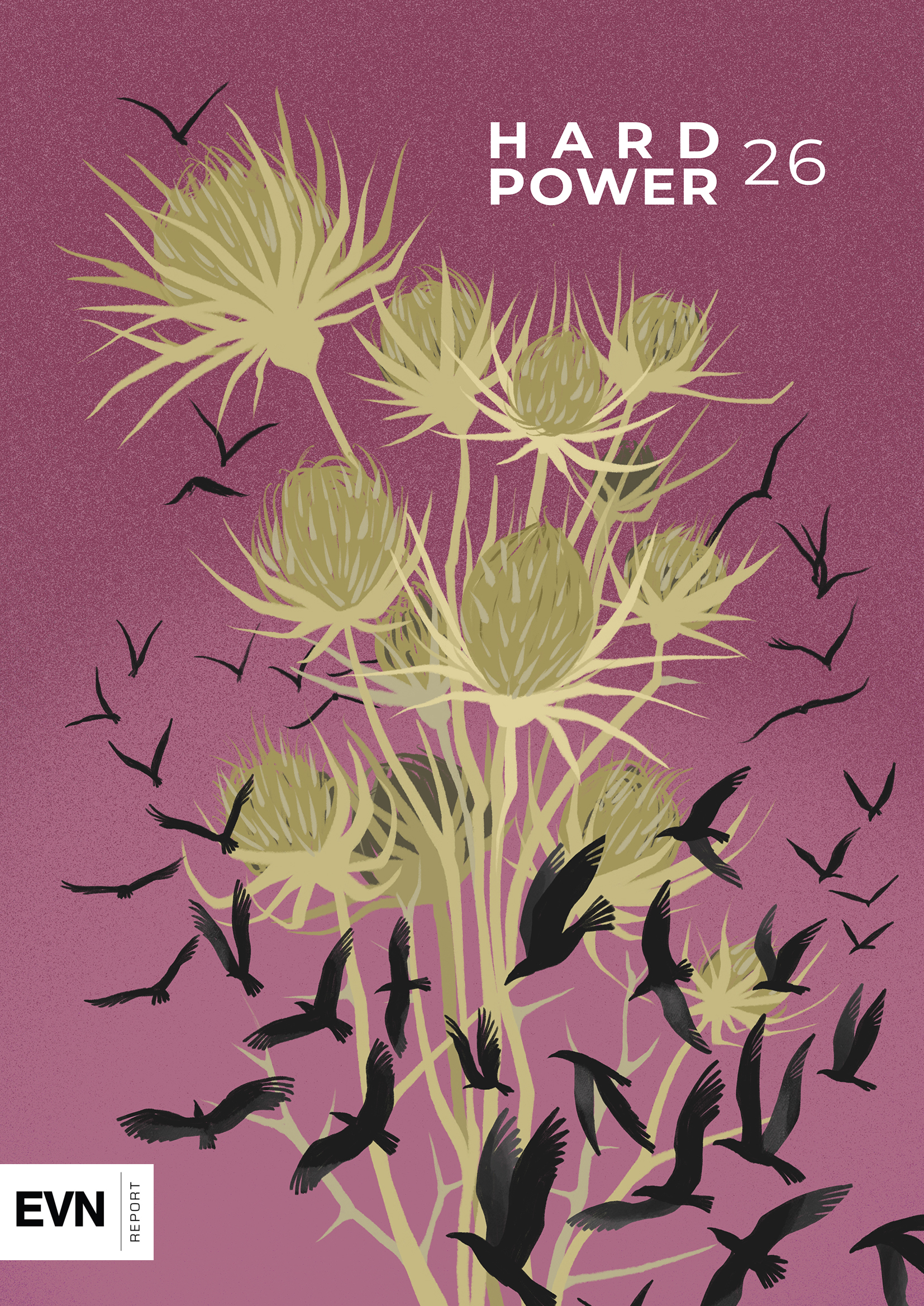 Power shapes behavior and is the ability to influence or control the behavior of others. Using military and economic means to affect the behavior of other actors or compelling an adversary through the threat or use of force to comply with your will is considered hard power. Soft power, on the other hand, influences the preferences of actors not through coercion or brute force, but through diplomacy, persuasion, convincing and finding common ground. Soft power can be effective, however, many nations around the world supplement it by hard power.
This month's magazine issue entitled "Hard Power" features articles on the concept of hard power, the necessity to create territorial defense forces, reforms and professionalization of Armenia's Armed Forces, Armenia's quest to procure arms and the role of women in the military.

Attempts are being made to carry out military reforms as well as to form a capable Territorial Defense Force in Armenia, but these processes have been progressing slowly, writes defense analyst Leonid Nersisyan.
Read more