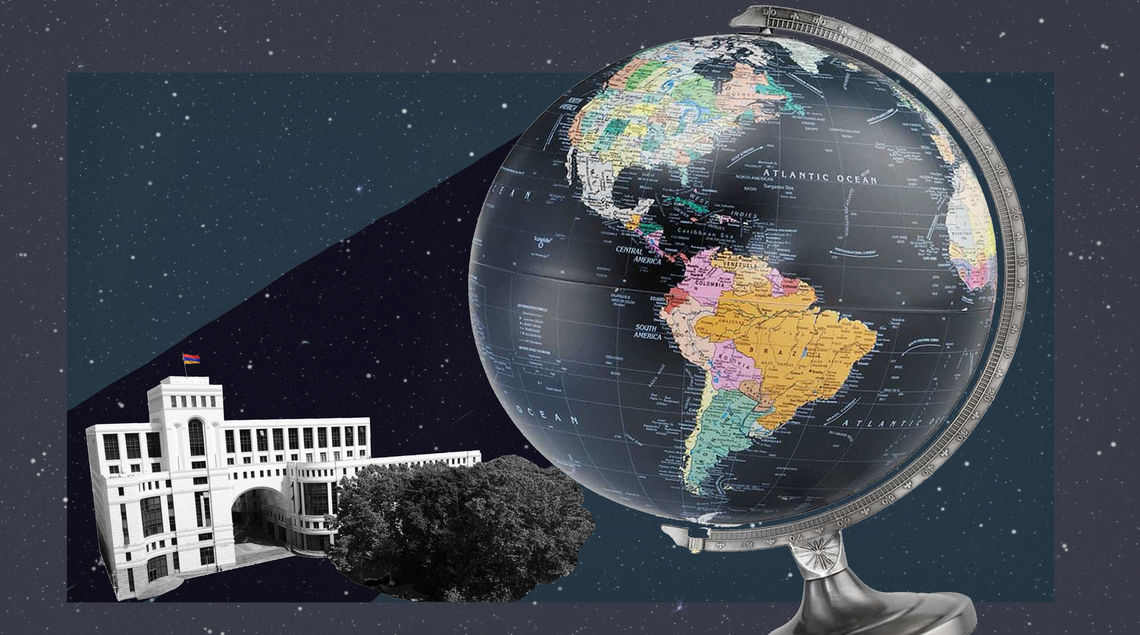 Armenian foreign policy thinking for the last 20 years has suffered from severe poverty: a poverty in ideas, policy-making and vision. The current parliamentary elections that saw dozens of political groups presenting their party platforms on foreign policy did not incite encouragement or confidence. It was, collectively speaking, an exercise in stating the obvious and clinging to the generic. The government that Nikol Pashinyan will form after securing a constitutional majority during the recent elections must make a definitive decision: either it continues the failed doctrine of the past, or it undertakes a paradigm shift and alters Armenia's failed foreign policy establishment.
The foreign policy doctrines and international relations policies of the various administrations of the Republic of Armenia have struggled to achieve three major goals crucial to the international prestige and national interests of the Republic. First, Armenia's international status, and its ability to use "soft" or cultural power, as well as harness the power of its Diaspora, has remained underdeveloped and ineffective. Second, Armenia's posture and leverage vis-a-vis Azerbaijan, an authoritarian state that consistently violates international and human rights laws, has been ineffective, marginal and inconsistent with serving the national interests of the Republic. And third, the foreign policy doctrines of the last three decades have collectively failed to advance the foreign interests of the Armenian state and the domestic interests of the Armenian people, demonstrating the failure of the main doctrine that has shaped Armenian foreign policy: complementarity, also known as multi-vectorism. Noting the limitations and shortcomings in Armenia's foreign policy doctrines, foreign policy bureaucracy, and foreign relations, all of which became more than evident in a collective failure during the 2020 Artsakh War, Armenia's new government must construct a new foreign policy doctrine defined by "strategic engagement."[1]
Failure of Complementarity and the Need for a New Foreign Policy
For the last 25 years, the policy of complementarity has attempted to develop cooperative and productive relationships with pertinent foreign actors through mutually beneficial cooperation. The logic of complementarity remains reactive and contingent on the behavior of external actors, as opposed to being a proactive foreign policy. Specifically, this doctrine has attempted to balance the interests of competing actors, to limit the differences between competing actors from negatively affecting Armenia's interests, and to establish interactional equilibrium. Unfortunately, this doctrine has fundamentally failed.
Noting Armenia's limited resources, complementarity has failed because this policy assumes a reciprocal foreign policy doctrine, a blanket principle that is generic, lacks substance, and is applied uniformly to all strategic partners or possible allies. Armenia's capacity for reciprocating strategic partners or potential allies inherently limits the coherence of this doctrine. In this context, multi-vectorism has failed because it lacks a substantive ability to balance Armenia's interests with its capacity in offering incentives to strategic partners or potential allies. Since the foundational logic of complimentary is transactional, it has created a system where Armenia's relations with other states have become defined through transactionalism. The problem with this remains two-fold: first, foreign policies that are primarily defined transactionally struggle to develop alliances, and Armenia's lack of robust alliances is a case in point; and second, Armenia simply lacks the stature, standing, or the resources to engage in robust transactional relationships. The outcome has been Armenia's marginalization, which has been concealed through an artificial reliance on multilateralism and membership in international organizations.
In this context, it is important to note that the way in which the concept of balancing has been used has not worked. The primary causal explanation lies in the fact that balancing requires the ability to leverage or produce a mechanism of a counterweight, none of which Armenia's doctrine possesses. Thus, Armenia's foreign policy of complementarity has failed to balance the wide and diverging interests of the broad range of actors that are crucial to Armenia's foreign policy interests. In essence, Armenia's policy is not multi-vectorism, but rather uni-vector bandwagoning with Russia. While bandwagoning, itself, is not a problematic approach and it could actually be highly beneficial for small states, Armenia's bandwagoning has neither been strategic nor structurally coordinated. The outcome of Armenia's inchoate multi-vectorism has been policy incoherence, as it fluctuates between multilateralism and bilateralism, lacks policy-orientation, and has produced its biggest failure: inability to establish cogent alliances. For these reasons, as a doctrine, it remains incompatible with Armenia's resources and capabilities.
Just as importantly has been the lopsided reliance that multi-vectorism has placed on the concept of multilateralism over bilateralism. While multilateralism remains very important to Armenia's interests in relation to participating in international institutions and platforms, multilateralism, however, does not allow for the level of deep relations and mutual adjustment of interests that Armenia needs. It is this lack of deepening relations that has created, to a large extent, an artificial foreign policy doctrine for Armenia, where on-the-surface relations with other nations have been misleadingly qualified as strategic partnerships. Within this framework, Armenia has failed to establish alliances with potential partners because multilateral obligations have curtailed Armenia's capacity of applying such resources to robust and in-depth bilateral relations. Thus, in more simple terms, Armenia has selected the quantity of multilateralism over the quality of bilateralism. The debacle over the CSTO's noncommittal position to perform its treaty obligations over Azerbaijan's border incursions is a case in point. Whereas Azerbaijan has developed close bilateral relations with several CSTO members, Armenia has relied on the multilateral platform of the security organization. As has been observed, closer bilateral relations ended up superseding the collective, multilateral obligations that Armenia presumed CSTO will fulfill. To this end, the reliance of multi-vectorism on multilateralism has limited Armenia from efficiently and surgically applying its resources when it comes to alliance-building. As such, it has abdicated bilateral depth for multilateral shallowness.
The Doctrine of Strategic Engagement
The foreign policy of strategic engagement rejects the one-size-fits-all model of complementarity, and advances the development of specific and tailored policies to enhance and deepen bilateral relations with potential allies and strategic partners. The underlying logic of strategic engagement is to participate in alliance-building and to prioritize a proactive foreign policy that directly engages and facilitates cooperation and pragmatic reciprocity.
Strategic engagement utilizes pragmatic reciprocity that is defined by cognitive calculus of policymaking, such as strategic bandwagoning, and not one-size-fits-all balancing. Strategic engagement does not attempt to balance interests, but rather, to prioritize interests and develop alliances and partnerships based on such priorities. In this context, Armenia alters its approach from seeking "mutually beneficial" relationships in favor of engaging in mutual adjustment of interests. This provides cost-effectiveness for both actors, reduces transaction costs in the partnership, and specifically develops robust bilateral relationships. While strategic engagement embraces multilateralism, especially Armenia's membership in a large number of both regional and international organizations, it nonetheless prioritizes bilateral relationships and the formation of alliance structures. Strategic engagement promotes multiple sets of strategic alliances with diverse states with diverse interests over generic policies of multilateralism and equitable balancing.
This proposed policy of strategic engagement qualifies alliance-building through three factors: 1) values, 2) pragmatic interests, and 3) geostrategic necessities. Conceptually, with respect to values, strategic engagement prioritizes the development of direct relationships with states or clusters of states over regional or supranational organizations. It does not devalue the latter, but rather, prioritizes the former. As an example, while relations with the European Union remain crucial, deepening of bilateral relations with France and Germany should be a higher and separate priority that Armenia should apply much resource and hard work towards. This will be consistent with the bilateral relations that Armenia has and must further develop with the United States and Canada, respectively. Similarly, strategic engagement utilizes clusters of states in developing a regional network of alliances. For example, developing multilateral alliances with the Baltic states, or developing strategic partnerships with Scandinavian states, deepening the alliance with Greece and Cyprus, or formulating unique relations with South Korea and Japan in East Asia. Considering the alignment of socio-political and politico-cultural values between Armenia and such states, these relationships will not simply rely on transactional or balancing variables, but on mutual adjustment of interests in alliance-building.
While value-oriented policymaking is one aspect of this paradigm, another important factor is the development of alliances or strategic relationships based on pragmatic interests. The concept of pragmatic interest is defined by issue-orientation. This factor is not defined by shared values, but rather, mutually reinforcing interests, where issue-orientation creates policy linkages and partnerships. China, India, Egypt, UAE, Serbia and Jordan are examples of states that Armenia must deepen and further strengthen relations based on specific sets of issue-orientations, strategic policy areas, and customized clusters of mutually reinforcing interests. Alliances and strategic partnerships developed through the model of pragmatic interests remain specific to mutually reinforcing policy areas that address collective concerns, problem-areas, or shared endeavors on projects or ventures. The structure of these partnerships are defined by pragmatic reciprocity, bilateral transactionalism, and mutual adjustment of interests.
The third important component of the doctrine of strategic interest in formulating alliances is the concept of geostrategic necessity. This factor is prioritized for immediate and direct geographical, territorial and physical security issues. The concept of geostrategic necessity remains primarily concerned with the deepening and integration of bilateral alliances within the Trans Caucasus. This element of the foreign policy infrastructure fundamentally deals with the entrenchment and enhancement of alliance relations with Russia, Georgia and Iran. With the alleviation of multi-vectorism and the concept of blanket balancing, Armenia's policy no longer becomes defined by seeking to balance the interests of different actors, but rather, by developing bilateral and specifically-customized relations with each partner within the realm of geostrategic necessity. Contradictions in the positions of allies or strategic partners that are outside of the scope of Armenian foreign policy no longer define Armenia's foreign policy, and in this context, Armenia, for example, does not attempt to balance the interests of Russia and Europe in relation to Armenia, or the competing interests of Iran and the U.S. vis-a-vis Armenia. Rather, Armenia develops strategically-crafted bilateral relations with each actor, and instead of seeking to balance developments which remain beyond its capabilities, Armenia resorts to directly and mutually adjusting interests bilaterally. The doctrine of strategic engagement defines this approach as the compartmentalization of geopolitical interests. This allows Armenia to strategically bandwagon with given allies based on policy-specifications and national security matters, as opposed to engaging in empty multi-vectorism and inchoate balancing. The concept of geostrategic necessity elevates Armenia's interests in relation to the bilateral interests of its regional allies, thus allowing for alliance-building.
Microlateralism
The concerns over how multilateralism has been utilized under multi-vectorism begs the following question: what should Armenia's multilateralism look like under strategic engagement? In this context, along with well-entrenched bilateral relations Armenia still has the need to articulate a new approach towards multilateralism. The answer to this question is the policy of "microlateralism." This school of thought advances a manageable parity between powerful countries and their less powerful partners. Specifically, microlateralism allows small countries to take the lead in multilateral projects and initiatives. This concept of small-state leadership and large-state participation in multilateral projects reinforces the collective-action toolkit, thus providing a great deal of substance to the policy of microlateralism. States like Norway, Qatar, Estonia and New Zealand, as examples, have effectively utilized microlateralism. The endeavors that these small states have initiated through the policy of microlateralism has resulted in the participation of large states, primarily through burden-sharing, and has resulted in immense success.
By shifting away from the multilateralism of multi-vectorism and adapting microlateralism, Armenia will uniquely place itself to function within multilateral platforms that enhance Armenia's soft power, while at the same time insulating its multilateral obligations from its bilateral projects. This doctrinal shift will also provide important maneuvering space for Armenian foreign policy makers, as a dual-track foreign policy structure may be developed for both multilateral projects under microlateralism and bilateral projects designed for alliance-building.
Conclusion
The foreign and defense policies that were designed for the last 30 years were designed to precisely avoid what happened during and after the 44-day war. In this context, not only did this design fail, but 20 years of operationalizing this design was also inherently flawed and dysfunctional. Armenia's foreign policy establishment is not in disarray due to domestic political developments; it is in disarray because, as an institution, it is incoherent and impotent. These limitations are the results of the policies that this establishment has designed and exercised, the results of which have been catastrophic for Armenia.
Armenia's failed foreign policy doctrine, in this context, is a collective failure of the entire Armenia foreign policy establishment, beginning with the current Prime Minister, encompassing every foreign minister of the last 20 years, and ending with the previous two administrations of Robert Kocharyan and Serzh Sargsyan.[2] Armenia has been terrible at foreign policy because Armenia has been terrible at the very process of policy-making. To this end, it can no longer rely on ad-hoc, intermittent and selective policy postures, nor can it substitute temporary objectives for long-term goals. Lacking vision and far-sightedness, Armenian foreign policy-making has suffered from a poverty of ideas, and in order to mitigate this poverty, it has relied on the failures of multi-vectorism. Considering the precarious state that Armenia keeps finding itself in, it no longer has the luxury of being terrible at anything, least of all in its defense and foreign policy making. To escape this self-inflicted conundrum, a paradigm shift remains an absolute necessity.