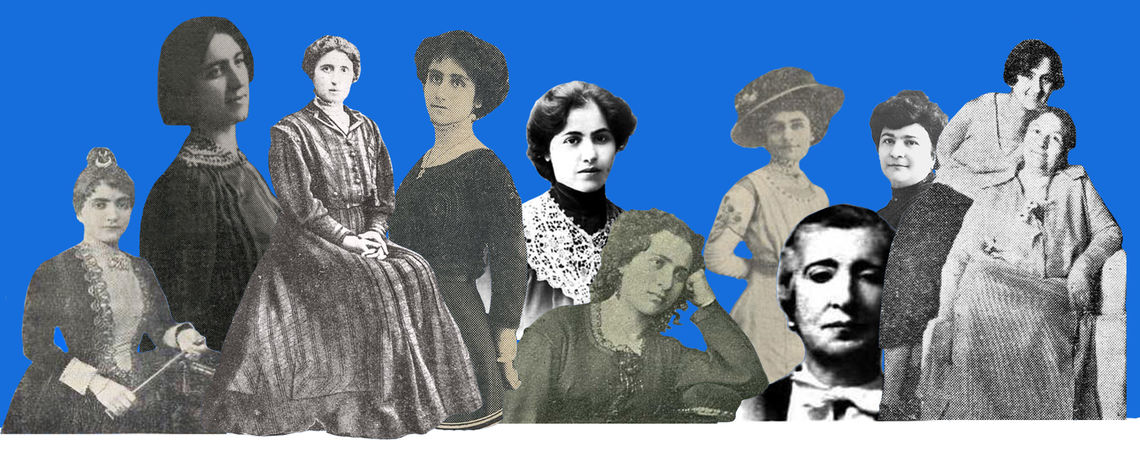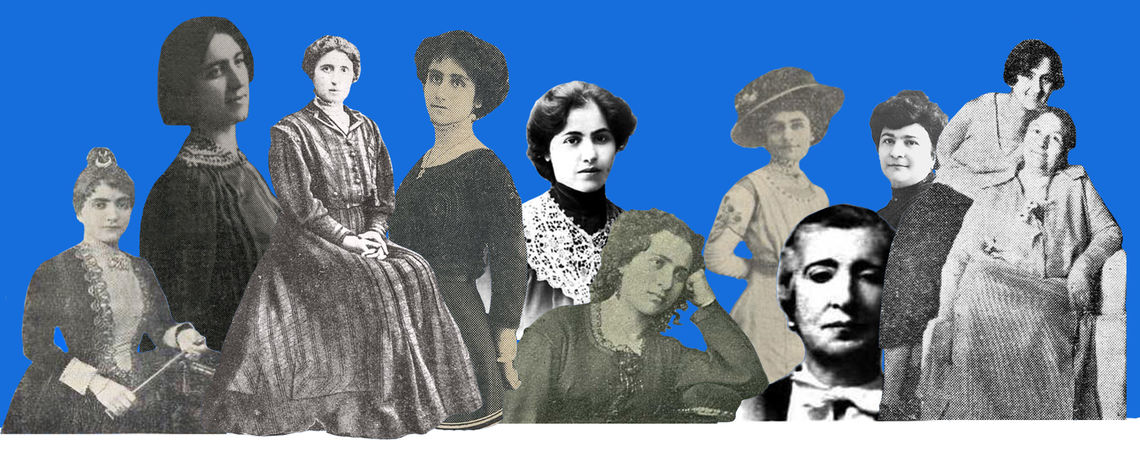 In 1883, Srbouhi Dussap (1841-1901), the first female writer among Armenians,  published a novel entitled Mayda in which she condemned women's subordination to men and called for equality of sexes. Shortly after, in his lengthy criticism of Dussap's novel, Grigor Zohrab (1861-1915) wrote that "the hue and cry of demands of the female sex in America and Europe are about to echo among us."[1] Zohrab was right in so much as the 1880s were the most outstanding years of heated debates of the Woman's Question. Yet, "the echo" was by no means about to start. Dussap herself had been involved in feminist activism prior to the publication of her first novel, and a male-sponsored campaign on more active societal roles for women existed well before the 1880s. The real scandal was the new rising image of a female author who daringly used the pen and the power of fiction to call for change in the gender order in the Armenian society. In this brief article, I review the conditions that resulted in the emergence of female writers at the end of the 19th century who greatly contributed to the formation of public opinion on new gender norms favorable for women, and in the process became "emancipated" themselves.
"Literature is not an Ornament"[2]
Srbouhi Dussap's  Mayda  left no newspaper and journal of the time indifferent whether praising or condemning the work. Despite its high cost, the book was "gulped down"[3] being the first novel written by an Armenian woman. The timing of the book coincided with the period when writing, both literary and non-literary, enjoyed extreme significance in addressing the contemporary political, social and economic upheaval, and a group of intellectuals used publishing as a tool for cultural nationalism.
Of great concern to the literati were issues of Armenian national identity, education, culture and family, and the impact of social change on these domains. Women's role in the project of new definitions of nation and culture were regarded as crucial and they were called on to participate in the public debates both as reformed and reformer women.  A major way of engaging women in the project was by publishing their articles in the periodical press edited by men. Until 1900, the tendency was to print women's articles in sections of journals allocated specifically for women. After 1900, however, women's articles were no longer isolated and more often than not they were printed on the front pages of journals (e.g. Massis; Byouzandion; Manzume-i Efkar; Zhamanak). Women's writing was seen as a powerful means for influencing other women and reinforcing new norms to meet contemporary social and cultural demands imposed by social change.  According to the journal Hayrenik: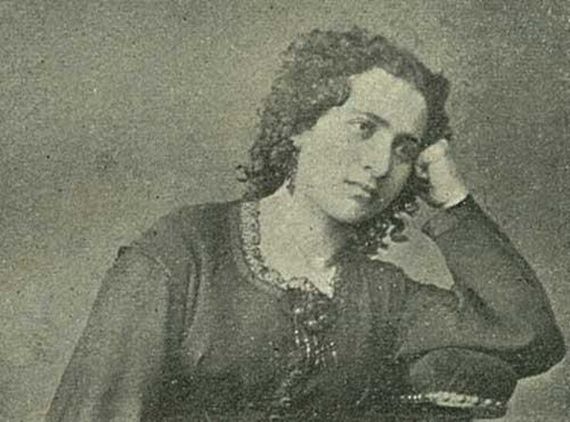 Not only will women's steady participation in our literary life greatly boost our literature and the development of language, but it will be the most powerful means of reforming our norms and reconstructing our ideologies.The support of female writers to our progress will be enormous because as they write, they will reexamine many existing conditions and … will try to implant more progressive norms and customs among us.[4] 
The anticipation that women's writing would go beyond writing was justified as all influential female authors, such as Dussap, Sybil (1863-1934), Zabel Yesayan (1878-1942?), Haykanoush Mark (1885-1966) and Zarouhi Kalemkerian (1874-1971) were extremely active in public life and were involved in organizing education and social work throughout their lives.These women certainly themselves believed in the power of the pen to transform societal and cultural norms as they stressed on different occasions.  Yesayan considered the years when she believed in the "art for the sake of art" as "one period of retreat of my inner moral powers." Adopting realism in her writing, she believed that literature "was a powerful means, a weapon which I wanted to use to fight against all those things that I considered unjust."[5] Women's journal Tsaghik (1905-1907) held the belief that "literature is the most truthful indicator and means of measurement of the level of civilization of a community or a people."[6] Literature could be used to raise the level of education of especially provincial women who were believed to be staying behind their sisters in Constantinople especially due to the low level of reading in the provinces.[7]
"More Blackthorns than Laurels"[8]
Many of the prominent female authors were encouraged by their male family members or relatives to write often much to the discontent of their mothers or other female family members. Zabel Yesayan was forced by her father to write on the issue of women's emancipation which she did reluctantly only to please her father. She herself believed that the Woman's Question was a more deeply rooted social issue than her contemporaries assumed.[9]
Women often received encouragement for writing not only from secular intellectuals, but also leading religious figures and authorities. Anayis (1872-1950) was encouraged by Archbishop Khoren Narbey (1832-1892) to develop her writing as well as continue her education much to the discontent of her mother.[10] Patriarch Maghakia Ormanian (1841-1918; Patriarch from 1896-1908) sent a letter to Zabel Yesayan congratulating her and expressing his support on the occasion of the publication of her novel The Respectable People (Shnorhkov Mardik).[11]
Behind these encouragements, however, there were bitter thorns of criticism that women writers encountered in ways that male authors did not. Although male reformers did try to shape women's entry into the public sphere through writing, they could not entirely determine the course their writing would take. The writing New Woman appeared as a more threatening figure to the male intellectuals than the New Woman of their imaginaries. Women used the cultural resources available to them, but these resources became reshaped and reformulated as they endeavored to articulate afresh their demands on equality and women's emancipation in writing. This attracted harsh criticism on the style and quality of women's writing by the very people who had initially supported their entry into the field.[12]
Female authors frequently expressed frustration with the criticism of their male counterparts, public opinion and the difficulty they encountered as female writers.  Yenovk Armen held that one of the reasons why there were few women writers was the fear that women had of public reaction to their "courageous decision" to write.[13] Zarouhi Kalemkerian characterized the "tyrannical criticism" and the public opinion as a "nightmare that haunted the Armenian female writer."[14] Anaïs signed her first published work with fake initials because under the circumstances "my family did not find it decent to use my full name."[15]
Women often warned each other of the difficulties they had to expect while stepping into the field of writing. When Haykanoush Mark started to edit the journal Tsaghik, Sybil, who was by then an experienced writer, warned her of the difficulties she was to encounter due to her gender and young age. Srbouhi Dussap warned Zabel Yesayan and Arshakouhi Teodik (1875-1922) that the "literary sphere … has more blackthorns than laurels" for women.[16]
Despite obstacles and prejudice women continued to write seeing themselves as agents of change and addressing "cultural" and national issues as their responsibility. When Srbouhi Dussap was publishing her second novel Siranoush in 1884, she was aware of the criticism she was likely to attract the second time, Dussap nonetheless published her second novel:
Perhaps some will again call me impudent for these statements.  However, what is impudence for others is simply a responsibility for me… Great is my belief [in my project] as it is based on a conviction. Great is my courage as it is dictated by the idea of responsibility. To see the evil and remain silent in fear of being attacked and persecuted certainly does not indicate the courage of the soul. A person who notices injustice and remains silent steals from justice.[17]
Writing as Career
Writing was one of the few available means for women to earn their own living. In 1905, when Haykanoush Mark was about to start editing the women's journal Tsaghik she asked Zabel Yesayan to contribute articles to the journal. The conversation left Mark disappointed in Yesayan who by then was a well known and much praised author. Years later in her memoirs Mark wrote:
What disappointed me in Zabel Yesayan on that day was that somewhat Jewish way of her bargaining for honorarium when at stake was a woman's magazine which was being founded with no preliminary budget and for the sake of an ideal.  In any case, I accepted her conditions and left it up to her to decide the cost of her writing…[18]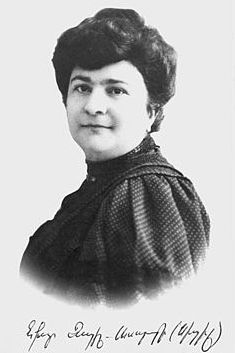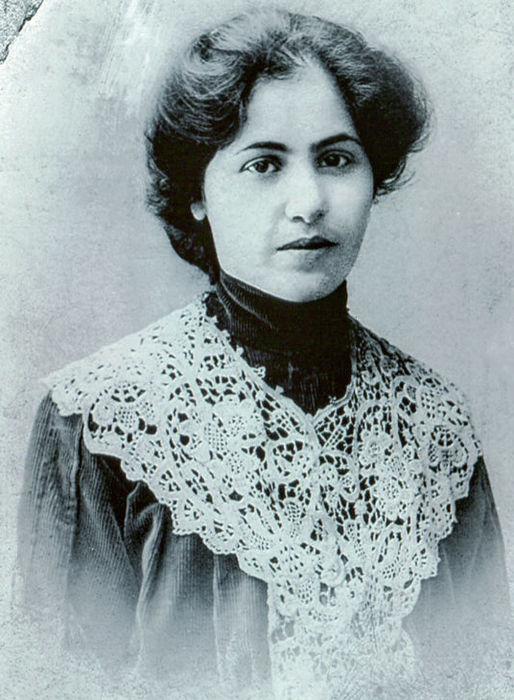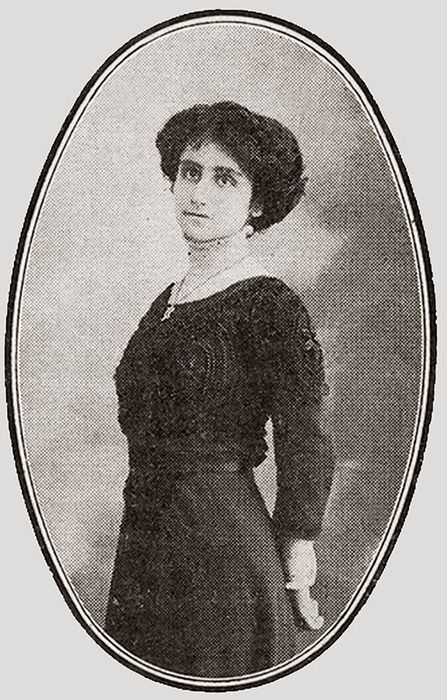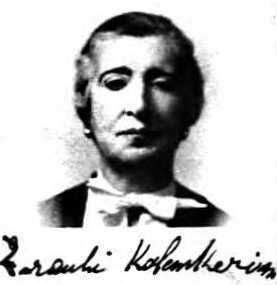 These words, coming from Mark, a woman who spent the longest years in journalism, leave the reader with the impression that Mark herself for years worked for the sake of ideals only.
In the fin de siècle, writing was a means of survival for many well-known literary figures. The styles and genres of writing were discussed in lengthy journal articles revealing the increasingly professional and theoretically informed approach of literati to the field of literature.[19] With the new approach to the field, the literati started to discuss writing as a profession and not merely an inspiration to serve the nation. Despite the many hours of work, authors remained largely underpaid and many prominent authors, such as Yeghia Demircipashian (1851-1908) and Hakob Paronian (1843-1891) died in poverty. The literary field was characterized as being "materially and morally unattractive."[20]
According to the journal Arevelian Mamoul, among reasons behind the low number of Armenian female authors was the discouragement women experienced witnessing "the miserable situation of our male writers and the indifference they are subjected to by the society."[21]
Women authors' devotion to their mission blurred the extent writing served as a career choice for them in a time period when the job market was extremely limited for educated middle-class women. As I have argued elsewhere,[22] the construction of segregated male and female spaces on one hand, and the pace and character of Ottoman industrialization on the other, left educated women with very limited choices for job. For an educated women the labor market up until 1914 remained limited to teaching, a profession largely feminized among Ottoman Armenians and elsewhere in the world by the end of the nineteenth century.
In this sense, for women who had received the encouragement to try their hand at writing, literature became a means of supporting themselves. Treating their writing as a sign of their dedication to the ideals of the nation, female authors never referred to writing as a career. However, the personal letters, memoirs and biographies of women do reveal that their pay for writing was an important source of income for many of them. Yesayan's letters to various publishing houses and her writing workload reveal the financial importance of the art for her.  Her personal letters to her husband reveal that she supported her husband and children, at times also the parents of her husband on the money she received from writing.[23] Zarouhi Kalemkerian mentions in her memoirs that because of scarcity of female authors, the newspapers were willing to pay female authors well.  The honorarium that she received for submitting articles to Byouzandion was, in her own words, "very decent."[23] Sybil, the first poetess among Ottoman Armenians, gradually gave up writing poems to writing articles for journals. Sybil, like many other authors, produced articles for journals under short deadlines, which, according to Aram Antonian (1875-1951) affected the quality of her work.[25] In the later years of her life, Sybil wanted to found a publishing house to have the works of her female students published.[26] She herself moved away from writing poetry and prose to writing textbooks, and was accused by the journal Massis of giving up poetry for "the more profitable job of writing textbooks."[27]
Women's silence on the material importance of their honorarium for their families can be explained by the uneasiness women felt about their professionalism and its symbolic relation with their domestic lives. Above all, this uneasiness was related to the way a woman's pay was accepted particularly in middle class families. Since the status of the family was judged by the amount of leisure available to a woman, a middle-class woman's work necessarily emphasized the economic vulnerability of the families that the latter desperately tried to hide.  Kalemkerian recalls in her autobiography:
How conservative the social norms were! Girls of modest [social] status would often hide the need to earn money by work outside the household. Women who embroidered tival or crochet at home regarded the money earned to meet essential needs or help the family as a sort of disgrace.[28]
Conclusion
When Zabel Yesayan set her mind on becoming a writer, she received a piece of advice from Dussap that had to prove right for all female authors of the time: "A male writer is free to be average, but never a female writer."[29] Dussap was referring to the harsh criticism that women encountered as writers due to the prejudice society had against them. Although women were aware of the risks of writing in the period, their vulnerability to moral suspicion and ridicule, a handful of Armenian women in the Ottoman Empire sought to assert a new form of womanhood and new national roles through writing. The pen empowered them to achieve their own emancipation, and equally importantly, pursue one of the few paid careers open to women at the time. It was due to the financial independence female authors gained through writing that they grew to resemble the emancipated heroines of their own literary works.
Footnotes: 
1 – Grigor Zohrab, Մայտա [Mayda].  Yerkragound 10 (October 1883), p.306.  All translations from Armenian and French are mine.
2 – Zabel Yesayan "Autobiography," Zabel Yesayan Fund, Folder 6, Yeghishe Charents Museum of Literature and Art (MLA), Yerevan, Armenia.
3 – Արաքսիա կամ Վարժուհի [Araxia or the Teacher].  Grakan yev Imastasirakan Sharzhoum 5 (January 1887), p. 4.
4 – Levon Bashalyan, «Մեր կին գրողները»: ["Our Women Writers"]. Hayrenik 981 (1894).
5 – Zabel Yesayan "Autobiography."
6 – «Գեղեցիկ սեռը և գրականութիւնը»: ["The Beautiful Sex and Literature"].  Tsaghik 40 (June 8, 1906).
7 – Ibid.
8 – Zabel Yesayan "Autobiography."
9 – Yesayan, "Autobiography."
10 – Anayis, «Իմ հիշողութիւնները»։ ["My Memoirs"].   Anayis Fund, Folder 9, MLA, pp. 21-22.
11- See, Yesayan's letter addressed to Patriarch Ormanian dated January 30, 1908, printed in Zabel Yesayan, Նամակներ  Letters] (Yerevan State University Press, 1977), pp. 67-68.
12 – See, e.g. Massis 10 (January 27, 1907); Massis 14 (1903);  Hayrenik 281-311 (1892); Arevelian Mamoul 11-12 (1892).
13 – Yenovk Armen, «Հայ կին գրողները»։ ["Armenian Female Writers"].  Aragats 11 (August 3, 1911),  p. 169.
14 – Zarouhi Kalemkerian, «Կյանքիս ճամփէն» (Antilias: 1952), p. 332.
15 – Anayis, §Իմ հիշողութիւնները¦ ["My Memoirs"].   Anayis Fund, Folder 9, MLA, p. 38.
16 – Yesayan, Gardens of Silihtar, p. 527.
17 – Serbouhi Dussap, "Introduction." Siranoush (Yerevan: Haypethrat, 1959), p. 172.  The novel was first published in 1984 in Constantinople.
18 – Հայկանոյշ Մառք․ կյանքն ու գործը  Haykanoush Mark: Her Life and Work] (Istanbul: 1954), p. 44.
19 – See, for example, the various issues of Massis between 1901 and 1907; Tsaghik of 1903, 1904 and 1905; Azatamart Weekly of 1910 and 1911.
20 – «Հայ գրագետին ապագան»։ ["The Future of Armenian Writer"].  Tsaghik 4 (October 25, 1904)
21 – «Ինչո՞ւ չունենանք գրագիտուհիներ»։ ["Why Should We not Have Female Writers"].  Arevelian Mamoul (April 1892), p. 171.
22 – See, e.g. "Women's Education, Labour or Charity?  Significance of Needlework Among Ottoman Armenians."  Women's History Magazine 53 (Summer 2006), pp. 21-31.
23 – Personal letters of Zabel Yesayan at Zabel Yesayan Fund, MLA.
24 – Zarouhi Kalemkerian, The Path of My Life, p. xviii
25 – Aram Antonian, «Լրագրութիւնը և գիրքը» ["Journalism and the Book"].  Tsaghik 13 (March 15, 1905).
26 – Toros Azatian, Զապէլ և Հրանտ Ասատուր:  [Zabel and Hrant Asatour].  (Istanbul, 1937), p. 13.
27 – According to Toros Azatian (1893-1955), the issue of whether or not Sybil should receive pension after her retirement and the death of Hrant Asatour (1862-1928) was debated in the press of the time, upsetting Sybil. Azatian writes: "Fortunately Sybil was one of those very few poets and teachers who died without experiencing the bitterness of poverty."  Ibid, p. 23.