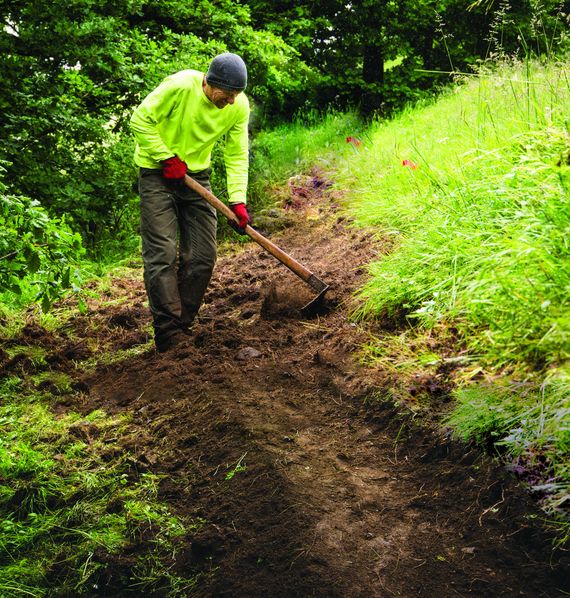 Hans Kiefer of Trails for Change NGO building a trail. 
Image: Courtesy of Trails For Change NGO.  
Those older villagers who remain in the small Syunik village of Tandzatap can remember clearly the long trek they used to make to school in nearby Tatev. A shortcut along the deep Vorotan gorge in the mountains of southern Armenia. Eventually, Tandzatap opened its own school and the path those elders used to take as schoolchildren was reclaimed by mother nature.
The memories of those long journeys to school were revived last year, when the village was visited by American-Armenian trail builder Hans Kiefer.
Excited at the prospect of opening up an old, overgrown trail, Kiefer ventured to the village with a team of hiking enthusiasts and trail builders to hunt for the lost path. "The trail is so overgrown and no one really knows it's there. We got pretty scratched up and beat up trying to find it but we did," Kiefer says. He estimates parts of the trail are more than 1000 years old because it includes the ruins of a church from the 10th century which would have been visited by monks from Tatev.
Such a discovery is packed full of opportunity. With the global demand for outdoor sports only increasing, Armenia's natural beauty and mountainous landscape are ripe to take advantage.
The dense forests of oak and beech in Dilijan's valleys and mountains, for example. Or the Vorotan ravine in Syunik which is home to some of Armenia's oldest villages, including Old Khot and Old Shinuhayr. Not to forget the four snow-covered volcano peaks of Mount Aragats, surrounded by rivers and plains. There is, indeed, a lot to be explored. What is most surprising, perhaps, is that it has taken so long for the global hiking community to discover these lush gems.Interest has been slowly increasing in recent years, thanks to developments in Armenia's small but energetic hiking world. The launch of The Transcaucasian Trail project in 2015, an epic 3000 km trail which is connecting Azerbaijan with Georgia and through to southern Armenia, has certainly boosted awareness from the outside.
In the same year, Hike Armenia was launched. Their presence means those trails which weave through the length and breadth of the country are now accessible through a smartphone app – one that has been downloaded more than 500 times in the last two weeks alone. They have also set up an information center in Yerevan and recommend trusted guides for cautious or inexperienced hikers.
Keifer made his first work visit to Armenia four years ago, inspired by The Transcaucasian Trail. With his own experience of building trails in California, he decided to launch Trails For Change NGO to help pass on his knowledge and boost the logistical hiking landscape so that it could better serve the pre-existing natural one.
It was a decision greeted with bemusement by Armenian friends in Los Angeles, who told Kiefer their shared ancestral homeland needed roads and schools, not trails.
"Well, I told them I'm not a roadbuilder, I'm not a school builder, I'm a trail builder," he said. "This is what I know and this is how I know to help."
Tandzatap, a village of less than 100 people, is a prime example of how that work can revive rural communities. It receives little attention, despite its proximity to Tatev, home of the 9th century Tatev Monastery, where thousands of tourists flock every year. Families in Tandzatap are leaving to seek work elsewhere and the school has been left with just four pupils.
Keifer hopes his work will stop that exodus and reverse the fortunes of dozens of other Armenian villages. "If we build the trails and more tourists come, more money comes in and eventually it's more money to fix the roads, more money to fix the schools. It's all got to start somewhere," he says.
But it's not only tourists who have set their sights on trekking through the knee-deep snow of Syunik or crunching the autumn leaves of Dilijan. An increasing number of Armenians have also started to hike. Dozens of official groups have launched in recent years and every weekend mini-buses full of adventure-seeking high-school teachers, university lecturers, lawyers, students, architects and businessmen criss-cross the country.
Noticing this surge of interest in both hiking and guiding, outdoor adventure store-owner Suren Danielyan helped to create the Alpine Federation in 2009 to train guides in safety rules and form a community of guides and hikers.
When they launched, Danielyan, co-president of the Federation, remembers four or five people attending the hiking classes. Ten years on they are currently working with their 26th group of guides with class sizes having more than doubled. Meanwhile the launch of their youth programme, the Four Peak Club, means that more than 100 Armenian children are now learning mountaineering and hiking.
While exercise and exploring the Armenian lands are one advantage of spending a weekend in the countryside, a sense of community also comes from spending hours with a group of people of different ages and from different backgrounds. Artyom Martirosyan, a guide who founded ArmLand hiking group in 2014, has witnessed five couples meet during his treks, with three of them going on to marry and have children. The romance of the Armenian air is no myth.
As time has passed, the community has developed, says Tigran Shahbazyan, founder of Armenian Geographic, another of the country's biggest hiking groups: "Hiking used to be about nationalism or patriotism. Now we have passed that era. Even if you are not patriotic, you can still hike in the mountains … in hiking neither nationality nor religion matter."
It has also shifted the perception of the tourism industry from focusing purely on the ancient monasteries to the nature which surrounds us. While before, locals would share photos of Tatev or Geghard monasteries, now they are drawing backpackers and thrill-seeking outsiders with snaps of mountain ranges and their snowy peaks.
"As well as the monasteries, there's a whole other market for hiking trails and mountain biking too," says Keifer.
There's an eagerness to open up the Armenian trails to those new to hiking. While a weekend trip with Armenian Geographic or ArmLand can mean being surrounded by experienced hikers with their expensive equipment, you will also find beginners trekking in jeans and old trainers. Access for those without a large budget does exist, and is improving.
Parz Lich in Dilijan – one of the biggest draws for locals looking for a summer getaway – now has a short trail round it. It's one of 31 trails built, developed or revitalised by Trails For Change and one that offers a chance for beginners to try hiking. "It's maybe a beautiful 25-minute scenic walk that your average person can do," Keifer says.
Trailbuilders are also trying to develop areas closer to Yerevan where there are existing trails that just need to be improved or maintained. City-dwellers will be able to get out on a trail within 15-minutes rather than jumping on a mini-bus for several hours.
None of the success of Armenia's new hiking scene has come easy. Across the community, guides, trailbuilders, hikers and others say more work from the government would be useful. And suspicious locals often eye hiking groups with caution, fearful they may be reporting illegal logging to the environmental authorities. At least one signpost on Barev Trails, an ongoing project through the Vorotan Valley, was found damaged earlier this year. A phenomenon which many hikers and guides have experienced.
One way of resolving this is to engage with locals and Keifer often encourages villagers on popular trails to offer accommodation as an extra source of income.
"People in some protected areas (national parks) feel that they own the land so they might close off the trail to hikers," he says. "I don't really know why people are vandalizing the sign posts, but hopefully once they understand the importance of the trail and how it can help them and their communities, then that sort of thing will stop."
"We want to show them the way and then let them take it from there. If they are successful and do a good job, then more people will come and they will have more income."