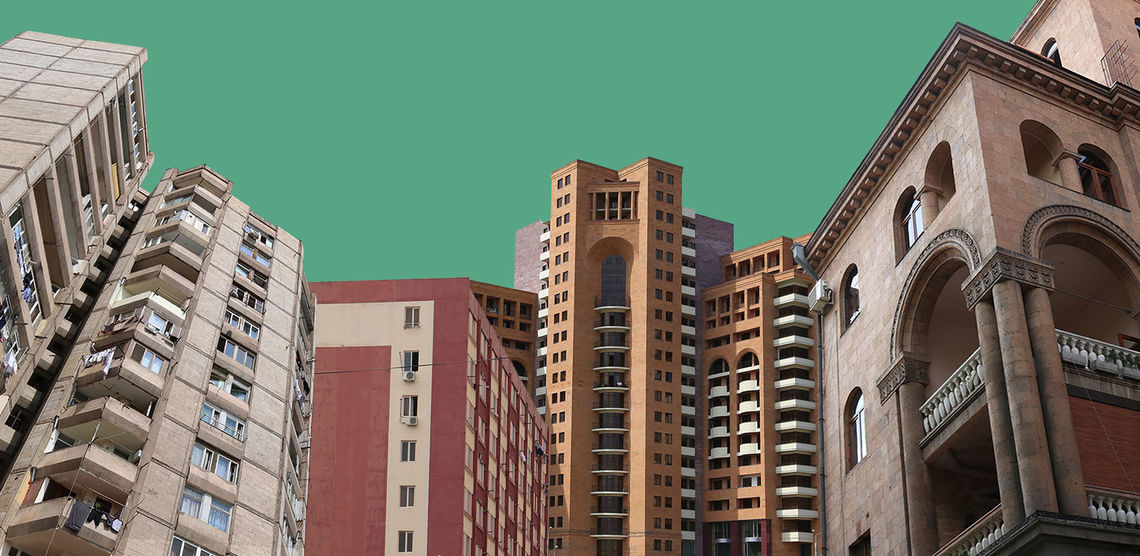 The common perception in Yerevan is that the real estate market began to heat up after the Velvet Revolution in the spring of 2018. At first, official statistics from the Armenian National Real Estate Cadastre Committee for July seem to provide the numbers to back up that claim. If one looks at nationwide sales figures for that month, an astounding increase of 35.8 percent in the number of transactions is immediately noticeable for 2018, with further gains of 9.7 percent in 2019.
One narrative is that Armenians from abroad, rejuvenated by last year's transfer of power, have begun descending on Yerevan to buy their own slice of the new Armenia. Whether that narrative is just talk or resulting in actual sales, there is more to the picture, as closer scrutiny of the available statistics reveals.
July Real Estate Sales in Armenia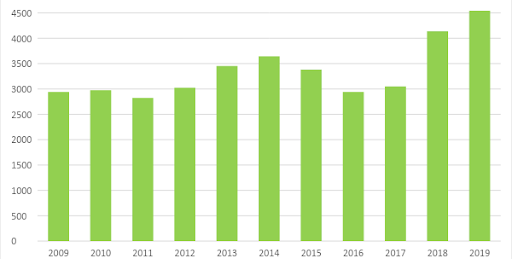 A month-by-month analysis, as shown in the graph below, does support that the months of June, July, and August 2018, in the wake of the Velvet Revolution, had more robust sales than the same period in 2017. However, they also show that the months preceding the mass protests also registered year-over-year growth in the range of 50 percent.
Besides demand from non-residents, another factor to consider is a recently-introduced tax incentive plan for newly-constructed apartment buildings, where the interest paid toward the mortgage is reimbursed to the purchaser from the amount that was previously deducted as part of their income tax. The "Affordable Housing for Young Families" government program provides lower interest rates and down payment requirements for couples looking to buy a place of their own.
Whatever the underlying reasons for the increased activity – and it is likely there are more than one – the hot market has indeed begun to drive up prices. Denominated in AMD, prices for a residential apartment in downtown Yerevan hit an all-time high last month.
Nationwide Real Estate Sales by Month and Year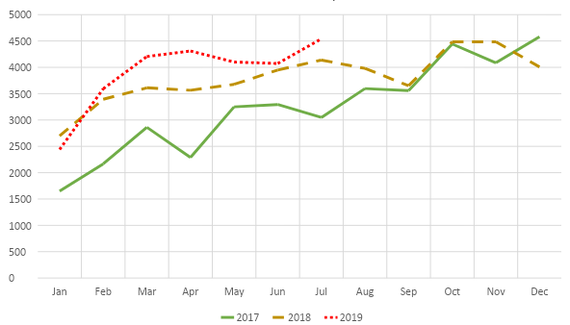 The graph shows prices for the month of July in order to eliminate seasonal variations when comparing against the latest available data. Note, however, that, in terms of USD, prices were higher prior to the financial crisis of 2008, when the AMD was trading at a much stronger exchange rate. With yield curves inverting once again, signalling another global recession around the corner, there may be exchange rate pressure on the horizon once more. Nobody can know for sure; nothing in this article should be taken as investment advice.
I am one of those Armenians from abroad looking to buy. I first started checking out the inventory last summer but have yet to make a purchase. By no means am I an expert but I have accumulated a list of things I wish I had learned earlier. That list is presented here so that the next diasporan amateur will have a slightly smoother ride.
Central Yerevan Residential Apartment Prices for Month of July [per sq.m.]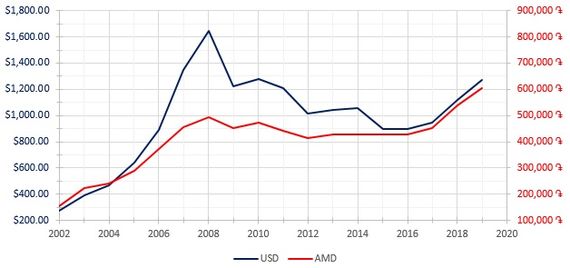 Banking Considerations
When I first started looking at properties, I did not have a clear concept of the logistics involved in eventually making the actual payment. My savings were sitting with Canadian banking institutions, in Canadian dollars, and my bank required me to come in person to a branch (in Canada) to make a wire transfer. I also did not initially have a bank account in Armenia to receive that transfer.
If you are thinking of potentially making a real estate purchase in Armenia someday in the future, open a bank account during an earlier visit. That way, before your next trip, you can make the wire transfer ahead of time, in person at your home bank and have a destination for the funds to land. Make sure to also ask the Armenian bank for their SWIFT codes and other information that will be necessary to make the transfer. Alternatively, if you have a joint account, your partner can initiate the wire transfer while you are in Armenia but that also may need to be planned out ahead of time.
If your funds are not in USD, as mine weren't, you will find that exchanging a large sum at a regular bank branch will cost you thousands more than other options. I used a foreign exchange broker for a much more competitive rate.
Your Armenian bank will also ask to see documentation detailing the source of the funds once they arrive. Whether it is pay stubs or tax returns, have documentation with you that will explain where you got this money from.
Payment Considerations
Once you have your money in Armenia, don't overlook the details of how the payment to the seller will occur and include your preference as part of the overall negotiation. It may seem utterly ridiculous to an outsider but it is actually common to make payments for real estate in Armenia with cash – and when I say cash, I mean physical stacks of $100 USD bills tied with elastics. Many people in Armenia do not have a bank account. Some people don't like to receive bank transfers because banks in Armenia will charge a commission to make a cash withdrawal. Different banks have different rates and conditions but, as an example, Ameriabank charges 0.4 percent, which can add up when you're talking about the price of a house. To be clear, if you deposited cash into your account, Ameriabank will let you withdraw it without a fee but the fee does apply to the amount you received by wire transfer. One way to get Ameriabank to waive the fee is to take out a term deposit (they are called CDs in the U.S. and GICs in Canada). If you put the amount into a term deposit for a minimum of 31 days, when it matures, Ameriabank will allow you to withdraw the whole amount, including the interest accrued, without the 0.4 percent fee. Again, different banks will have different rates and conditions.
If you don't want to pay with a stack of bills, you don't have to worry. You can pay with a bank transfer. In fact, sales exceeding 50 million AMD (~$105,000 USD) must be made by bank transfer and be in the local AMD currency to comply with anti-money laundering regulations. Just understand that the seller may be planning to convert it into USD and withdraw it immediately and will expect a higher sale price to cover the fees they will incur. I was asked if I would consider putting a value of 49 million AMD on the paperwork but have a separate non-official agreement for a different amount. Needless to say, that was not a road I was willing to go down. Understand these details and come to an agreement on them before handing over any deposit amount. If the price you agreed on is in USD but the payment will be made in AMD, make sure to specify the exact exchange rate that will be used.
One other alternative is to open an escrow account. In either the bank transfer or cash transfer scenario, there is a question as to the order of operations. Do you transfer the money and then go to the cadastre to change the legal title to the property, or do you change the legal title and then transfer the money. The two parties may not trust each other enough to be the first person to hand over their share. Banks can offer an escrow account, where the sum is deposited but cannot be withdrawn until evidence is provided that the deal was completed. Again, this isn't free; Ameriabank charges 0.3 percent of the total amount. Make sure the details of how the payment will be made are agreed to as part of the negotiation, before any deposit is paid or contract signed.
The deposit contract should also be notarized by a notary public for it to be legally binding. A common approach is to require a 10 percent deposit to be paid to reserve the property until the transaction is completed, so that the seller will not entertain other offers in the meantime. If the buyer backs out of the deal before the agreed-upon deadline, they lose their deposit. If the seller backs out of the deal, they need to return twice the deposit amount to the buyer.
Also, if you used a broker, their commission is not typically included in the purchase price and would need to be paid separately. They typically ask for 2 percent but can be negotiated down. Again, you should also clarify the payment method and scheduling for this transaction.
Title Considerations
Another piece of information to clarify before paying a deposit is that the seller actually owns the title to the property and that there are no liens on it. The cadastre can clarify this information by providing a title summary (miasnakan teghekank, in Armenian), which comes with a fee (that the seller should pay) and will take a few days to process.
I had an unfortunate experience with a newly-constructed building. The title summary showed that the building was never registered as having completed construction. Although it was physically complete, with residents already living in the different units, on paper, as far as the government was concerned, it was only 50 percent constructed. In my unfortunate experience, the seller kept trying to reassure me that it was only a matter of time before the city inspector saw that the building had been completed and updated the registration. He said he was in no rush to speed along that process as it kept his property taxes low in the interim. In reality, however, only the construction company can file the paperwork to register the building as having completed construction, through supplying the proper engineering drawings. Eventually, the owner admitted that the constructor had left the country years ago and had no intention of ever filing the paperwork. It was not clear how the city would verify that the construction was according to code. Needless to say, I didn't go through with the purchase.
You should also match the name on the title summary to the identification document of the seller to make sure someone isn't trying to sell you property that they don't own.
In North America, the seller is expected to vacate the premises and hand over the keys on the closing date. In Armenia, if the unit is currently being lived in, it is customary to allow the seller to have some time (ex. 30 days) to find a new place even after the payment has been made and the title has been transferred. As part of the terms of the final agreement, insist that all utility bills have been paid in full as of the date that the seller actually moves out.
Searching Considerations
Armenia doesn't have one centralized MLS system for listing properties. Neither are realtors licensed by an oversight body. In fact, many sales are completed privately between the seller and the buyer without involving a real estate agent at all. As a consequence, property listings are not regulated and can be filled with pitfalls. For example, agents go to great lengths to conceal the actual address or unit number of a property. A listing website may show a pin on a map but it may be quite far from where the property actually is. Especially if it is on a long street, the pin may show a more central location on that street than where the building actually is. This practice is a result of sellers and buyers eventually cutting out the middleman. Once they actually meet as a result of the broker's advertising efforts, they may carry out the transaction themselves to avoid paying the broker their commission.
The mistrust that this practice breeds makes for a very annoying experience. Some brokers will not even show you a property unless you sign a contract ahead of time that you agree to pay their commission if you end up purchasing that property. When I came across this scenario, I asked for a copy of the contract so that I can get a lawyer to check what I am agreeing to. Every time, they refused to email me the contract ahead of time and insisted that I come in person to sign it on the spot. For my part, I was not going to sign anything until I had a solid grasp of all the implications and so that process was not one I was willing to follow.
The many different websites that list properties for sale – I won't give free advertising to any of them but they should be easy enough to search – provide varying degrees of information and searchability. Many will include fake postings used only to get you to contact them. For example, very often, a new listing would appear for an apartment at a bargain price. When I called them, the same day the posting went online, the real estate agent would tell me that that unit had already been sold but then went on to inquire about the type of apartment I was looking for, my maximum budget, and whether they could send similar offers by Viber or WhatsApp. Sending pictures and descriptions directly to you allows them to quote different prices to different people (based on your Armenian accent). Several times, when I searched online for a unit that was sent to me directly by WhatsApp, I found that the listing price was lower on the public website (you have to compare the photos as neither source gives you an actual address).
The lack of an MLS system also means that brokers will only show you properties in their own portfolio, which often don't meet the criteria you spelled out. I was not able to find a real estate agent that would act as a buyer's representative, searching others' inventory and participating with my interests in mind.
Make sure to keep detailed records of the listings you called about, the name and phone number of the person you spoke with, and a pdf snapshot of the listing description and price, in case it is changed online.
Property Considerations
With a better idea of the logistics of the property search and transaction, we can dive into the actual details of the properties themselves.
Buildings come in three major construction types: stone (kare), pre-fabricated panels (panelayin), and poured concrete (monolit). Stone buildings from the early Soviet period, known as stalinyan nakhagits, are known for their very thick walls and sturdy construction. They are typically five storeys without an elevator. Without a condominium corporation, roofing costs may be left up to the top-most apartments, which makes them cheaper in the resale market. Units in stone buildings from the early Sovet period typically have tall ceilings of 2.8 to 3.2 meters.
Later in the Soviet period, a focus on cost-effectiveness resulted in the use of pre-fabricated panels to construct taller buildings. They typically have a cramped Soviet-era elevator and a garbage chute that can experience a blockage and give off a bad odor in the hallway in the summer heat. Some buildings have sealed off their garbage chutes so that they can no longer be used, which is seen as a desirable building improvement. Corruption was more rampant at the time these buildings were constructed and it is hard to know if the cement used was overly watered-down; doing so created an artificial surplus that was then sold on the side by project managers. Many of the buildings that collapsed during the 1988 Spitak earthquake used pre-fabricated panels. Units in these buildings are cheaper by square metre than those in a stone building nearby.
Most poured-concrete buildings were built in the last 15 years and are considered new-construction (norakaruyts). Thus, they are more likely to be renovated closer to North American norms, with the toilet and the shower in the same bathroom and an open concept between the kitchen and living room. They will have a more modern elevator but still may not be built with accessibility in mind; that is, even the ground floor elevator landing may be up a few stairs from the street level entrance. Newly-constructed buildings often have a security guard and charge a monthly maintenance fee for communal facilities, which may even include a swimming pool (notably in the Verin Antarayin district). Many also offer underground parking, but these spots are usually not included in the quoted price.
The renovated condition of the apartment should also be considered. Zeroyakan vichak implies that you are only getting a concrete floor and will need to install everything, including electric wires and plumbing, yourself. Petakan vichak usually means there are wooden window frames (that can be drafty), wooden flooring (that may be chipped), and no shower stall, such that the entire bathroom will get wet after you bathe. Kapital veranorokvats should mean that new ("evro") plastic window frames have been installed, the floor is tiled, a shower stall has been installed, and a tankless gas water heater provides radiator heating and makes sure you don't run out of hot water during a long shower.
Make sure the bathroom has a working fan. Unfortunately, it is almost impossible to find a toilet where the bowl is half-filled with water. In Armenia, the water usually only goes up to the drain hole, requiring frequent cleaning. You should also check the hot and cold water faucets. North Americans are used to the cold water being toward the right and the hot water toward the left. Not all sinks in Armenia are installed this way, however.
You should also know that the living room is counted as a "bedroom" in property listings. A bachelor apartment is called a one-room apartment, a one-bedroom is called a two-room apartment, a two-bedroom is called a three-room apartment, etc. Note that one of these rooms may have been added later, perhaps by enclosing a balcony, and may be smaller than you would otherwise expect.
Many properties are sold fully-furnished. Ask to find out what is included in the listed price before starting the negotiation. Washing machines are commonly placed in the kitchen or the bathroom. Most Armenians do not use dryers and leave their washed clothes on a hang-dry rack, though you may rarely find a washing machine that also serves as a two-in-one dryer. Not all units, even recently-renovated ones, will have a dishwasher. If that is important to you, confirm whether one is included or if cabinet space and piping is available to install one. Surprisingly, many newly-renovated apartments are also missing an oven, with only a stovetop range to do your cooking.
Lastly, when considering the location of real estate, consider the trade-off between being near a central street and the noise that can be expected in the area. Sirens and night clubs could make life miserable for light sleepers. On the other hand, an address on a well-known street close to the action may fetch higher prices for summer rentals.
By no means am I an expert on real estate in Armenia and I have yet to complete a purchase but these are some of the things I wish I had been told a year ago. Most diasporans are interested in downtown Yerevan. Having stayed in different districts of Yerevan over my nine stays in Armenia, I would also recommend renting outside of the downtown core for a time to get a feel for what a daily commute is like, especially with new easy-to-use taxi apps like gg and Yandex. Real estate prices drop off quickly the further out you go.

Harout Manougian writes about how Armenia's political parties are financed and how that could change as part of the National Assembly's ongoing electoral reform effort.
Read more

Electoral Code reform has been on the agenda in Armenia following the Velvet Revolution last year and the Republic of Artsakh just enacted amendments to its Electoral Code as it prepares for national elections in 2020. Harout Manougian looks at the situation in both republics.
Read more