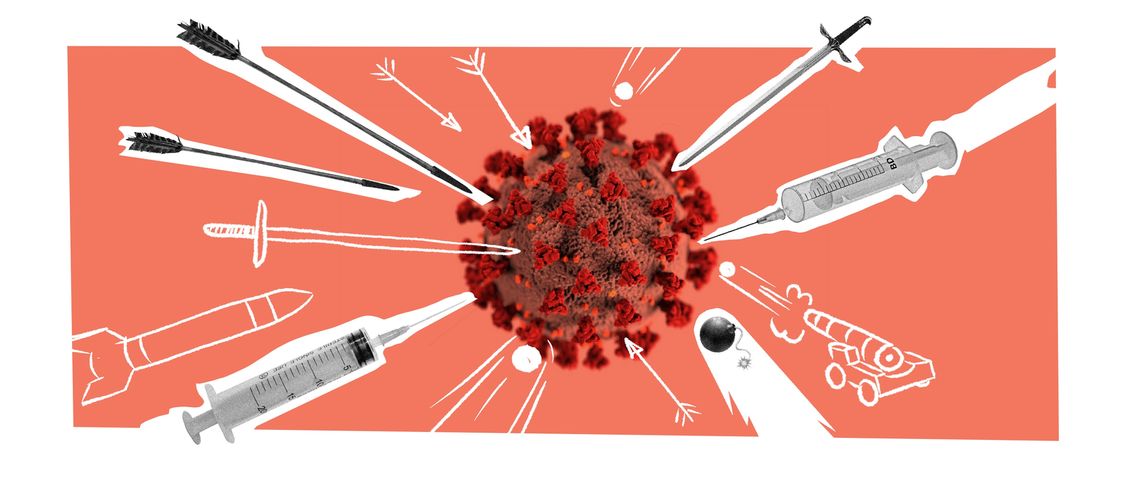 COVID-19 vaccines are already being administered globally in the hopes that it will curb the spread of the virus. Armenia is also trying to be part of this process and is working to ensure that its most vulnerable groups get vaccinated.
Types of Vaccinations
Vaccines were considered the only means to stop the "attack" of COVID-19, already one of the greatest challenges of the 21st century that has infected nearly 137 million people and taken 2.9 million lives. According to UNICEF, the single largest vaccine buyer, vaccines work by mimicking an infectious agent – viruses, bacteria or other micro-organisms that can cause disease. This "teaches" our immune system to rapidly and effectively respond against it.
Traditionally, vaccines do this by introducing a weakened form of an infectious agent that allows our immune system to learn how to protect against it. This way, when our immune system comes in contact with the real infectious agent in the future, it draws from its memory to quickly recognize and fight it more effectively, in many cases saving the patient's life.
There are three main approaches to making a vaccine. Their differences lie in whether they use:
1- A whole virus or bacterium
a) Inactivated vaccine – This type of vaccine uses the proteins of a virus that has been "inactivated" or killed in a laboratory. The body recognizes the "inactivated" virus and responds to it by creating antibodies but doesn't get sick. This is the way the flu and polio vaccines are made.
b) Live-attenuated vaccine – This vaccine uses a living but weakened version of the virus or one that's very similar. The measles, mumps and rubella (MMR) vaccine takes this approach.
c) Viral vector vaccine – This type of vaccine uses a safe, weakened virus (vector) that serves as a pathogen that delivers specific sub-parts – called proteins – of the germ of interest into the body. The protein triggers the immune response. This approach led to the Ebola vaccine.
2- Parts of the germ that triggers the immune system (for example, whooping cough and diphtheria vaccines).
3- Genetic material – Unlike vaccine approaches that use either a weakened or dead whole microbe or parts of one, a nucleic acid vaccine uses only a section of genetic material that provides the instructions for specific proteins. DNA (deoxyribonucleic acid) and RNA (ribonucleic acid), which are natural nucleic acids, contain genetic code that our cells use to make proteins. In this case, DNA is first turned into mRNA ("messenger" RNA), which sends the body a message about the virus without actually coming into contact with the real virus itself. The injection in no way changes the genes of the patient. Instead of introducing antigens (any substance that causes your immune system to produce antibodies against it), mRNA vaccines transfer the necessary genetic code to your body to allow the immune system to produce the antigen of interest itself.
The International Race for Vaccines
In March 2020, General Director of the International Vaccine Institute Jerome Kim said during his interviews that he found the idea to create means to combat COVID-19 hopeful; however, he added that it would be a long and arduous process. He noted that creating a vaccine normally takes 5-10 years but that, taking into consideration the emergent situation, he hoped that the timelines would be shortened and a vaccine could be ready in 12-18 months.
The international race to create a new vaccine gave results earlier than expected. In August 2020, Russian President Vladimir Putin announced that Russia was the first country to create a new vaccine against COVID-19. By December, several other vaccines were also ready and many countries had begun the vaccination process.
According to the World Health Organization (WHO), as of April 2021, more than 200 vaccine candidates are in development and at least seven different vaccines have been rolled out in several countries.
According to one of the COVID-19 vaccine monitoring websites, as of April, the seven most popular vaccines are:
1- Oxford/AstraZeneca
Country of Origin: United Kingdom/Sweden
Type: viral vector vaccine
Accepted in 83 countries
Effectiveness: near 70%
Two doses with an 8-12 week interval
Stored for up to six months at 2 to 8 °C
Price: near $4 per dose (x2)
2– Pfizer/BioNTech
Country of Origin: United States/Germany
Type: genetic material (mRNA) vaccine
Accepted in 82 countries
Effectiveness: near 90%
Two doses with a one-month interval
Stored for up to six months at -80 to -60 °C, must be defrosted upon arrival at the vaccination center and must then be used within the next five days
Price: near $15-30 per dose (x2)
4- Moderna
Country of Origin: United States
Type: genetic material (mRNA) vaccine
Accepted in 45 countries
Effectiveness: near 90%
Two doses with a one-month interval
Stored for up to one month at 2 to 8 °C, for up to six months at -20 °C
Price: near $25-30 per dose (x2)
5- Janssen (Johnson & Johnson)
Country of Origin: United States
Type: viral vector vaccine
Accepted in 39 countries
Effectiveness: near 85%
Requires only one dose, unlike most other vaccines to date
Stored for up to three months at 2 to 8 °C
Price: near $10
6- Sinopharm
Country of Origin: China
Type: inactivated vaccine
Accepted in 35 countries
Effectiveness: near 80%
Two doses with a 21-day interval
Stored at 4 to 8 °C
Price: near $30 USD per dose (x2)
7- Covishield
Country of Origin: India (Serum Institute of India)
Type: viral vector vaccine
Accepted in 33 counties
Effectiveness: near 70%
Two doses with an 8-12 week interval
Stored for up to six months at 2 to 8 °C
Price: near $4 per dose (x2)
All seven vaccines have only been approved for adults over the age of 18. The vaccines are administered through intramuscular injections and usually take effect two weeks after. All the vaccines have possible side effects, including headaches, muscle ache, cough, high fever – all symptoms of a typical cold. Contraindications (circumstances under which the vaccine should not be administered) are also almost the same – allergies to one of the components of the vaccine, having a fever or another illness when getting vaccinated. After getting vaccinated, the patient must remain under medical supervision for 30 minutes.
Regarding whether those who have already gotten sick with COVID-19 and recovered should also get vaccinated, experts believe that the vaccine has one very important characteristic: compared to regular infections, it stimulates immune memory cells so that every time the body clashes with the virus, it remembers it and starts to quickly produce antibodies. As the vaccines are still new, it is not yet clear for how long the body retains immunity.
According to the Global Alliance for Vaccines and Immunisation (GAVI), as of mid-April 2021, 13 vaccines have already been approved and licensed for general use. Vaccines are considered successful if their effectiveness exceeds 60%.
The most common, widely-administered (and hence the most discussed) vaccine is Oxford/AstraZeneca. According to Bloomberg, AstraZeneca (AZ) had already signed procurement deals for 3 billion doses even before late-stage study results were available. Its flexible storage requirements and low cost made it very popular. Later reports of blood clots in a very small number of recipients, however, has led to a mixed response.he second most common vaccine, Pfizer/BioNTech, has also attracted attention. Specifically, in January 2021, 33 deaths were reported in Norway, all of them recipients over the age of 80 (who were prioritized in the rollout). Several days later, the country's Health Ministry announced that it did not find any connection between the Pfizer/BioNTech vaccine and the registered deaths. Thirteen of those that died had weak immune systems and serious health issues.
The situation with AstraZeneca became so tense that several European countries halted the use of the vaccine for a certain period of time at the beginning of March 2021. However, on March 19, the WHO and the European Medicines Agency announced that they did not find any links between the AstraZeneca vaccine and clotting conditions, and the vaccine continued to be administered. On the same day, a young nurse died at the Imedi Clinic in Akhaltsikhe, Georgia after receiving the AstraZeneca vaccine on March 18. However, local infectious disease specialists noted that they found no direct link between the vaccine and the death that occurred and that an examination is still underway.
Reports of deaths and side effects were reported in other countries from other vaccines as well. However, experts continue to believe that the vaccines are safer than the disease itself, and that the benefits of the vaccines outweigh the risks. It has also been noted that, based on preliminary studies, vaccines are effective against new coronavirus strains as well, and that the sooner people get vaccinated the fewer new strains can emerge.
The Purchasing Process for Vaccines
There are three ways to obtain COVID-19 vaccines: a) a country orders them from the producer, b) a country orders them from a regional institution, for example, from the European Union or the African Union, c) a country orders them through the COVAX facility.
COVAX is a non-profit international collaboration aimed at creating COVID-19 vaccines and distributing them equitably. It is led by Gavi, WHO and CEPI (the Coalition for Epidemic Preparedness Innovations). Its mission is to create and produce vaccines in the shortest time possible and ensure they are equally distributed to every country in the world (near 190 countries) regardless of their financial standing.
There is a plan to make 2 billion doses of vaccines available by the end of 2021 within the COVAX framework. The aim is to protect almost all countries in the world by vaccinating workers in the health and social sectors, as well as those with serious illnesses or at risk of death. It's noteworthy that those heading this initiative are negotiating with the vaccine producers directly, instead of dozens of countries clamouring to negotiate their own deals. The COVAX facility also helps recommend which vaccine to purchase, the quantity of doses and delivery schedule, taking into consideration the population and the number of vulnerable groups in a specific country.
The Vaccination Process in Armenia
In September 2020, Armenia also joined the COVAX initiative.
Svetlana Grigoryan, Head of the Department of Immunology and Epidemiology for Managed Infectious Diseases at Armenia's National Center for Disease Control (NCDC), says that, through this platform, Armenia has already received recommendations for vaccines. These recommendations are being discussed by specialists at the Immunization Commission. One of the COVAX recommendations, AstraZeneca, has already been approved, with the first shipment already delivered.
"Four vaccines have been recommended for Armenia: Pfizer/BioNTech, AstraZeneca, Janssen (Johnson & Johnson) and Novavax," said Grigoryan. "At this stage, it was decided to not accept Pfizer because it required difficult storage conditions. Negotiations around other vaccines are ongoing. At the same time, the Ministry of Health is negotiating with other international organizations and other vaccine producers including the Sputnik V vaccine produced in Russia."
She stated that she and her colleagues are working hard to ensure the country is equipped with safe and effective vaccines as soon as possible.
It should be noted that, during a March 15 session of the NCDC's Republican Advisory Committee on Immunization, a decision was passed to not decline the two-dose vaccine produced by the American Novavax pharmaceutical company, which has reported near 90% effectiveness, but has yet to receive final approval.
As a reminder, Armenia confirmed its first COVID-19 case on March 1, 2020. As of April 15, 2021, 206,142 cases of the virus have been confirmed, of which 16,236 are active cases. There have been 3,817 deaths due to the virus and 964 additional deaths of COVID-19 patients attributed to other factors.
During the January 20, 2021 session of the Ministry of Health's Republican Advisory Committee on Immunization, issues relating to forthcoming COVID-19 vaccinations and which risk groups should be prioritized were discussed. The following groups were included in the first stage:
Nursing home residents and staff
Medical workers
Care center staff
Citizens 65 years and older
Patients with chronic illnesses aged 16 to 64 years
The second stage of vaccinations will include the following groups:
Professors and teachers
Ministry of Emergency Situations staff
Military servicemen
Workers in the justice sector
Workers in public transportation
Civil servants
As of March 2021, the first stage is currently underway. First doses for 1000 people receiving the Sputnik V vaccine have been administered. Sputnik V was donated to Armenia from Russia months ago. On March 28, it was announced that the first batch of 24,000 doses of AstraZeneca vaccine through the COVAX facility had been delivered. At the beginning of April, Armenia received an additional 15,000 doses of the Sputnik V vaccine, which will be administered to 7,500 people in two doses.
During a press conference held on April 12, Health Minister Anahit Avanesyan announced that the two currently-available vaccine types would be allocated to different groups. AstraZeneca would be provided for citizens that are 65 years and older, medical workers and those with chronic diseases who are 55-65, as well as residents and staff of care centers. The Sputnik V vaccine will be administered to the following groups: medical workers and those with chronic diseases between the ages of 18-54, residents and staff of social care centers.
Araz Chiloyan, who works at the Health Ministry on COVID-19 vaccine procurement and distribution, says that distribution of the vaccine has already started.
"The Sputnik V vaccine that Armenia has received so far is about to run out. Since the quantity wasn't too large, the NCDC took care of its administration," said Chiloyan. "However, the AstraZeneca vaccine will be administered through outpatient clinics and the distribution has to be carried out by the primary healthcare centers which have all the data of those being vaccinated in the first stage."
Chiloyan notes that choosing a vaccine is a difficult process because several factors must be taken into consideration, including the safety of the vaccine, its effectiveness, storage conditions, as well as cost.
"We're continually working with COVAX. The vaccines they're offering are increasing," says Chiloyan. "We're negotiating with them and their recommendations are constantly being discussed with different experts."
Chiloyan also added that the vaccine companies are having issues meeting the global demand: "We had hoped that the vaccine would reach Armenia in February. However, those who collaborated with COVAX received it in March because they [the manufacturers] weren't able to produce enough in time."
Even though she said that curbing COVID-19 is possible if 70% of the population was vaccinated, the Government will only be able to vaccinate 10% of its population (which will include the highest risk groups) at this time.
"I understand these are difficult times. Many people have lost their trust toward many things. However, the only way to stop this situation is the vaccines," assures Chiloyan. She recommends getting vaccinated when possible.
Svetlana Grigoryan also believes that those who are eligible should not hesitate to get vaccinated.
"The epidemic situation is getting worse. If it continues this way, we will once again be facing serious problems," says Grigoryan. "To stop these trends, we have to maintain the present preventative measures recommended by the Health Ministry: wearing masks, social distancing, washing hands, and, soon, also getting vaccinated."
Grigoryan says that, because vaccinations are intended for risk groups for now, their aim is to prevent serious cases and deaths, as well as reducing hospitalizations.
"At this stage, the aim is not to stop the spread of the virus. This has to be well understood because the aim of vaccinating risk groups is to protect only them," Grigoryan states. "All the vaccines in the international market right now stop extreme cases. However, it should not be forgotten that those who get vaccinated can still get infected and spread the virus."
According to Grigoryan, vaccines are being administered to the medical staff of hospitals that care for COVID-19 patients and a certain amount is allocated to other risk groups. She says that vaccine recipients are monitored for 48 hours. Overall, anticipated post-vaccination side effects have been reported. For example, slight redness, swelling in localized spots and pain where the vaccination was administered. In general, high fevers have been rare. Other reactions have not yet been reported.
"Based on WHO recommendations, any COVID-19 examination, including a positive test, is not necessary before getting vaccinated," explains Grigoryan. "What's evaluated is the person's overall health. If that person has no serious symptoms, including flare-ups for those with chronic disease who are included in the risk group, then they get vaccinated." She also emphasized that, before the vaccination process started, all medical staff received training on the characteristics of the vaccines, what occurrences are observed post-vaccination, how vaccines are administered – in short, the processes that take place before every new vaccine is administered.
It should be noted that vaccinations in Armenia are taking place on a voluntary basis. Those not in the priority risk groups often call to find out when their turn will come. As of April 9, there are 600 citizens on waiting lists for the vaccine.
Some of the staff of the National Center for Infectious Disease, which deals with COVID-19 treatment, have also been vaccinated. Hovhannes Madoyan, the director of the center, says that only 25 people had been vaccinated in March 2021, including himself.
"The first 15 people have already received the second shot of the vaccine," Madoyan explains. "I had a little localized pain; however, I had no fever or any other issue. Most of the personnel took the vaccination lightly. Several had fevers but were on their feet; there were no serious side effects. The majority of the staff wants to be vaccinated and are waiting for their turn. Those staff members who had already gotten infected with the virus were also vaccinated because, even though your body creates antibodies when you get sick with the virus, over time their concentration decreases. The antibodies created by the vaccine are long-term."
Madoyan also considers the present epidemic situation worrisome. He says that their center and other hospitals treating COVID-19 patients are receiving large numbers of patients and the workload is too great.
"This is a burden for the state as well. All coronavirus-related services are free, the state cares for 100% of all expenses," explains Madoyan. "In these conditions, vaccination is the only solution for now. It has been proven that vaccination will reduce the disease and the risks are far less than the expected benefits."
The Vaccination Process Across the Globe
As of April 15, more than 825 million doses have been administered in 141 countries across the globe. The top ten countries that have administered the most vaccines in order are:
USA 192,282,781
China 175,623,000
India 111,179,578
United Kingdom 40,107,877
Brazil 30,801,723
Germany 19,244,464
Turkey 19,062,758
Indonesia 15,602,574
France 14,894,517
Russia 14,583,881
Per capita, Israel has the highest rate of vaccination in the world, with 55% of its population already vaccinated. Then come the U.S. with 22.4% of its population vaccinated, and the UK with 25.5%.