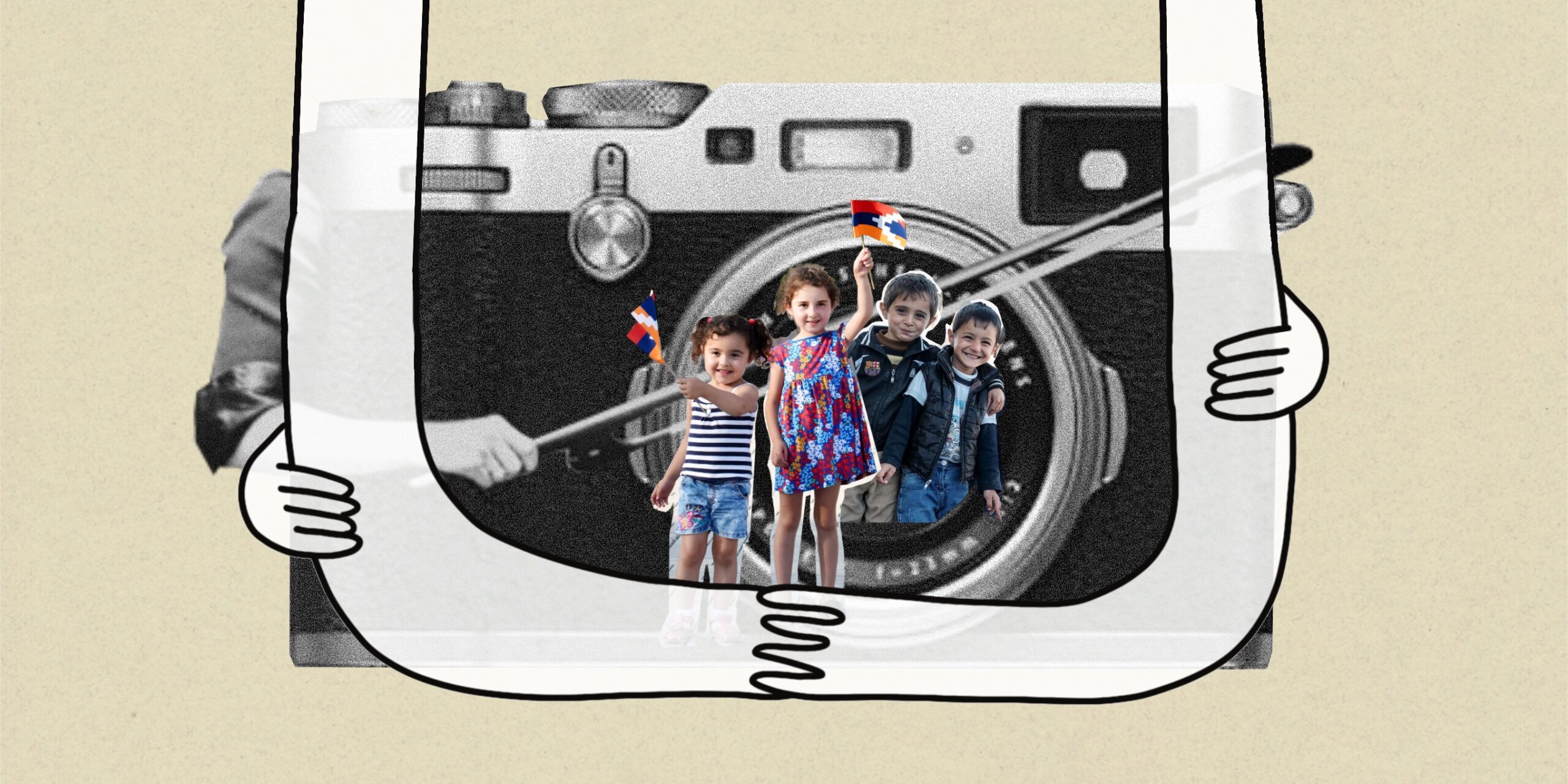 Chance encounters can bring about deep, lasting bonds—ones that can also lead to like-minded people giving back to causes near and dear to them.
"I guess you can say it was by chance and out of boredom. We were actually both waiting for our COVID-19 PCR test results at Paris' Charles de Gaulle airport," explains French-Armenian cellist Astrig Siranossian.
Seasoned photojournalist and war photographer Jonathan Alpeyrie was also returning to France from Armenia in November 2020. He had been in Artsakh (Nagorno-Karabakh) for a little more than a month, doing what he does best: documenting a brutal conflict for the international press. Astrig decided to introduce herself and strike up a conversation.
The two exchanged contact information. Astrig recalls that the two connected on a special, personal level right away, perhaps because of what they had both seen and experienced in the days and weeks prior. She had been in Armenia and Artsakh playing music for children who had been displaced by the conflict.
Astrig was also helping facilitate French-speaking journalists' entry into the battle-stricken region. "Now, in retrospect, I understand how dangerous it was for me to be there, but at the time, it felt like I had no choice but to come," she says. "I couldn't worry about what was happening in Artsakh from the comfort of my home in Paris, so I booked the first flight out."
Musical (and Humanitarian) Roots Run Deep
Born in France to an Armenian family of musicians, it was never in doubt for Astrig that music would be a major part of her life. "Becoming a musician was the most natural thing for me, even as a kid," she recalls. Though she started off on the violin at the tender age of three, she quickly transitioned to the cello and has felt right at home on stage ever since.
Another thing that came just as naturally for Astrig is her love for giving back to Armenia. Her first trip to her historic homeland was in 1996, only a couple of years after a ceasefire was signed with neighboring Azerbaijan. Astrig's parents were visiting the newly-independent republic to distribute materials and instruments to musicians and composers.
It was on that trip that Astrig learned about the war that had come to an abrupt and tenuous halt only two years earlier. "The war in Karabakh was not something that my parents spoke about to me as a kid, but I was able to see the aftermath firsthand during that first visit. And it was terrible," she explains. It was there, for the first time, that Astrig realized that she was afforded privileges and opportunities most kids in Armenia and Artsakh couldn't even dream of at the time. "They were in need of even the most basic things: things I completely took for granted. Something as simple as eating ice cream, which wasn't a big deal for me as a kid, was such a luxury for so many," she says.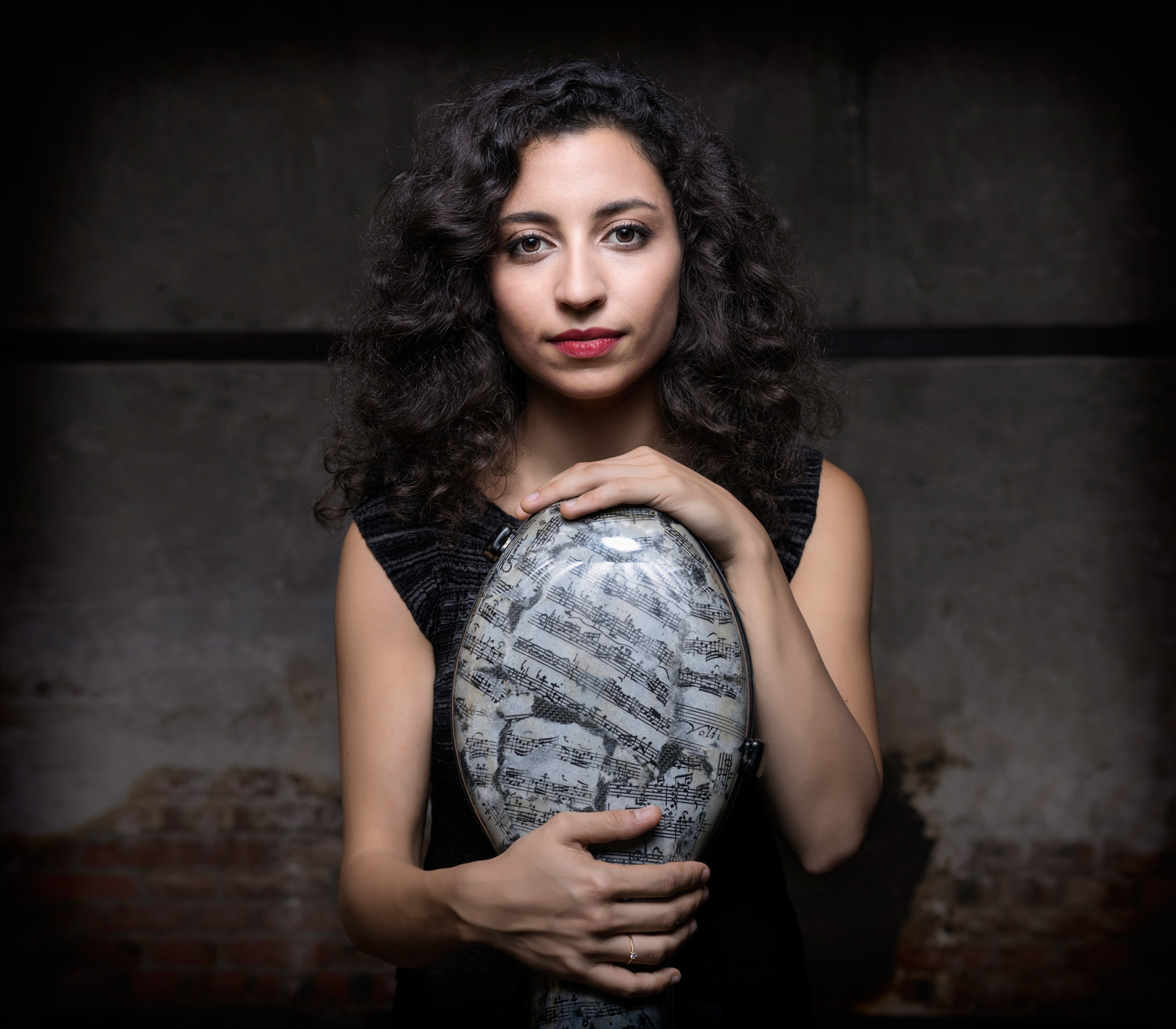 Astrig Siranossian, photo credit Bernard Martinez. 
Astrig points to this realization as the beginning of her love for Armenia and her passion for helping and giving back. "I knew then that this was something I needed to do," she says.
Several trips to Armenia and many small humanitarian projects later, Astrig decided to establish a non-profit to help children in Armenia and Lebanon through music. The charity, called Spidak Sévane, was founded in 2019. "I was born 12 days after the [1988 Spitak] earthquake, so my middle name is Spidak, the epicenter of that tragedy. And Sevan, of course, is the name of the famous Armenian lake but is also the name of my late cousin. She too was born in 1988 but passed away in a tragic car accident," she says. It seemed fitting for Astrig to include Sévane in the name since her cousin had devoted much of her young life to working with children. "When she passed, I wanted to honor her memory in a meaningful way," Astrig says. That meant focusing on children in her homeland, Armenia, as well as in Lebanon, where members of her family were welcomed following the Armenian Genocide.
Understanding Armenia: From the History Books to the Frontline
Jonathan's connection with Armenia began years before his first visit in 2001. A self-admitted history buff, he had read about the rich past of the small yet proud people. "My knowledge about Armenia was purely intellectual—only what I knew through books," he explains. "But, once you're there and you meet the people, experience their hospitality, you gain a different appreciation."
When the war broke out in September 2020, Jonathan was on assignment deep in the Amazon, working with local tribes. He knew he had to go and cover the conflict in Artsakh as soon as he got word of it. "I knew it was something I needed to do, so I got on the first flight I could catch out of Rio [de Janeiro]," he says.
Jonathan's interest in war and conflict can be traced back to his own family, which boasts a long line of war heroes. He would hear their stories growing up, which would have a profound and lasting impact on him.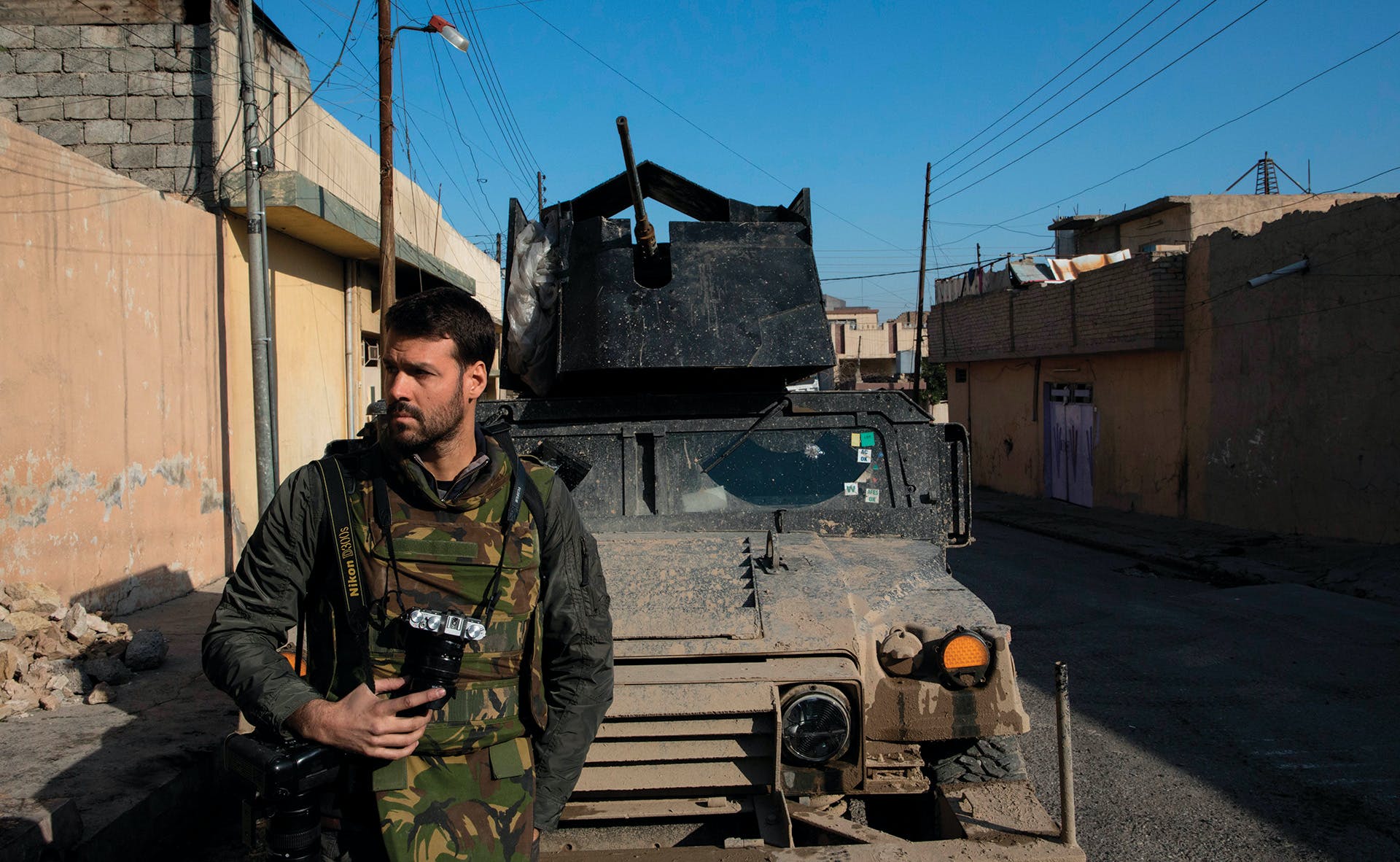 Jonathan Alpeyrie, photo courtesy of J. Alperyie. 
"As I got older, I realized that we all have this brief moment on this planet—only a number of decades. We only get a small window of actually living in historical moments," Jonathan explains why he photographs conflict zones. "I throw myself into these circumstances—of war, conflict, natural disaster, and so forth—to witness and capture what I call 'the great human interaction.'"
It was during his first visit to Armenia in 2001 that he learned about the ongoing conflict in Artsakh and knew then that he had to experience it firsthand. He decided to return to the region three years later to visit the frontlines in the then-frozen, but constantly unstable, conflict.
According to Jonathan, though most nations are proud of their history and culture, Armenians—including those he has met in the diaspora—have a sense of determination that is unparalleled. He believes that it is this notion of perseverance that has kept the nation alive after centuries of unrest and instability—especially following the Armenian military defeat in the latest war.
"The courage displayed during and after the war can only be admired. [The war] was a reminder to each one of us non-Armenians that we rise or fall through adversity," he explains.
Jonathan spent nearly five weeks covering the brutal war that left several thousand dead, wounded, and displaced; countless soldiers missing in action; and hundreds of prisoners of war, many of whom remain in captivity. During his time in the conflict zone—a trip that the Tufenkian Foundation helped facilitate—Jonathan captured images of gruesome brutality and sheer beauty, of terrible anguish and transcendent tranquility.
Giving Back to Those Who Gave So Much
More than a year after the controversial ceasefire between Armenia and Azerbaijan was signed, Jonathan had an idea of selling his work for an Armenian charity. "I wanted to give something back to the people who have always embraced my willingness to learn and explore the realities of one of the oldest nations on earth," he confesses.
It was then that he decided to contact Astrig, whom he had met more than a year earlier at Charles de Gaulle Airport in Paris, to pick her brain about potential charities in Armenia that could use the funds for good. "I wanted [to help a group that was] small and efficient—not a big organization with no transparency," Jonathan explains. It was only during this conversation, months after first meeting and keeping in touch, that Jonathan learned of Astrig's non-profit. "This is it," he remembers telling himself. "I was sold."
Now the two French-born creatives are collaborating on a project for Spidak Sévane meant to help Armenian children who have lost parents, family members and their homes due to the 2020 war. Half of the proceeds from the sale of a selection of photographs Jonathan took during the war will be donated to the organization. "Through the fundraiser, the children will get much-needed help through music. We will use the funds to pay for workshops, to purchase a variety of instruments, as well as to pay for teachers and other necessities," Astrig explains.
Each photo sold will be printed by Duggal Visuals in New York and signed by the photographer before being shipped to the buyer.
According to Jonathan, putting his life on the line in the latest war was a small price to pay for the chance to present to the world what the small, landlocked nation has been through in the past and continues to face in the present. He also admits that the risks he took during his time in Artsakh cannot be compared to the courage displayed by countless brave soldiers who put everything on the line for their people. "Maybe it's the long and tenuous history the Armenians share; perhaps it's the resiliency they have displayed over the many centuries of their history," he muses. "Whatever the case, I've always felt a strong affiliation for Armenia and its people, and I think it was well worth any risk to my life to cover this people and their often-ignored story."