Growing up, I often listened to my grandpa, Onnik (Hovhannes), singing one of Smbat Shahaziz's poems: "I hear a sweet voice / It was my aged mother's / But sadly it was only a dream." Already in his 70s and blind, he had an excellent memory and often talked about his parents. They were Arabkirtsis. I had no idea what that meant until I read an article on Arabkir, or rather Arapgir, in the Armenian Soviet Encyclopedia (I had not heard of Wikipedia yet). A mid-size town of 20,000, populated with roughly an equal number of Armenians and Turks before the Genocide, it is located in central Anatolia, north of the better known city of Kharberd or Harput. Onnik's parents, Arshaluys and Hetum, were born there in the early 1900s. During the Armenian Genocide, some of their relatives were murdered. But they survived. They survived hiding in their Turkish neighbor's basement. They moved to Soviet Armenia as soon as they could—by travelling on a ship from Trapizon (Trabzon) to Batumi and then to Yerevan on a train.
In 1925, Nor Arabkir, a small settlement to the north of Yerevan, was established for those Arabkirtsis who chose to settle in Soviet Armenia—some of them came from the U.S. It was founded with the cooperation of the New York-based Arabkir Compatriotic Association and the Soviet Armenian government. Nor Arabkir was cut off from Yerevan and was located near the edge of the Hrazdan canyon. Architect Alexander Tamanyan, drew up a general plan for Nor Arabkir the same year. My great-grandparents were one of the earliest residents of the new town.
Originally a small community of 150 people, Nor Arabkir's population reached 6,000 by 1940. Most of the early settlers were Arabkirtsis—from the original town in Turkey, but it gradually became a melting pot of all kinds of Armenians. Today, Yerevan's Arabkir district boasts a population of over 115,000 and is the second most expensive district in Yerevan outside the city center, while "Arabkirtsi" means anyone living on or near Komitas Avenue, the main road passing through the district.
Hetum and Arshaluys were a typical Turkish-Armenian couple, who had witnessed the most horrific period in the long history of the Armenian nation. They never talked about the events of 1915 and the years following it, but kept their Arabkir dialect, a Western Armenian variety, and Arabkirtsi identity intact. I remember my grandpa Onnik, one of their two sons, as a solid man. He, my aunt says, was a real Soviet man—a communist and an atheist. He worked at the Kanaker Aluminum Plant (KanAZ) for decades, occasionally did tour guiding and travelled extensively. He prided himself in having had climbed the plant's tall chimney tower, perhaps one of the tallest structures in Yerevan at the time. The plant was, in fact, one of the largest in the Soviet Union and symbolized Soviet Armenia's massive industrialization during the Stalin era. Ironically, Hetum and Arshaluys had to leave their house and relocate a few kilometers to the home I now live in since they were beekeepers and the plant's toxic smoke had killed all their bees.
Obviously, I'm not alone in having ancestors who fled the Genocide and settled here in Yerevan. In a 2012 poll by Caucasus Barometer, half of respondents in Yerevan said at least one of their ancestors was affected by the Genocide.
When Tamanyan designed Yerevan in the mid-1920s, he had a city of 150,000 people in mind. At the time, some 70,000 people resided in the capital. By around 1980, the city's population exploded to a million residents. This 14-fold growth happened with the combination of high natural growth rate and a large-scale migration of ethnic Armenians from a variety of places into Yerevan—the "repository of Armenian myths and hopes." They included villagers from all parts of (Eastern) Armenia, Javakhk, Karabakh, Nakhichevan, and elsewhere in the Soviet Union, such as Rostov, which was the birthplace of one of Armenia's most iconic artists Martiros Saryan.
The first Genocide survivors settled in Yerevan during the latter years of World War I. The First Republic (1918-20) had a notably high proportion of refugees. People from Van and the surrounding region were particularly overrepresented in the refugee population since the largest self-defense during the Genocide took place in Van and the survival rate of the Armenian population of historical Vaspurakan was relatively high. Major Yerevan-based cultural figures were Vanetsis: the painter Panos Terlemezyan, actor and theater director Vardan Achemyan, writer Gurgen Mahari. Silva Kaputikyan, Armenia's poetess laureate, was born in Yerevan to Vanetsi parents. Aghasi Khanjyan, Soviet Armenia's leader from 1930 to 1936, was also from Van.
The process continued after Soviet rule was established in 1920. My ancestors and tens of thousands of others came to now-Soviet Armenia. Vahagn Davtyan, a relatively well-known poet, was born in Arabkir. He often referred to the "lost homeland" in his works. The Davtyans have been our neighbors since the 1950s. Recently I found his collection of poems from 1961 hidden somewhere in our home library. Interestingly, the book is titled "Tonkdraketsiner" and is about the medieval anti-feudal and anti-clerical sect that was often cited by Soviet historians, who ascribed them to proto-Marxist views.
But it was the post-war years that saw an immense influx of Western Armenians in just three years—1946 to 1949. Today, it is referred to as the Great Repatriation. Tens of thousands of Armenians were brought into Soviet Armenia to later resettle them in Kars and Ardahan, former imperial Russian territories that Stalin hoped to annex from Turkey in the aftermath of the war. That did not happen, so they instead found permanent homes on this side of the Akhurian River. Of the estimated 90,000 Armenians, some 40 percent settled in Yerevan. They were primarily from countries where Genocide survivors had found safe haven: Syria, Lebanon, Greece, Bulgaria, Egypt, and Iraq. Unbelievable today, but even Armenians from France (over 5,000) and the U.S. (some 300) came to the Armenian Soviet Socialist Republic in this period.
The earlier Genocide survivors and these repatriates changed Yerevan irreversibly. They introduced black "Turkish coffee" and lahmajo—staples of Middle Eastern cuisine—in Yerevan. Moreover, French Armenians are credited for having introduced the tradition of open-air summer cafés, which was a rarity in the Soviet Union.
Besides Nor Arabkir, several other settlements were found in and around Yerevan which bear the names of cities and places in Western Armenia and other Armenian-populated areas of the Ottoman Empire. They include Nor Sebastia, Nor Malatia, Nor Kilikia, Nor Zeytun, Nor Butania, Nor Ayntab, and Nor Kharberd. The first two now form one of Yerevan's twelve administrative districts: Malatia-Sebastia. Nor Zeytun is now one half of Kanaker-Zeytun. Kilikia is a part of Kentron, while Butania is a part of Erebuni. Ayntab and Kharberd are actually villages located just outside Yerevan's southern borders, but are so well-integrated into Yerevan that they can be considered part of "Greater Yerevan." Nubarashen, now Yerevan's smallest district, was founded through the financial support of the AGBU, namely its founder Boghos Nubar, after whom it was named. It was built specifically for Genocide survivors․
Armenian-American historian Mary K․ Matossian argued in a 1980 report that after the Genocide, "Armenian nationalist sentiment was very strong and there was a kind of 'Zionist' urge to return to the Armenian homeland." She also noted that the repatriates primarily wanted to work in Yerevan, rather than in underdeveloped rural Armenia. Besides simply contributing to the increase in the population of Yerevan, Genocide survivors and their descendants contributed to the rise of Yerevan as the capital of not just Armenia, but all Armenians. Indeed, a New York Times reporter noted in 1978 that "Armenians all over the world feel a certain emotional tie to Yerevan."
The repatriates, however, were not always welcomed and their integration into the new society was not always smooth. They were often labelled "akhpar" (Western Armenian for "brother," as opposed to "akhper" in Eastern Armenian), which over time became a somewhat derogatory term. A small district was even called "Akhparashen" and the name continues to be used for the area. A 1978 article in the social sciences journal of the Armenian Academy of Sciences noted that although the repatriates have preserved their native language and national identity, they are also carriers of the lifestyle and culture of those cultures they previously lived in the Middle East and Europe. This seems to reflect the suspicions that the communist authorities perhaps had regarding the repatriates. In extreme cases, some of them were suspected of Dashnak sympathies and exiled to Siberia.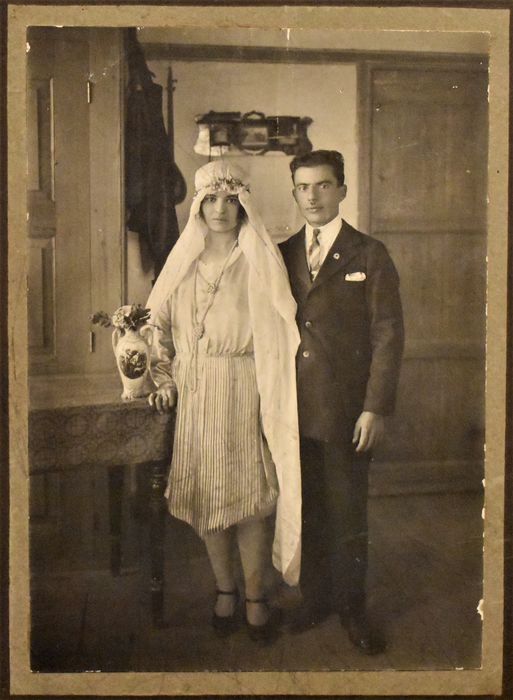 My great-grandparents, Hetum and Arshaluys, on their wedding day in 1930.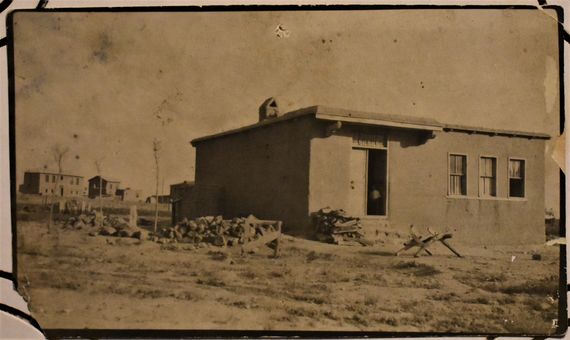 The house of Hetum and Arshaluys in Nor Arabkir, circa 1930.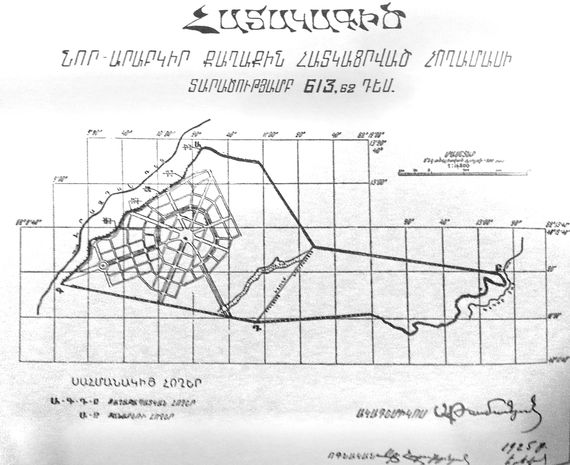 The general plan of Nor Arabkir as drawn out by Alexander Tamanyan in 1925. 
The aluminium eagle and the chimney tower (in the background) of the KanAZ aluminium plant (now called Rusal Armenal). 

The headline of an article in Ejmiatsin, the official publication of the Armenian Apostolic Church, reads: "The arrival of caravans from 1947 of repatriated Armenians to the homeland continues." The article notes that 174 families were given residence in Yerevan, while 90 settled in other parts of the Armenian SSR.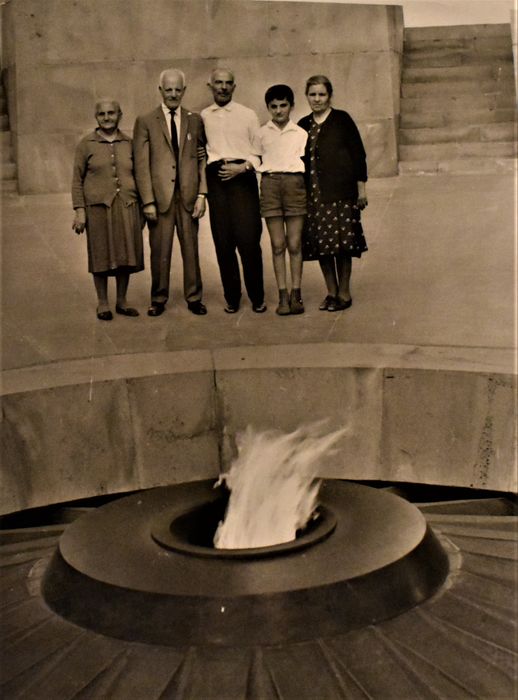 Left to right: Hetum's sister Maran, brother Michael, Hetum, my father, and Arshaluys at Tsitsernakaberd, the Genocide memorial inaugurated in Yerevan in 1967. 
The example of four Yerevantsi-turned-Vanetsis (Terlemezyan, Achemyan, Mahari and Kaputikyan) is striking. These people turned Yerevan into a hub of culture simply with their presence. There were major people of the arts among the later repatriates, too. The opera singer Gohar Gasparyan and composer Tigran Mansuryan moved to Armenia from Egypt and Lebanon, respectively. Any of them could have ended up in Paris or America, but, instead, they became Yerevantsis. Perhaps the most tragic fate of all was that of Zabel Yesayan, a Constantinople-born French-educated Western Armenian writer, who was only one of two women to be targeted on April 24, 1915. She settled in Yerevan in 1933 and taught French at Yerevan State University only to fall victim to Stalin's purges later in the decade. She is believed to have died in exile somewhere in Siberia in 1943.
Not many people know this, but Karen Demirchyan, Soviet Armenia's beloved leader, was the son of two Western Armenian orphans from Erzerum and Van that grew up at an American orphanage in Alexandropol (Gyumri). Demirchyan's successor as leader of Armenia, Levon Ter-Petrosyan, was the son of repatriates. His Musalertsi parents survived the Genocide and later settled in Aleppo, Syria, where he was born in 1946, the year his parents moved to Soviet Armenia.
The story of Western Armenians in Yerevan is both tragic and impressive. They came to Yerevan in large numbers, built entire districts from the ground up, and contributed to Yerevan's incredible rise as a major city. In that process, however, an entire culture was lost. Western Armenian dialects and many traditions became extinct. Some of the repatriates were sent to Siberia on phony charges. Many left (Soviet) Yerevan at the first given opportunity.
The latest wave of Western Armenians to come to Yerevan are Syrian Armenians. It is imperative to take measures to keep as many of them here as possible. Our real strength is in our diversity of dialects, influences, and thought. We must treasure that.
Editor's Note: In an earlier version of this article, it was written that the poem (mentioned at the beginning of the article) was by Hovhannes Shiraz. It has now been corrected to Smbat Shahaziz.